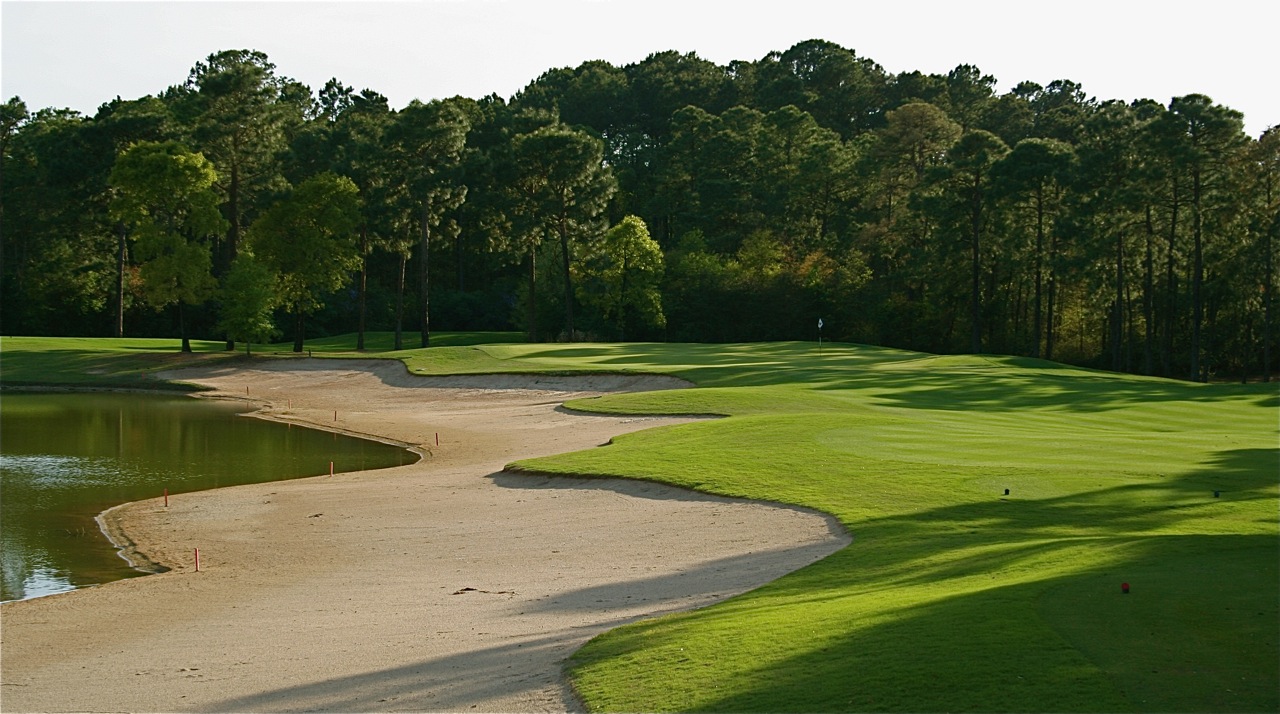 I realize that with about 100 golf courses along the 70-odd miles that constitute the Grand Strand, it's impossible to know them all. But I'm surprised I'd never heard of The Tradition Golf Club before. We were told by our host—this very long-hitting kid who was playing for a D-III college team little more than a year ago—that it would be a good first course in our week-long Golf Road Warriors sojourn up and down the length of Myrtle Beach. A gentle tune-up, he said.
He was right, but he also sold it a little short. The Tradition is a quite good golf course that could be really good with a little sprucing up. In fact, if they'd just pretty it up a little bit—maybe some interesting vegetation or flowers, something to add some color and more visual appeal—I'm pretty certain it would make some noise.
Designed by Ron Garl—who has designed or worked on more than 250 courses around the world, including Golden Ocala in Ocala, Links at Stono Ferry in Charleston, and the TPC at Prestancia in Sarasota—on land that was a rice plantation 300 years ago and is now toward the southern end of the Strand, The Tradition is what we call a good test of one's entire game. The fairways are pretty wide, but a well placed tree here and there, a slightly angled fairway, or a long waste (something of a Garl trademark, I was told) conspire to force more thinking that expected off the tee. It helps to be able to move the ball a little left or right on purpose.
Most of the approach shots are straightforward and into big greens, averaging about 8,500 square feet, which makes them some of the largest on the Strand. The greens have good and subtle breaks, nothing too ridiculous. But I expect it will take me most of the week to get used to the Bermuda grass—whether sitting up in the fairway, nearly hidden from view in the rough, or much slower and grainier than I'm used to up north. All part of the game.
What I really liked about The Tradition is that, yes, it is a good warm-up course, but not because it's easy. It's just challenging enough to keep you interested and alert, and especially from the way-back tees that we foolishly played (at nearly 6,900 yards), provided good practice for the long game. This is a good course for hybrid clubs, even from the rough when it isn't too nasty.
Something else about the course that proved fortuitous: It's located very close to a Piggly Wiggly grocery store (gotta stock up for the week), and is very convenient to Litchfield Beach and Golf Resort, which is where we're staying the first few nights. I'm told there's beach and the ocean just a few steps away, but I haven't seen it yet.
More on the resort another day as right now I'm going to collapse. The course itself might not have beaten me up, but the long day—up at 5 to get to the airport, off the plane and onto the course—is taking its toll. In fact, I'm so punchy that I thought someone told me the Jets won their opening game. I must be dreaming…