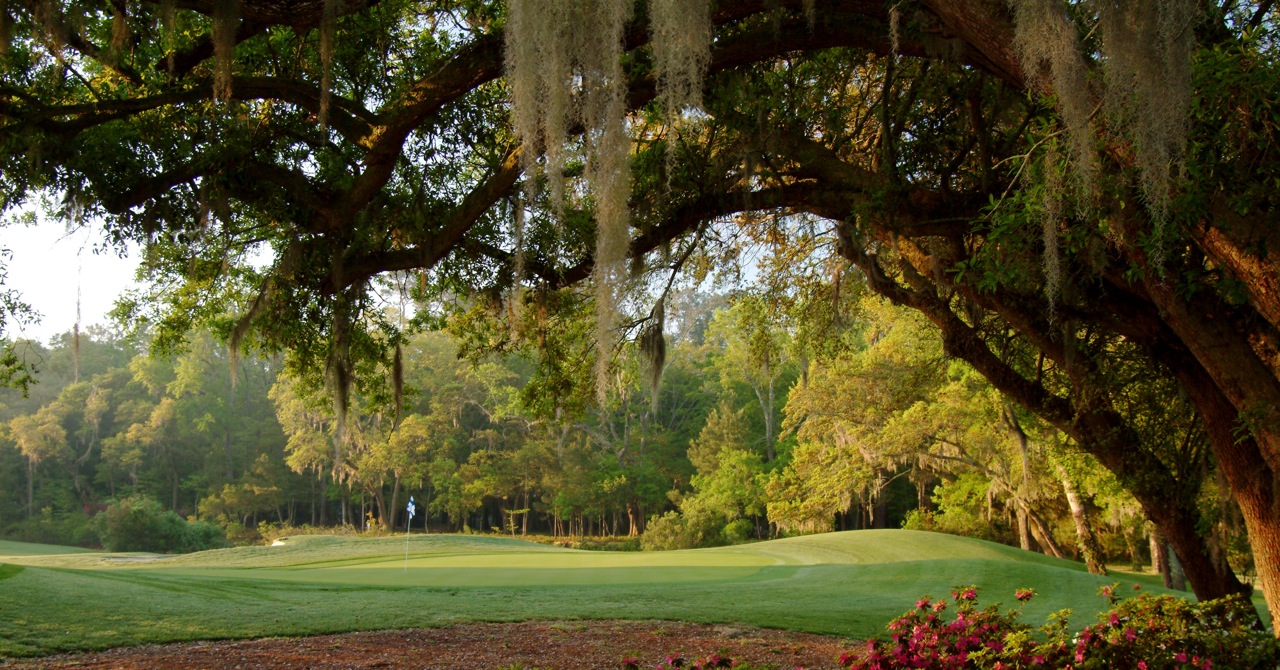 When we Golf Road Warriors teed it up this morning at Willbrook Plantation, we didn't know about the history lesson we would be getting. Moving around the very satisfying and well planned Dan Maples course was easy, even for Dave and Jeff, who chose to walk (something not all Myrtle Beach courses let you do; call first and ask).
We all liked the course. A lot. The fairways are generous but sometimes required maneuvering to find. The stately, moss-hung oaks may be the course's most potent, and pleasing, hazards: Many of them are located just where fairways bend, which means they need to be avoided, curled around, or even gone over to leave the best line of approach in. But even when the trees win (which they so often do), they're really something to see—tall, broad, and majestic.
There's some water to contend with to, but mostly on the periphery and not too difficult to avoid. Same with the sand, with a number of the bigger bunkers flashed into mounding that Maples cleverly added to give some life and character to the mostly flat land. The Bermuda greens rolled very true, although whoever set the flags today must been mad about something, as we found ourselves putting to the edge of shelves with steep run-offs down the back sides.
We were told that the first hole—a long par four demanding an opening drive over water—is one of the toughest in the area. Choose the right tees and it shouldn't prove too much trouble, but it still left a long approach in, made even longer if your ball isn't far enough left in the fairway to leave an open shot to the green. There's a lot of that, so study the yardage book closely: It, or a GPS device, definitely can be your friend here.
Back to those proud old oaks, some of which, I'm sure, have been on this land for hundreds of years. The Willbrook Plantation logo says "est 1798." The land changed hands a number of times over the years: Take a moment and read through the fascinating history of who owned this land over the past few centuries at a website I ran across that lists whatever information is available on South Carolina plantations.
Also at various spots on the Willbrook course are signs explaning life on the plantation. The terrain we tore up with woods and irons was once rice fields. Often times it helps to think about something else, even what life was like 200-plus years ago, to put things in perspective and help you relax on the course. This region is thick with history and tradition, an added bonus to the already rich tapestry of golf and other amusements. If all you're thinking about in Myrtle Beach is golf, you really will miss the forest for the trees.