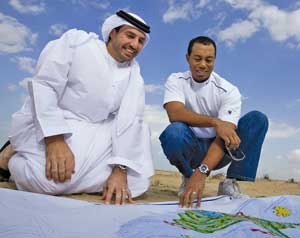 With The Masters starting in a few days, expect to see all sorts of articles and news stories that take the true start of the golf season as a reason to write about the game. And expect Tiger to be prime among the subjects.
That said, the New York Times has a very good, well researched story about Tiger's architecture jobs, where they stand and what they're likely futures are. In short, all three courses he was commissioned to design are presently dead in the water. According to the Times, the most famous of the projects, the one in Dubai for which Tiger Woods Design reportedly was paid $55 million, will never come back and the desert is reclaiming the few holes that were laid out. Punta Brava, in Mexico, seems to have weathered the storms—economic and Tiger-personal—the best, and stands a good chance of being built at some point. The course at The Cliffs communities in North Carolina is on hold, its future uncertain due to other economic problems that have hit that huge property.
All in all, very interesting reading. Like everything else Tiger-related—his swing, his personal life, his demeanor—his career as an architect is a work in progress. You know we'll be watching.