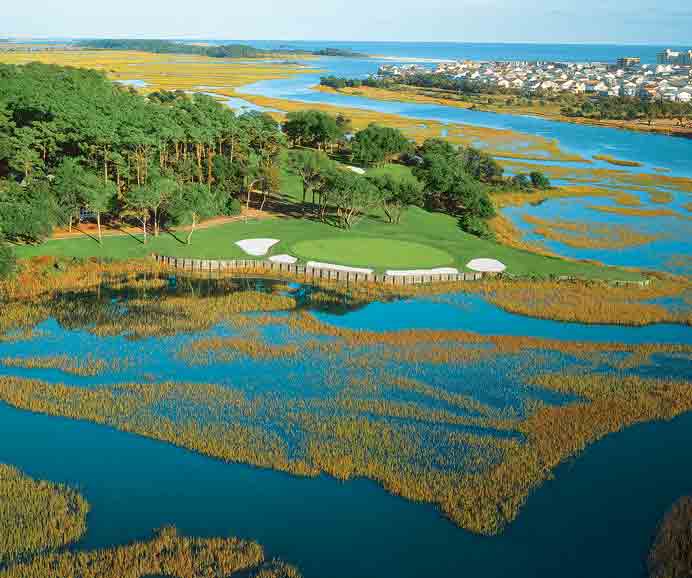 Coming home is always good. But it was very difficult to put Myrtle Beach in my rear-view mirror. The GRWs had a wonderful week, not only great golf—of which there's so much it's hard to fathom—but the overall ambience of the Grand Strand. It's as if there is a force field one passes through upon arrival that relieves all stress and guarantees a good time.
Let me repeat something I said before starting this trip: If you play golf and you've never been to Myrtle Beach, you really are missing something. And likely not what you expect. While MB pioneered the low-cost, all-inclusive golf vacation (wrapping rounds, rooms, meals, and more into a single package), today it is not just cheap motels, buffets, and beer-filled golf carts. There are some very good restaurants (steak, fish, Italian, sushi, etc.) and a wide range of accommodations: At the southern end of the Strand we stayed at Litchfield Golf and Beach Resort, in lovely and comfortable apartments with kitchens and screened-in porches; and none of us wanted to leave the five-bedroom, $1.1 million condo we crashed in at North Beach Plantation, right on the ocean.
Whether it's golf, food, or rooms, there truly is something for everybody.
That said, a few general observations on Myrtle Beach as a golf holiday.
1) Buddy trips. I've never been on a real buddy trip—four or more guys going on a long weekend or longer golf orgy. But they were all around us in Myrtle Beach last week. We'd see groups at breakfast and at every course, the most unlikely looking quartets and octets of friends doing what guys do. The courses and other facilities are set up to handle them and do a very good job moving them along and making it fun, yet it never with a factory-like feel. Then there's all the "other" stuff that guys can do, from golf stores (like the gigantic Martin's) to "gentlemen's clubs" and honky-tonk bars by the beach and other forms of entertainment, high and low. Just be sure to rent a mini-van or two for all the guys and attendant equipment.
2) Bermuda grass. Coming from up north and encountering this broad-leaf, spongy turfgrass can be unnerving. Balls just a few inches off the fairway drop deep into the porous rough and can be hard to find. Clubheads miss balls completely, sliding under them. Chip shots need to be reconsidered since the turf is anything but tight, and hybrids—usually ideal for lies in light rough—can prove almost worthless. When looking for, then finding, your ball, assume the worst: From any rough, check to see just how high or low the ball is sitting in the grass and play smart. Definitely practice before each round at every course to check its consistency and playability.
3) Southern food. As noted above, there's good food of all kinds. However, there's also a lot of junk, not only every fast-food chain in the world, but also the requirement that whatever can be fried is. We also had some surprisingly good (both tasty and healthy) meals at clubs such as Pine Lakes and Grande Dunes. And I'm a big fan of the huge supermarkets—Piggly Wiggly, Bi-Lo, Winn-Dixie, etc.—and stocking up on in-room breakfasts and snacks that aren't going to add a few strokes to my cholesterol count.
4) Weather. I've been to Myrtle Beach maybe a half-dozen times over the last 25 years, at all times of the year, and have never experienced anything but good weather. Last week's was ideal: Sunny, warm, low humidity (that's the tough one to guarantee!), light breezes. I can't promise it will be like that in February, but few places do as good a job making golf playable so much of the year.
5) Walking. If you're a walker, call the courses before you come down and ask about their policies. Some places never allow walking—and aren't suitable to it even if they did. Others have restrictions in the morning, when courses are busiest, but are more amenable in the afternoon. And if you want to rent a hand cart, definitely call: The only one we saw all week had to be borrowed from a club member at Pawleys Plantation; it was very nice of the starter to make that accommodation. Which leads to the last point…
6) Southern hospitality. A cliché? Absolutely. But we heard nothing but "Good Morning," "How are ya" " Can I help you?" and "Thank you" everywhere we went. And that's a bargain at any price.