With two world-class courses opening in the last ten years, New Zealand has jumped headfirst into the ranks of the truly special places to play. But golf is just the beginning.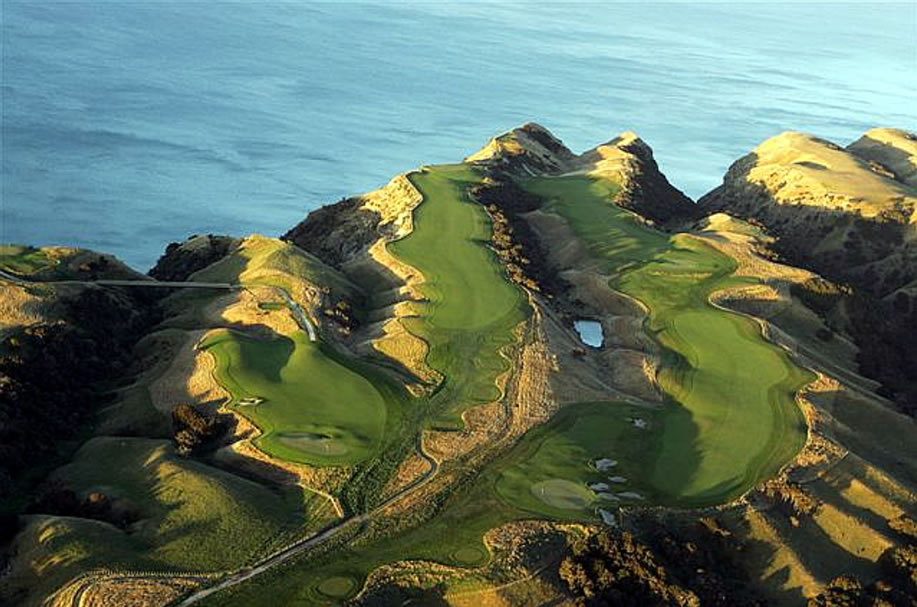 Cape Kidnappers (photograph courtesy of the property).
Usually when the British Empire moved into a new neighborhood back in the 18th and 19th centuries, it did so in force, dispatching troops and warring with the native population. It made for poor relations, which continue in some places today.
Not so in New Zealand. Because the Brits needed the fish, they came in peace and in 1840 sat down with the Maori tribes and signed the Treaty of Waitangi, which remains the dominant law of the land. (Business executives still study the treaty to be sure their dealings adhere to its spirit.) Right from the beginning, the relationship wasn't one of conqueror and conquered, but of two peoples who could help each other.
Those peaceful beginnings explain a great deal about New Zealand. To this day, the aboriginals and the newcomers get along. Intermarriage is common, Maori words pepper everyday speech (many towns are replacing their Anglicized names with the originals), and there's a renaissance in native culture. What one experiences today is the best of both worlds: the civility of the English mixed with the Maori love of the outdoors.
I admit that there probably should be a law against analyzing an entire country after just one visit. But go to New Zealand—which you should—and it's hard not to come away with the impression that this is a country that has got it right.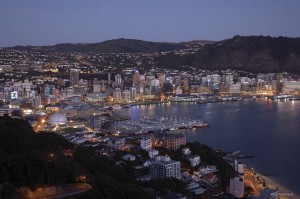 The two islands that comprise New Zealand are about 1,000 miles east of Australia. Stuck in the middle of the ocean and dependent on the rest of the world for trade, Kiwis (as they refer to themselves) make it a point to be well traveled. Many kids get out of school, work abroad for a few years, and return with new ideas that are immediately put to use. This energy is especially visible right now in the tourist-tied industries—hospitality, food, and wine.
Wellington (photograph by Ian Trafford).
In a few days crisscrossing the North Island (I never got to the South; surely one reason to return), I saw grapes and olives being pressed and cheese being made. I drove by thousands of sheep, acres of produce, farms, and roadside stands. And water is everywhere, the ocean, bays, rivers, and lakes yielding green-lipped mussels, oysters, rock lobsters, scallops, and all kinds of fish (the North Island is famous for trout, the South for salmon). I stayed in elegant hotels as well as modest B&Bs. Plus I visited museums, cities, tourist attractions, and out-of-the-way corners of quiet.
And I played golf. It was the purported reason for the trip, and all the courses I saw were world-class. However, coming halfway around the globe (made more comfortable in Air New Zealand's bed-seats) just for the golf is like going to France just for dessert: Yes, they do it very well, but there is so much more.
There are more than 400 courses in this land of 4 million people, making it one of the golf-richest countries, per capita, in the world. But it's only been in the last few years that the rest of the globe has noticed, thanks largely to the efforts of two men. One, Michael Campbell—a native-born son who is part Maori—won the 2005 U.S. Open at Pinehurst. Two, an American named Julian Robertson became a developer.
A former Wall Street hotshot, Robertson began coming to New Zealand in the 1970s, and soon began buying land. He now owns more than 20,000 acres, as well as a few wineries and other ventures. He spends half the year here, hopping back and forth between his two outstanding courses—Kauri Cliffs and Cape Kidnappers.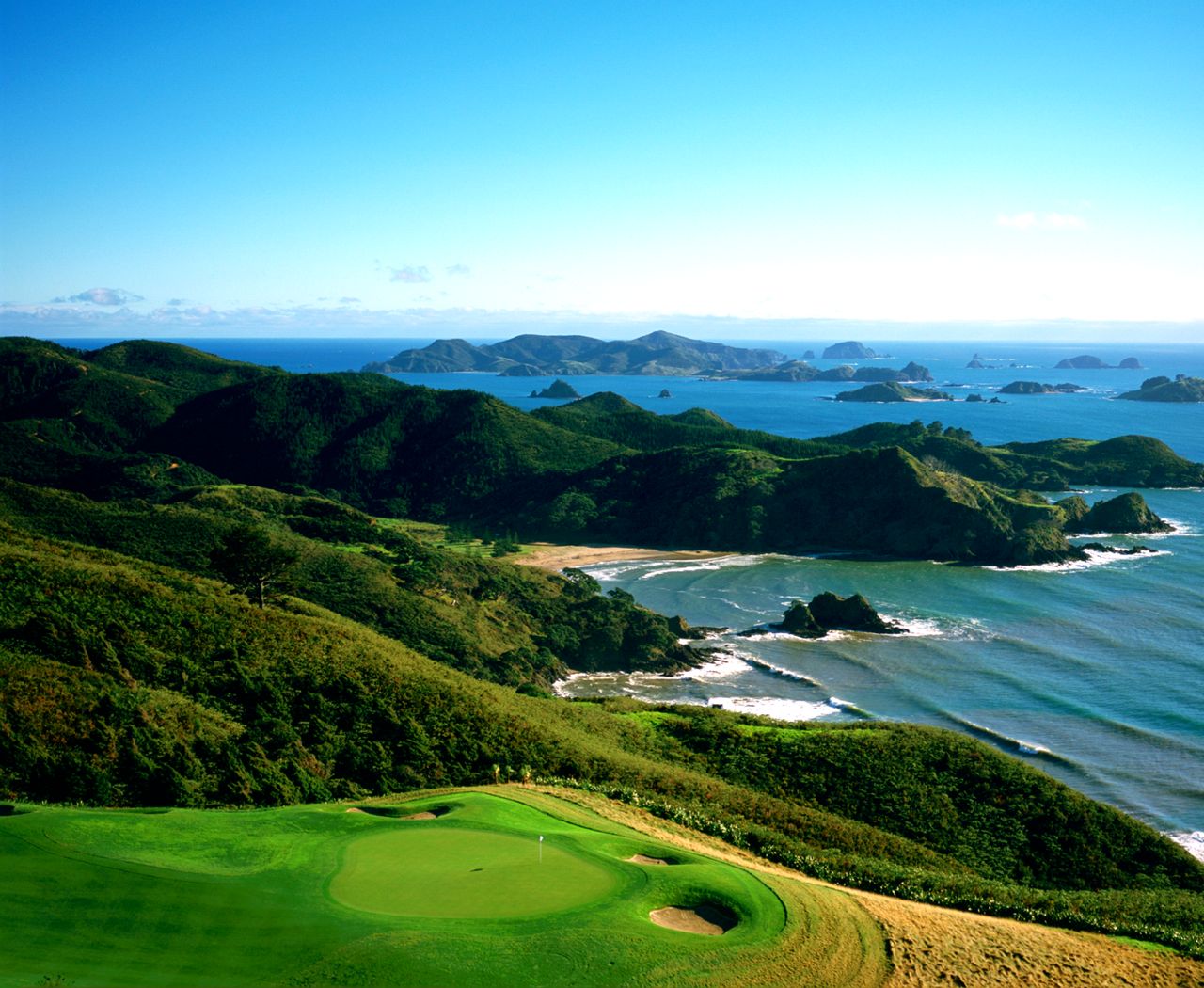 Kauri Cliffs (photograph courtesy of the resort).
Kauri Cliffs, near the top of the North Island, opened in 2000 and immediately jumped onto everybody's world's-best lists. It's a big layout (covering nearly 800 acres), running along the edge of tall cliffs that tumble to the sea. The fairways are wide and the greens large, but it's hard to concentrate on the golf due to the surroundings: 15 holes look over the Bay of Islands. Many have compared it to Pebble Beach, but the setting is even more spectacular, high on the bluffs. And there is not another speck of development in sight—just miles of trees, farmland, and water.
At $400NZ (about $250 U.S.), Kauri gets little local play. Most of the rounds are well-to-do travelers coming in from the rest of the world, many on private jets. A busy day is 20 golfers.
They almost all stay at the Lodge at Kauri Cliffs (shown below), with 11 guest cottages, plus a swimming pool, tennis courts, and spa. The food is superb, and guests in residence on Fridays are shuttled in four-wheel-drive vehicles down to one of three private beaches for a barbecue of steak, fish, shrimp, and fresh vegetables. When Robertson and his wife Josie are on site, they're at the cookout (along with their middle son, Jay, the resort's general manager), making you feel as if you've been personally invited to their private haunt.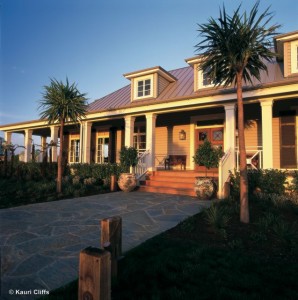 For those who don't jet in and jet out, the top of New Zealand, called the Northland, is worth exploring. Further around the Bay of Islands, and directly across the water from the Waitangi Treaty Grounds, is the town of Russell. Now little more than a main street lined with funky art galleries and modest restaurants, Russell was known as the "Hellhole of the Pacific" in the early 19th century, when it was the center for whaling, sealing, and the various entertainments that attracted the men who plied the seas.
At the far end of Russell, up a hill and hidden from public view, is a one- of-a-kind accommodation, Eagles Nest. A colony of a half-dozen "cottages," all starkly modern and outfitted with the latest of every appliance and convenience, this is where one goes to disappear for a week, a month, or more. Each building has its own infinity pool and spa, and a long wall of floor-to-ceiling windows looking over the bay toward sunset. Any amenity not already included can be provided; many guests hire a private chef for the duration of their stay, meaning they never have to leave. There is no reason to.
About a third of the country lives in and around Auckland, called "the city of sails" because it is surrounded by water, marinas, and boats. A large, modern city, it is best known for the 1,000-foot-tall Sky Tower that sticks up from the center like a giant dart, plus museums, stores, and other metropolitan attractions. One of the better restaurants is in a lovely small hotel called Mollie's, owned by Frances Wilson and Steven Fitzgerald. They both left New Zealand in 1989 for New York, where Frances trained opera singers, but came back in 2001 to operate the hotel once run by her mother, Mollie. Every night before dinner, count on a short performance of arias, sometimes by internationally known talent, a fitting prelude to creative cooking that is as well presented as it is prepared. The hotel is just a few minutes from downtown, but far enough away to escape the bustle and noise.
Squeezed into Auckland's western suburbs, in what once was farmland, is Titirangi Golf Club, the only Alister MacKenzie course in the country, dating to 1926. It is a classic old course—not long but tight (occasionally congested) and gently rolling. The club is undertaking a nine-year-long rebuilding of the greens (at two a year, it's about halfway done), returning them to the good doctor's original plans: big, undulating, and sited on mounds and in valleys to make club selection difficult. The course couldn't be more unlike Kauri Cliffs and most other modern layouts, which makes it worth playing.
A helicopter picked me up at Titirangi—landing on the practice range much to the amusement of neighbors—then flew east over the city to Waiheke Island. Once a haven for artists and hippies, Waiheke is now a weekend getaway for Aucklanders (most take the half-hour ferry ride) who prowl the art galleries, wineries, restaurants, and take nature walks. There also are a few small hotels, notably the intimate, sensual Delamore Lodge, which is built into the curves of a hillside. Hewing to the Maori view of nature, it has no straight lines, but every room has a private patio with a view over water, and the dining room, library, and massage room are worth frequenting.
Well down the east coast of the North Island is Julian Robertson's other golf kingdom, Cape Kidnappers. From the main gate it's a 20-minute drive—through forest, cattle farm, and hilly hairpin turns—up to the barn-like clubhouse that sits alone on top of a bluff. As at Kauri Cliffs, the decor is local and low-key, and there won't be many players in your way.
Cape Kidnappers, which opened in 2004, was designed by Tom Doak, who spent months pondering how to build a course on the bluffs that seem—especially in the wind—too small to hold a golf ball, let alone a hole. Unlike Kauri, which runs along the cliffs, Kidnappers mainly tacks back and forth across them. Mix the terrain with Doak's minimalist touch and the result is unforgettable. Perhaps not as beautiful as Kauri Cliffs, it is more enjoyable, the yang to its slightly bigger brother's yin.
The course is a few miles from the town of Napier, which was destroyed by an earthquake in 1931. Aid was sought from local architectural students, who, in keeping with the time, rebuilt the city center in art-deco style. Seventy-five years later, Napier feels like a movie set, but all the shops and buildings are real, and the styling true to form right down to the coloring and signage. Recent laws ensure that it will remain authentic—and delightful.
Napier also is a port, and the docks, busy during the day with ships, bustle at night with restaurants and clubs. Up the hill that overlooks town, the McHardy House was the area's maternity hospital until its rebirth as a small hotel run by Jan and David Rayner. He used to be an English butler and is still a gourmet chef. A meal in their vast kitchen, overlooking the city lights, is a treat for all the senses. David's ingredients come from the surrounding region, called Hawke's Bay, which is flush with farms, orchards, and wineries.
The middle of the North Island is dominated by three volcanic peaks—Ruapehu, Nguarohoe, and Tongariro—that can be hiked up, skied down, or just gaped at (they starred in the movie "The Lord of the Rings"). They're still occasionally active, but it was an eruption in 168 A.D. that created Lake Taupo, the country's largest at 239 square miles. The lake and the rivers that run into it are prime fishing spots, none more than Waikato River. Along its banks is the Huka Lodge, regularly named one of the world's finest hotels. Its 20 handsomely furnished suites are in spacious cottages that run parallel to the flowing trout stream, nearly close enough for casting off the back decks. The food and service are world-class, drawing an international clientele always good for fascinating after-dinner conversation by the fireplace.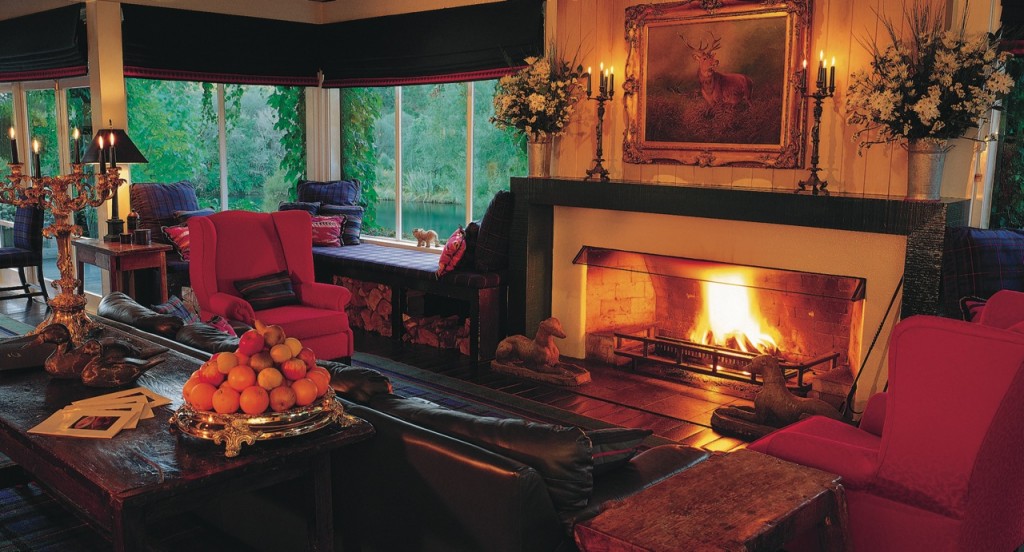 Huka Lodge (photograph courtesy of the resort).

Lake Taupo is a popular tourist spot for Kiwis, many coming for the 35-year-old Wairakei Golf Club. Lush and well-maintained, Wairakei can be deceptively difficult, playing up and down the rolling land, around thick stands of trees and the 108 bunkers. The few hours playing Wairakei were almost as much fun as the few hours after, which I spent on the clubhouse patio, downing the local beers, Steinlager and Speights, and talking with my hosts about everything from golf to politics and our kids.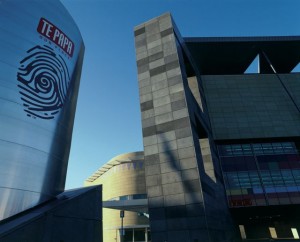 Wellington, at the bottom of the island, is New Zealand's San Francisco: young, hip, vibrant. It's the national capital and the food capital as well, with more than 400 restaurants and cafes, as well as a coffee shop on almost every corner, many roasting and grinding their beans on-site. The downtown is compact, making this a wonderful city for walking, much of it along a shimmering harbor.
Some of the best strolls are inside the Te Papa Tongarewa Museum (photo, left), a vast, modern space that explains everything about New Zealand (the name means "Our Place") with exciting, interactive exhibits. Te Papa can be visited early in a trip to give some direction or at the end to wrap things up.
About an hour north of Wellington along the Tasman Sea is Paraparaumu Beach Golf Club, which was designed in 1949 by Alex Russell, a MacKenzie disciple. "Paraparam" is a true links of rolling dunes, dependent on the winds for its challenge and charm. It has hosted the New Zealand Open a dozen times, including in 2002 when Tiger Woods tied for sixth. Over the years holes have been lengthened, but the course is still short by modern standards. Like Titirangi, it represents a different time, and suits the real world, if not the pros, just fine.
When Woods was here, he stayed at the nearby, Greenmantle Estate, a charming country house with a pool and fine dining. A little farther up the road, tucked behind a long running hedge, is Te Horo Lodge, a more modern private home set in an orchard and turned into a small hotel by owner/chef Craig Garner. It was my final stop and a fitting one, proving to be quintessentially New Zealand—warm, relaxed, and not at all pretentious.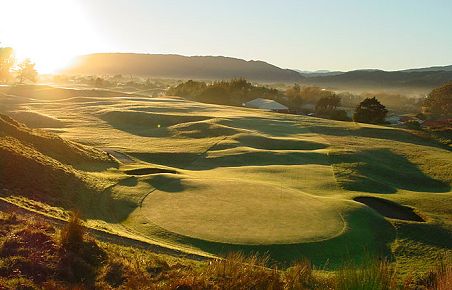 Paraparaumu Beach (photograph courtesy of the club).
This article was originally published in the November/December 2006 issue of Golf Connoisseur.