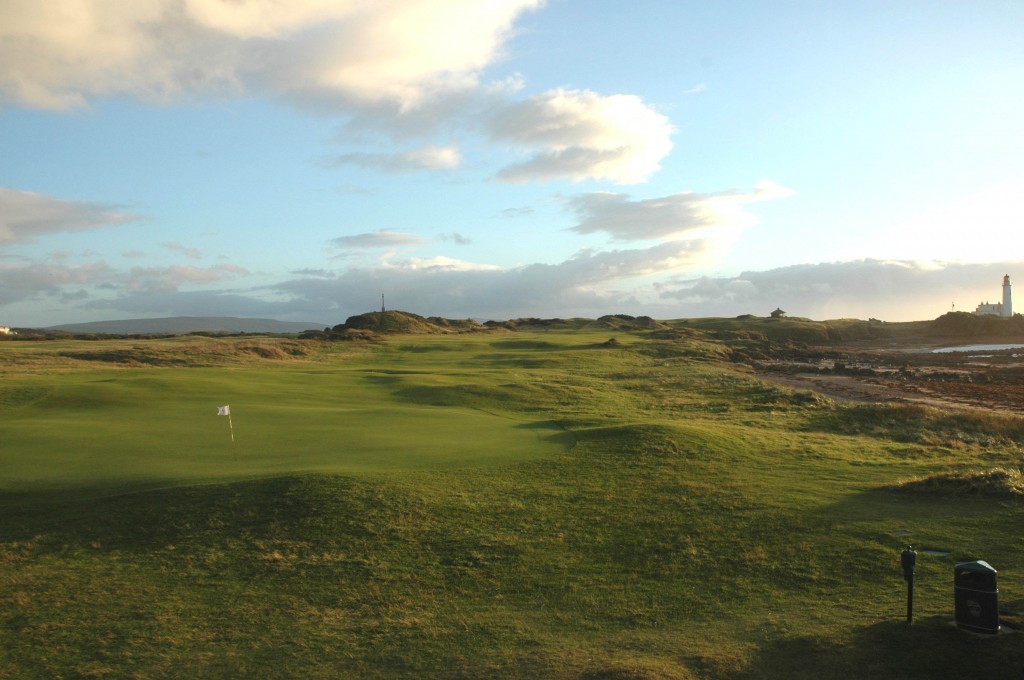 I think that if you asked most Americans who've played golf in Scotland to name their favorite course, about 7 out of 10 would say Turnberry.
The Ailsa course—where Tom Watson beat Jack Nicklaus in the 1977 British Open, nicknamed the "duel in the sun"; where Greg Norman won his first major championship, in 1986; and where Watson nearly turned back time to win the Open Championship in 2009—is an absolutely magnificent layout, famous for its dunes, lighthouse, and brilliant setting along the Firth of Clyde.
So you would think that if a Golf Road Warrior, or any other golfer, were offered the chance to play the Ailsa, he would. But sometimes we have to take one for the team and sit it out. Let me explain.
The weather on Day 4 of our Scotland sojourn was, in a word, horrendous. Howling wind, pelting rain, bitter cold—the trifecta of yuckiness. Especially when one is looking at four or so hours carrying one's own bag. This was my fourth visit to Turnberry and it seems as if every time I've been here, the weather has been awful. (Okay, that's not really true, but the last time I played Ailsa I was bundled in so many layers I looked like the Michelin man with a baseball cap.)
Plus we'd had a five-hour ride from the Kintyre Peninsula after that crazy late night celebrating the re-opening of The Royal Hotel in Campbeltown. Honestly, as a Golf Road Warrior, sometimes I felt like a reservist. Or maybe 4-F. Battling the elements as well as my faulty swing just wasn't going to happen. So I passed.
GRWs James Mason and David DeSmith played in the deluge and they are now my heroes. Anita Draycott and I chose to tackle the game in a different way, with a quick lesson in how to play links golf at Turnberry's Colin Montgomerie Links Golf Academy. Situated next to the lovely clubhouse—which serves both the Ailsa and Kintyre courses—the academy features covered hitting bays as well as classrooms, shop, and TaylorMade Performance Lab for club-fitting. And while the pros there are happy to help fix any part of your game, their specialty is teaching golfers the shots particular to links golf, such as the low punch, bump-and-run, and long putts.
Anita and I spent about an hour with Michael Sweenie, a young Scottish pro who looks a little like Tour player Paul Casey. He started by explaining some of the fundamentals of playing the seaside courses, most of which deal with wind. The basics are to keep the ball low and to take as much spin off it as possible so it doesn't upshoot or sideshoot, which is when the wind takes over and throws shots every which way. As Michael put it, "links golf is primarily played along the ground," which means learning to hit it low and long. Straight helps, too.
The basics are fairly simple: 1) ball back in stance (although each person has to find his/her own best position); 2) create a stable base by standing a little wider and leaning the upper body slightly forward; and 3) a shorter, more compact swing. It sounds easy, and when Michael demonstrated, it was. But trying it myself—and worse, seeing the swing on video—proved slightly traumatic.
As I began to get the hang of it, Michael also said that it was likely the same basic tenets would help my full swing. Notably making a shorter, slower, less stressful swing. He was absolutely right (we talked a little about the bigger swing change I'm working on), and occasionally the two lessons nicely overlapped.
I also asked about hitting a lower, more punched driver: Michael said the swing changes are the same but also warned that such a play is very difficult for most golfers, who tend to hit their tee shots with way too much spin. And then we talked about judging the distance on low punch shots: "Yardage goes out the window on 99% of these shots," he said. "You have to play the course." In other words, it's a matter of feel and scoping out the terrain in front of you.
We didn't talk much about other shots, but I've certainly been hitting lots of little bump-and-runs and other low running chips while in Scotland. Again, the tasks are to look closely at the ground that needs to be covered, to choose the right club (usually one with much less loft than what we'd used a home for an air ball), and to make a slow and easy swing. It's hitting those shots well that I find to be the most fun on a links course.
One shot we didn't talk about—mostly because the weather conditions were so foul that we didn't want to leave the warmth of the indoor hitting bay—was the escape from a pot bunker. But I already knew the answer to this one: If you find yourself in one of those nasty little hazards, just get out!
I'll have the opportunity to try all these shots, and more, over the next two days as the Golf Road Warriors play two terrific links courses. But that's to come. Right now the only lie I want to hit into has four pillows and a big, fluffy duvet.
For more on Golf Road Warriors Scotland, take a look at the website.