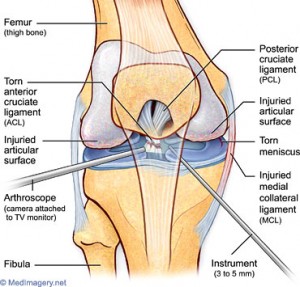 I can tell you exactly where I was when my knee went. I was in New Zealand, during a three-week golf trip to the North Island, staying in a small hotel north of Wellington very near the great links course Paraparaumu Beach.
It was doing my morning stretches, on my haunches, when I both heard and felt a pop in my right knee. Amazingly, it didn't bother me for a year, maybe more. But now, six years later, I'm about to have a torn meniscus arthroscopically repaired. The doctor threads in a little tube tipped with a blade and cuts off the tear so it doesn't float around, get stuck somewhere, and potentially damage an otherwise healthy joint.
Three prescriptions are ready to be filled: Zofran (anti-nausea), Percocet (pain), and crutches. A friend who had his knee done a few weeks ago says to ask the doctor about Game Ready, an automatic ice-compression cuff that goes on the knee and speeds healing. Sounds interesting.
I put off the surgery as long as I could, swearing that I'd wait until it got so uncomfortable that the important things—walking, sitting, golf—were jeopardized. In the last few months, that's exactly what has happened. I tried knee braces and latex sleeves, which helped a bit. But the knee hurts almost all the time. I haven't been on my bike for two years. I felt it was time and the doctor noted that it should be done when the rest of the knee is still strong.
Obviously, this is partly about aging. All of us over a certain age (pick your number) suffer with a litany of minor aches and pains every day. And we all have long lists of friends and acquaintances who've had knees done, hips replaced, work on rotator cuffs, and so on. Ours is a very active generation (60 is the new 40?), refusing to stop as long as modern medicine gives us the chance to continue. And why should we give up the things we love? We want to be the Energizer bunny and keep going, and going, and going…
So just think of these procedures as Viagra for different body parts.
Assuming the Percocet isn't too necessary, I'll try to report on the procedure and the post-op care. The surgery is this Wednesday, March 21. I have a golf date on May 3, and my calendar for golf-travel is filling up. My intent is to be the poster boy for fast, yet healthy, rehab. I'll let you know how it goes.
The next "pop" will be a champagne cork.