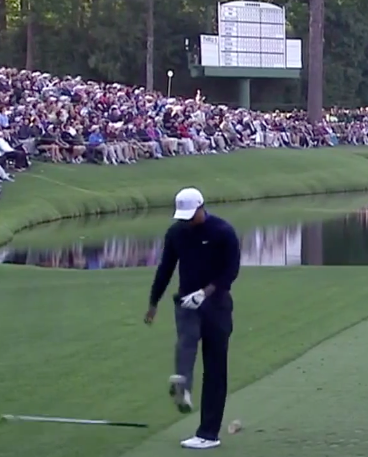 There are a lot of very smart people writing about golf. And they're not all where you might want them—in the major newspapers, in the golf magazines, on television. Sometimes you find them in out-of-the-way places, writing, as so many others I know do, to keep busy, to keep attached to the game, and most of all to try to get people to think.
Here is a link to an article that appeared on the Yahoo sports site by a friend, Dave Seanor, who used to be the Editor of GolfWeek magazine. He writes in various places and is worth searching out because he says interesting things like this: Even if Tiger Woods does return to past form, the game of golf will not be saved.
I could not agree more. Dave has numerous facts and figures to back up his contention. Let me offer a few more, most of which are somewhat anecdotal.
I remember very well when Tiger turned pro, the "Hello, World" commercial, and the following uproar. To his credit, Woods immediately quieted any negativity with an amazing run of golf in the second half of the 1990s and a good part of the 2000s.
However, as I never tire to pointing out to people who want to talk about the "Tiger Effect," at almost exactly the same moment that Tiger turned pro in 1996, the game started to slip. And by that I mean participation. There were, as Seanor points out, a few blips of golf activity, particularly among African-Americans. But rounds started to go down, the number of players went down, and the golf industry started a long, painful swirl into a toilet bowl of economic trouble that it is still not out of.
Where Tiger had a huge effect was, of course, on television. Viewership numbers soared, sponsors came a-runnin', purses went up, and the PGA Tour started minting millionaires who barely recorded any top-10 finishes during a season. Good for them and their pensions, but not good for golf. And certainly not good for the rest of us, the real golfers who keep the game going and—unlike the pros—actually pay for clubs, balls, tee times, cart rentals, shoes, shirts, etc. (As I was just reminded again last week by someone at one of the major equipment manufacturers, tournament success does almost nothing to drive equipment sales. Figure that out!)
But participation? Down, down, and down some more. This year's PGA Merchandise Show back in January showcased its usual "cautious optimism," a phrase I've been using for so long I should have it tattooed on, as should all the other gearheads breaking their jaws trying to put on a brave face.
I hear that equipment sales are up this year, as are rounds played. I certainly hope so, not only for my benefit as someone who tries to make a living covering the golf world, but for those people who will discover a truly great game.
I hope they are driven to give it a try because of people like Bubba Watson (Masters champion) and Tom Watson (doing TV ads for The Greenbrier Resort). And because condos and second homes are a steal at some phenomenal golf communities and resorts, equipment has never been cheaper and more technologically advanced, courses are (mixed emotions here) making deals to fill up the empty tee sheets, and the game, while not easy, really can be—as Bubba showed—an act of joy and creativity.
And not, as Tiger Woods seems to demonstrate week after sullen week, that it is the outdoor version of going for root canal.
Personally, I'd love it if Tiger won more. He gets me excited to watch because he is an amazing athlete. But will his success translate into a golf resurgence? Ain't gonna happen.
P.S. For more on Tiger, take a look at my review of Hank Haney's book, "The Big Miss," which takes us as close to Tiger as we're every likely to get. It is eye-opening, but certainly not heart-warming.