There have been 59 PGA Merchandise Shows and I've been to the last 28. While I've obviously missed a few, I'm willing to bet that it's rarely been more difficult after a show is over to know where the golf industry is headed.
According to the official tallies, more than 42,000 visitors looked at wares from more than 1,000 exhibitors. More than 6,000 people attended Demo Day. I shudder to think how many balls were hit.
Yet inside Orlando's Orange County Convention Center the atmosphere was less than robust. Maybe it's just my aging eyes, but the aisles never seemed too crowded, the booths rarely stuffed. Even the fashion section—which has grown year after year as "hard goods" has shrunk—was quieter than I remember.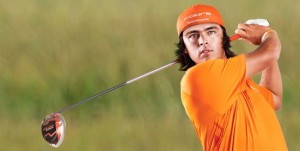 I've been hearing for years that the show is no longer about writing orders or significant product introductions. I describe it like a high-school reunion: A chance to see how everyone looks and perhaps more important, to note who didn't attend. It's also a great chance to catch up with old industry friends, of which I'm happy to say I have many.
So what was there to see? I noticed a few trends, which I'll mention here and follow up on over the next few days. There are always dozens of products worth describing: Check out the stories I've already posted and you'll see what I mean. There will be more to come so please keep checking back.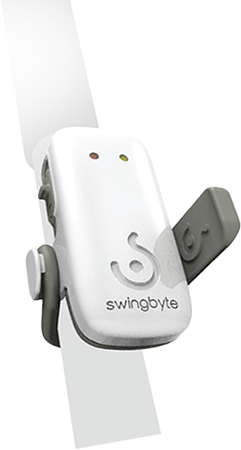 The big news of the last few shows has been in technology, and that remained true last week. I love geeky products like Swingbyte, a tiny device (right) that clips to the clubshaft and sends a frightening amount of data on your swing to an iPad or smartphone. The GolfBuddy Voice is a new GPS unit, about the size of the ipod shuffle, that speaks out yardages. It will be available in the spring.
There's also great work going on in clubfitting (perhaps the most overlooked tool in the game), nowhere more interesting that at Swing Labs, which can tell after just 15 swings if your clubs are right for you. They say the average distance gain for 90% of the golfers they work with is 10 yards.
As noted, there are few big introductions at the show in clubs and balls. My inbox receives press releases announcing new gear almost every week. But it was a chance to actually see and touch some of the new stuff like TaylorMade's RocketBallz, Nike's VrS, Ping's i20, Callaway's RAZR Fit and RAZR XF, and TourEdge's XCG5, plus new balls from Titleist and Bridgestone among others. Among the lesser-knowns, the innovative short-game system of clubs from SCORGolf (shown at top) is fascinating, while the balls from Innovex are pretty damn good for half the price of big-name pellets.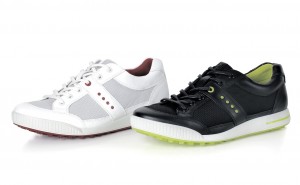 One area of surprising change is footwear. Ever since Fred Couples began wearing what looked like skate-boarding shoes the golf-casual trend has taken off. Fred's brand, Ecco (left), is leading the charge with new looks and technology both above and below the sole. I loved the insanely comfortable shoes from True Linkswear, while there were designs both new and retro from adidas and Nike (which I've already written about), and a company called Barefoot BERBS. At the more traditional end of the scale, it's hard to make shoes that look and feel better on and off the course than those from Allen Edmonds.
Slight tangent here: Looking at the new shoes and traction systems I couldn't help but recall the big stink that accompanied the introduction of softspikes about 15 years ago. Golfers fretted about slipping either while swinging or walking down clubhouse steps. Guess those problems slipped away.
Retro was also big in the fashion aisles. Being a child of the '60s I waxed reminiscent at the new Arnie line from Quagmire (below). If you fondly remember the Munsingwear penguin, small collars, real polyester, and shirt pockets with flaps (to say nothing of the cigarette packs in those pockets), then check it out. There are also some fun t-shirts there, as there are from Linksoul, a new company from fashion legend John Ashworth that further enhances his reputation for style and quality.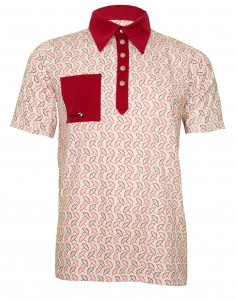 Another aspect of fashion, hardly contained to the soft-goods arena, is color. Everywhere I looked was color: blindingly bright, almost luminescent, an appropriate wonderful world of color in the town that Disney built.
Cobra/Puma has staked its claim to orange, thanks in part to staff player Rickie Fowler (above, in orange of course), and actually displayed its new clubs surrounded by Florida's favorite fruit. There were brightly hued grips and balls, too. And in the fashion aisles the entire spectrum was on display, an absolute rainbow in every booth. From industry leaders like Ralph Lauren and Greg Norman to the new blood at Abacus and Sligo, it was a '60s Technicolor explosion tripping through the traditionally staid game, like Hunter S. Thompson and Tom Wolfe teeing it up while dropping acid.
Which begs a question: Do dynamic colors signal a coming upturn in the economy, a leading indicator of bright times ahead? Or do we turn to a pulsating palette when times are tough and we need something to stir our souls? Like when the groundhog sticks his head above ground in a few days, does effervescent color mean many more months of economic winter or can we expect a spring-like rebirth?
No matter how the golf economy does in the short term, I'm not alone in worrying about where the game will be 5, 10, 20 years down the line. As always, the PGA Show featured numerous lectures, panels, and initiative launches regarding golf's future. I hardly heard it all, but amid all the gum-flapping and finger-wagging was one fact, stated by Jack Nicklaus, the greatest player of all time, that gave me pause: Speaking about his own family, Jack said that of his 22 grandchildren, only 1 has any real interest in golf.
If that's the future of golf then color me blue.