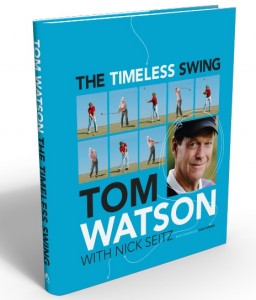 Two relatively new golf books landed on my desk recently. They couldn't be more different but both are worth a good look.
The Timeless Swing, by Tom Watson, is that rare individual: an easy-to-understand instructional tome. Much like his DVD, "Lessons of A Lifetime," which I reviewed favorably a few months ago, Watson's book presents its teachings clearly and completely, and with just enough of Tom's personality to make it a keeper.
If you've been reading Watson's instruction articles in Golf Digest for the past 30 years, the advice might not all be brand-new. But compiled in one place it's very smart and sound, well thought out and well explained (Watson's collaborator was Nick Seitz, longtime editor at Golf Digest). What I like best are the visuals—big, bright photographs with corresponding text highlighted in yellow so there is no confusion about what Tom is saying and what he deems important. There are hundreds of photographs, including detailed sequences of Watson's swing, and they all make their point.
Also, the book contains Microsoft Tags, which get scanned into a smartphone and bring up a video of Watson demonstrating the relevant bit of swing theory. Very cool and an interesting use of technology, particularly if you wonder, as I do, where golf instruction is heading.
Another bit of golf foreshadowing is the chapter titled "Swing Younger," which has about a dozen tips for making your swing, like Tom's, truly timeless.
This is one of the most intelligent golf instruction books I've seen in years, good information intelligently presented.
To quote Monty Python…
"And now for something completely different."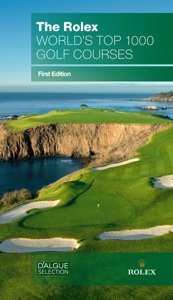 The Rolex World's Top 1000 Golf Courses is a bold attempt (perhaps more risk than reward) to narrow the list of 33,000 courses around the globe to an elite thousand. Like all such lists, it is admittedly very subjective and more about starting arguments than finishing them.
Is it a "must" for every course lover? Let's see…
I won't describe every feature, every page, every nuance of this heavyweight. (If you desire such disclosure, read what my colleague Brian McCallen wrote on his A Position page.) But I will point out a few highlights.
Of the great grand, 362 are in the U.S., 282 in Europe, 237 in Asia-Pacific, and 119 "elsewhere." There are courses in countries one wouldn't think of as golf havens, including Venezuela (where President Chavez decries the game's capitalist background), Poland, Guatemala, and Pakistan (but, alas, not the one near Osama bin Laden's now-famous not-so-safe house). The inclusion of such out of the way places is to the book's advantage, proving that the game is truly international and adding an implicit hope that more and better layouts will turn up in these and other exotic locales soon.
Each course gets its own tissue-thin page, with a short description and details such as address, pars and yardages, dress code, playing restrictions (many are private, no surprise) GPS coordinates, altitude, nearest airport, hotels, restaurants, and non-golf attractions. What courses do not get, unfortunately, is a photograph: There is but one for each country. There are, however, a lot of maps.
And, of course, each course gets a grade. For reasons unexplained, grades are given as a numeric score from 75 to 100, in 5-point increments. (Many wine publications use a similar system; I'm not a fan of those, either.) Perfect 1oos were given to 15 courses: Augusta National, Bethpage Black, Carnoustie, Cypress Point, Kingston Heath, Muirfield, Oakmont, Pine Valley, Portmarnock, Royal Adelaide, Royal Birkdale, Royal County Down, St. Andrews, Sunningdale New, and Torrey Pines South.
Hey, don't yell at me…
What's interesting is the number of courses rated 75 and 80 that are in the book while almost every golfer I know could come up with dozens just as good or better that aren't mentioned. Of course, without including some low-scoring courses many countries wouldn't be represented at all, and the point of the book seems to be covering the world rather than creating a truly "top" list.
Which is fine.
What's not so fine, in my mind, is the explanation of how the ratings were done. Did five of the 200 "inspectors" see the three courses in the Mariana Islands or just one? Like or hate the top-course lists in the golf magazines, they have (or had; policies may have changed) rules about how many panelists had to play a course for it to be included. I suspect a number of Rolex's top 1,000 made the list based on a single opinion. And while I'm sure the book's producers did a wonderful job lining up "enlightened amateurs, professional golfers and journalists specializing in golf course architecture," I don't think any one vote should be enough.
So the guide's claim to be the first "genuinely independent world ranking" has an ironic twist: perhaps too much independence.
I expect that if Rolex continues to fund this undertaking, more raters will see more places and the judgments will become more well-rounded. In fact, if the selection committee wants to make this tome truly special, I suggest that future editions state the number of raters who actually went to each course, played it, and filed a report. That would be unique.
All that said, I still think the "World's Top 1000" is $35 well spent (it's available in bookstores, golf shops, and from Amazon). You will be introduced to courses you've never heard of and be fueled for architecture arguments for years to come.