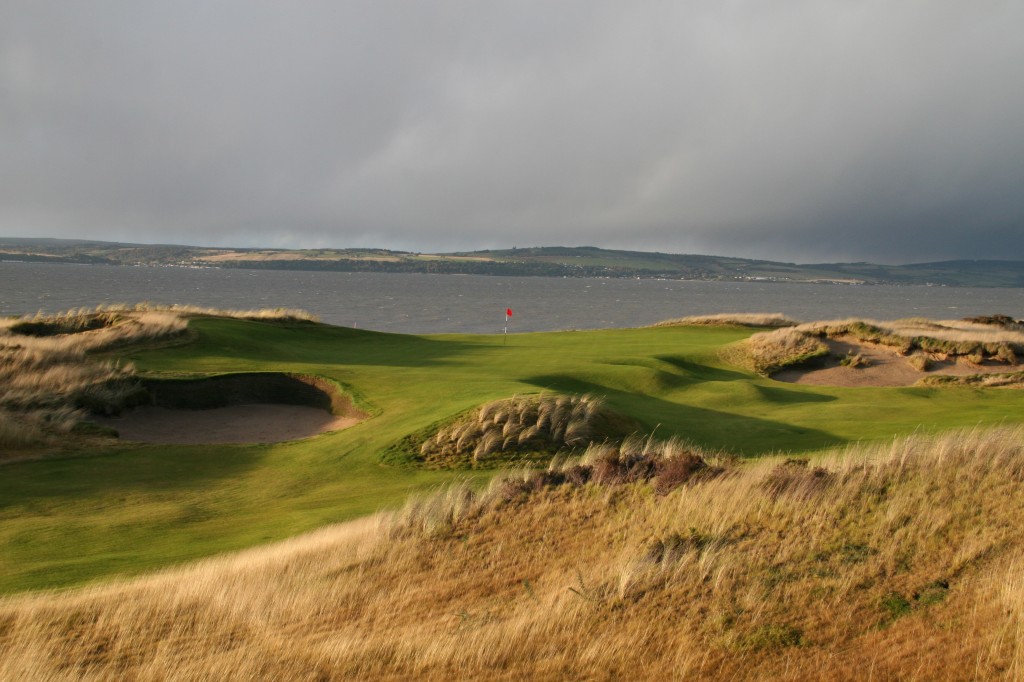 Fighting a cold, stuck in the house, and ditzy thanks to modern pharmacology, my thoughts turn to the year about to end and the amazing golf courses I was privileged to see and play. Believe it or not (and you won't), but this isn't intended as bragging, simply a recounting. And a big thank you to the people who made it all happen as well as the courses for being there. (Note: I'm including links throughout to other articles and posts I wrote on these destinations/courses. Just click on wherever you see the name of the course or other words highlighted in color.)
Counting Up
Addled on Advil, my recollections may be shaky and my math a bit murky. But I think I played 44 rounds on 40 different courses in eight states and seven countries. Hardly outrageous numbers for someone who does this for a (meager) living, but what fell short in quantity was more than made up for in quality.
Most Memorable
Merion (East course) is proof of the old adage that good things come in small packages.
Tryall, at the northwestern corner of Jamaica, is a wonderful Ralph Plummer design from the late 1950s that was minimalist before anyone knew the word.
Pasatiempo, in Santa Cruz, California, was designed by Alister Mackenzie, who made his home here. A public course, you'll be astounded by the hints of Augusta National, especially on and around the greens.
Royal Porthcawl, the course that Wales will be known for long after we forget the Ryder Cup venue, is one of the world's great layouts—big, bold, and beautiful.
Castle Stuart, in northern Scotland (and shown at the top of this page), is only two years old but looks and plays like a classic.
Most Surprising
Dyker Beach, in Brooklyn (that's one of the boroughs of New York City, in case you didn't know), won't make anyone forget Bethpage or Shinnecock, but it's a surprisingly good, fun, and cheap round in the heart of the big city.
Spyglass Hill. In the past decade, trees were trimmed and a drainage system installed, revealing a great test of golf. And the first five holes—playing down to, along, and back from the Pacific—are as lovely as anything the game has to offer.
The Prairie Club. Most of the attention paid to this club in north-central Nebraska will be to Tom Lehman's wide-open and wind-swept Dunes course. But Graham Marsh little brother is more devious and diverse, playing merrily over hills, through trees, and along a canyon's rim.
Nefyn & District, on a spit of land sticking out of northern Wales, is like playing at a county fair: People are everywhere, walking their dogs and taking kids and picnics down to the beach, and the course is as wild as a joyous thrill ride.
Portugal. With its very good golf, beautiful beaches, outstanding food and wine, fascinating cities, and personable citizens, the big surprise is that Portugal isn't a more popular tourist destination.
Courses I Need to See (and Evaluate) Again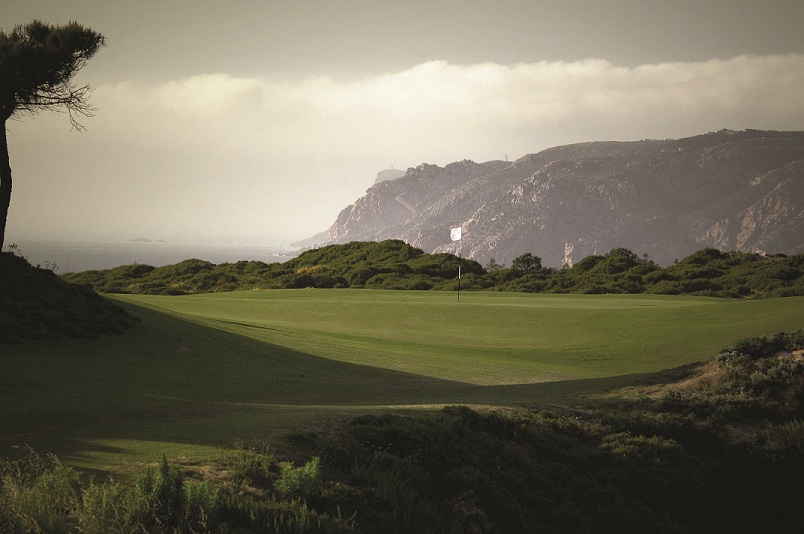 Oitavos Dunes. Speaking of Portugal, I made the mistake of getting off a plane, getting lost, and then walking this interesting Atlantic-side course (above) about 45 minutes west of Lisbon. I still think Golf Magazine was overly generous ranking it 88th in the world, but it definitely should be seen. Arthur Hills mixes the outstanding with the ordinary—a dull stretch on the front side balanced by ocean-view holes that are pretty spectacular.
Sand Hills. Call me a Philistine, but I wasn't bowled over. I played, I studied, I enjoyed. But one of the world's best? I'm not sure. Maybe the harsh winds made it hard to appreciate (and see; each round came with a free dermabrasion treatment). And the Nebraska landscape looks eerily like Irish linksland. But I felt much as I did the first time I visited Dornoch: These courses are more about theory than execution, and those who make the long treks must be lavish in praise to justify the time and expense it took to get there.
The Next Great Golf Destination?
I doubt hosting the Ryder Cup will result in millions of golfers coming to Wales. Which is too bad. Wales is Ireland 25 years ago: narrow roads, lovely villages, quirkiness galore, surprisingly good food. I spent the first two weeks of August circumnavigating the country, playing a dozen different courses–and very different they were. (In case you missed it, I blogged along the way, so you can read at length about the golf and everything else.) Wales golf deserves more attention. I hope it gets it.
And…
*I'm curious to see what architect David McLay Kidd does next. After knocking the world's socks off with the original course at Bandon Dunes, the young Kidd has been pilloried for some subsequent work including The Castle Course in St. Andrews and Tetherow in Oregon. But Huntsman Springs (below) in southeastern Idaho, part of a private golf community few will see, is a gem, scenic and strong. And Kidd's idea to dig out millions of cubic yards of flat land–exposing miles of springs and dropping the course below grade—was brilliant.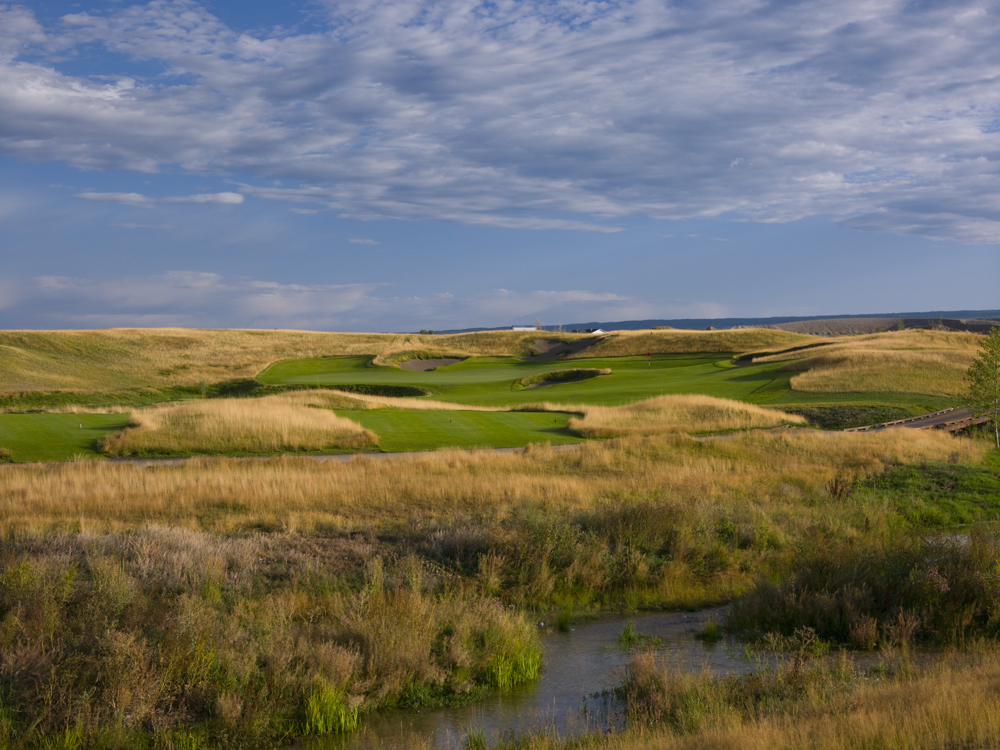 *I can't say much more than this, but I just came back from Baker's Bay, a new Tom Fazio course in the Bahamas. It might be the best Fazio I've seen. You'll be hearing more about it.
*After writing up their new equipment early in the year, Callaway Golf gave me one of their Backstryke putters, in which the shaft bends and attaches to the head at the back. I liked the putter in concept but struggled on the course until I took it to a Golf Galaxy store and spent about 10 minutes with one of their in-house clubfitters, who watched me make a few strokes and then cut two inches off the shaft (so my arms could fully extend) and installed an oversized grip (limiting hand action). My putting improved immensely. Moral, and a good New Year's Resolution: Get your putter fit!
*If you're looking for more photographs of great courses–notably some of the best new courses to open in 2010–I put together a slide show that features some wonderful examples of the architects' art.
Happy Holidays. And please check out my other website for more on golf as well as travel, other sports, wine and spirits, and much more.