The best golf practice devices are the simplest golf practice devices: easy to use, easy to understand, and likely to effect real—and positive—change in your game. At the PGA Show a few months back, I saw three products that should meet all these criteria.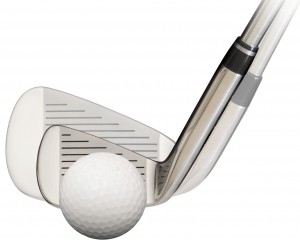 The Little One (left) is an aptly named swing trainer designed to help you hit the ball better and longer while also improving your concentration and confidence. It's a very simple, yet brilliant, idea: A standard-length 7-iron with a head roughly half the size of what you're used to. From chipping to full swings, practicing with the Little One should train you to make crisper contact, closer to the heart of the clubface. The cost is $119.95; order, and get more information, at the website.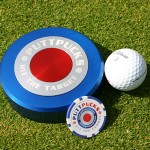 I've seen other putting aids try to do what PuttPucks (right) does, but none as well. It's an interlocking set of three metal "pucks" that fits into a standard-size golf hole, shrinking it to help refine your stroke and aim. It's also a rebounding tool—how the ball bounces off the pucks indicates if a putt was pulled, pushed, or hit straight—and a series of smaller and smaller targets. The three pucks are available in a choice of colors and can be branded with a logo or message ("Never up, never in"?). There's no U.S. distributor yet, but you can order online from Britain for about $45 plus shipping.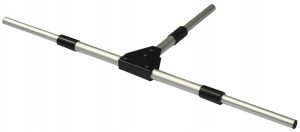 Last, but not least, is another classic idea updated and improved, a back-to-basics alignment aid called TPerformer (left) that forms a t-shaped tool to help monitor ball position and aim. Folded up, TPerformer slips into your golf bag; unfolded, it sits on the ground and shows where the ball is in your stance and where your clubhead and feet are pointing. Yes, you could do the same thing with a couple of clubs, but this is one-piece, smaller, and easier to use. Another European import, the cost is about $82, including shipping, from the website (be sure to click on the British flag in the upper-right corner for English).