Surprise: The country and the golf are much more exciting, fun, and charming than you'd expect!

Dalat Palace Golf Course
I'd been in Vietnam little more than a week when I saw it. Playing the front nine of the Dalat Palace Golf Club—a charming course that dates back to the 1920s—I happened to look through an opening in the trees and there it was: A big red star on the front of a big ugly building. That's when I remembered: I was in a Communist country.
History is not exactly Vietnam's strong suit. Not that they don't have a lot of it, and not that the mere mention of the country's name won't cause Americans of a certain age to conjure up a vivid series of memories. But the party leaders aren't pushing history as a reason to visit. They're all about the here and now—money, exports, tourism, like that.
And golf. There aren't 20 courses in the whole country today, but I was told by various experts—ex-pats living in Vietnam to run or promote golf venues—that as many as another 100 are "in the works," which means anything from under construction to somebody's vision. They won't all be built: The government periodically changes its mind about golf, stopping all development so as not to appear too capitalist. But it's safe to say that golf will figure in Vietnam's attempt to grab the gold ring.
The surprise is, they're off to a great start. Some of the courses are very good, as diverse as the landscape. Which is another surprise: It isn't all jungle. In fact, almost everything about Vietnam is a surprise, which despite being a tired travel cliché, is true.
I was expecting a smaller version of China, fascinating but also impenetrable, overwhelming, rigid, and very foreign. Furthermore, I don't understand the appeal of China as a golf destination (except for the Japanese and other Asians who have to leave home to satisfy their golf craving). For the traveling Westerner, there's too much else—culture, art, archaeology, food—to waste one's time teeing it up. And the courses in China usually are located where government officials want tourists to go (near mega-shopping cities), not where the truly curious want to go.
But Vietnam is different. The people are very friendly (another cliché, I know), and having entertained everyone from marauding Chinese overlords to French colonists and American soldiers through the centuries, they understand hospitality. Almost everyone speaks at least some English, signs are decipherable, and the food is both terrific—Asian with a French accent—and affordable. There are still street vendors hawking knock-off handbags and Rolexes, but even the most intrepid entrepreneur takes no for an answer. And playing golf in Vietnam actually will take you places worth going.
Except for Saigon (officially Ho Chi Minh City). A spreading metropolis that never stops buzzing—the local joke is that there are 10 million people and 11 million motorbikes—Saigon is thrilling, but the nearby golf not so. It's also not that nearby, necessitating a bumper-car cab-ride of an hour or more into the urban hinterlands. There are closer, and better, courses "in the works," particularly something from Greg Norman. But until that opens, leave your clubs in the hotel while you tour. (If you absolutely must play, only do so during the week: On weekends, the pace of play on courses with HCMC addresses is glacial.)
Definitely go to the low-tech War Remnants Museum, which chronicles "the American War" from their point of view. And consider a day-trip to the Cu Chi Tunnels, the human ant farm where the Viet Cong lived underground. But skip those sights and it's almost possible to forget that a war was fought here, another surprise. The Vietnamese have moved on.
Once away from the sprawl, both the golf and the scenery can be mesmerizing. The aforementioned Dalat Palace course is just one reason to visit the mountain-top city of Dalat, which was established by the French in the 1890s as a weather station and sanatorium. It soon became their escape from the hot lowland cities and was master-planned to remind the bourgeoisie of what they'd left behind. They built lovely peaked-roof villas, outdoor cafes, even a miniature Eiffel Tower, all of which survive, as does a large manmade lake ringed with wide promenades for strolling.
On one side of the lake sits the palatial Dalat Palace Hotel, dating back to 1922. Across the lake is the golf course, which plays up, over, and along rolling hills and two serpentine lakes. There are tall pine trees, blind approach shots, significant elevation changes, and good food in the outdoor restaurant that backs the 18th green. Golfers finishing up will be tired and thirsty from the altitude, but the cool mountain air allows for the use of lush bentgrass tee to green, another surprise.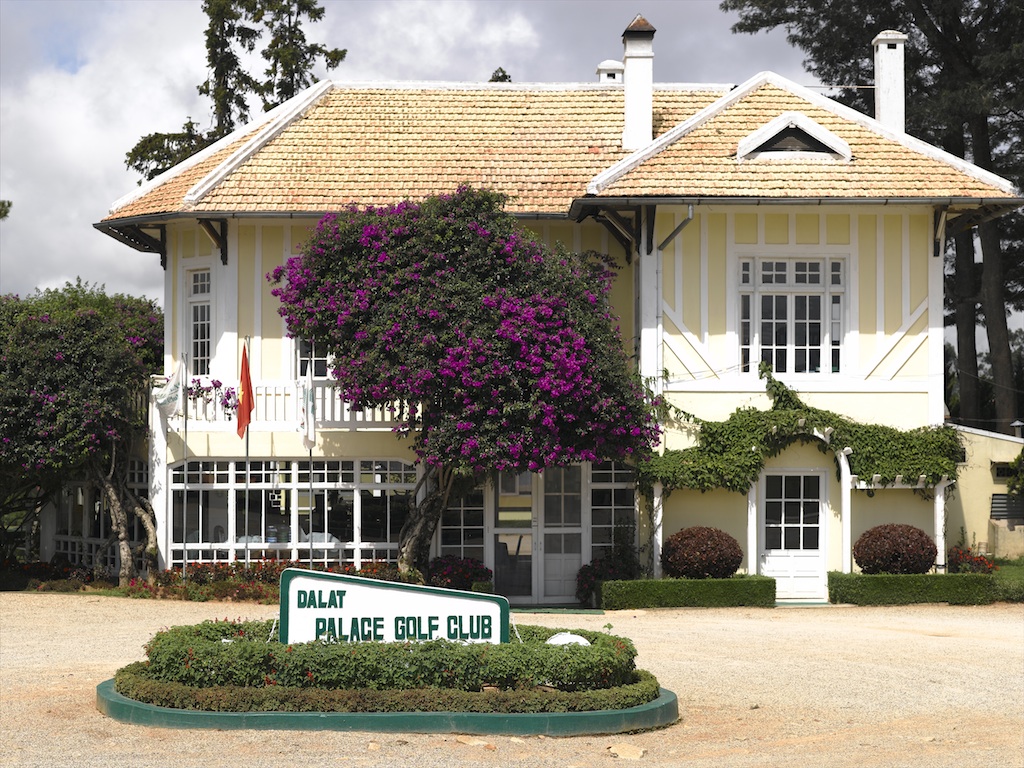 As is the course's history. The original 18 was designed by English architects Harry Colt and Charles Alison in the late 1920s. By 1939, "Ville de Delat, Indo China" was hailed as one of the world's finest courses; by the end of World War Two, it was overgrown and neglected. Locals uncovered some of the old holes in the '50s, and they were playable during the war: Putting on sand-and-oil greens, Billy Casper staged an exhibition in 1966, a few months before winning the U.S. Open. But the course fell into disuse again until the 1990s when an American company partnered with the government to restore nine of the original holes and build nine new, creating the course that exists today.
None of the country's other courses can claim such distinguished pedigree, but two of the best do share English parentage—as well as proximity to places visitors should go.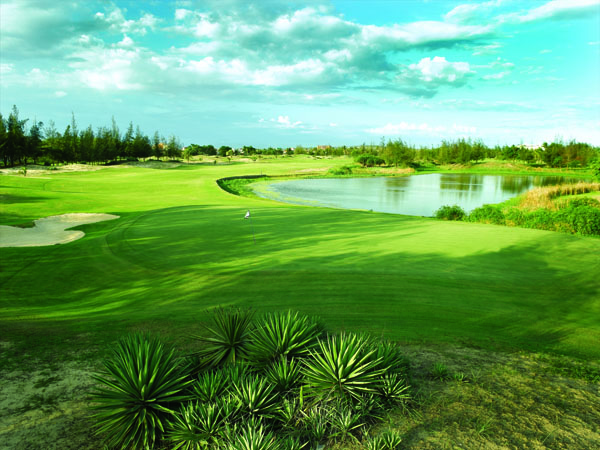 Ocean Dunes Golf Club, designed by Nick Faldo
With our lousy sense of geography, most Americans don't realize that Vietnam has more than 2,000 miles of coast along the South China Sea. For hundreds of miles, the beaches are wide and white, the hotels new, clean, and affordable. Nha Trang and Phan Thiet are two of the better-known seaside resort areas in the southern half of the country, where much of the golf expansion, when it comes, likely will occur.
The course that the new ones will be measured against is the 12-year-old Ocean Dunes, in Phan Thiet. One of Nick Faldo's first designs, it's a links-like layout with a handful of holes on the water and ever-present wind. There are also more tall pines, which grow all along the coast and give some much-appreciated definition to many holes. Ocean Dunes is harder than it looks, and Faldo deserves credit for messing with the golfer's head. Luckily, Phan Thiet has no shortage of post-round bars and other ways to recoup.
A few hundred miles up the coast, near what American GIs called "China Beach," is Hoi An, a hub of commerce from the 16th to 18th centuries. This was where the cultures of Asia and Europe crossed; today it's where you can get a suit or shirts custom-made overnight. In Old Town, the roads are narrow and cobble-stoned, and after a good rain the Thu Bon River laps up against the raised doorsteps. It's like being in a Far East version of Venice—ancient, mysterious, and wet. (Also like Venice, it has great places to stay and eat, particularly the Life Heritage Resort, at the edge of Old Town, and the excellent, Asian-fusion Mango Rooms.)
Twenty minutes away is the new Montgomerie Links, which now that the last few holes have opened probably will replace Dalat as the country's top course. Not quite a true links—the ocean is across the street—it has been sculpted over and around dunes, low scrub, tall trees, and marsh-lined lakes. It's both very natural and obsessively manicured, fun and challenging, and features the most modern amenities from practice range and clubhouse to teaching academy. It's also the first Colin Montgomerie design I've played and makes me want to see more: Let him be as grumpy as he likes if this is the result.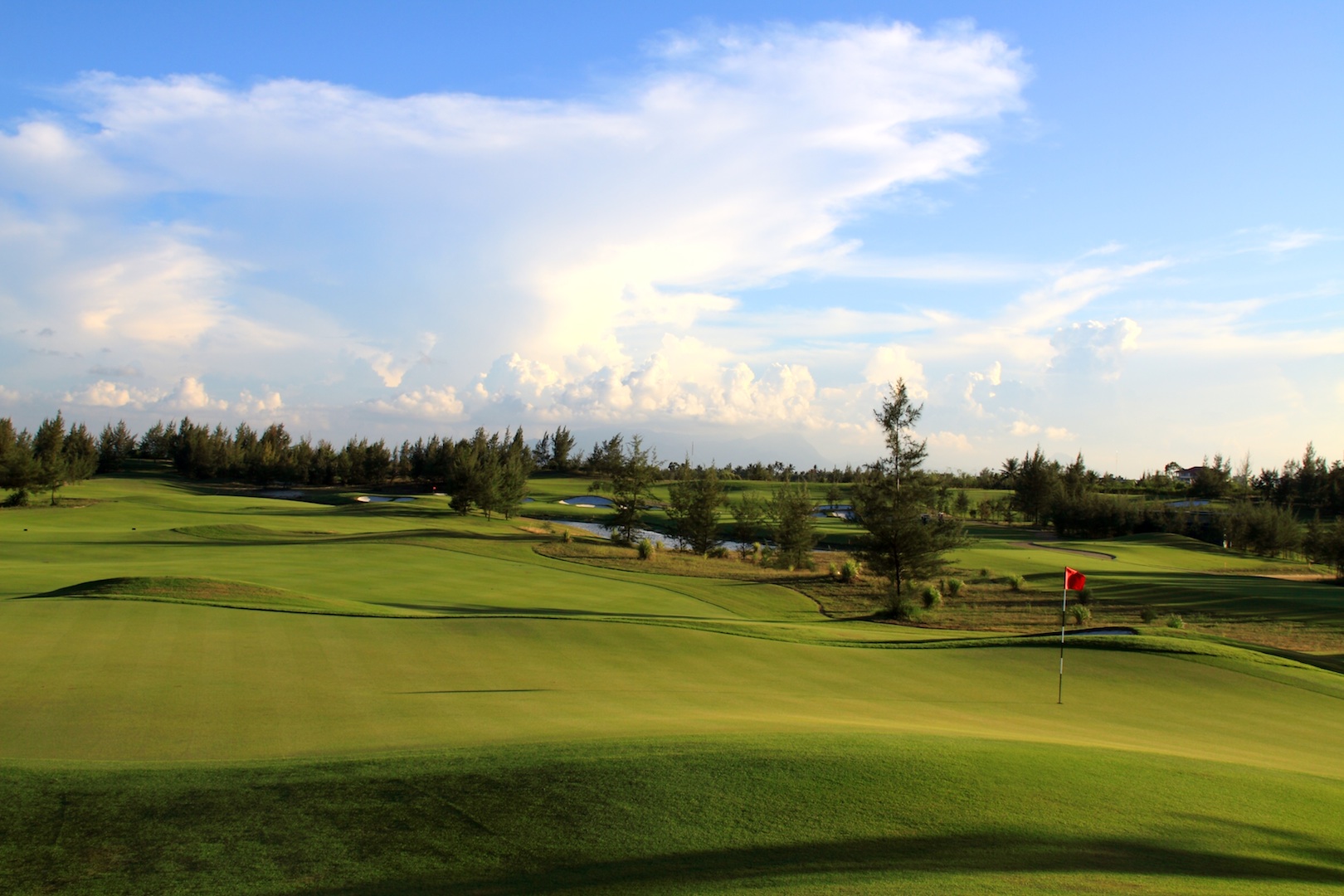 Montgomerie Links
Word is there are a few good courses up north, but I didn't get there. Yet. Someone told me that the younger rank of party faithful has become obsessed with the game, so more golf will come to Hanoi as the old guard dies off. Politicians are politicians: Nothing surprising about that.
An edited version of this story appeared in the November/December 2009 issue of Tee It Up magazine. Photographs courtesy of the courses and Mandarin Media.