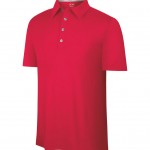 When you're a big and powerful company like adidas Golf (they prefer the name spelled with a lower-case "a"), the pressure to be innovative and exciting must be difficult. But it doesn't seem to be having much trouble maintaining its edge—and edginess.
My second look at golf fashion in the run-up to the annual PGA Merchandise Show (which begins this Thursday, January 28, in Orlando, Florida; sorry, the public is not invited) covers adidas Golf, although I can no more cover it than a handkerchief can cover a football field: The apparel catalogue for spring/summer 2010 is more than 70 pages long! So a few highlights, in both words and images, of what is already beginning to turn up in golf shops on and off the course.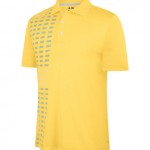 Bold colors, geometric designs. Look for strong patterns and textures, softer fabrics, and new colors: There's a bright yellow pattern that the company cleverly calls "taxi" (left), a new "Dubai" collection—inspired by the desert—with cool, almost metallic, blues, and a soft green called "tea."
Collar wars. I have a white polo shirt with a collar made of two different materials. Half is the old stuff, half is a new, re-engineered material that holds its shape better and doesn't curl after repeated washings and wearings. It will make the rib-knit shirts look and feel better. A great idea, but what do I do with a dual-collar shirt?
ClimaCool Extreme. This version of adidas' hot-weather fabric feels more like cotton than ever, with a softer touch, but it's still a polyester. It also wicks moisture off your body and dries faster. Next time I go to Asia…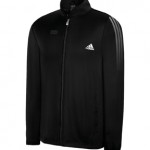 Rangewear. Have you ever wanted to work on your game at the driving range but not dress up in good golf clothes? That's the time for "Rangewear," polyester tops (right) and bottoms that are fancier than a sweatsuit (although they have elastic waistbands, drawstrings, and a little Lycra) but not something you'd wear when playing. The jacket has an inside pocket for an MP3 player with an eyelet for the headphone wire.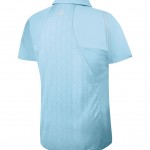 CoolMax Energy. Capitalizing on the interest in wellness—magnets, Q-Ray pendants, and the like—this new line (left) uses a fabric that supposedly works with the body's natural energy field to aid your performance. I can't explain it.
Adipure. A line for the more sophisticated, discriminating player. Elegant and tailored, these pieces (such as the red shirt, top) will be offered in different fits and across a wide range of styles, giving the rest of us something more traditional than the tight, European styles prevalent the last few years. Adipure for women will debut in the fall.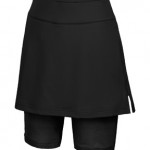 Female-friendly. The "Formotion Active Skort" (right) is a skirt with a sewn-in mesh undershort that looks like the compression shorts many athletes wear. Women will also be treated to lots of great colors, athletic shapes, and dresses, tops, jackets, and sweaters. And expect to see company spokesperson Paula Creamer wearing less pink this year.