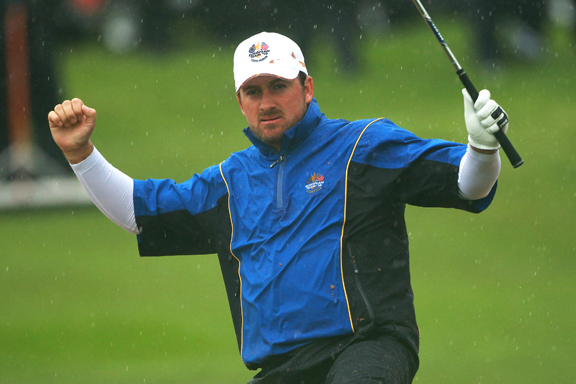 In all the hoopla surrounding last year's rainy Ryder Cup in Wales was that strange story about leaky rainsuits. However, it's worth noting that it was the American team's suits that irrigated internally, not the European's. Monty and his men (such as Graeme McDowell, above) were outfitted by ProQuip.
The 30-year-old Scottish company—the preferred supplier to more Ryder Cup teams (on both sides) than any other clothing manufacturer—recently returned to the American market after a short hiatus. And along with their outstanding rainsuits, ProQuip is introducing an innovative collection of water-repellent knitwear.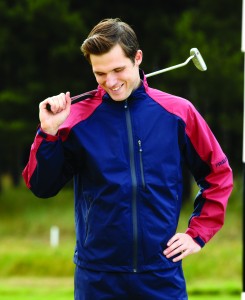 The top-of-the-line rainsuit is the Ultralite Tour, pretty much the same suit the Ryder Cuppers wore. It's made of the company's proprietary Ultralite fabric, which is soft, lightweight, highly breathable, and comes with a three-year waterproof guarantee. Men's jackets (retail price: $190) come in four color combinations: navy/crimson (left), black/royal, navy/pewter, and navy. Trousers ($160) are navy.
A ladies' Ultralite Tour line is also available, with jackets ($180) in red/black, pink/white, and black with pink zippers. Matching black pants ($110) feature a more feminine cut.
The Tourflex line of jackets ($220) and pants ($180) for men is also waterproof and breathable, but the fabric features more stretch. ProQuip also offers wind jackets ($170), with half-sleeve "windshields" for men and women coming soon.
Besides its other qualities, ProQuip weatherwear is blissfully quiet. And the pants, both men's and women's, are sold in multiple inseam lengths (not just small, medium, large, etc.).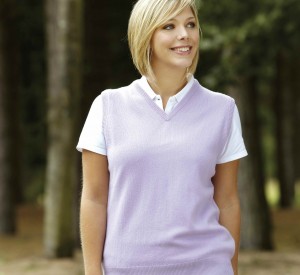 The new knits, made of British lambswool and Italian spun Merino, have been treated so water beads up and runs off. There's a wide choice of colors for men and women (that's sky, right), and these pieces are machine-washable and dryer-friendly: In fact, a wash, tumble-dry, and light ironing actually enhances the garments' ability to repel water. Available in crew necks, V-necks, sweater vests, and lined mocks, prices range from $90 to $170.
ProQuip products are just starting to reach our shores. Check out the website (which, I was told, will be updated soon for American consumers) for more details, a good look at color selections, and information on where to buy.