In our consumer-driven culture, the emphasis is always on new, new, new. The "what have you done for me lately" dilemma. While I'm as interested in technological advancements as the next guy, our desire for the next big thing can cause us to overlook the tried and true, the old reliables, those products and services that might need a tweak every now and then but certainly not an overhaul.
Case in point: The Boulders, in Scottsdale, Arizona. It is one of those wonderful, dependable, no-need-to-worry golf resorts that grace the U.S. from coast to coast. There are probably another dozen or so resorts at the same exalted level of quality that we want to revisit year after year to wallow in luxury that rarely needs reworking.
But you know these pinnacles of hospitality truly deserve their status when they make those tweaks, and keep improving the product while staying up with the times, without making a big deal about it. Their pride is based on proof.
I stayed at The Boulders a few weeks ago after having visited at roughly the same time last year. And while I was just as comfortable and just as happy 12 months later, I also was impressed with the little changes I noticed.
For example, all the guest rooms have been redone, repainted and refurnished. They are still what I call classically spartan, that is, they have everything you need and no more: There's a big bed and comfortable easy chairs plus a big-screen on the wall over the wood-burning fireplace. (The Boulders is the only resort in Arizona allowed wood-burning fireplaces; all others must use gas. I'll take the smell of real juniper wood over chemicals any day.) But there's also lots of room to pad around. The lovely tiled bath is connected to the spacious walk-in closet—bigger than my first apartment—which just makes sense. The rooms are smart, a word that applies in numerous ways.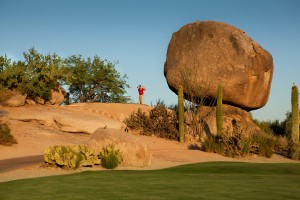 The main restaurant, Latilla, has a new chef and a new menu of New American fare with a Southwestern zing. The Grill at the Club has been redone, as well, offering another fine-dining choice on property. And it's still hard to beat Bogey's for exactly what you want after a round, be it drink or dish.
That haven't been many changes to the two golf courses, not that they need improvement (which isn't something I can say about my game). But there is, in fact, a new set of tees on both the North and South courses: Nine holes on each layout are now marked with what they call "Pebble tees" (Boulders/Pebbles, get it?). From the new tees, holes play between 100 and 200 yards, making them ideal for families, new golfers, and those who only have an hour or so to spend on the course. They'll miss some of the best golf and most beautiful scenery in the desert, but hey, nine shortened holes are better than nothing. (Pebble tees are only open for play in afternoons, with rates beginning at $65 in peak season.)
With luck, I'll be back at The Boulders in a few months. I'm sure there will be another tweak or two, nothing outrageous mind you, just little things that make the best even better. Which is just the way it's supposed to be.