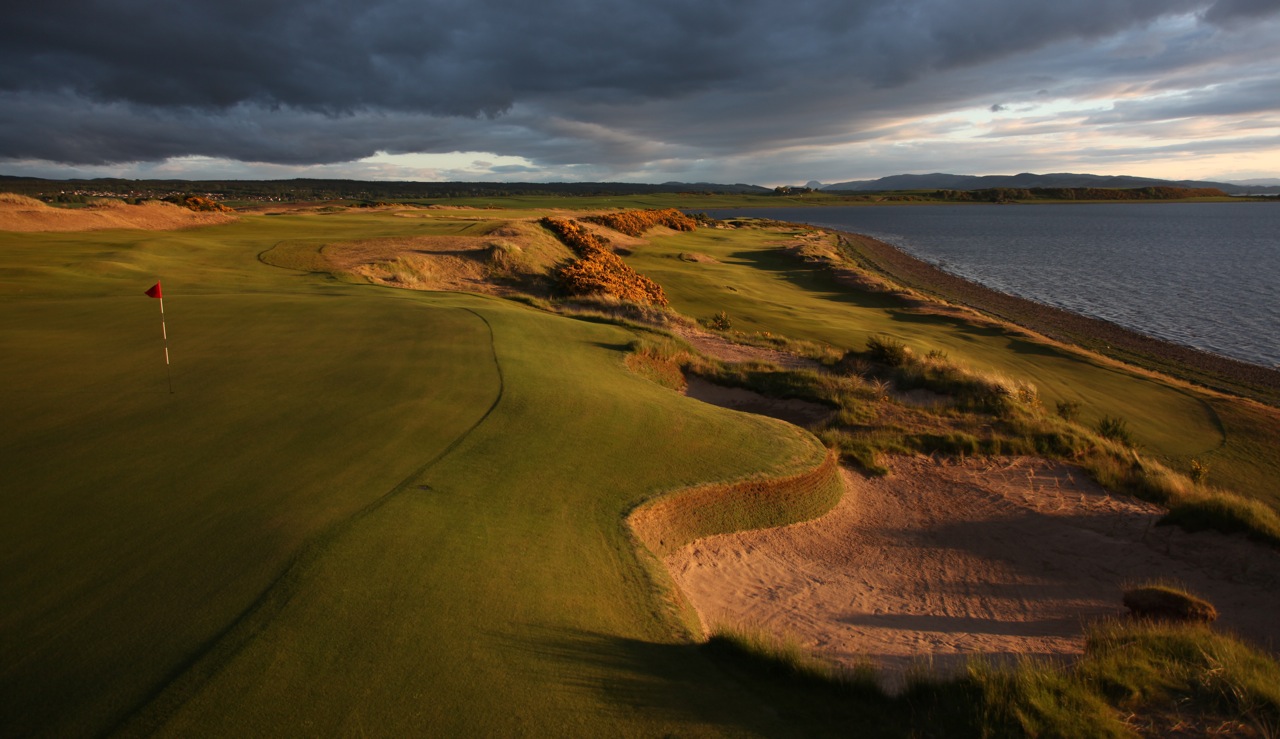 The wild weather at St. Andrews during the Open Championship didn't surprise me as I'd just returned from a week in Scotland where I faced my own share of wind, rain, sun, clouds, and nearly every other condition Mother Nature can throw at traveling golfers.
And like the Open at the Old Course, it was great stuff.
I did spend some time in St. Andrews before the championship began. No golf, but a chance to reacquaint myself with the lovely old town, walking the cobblestoned streets, poking in the shops, wandering through the town cemetery. Of course I had a few yum-yums from the Fisher and Donaldson bakery I recently wrote about, and tried the new Jigger Ale at the Jigger Inn and can pronounce it a fine addition to the many choices of liquid refreshment in the ancient burgh.
From there I headed north to the Highlands, joining a group of golf journalists (I know, two words that really shouldn't go together) for a "Writers' Cup" matching a team of eight scribes from the US against an equal number from the UK in a Ryder Cup format. We played three outstanding courses: Royal Dornoch, The Carnegie Club at Skibo Castle, and the much heralded Castle Stuart (shown at top).
I'll end the suspense now: The Brits won, 11-5, thanks to their familiarity with links golf—low shots, putting from the fairway, managing the conditions—and their ability to handle the copious amounts of whisky, ale, wine, port, even kummel that was poured over the four days. High-lands, indeed.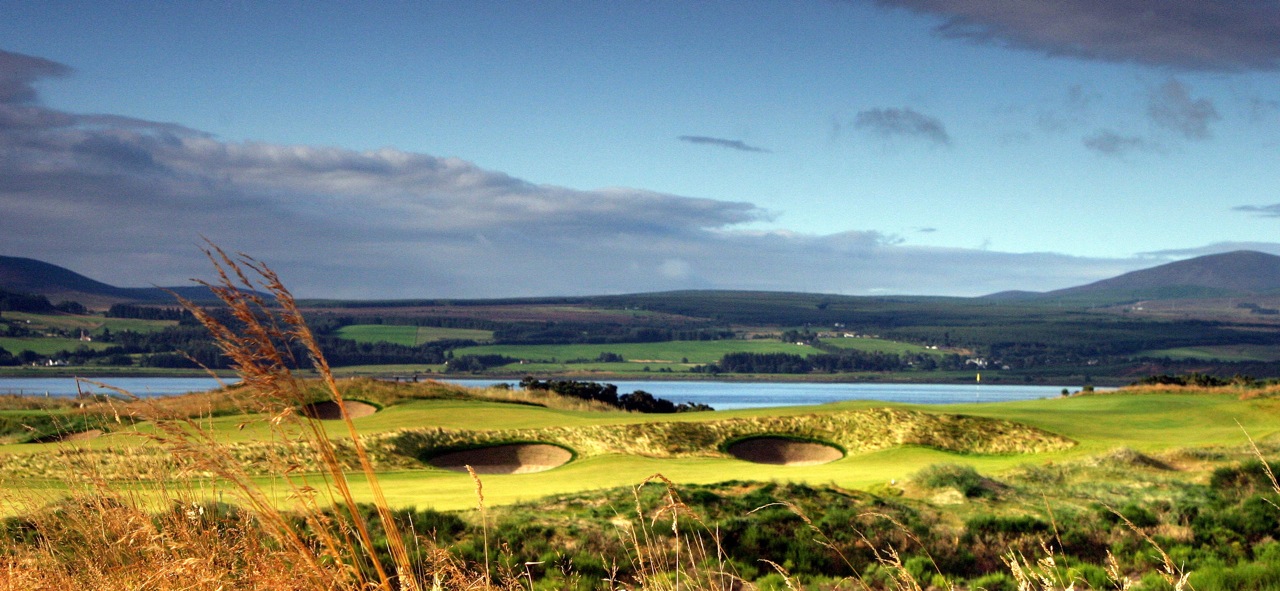 The Carnegie Club at Skibo Castle (above), not far from the town of Dornoch, is one of the most private clubs on earth. Its centerpiece is a castle that Andrew Carnegie built in the early 20th century, which now accommodates club members and guests in grand style: gigantic rooms, marvelous meals, claw foot tubs, impeccable service, and countless elegant touches. The golf course on the grounds was originally laid out by Donald Steel in the mid 1990s and wonderfully revised over the last five years by Director of Golf David Thomson (a former European Tour player) and Course Manager Gary Gruber. It's a rolling layout that calls for all manner of shotmaking. It's almost impossible to get onto unless you know a member, but the club is looking for a few new members who can appreciate—and afford—the lifestyle.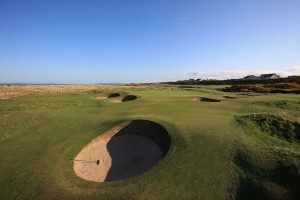 Royal Dornoch (left) is one of those famous courses that foster heated arguments among golf purists. This is where Donald Ross learned the game, so many of its characteristics, such as pushed-up greens, were employed at his creations (think Pinehurst #2). As a history lesson, it's hard to beat Dornoch, with its dunes and drops, twisty fairways, and emphasis on the short game; in the rain and gales we encountered, it was a test of patience and humor. I find Dornoch challenging but not charming, yet definitely worth seeing and playing. And it is tended to by a friendly membership anxious to share the experience with visitors.
Courses like Dornoch—as well as other Highlands mainstays such as Nairn, Brora, Royal Aberdeen, and Cruden Bay—have long been considered good but a little too far to go. That attitude should change with the opening of Castle Stuart, which will have golfers gladly driving the three-plus hours north from Glasgow, Edinburgh, or St. Andrews.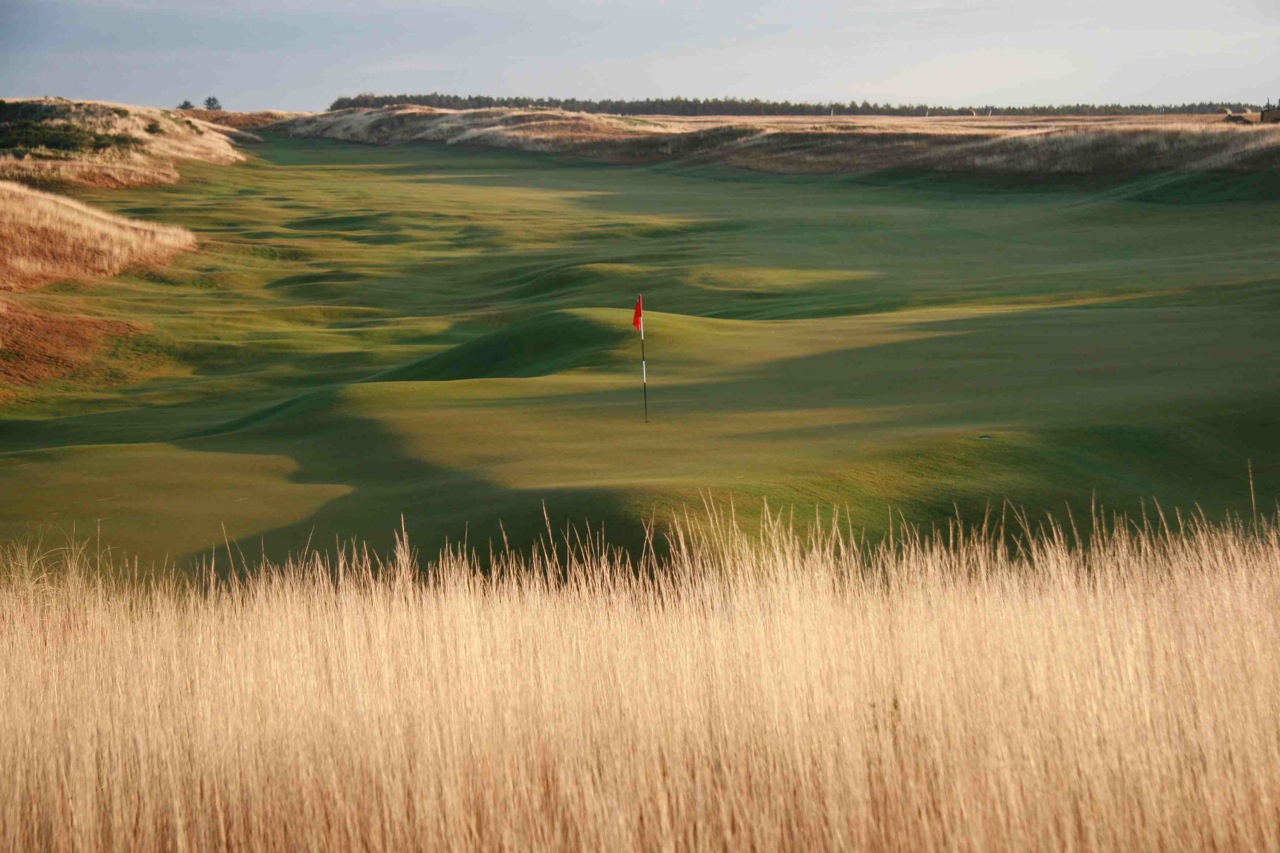 Castle Stuart (above) is the work of American Mark Parsinen, who was responsible for the terrific Kingsbarns near St. Andrews, aided by architect Gil Hanse. Playing along the Moray Firth, Castle Stuart is quite simply one of the most beautiful courses I've ever seen because Parsinen paid close attention to what the player sees, actually moving greens to create more appealing vistas of the water, distant mountains, and rolling terrain. And the course is as smart and fun as it is stunning. Fairways are wide but sometimes seem tight from the tee, a clever illusion. Every hole offers numerous lines of attack, but they're usually best played with low shots that bump onto the green in the classic style. Don't overlook the art-deco clubhouse, which presents panoramic views of the course and the scenery. Castle Stuart is not to be missed.
There are many places to stay in the Highlands, from the lovely Culloden House near Castle Stuart to small hotels and B&Bs in Dornoch (the Royal Golf Hotel is comfortable and a short walk to the course), plus all manner of hostelry in Inverness. Food and drink include pub fare, fish and chips, very good local beef and fish, plus too many beers, ales, and whiskies to count, although I did try.
Visiting golfers who once confined their treks to the east around St. Andrews and the west around Turnberry will have to squeeze in a few more days: As of now, no Scottish golf pilgrimage is complete without a healthy dose of Northern Exposure.