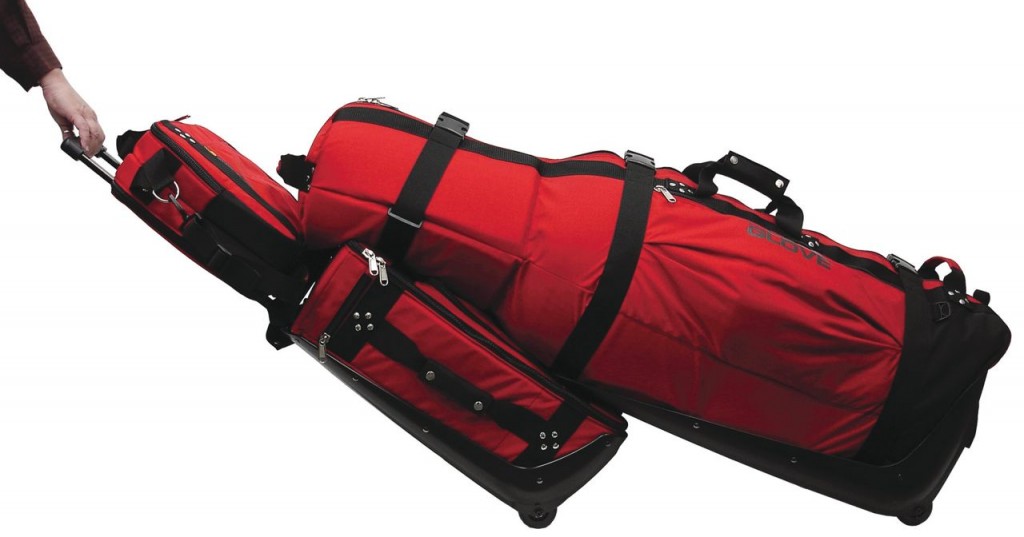 Other than politics, there are very few things professional golfers agree on. That's especially true of equipment, where contracts and personal preferences spread the players all over the map on clubs, balls, shoes, even hats.
But the best players in the world are nearly unanimous when it comes to their golf-bag travel cover: More than 90% of the pros on the PGA and Champion Tours use a cover made by Club Glove. And none of them are paid to do so.
The mainstay of the Club Glove collection is "The Last Bag"—so-called for its durability—which is available in 16 colors (black to pink champagne) and in two sizes: Standard (below) and XL for those gargantuan bags the pros use. All Club Glove products are made of a nylon fabric called Invista Cordura, which is extremely strong, lightweight, well padded, and won't tear, scuff, or lose its color.
I shudder to think of the abuse that's been heaped on my Last Bag (yes, I own one and have used it for more than 20 years) during its tens of thousands of miles of travel; other than some stretching at the seams, it's still good to go.

At the recent PGA Show I was told that there've been some improvements to the wheels (the same ones found on in-line skates) and the high-impact plastic base/back. And the zipper that runs the length of the cover has been extended to the very top, making it easier to get a golf bag in and out. As well as the shoes, laundry, rain gear, and other crap we bring along on our golf road trips.
Club Glove also makes a line of luggage from the same material, zippers, wheels, straps, and plastic. These bags—duffels, carry-ons, suiters, etc.—fit a preposterous amount of stuff. This year, the company introduced a system it calls "Train Reaction" (above), which connects three pieces of the luggage (with or without a golf bag) in such a way that they are easier to move as a single unit than if they were loaded on a cart.
"Even petite people can move heavy gear such as golf clubs in any direction with hardly any effort," says Jeff Herold, Club Glove's president. "There's no assembly or external hardware needed."
Herold says Train Reaction eliminates all downward and upward forces on the handles, even when the bags aren't perfectly packed. By shifting the train's center of gravity, the bags feel almost weightless whether being pushed or pulled. You can see the Train in what the company says is actual use in two videos (one with golf bag, one without).
The Last Bag retails at $289; the XL is $319. The Train Reaction runs from $667 to $757 depending on which bags are connected. More information, including ordering, is on the website.