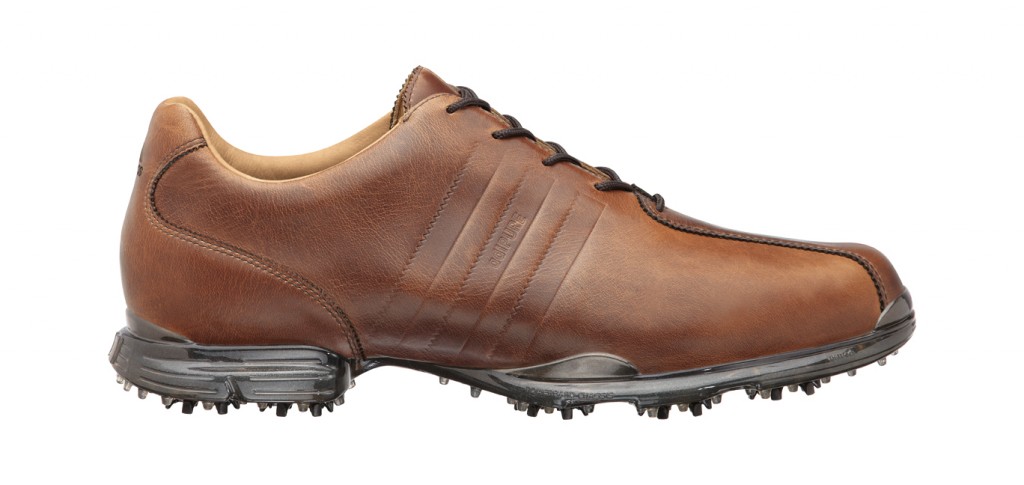 The big success story in golf shoes the last few years has been adidas, which has gone from number-six in the U.S. in 2002 to a strong number-two both in the U.S. and the world. That growth, especially in America, has been fueled by sporty, athletic-looking shoes at mid-range prices. But if your sights are set on the top spot, where do you go next?
For adidas, the next step is into classics, a segment currently owned by industry leader FootJoy. To reach what adidas' shoe gurus call "golfers at heart," they've unveiled their most traditional shoe, adiPURE Z. The new shoe has all the bells and whistles adidas has been innovating the last few years—low-profile sole design; an interior that molds to the foot; a chassis built to provide power and stability; waterproofing—with full-grain leather and an elegant look. It is presently available in solid colors (white, black, and a beautiful light brown called "Redwood," shown above), with saddle designs to come soon.
adiPURE Z is also notable for its subtle branding. The famous three-stripe design is so low-key that even though this is the company's top-of-the-line shoe—retailing at $250—it is unlikely their playing pros will wear it on TV, where brand identification is vital.
While going after the upscale golfer, adidas has not neglected the heart of the market, offering two new shoes that make technology very affordable.
Thanks to Fred Couples, spikeless shoes entered the American golf consciousness this year. But adidas has long been the world's number-one in spikeless thanks to Asia (where more people hit balls than actually play golf so they often wear the same shoes at the driving range, at work, and home). An athletic-looking spikeless shoe, called Traxion Lite FM, is now available here: Made of synthetic leather, it is very light and features superior gripping (while being course-friendly), a one-year waterproof guarantee, and the company's "Formotion" technology that separates the heel from the rest of the sole for a less rigid feel. All for $80.
The other new shoe—also $80—is the adiCOMFORT 2, described as everyone's "go-to shoe" because of its many comfort and performance advantages. Available in three widths (medium, wide, and, for the first time, extra-wide) and in sizes up to 17, adiCOMFORT 2 has the aforementioned Formotion technology as well as a foam lining that conforms to the foot for support and comfort, torsion control in the sole, and a two-year waterproof guarantee. Available early next year, the shoe offers a sporty take on traditional saddle designs that extend to women's models.