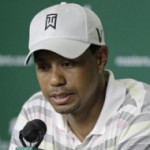 In case you missed my report, which originally ran on Mediaite.com, on last Monday's press conference that Tiger Woods held at Augusta National, here it is again. Even more interesting in light of the weekend's fun.
About 10 minutes into Tiger Woods' press conference at Augusta National Golf Club yesterday, I understood why Team Tiger chose that venue as the site of their man's much-anticipated meeting with the media.
As many observers have noted, the club already provides more secure surroundings — and more security— than any golf tournament in the world. But Tiger's people weren't only looking for protection from the masses; they also wanted protection from the ink-stained wretches. And they got it, assembling an audience of writers that would go only so far when asking questions.
The moment Tiger referred to the writers in that room as "my friends," I knew it was just another set-up.
Understand a few things about The Masters. It's an invitational, which means players are "invited" to attend. True, those invitations are based on numerous criteria (past champions, position on the money list, finishes in other tournaments, etc.), but a number of players are asked, well, just because. Since its inception in 1934, The Masters has always had a party feel to it. A private party.
The same is almost true for the press. Newspapers, magazines, and other organizations request credentials and the media committee can say yes or no. The New York Times, Golf Digest, and the Associated Press usually don't have much to worry about (although if they ask for 10 badges they might only get 8). But in the last few years, largely due to Tiger, more and more outlets have requested badges and The Masters has had to be more critical in its judgments.
So it was a pretty good bet that TMZ, the National Enquirer, and Hooters magazine weren't going to be credentialed.
Then, for yesterday's press conference, only 200 reporters—and supposedly not more than one from any organization—would be ticketed. That allowed The Masters to exercise even more control over who would be in a position to ask potentially insightful (or incite-full?) questions.
But once a group of reporters got Tiger in their sights they'd fire away, right? Well, not exactly. As Dan Jenkins, the grand old man of the golf media, tweeted during the proceedings, "That sound in the background at Tiger's press conference was the great sigh of relief from his employees at the softball questions."
It wasn't until Christine Brennan of USA Today (one of the best sports reporters when a real story comes along) asked about Dr. Galea and performance-enhancing drugs that things got interesting. Tiger, to his credit, answered the question, saying he's never taken PEDs and never taken any illegal drugs. (Really, even at Stanford?) Dr. Galea is also known for the platelet-enriched plasma treatments that Tiger said he used to help his ACL heal faster. And Tiger's rationale for calling on Dr. Galea — "there's a certain comfort level to that when a person has worked with athletes" — makes perfect sense.
Then someone asked about Tiger's 45 days of rehab and he responded, "I've come out better." But when then asked what the rehab was actually for, Tiger stared at the writer and said, "That's personal, thank you."
In other words, drop it. And it was dropped. As was just about everything else.
No one asked about the reports in Vanity Fair about Tiger's "sexting" messages to his girlfriends.
No one followed up about Team Tiger's involvement in his assignations. Tiger may say he takes total responsibility, but the text messages implicate both his friends and his agent, Mark Steinberg of IMG. Most of the people in that room know that possibly the only thing worse than pissing off Tiger is pissing off Steiny.
The only question about Tiger's wife Elin was whether or not she'd be at the tournament that week. The answer was no. I wonder if the club refused to credential her, too.
Then there's the pressure of being at Augusta National, one of those "cathedrals of the game" golf writers love to wax rhapsodic about. Ask a pointed question and maybe you don't get a badge next year. The club wants us all to think that simply saying the word "sexting" while on its grounds would be like farting in church. (It's okay, I've been to The Masters about half a dozen times; I don't expect to be invited back. Certainly not now.)
While I think the golf press corps could have done a better job chipping away at Tiger — read the transcript and you'll see they asked some pretty good questions — I understand why they didn't do more. We aren't investigative reporters, unless you consider asking a player what club he hit into 15 an investigation. Most of what we do is reactive, reacting to the ebb and flow of a tournament, analyzing revisions to a golf course, profiling a hot player. One of the reasons we love golf is that we haven't had to be proactive. The game has always been relatively trouble-free: No steroids (well, not much), no cheating (well, very little), with a strong connection to real people, like ourselves, who play the game.
Everything that made the Tiger story so shocking and so riveting to the outside world the last five months—scandal, sex, drugs—are things golf writers don't usually write about. A fact Team Tiger, Augusta National, and anyone else who had a hand in planning yesterday's press conference was counting on.
The story of Tiger's fall from grace was broken and reported by a completely different media. I'll get interested again — and really listen — when he has a press conference with them.