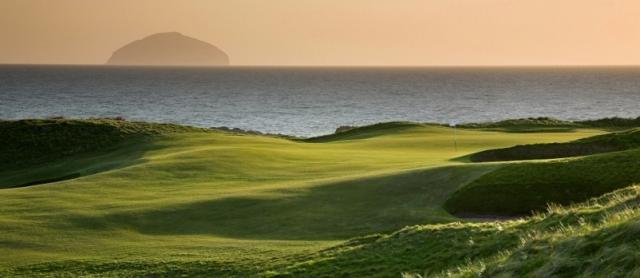 Ending a trip like the Golf Road Warriors makes me both sad and happy. Sad to be going (with so many courses left to play!) but happy to be heading home.
There was a near international incident at the hotel at 630 this morning, Scotland time, when the front desk couldn't find Anita Draycott's clubs, which she had left at the pro shop the night before with clear directions to have them ready to go early the next day. Eventually they were located, and it didn't cost us much time or trouble, but it reinforced one of my cardinal rules of golf-travel: Always keep your clubs close at hand. I'd rather drag them down to the lobby myself than worry where they might be at any moment.
Which got me to thinking about other lessons from the trip just completed. Here are just some of the things I learned over the last week.
Go With The Swing That Got You There. I already wrote that Scotland is not a good place to work on a swing change. (I repeated the line to numerous people, including Scots, and they all agreed.) The conditions are too fickle and we put too many expectations on our games when playing the great courses. So try not to be doing too much tinkering with technique while on the road. That said, do experiment with the low, running shots characteristic of links golf: They're fun and can find a place in your game when you're back home.
Stop Worrying About The Weather. The old saw is that if you don't like the weather in Scotland, give it a minute; it'll change. And it did for us, numerous times. Still, a good rain suit is almost always a must (we were all very happy with the suits given us by Sun Mountain), and some wind gear, as well. Pack a few cold-weather things, although there are few better places in the world for buying woolen sweaters, knit caps, and the like. I used rain gloves for the first time this trip and was very pleased. However, I never used my umbrella: I kept thinking, "Why bother?"
Don't Overdo The Equipment. Your normal set of clubs from home should do fine, but if you usually go back and forth between a hybrid and a long iron, the lower-flying iron may prove handy. And don't bring too many balls, even if they are expensive overseas. With or without a caddy you'll probably find most of your errant shots, and probably uncover a few pellets lost by previous golfers. (Apologies, but I forgot to mention earlier that we were given some of the new Hex Black balls from Callaway to try. They're designed to spin less coming off the clubface, a good thing in the constant Scottish winds. They performed well even when I didn't.)
Speaking Of Caddies… Yes, they are great—funny, helpful, part of the experience. But you can also rent a "trolley" (hand cart—manual or electric-powered) or just throw the bag on your back and hoof it. I had minor knee surgery seven weeks ago and did fine walking, although I did follow every round with a hot shower and ibuprofen.
British Food Is Terrible. Yes, if you're only doing a comparison of fish-and-chips shops. We ate some absolutely marvelous meals, lots of fresh produce and local meats and fish. Most memorable was our last night when the chef at Mar Hall created a special seven-course meal for us, each dish matched with an exquisite, and interesting, wine. I'm sure one of the other warriors will list the entire menu: All I can say is that it was one of the best meals I've ever had anywhere. Great chefs creating original and exciting meals can be found all over Scotland, as well as England, Ireland, and Wales, too. (But do try the fish-and-chips at least once. Maybe a deep-friend Mars bar, too.)
Brits Play Fast. More than 200 years after throwing off the yoke of British rule, it seems we Colonials have finally gotten back at the redcoats: We've infected them with slow play. Two or three times we found ourselves behind a group of locals who circumnavigated the greens, took practice swings, stood stock-still over shots, and did absolutely nothing to try to open the gap to the group behind them. And I don't think they were getting us back for Catherine Zeta-Jones running off with an American. (Yes, I know, she's Welsh; do you think the Scots are that upset about losing Craig Ferguson?)
The Private Clubs Are Stuffy. The members of Western Gailes could not have been nicer, welcoming us to their wonderful club, teeing it up with us, talking about their course and club, then spending tons of time in the bar afterward. I've found that to be true at nearly every other British club I've ever visited. But if you think they're stuffy, at least they let us in: Try arranging a visitor's round at Winged Foot or Los Angeles CC. But you can play Muirfield and all the other greats; it just takes a little arranging and following their rules. Maybe we're the stuffy ones.
Links Courses Need To Be Old To Be Good. Machrihanish Dunes and Dundonald Links were terrific tests, fun and challenging, and very different from what we are used to (as well as each other). And both are less than 10 years old. Also on that point, those of us who like links golf can be pretty snobby about it, thinking that if you don't like the change in scenery and shotmaking you're not a "real" golfer. That's unfair. But I strongly suggest that if you do like golf you at least give links-style a try.
Okay. Where's the next Golf Road Warriors trip???