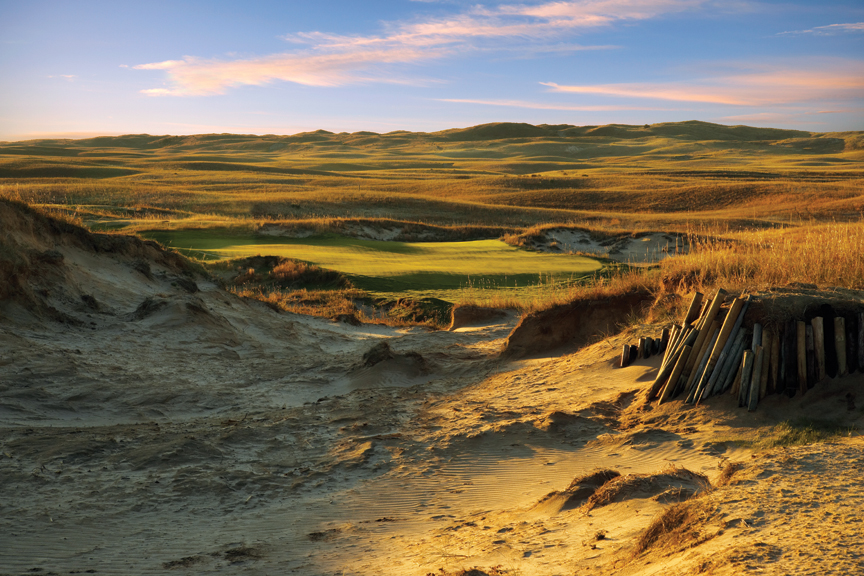 If you've never been to the Sand Hills of north-central Nebraska, prepare to be amazed. The prairie land isn't flat but looks very much like parts of Britain that golfers will recognize, with sandy soil, big dunes, and short grass perfect for grazing (there it's sheep; here it's cattle). Resembling golf's homeland, it's no surprise that a number of very good courses have already opened in this part of the heartland, including Jack Nicklaus' Dismal River, Graham Marsh's Sutton Bay (in southern South Dakota), Tom Doak's Ballyneal (in eastern Colorado), and of course Sand Hills, the Ben Crenshaw/Bill Coore creation widely regarded as among the best modern courses in the country.
But good as those are, they are all private. So unless you're really lucky, you're not getting on.
Bucking that trend is The Prairie Club, 17 miles southwest of Valentine, Nebraska. Opened little more than a month ago, TPC has brought three top-notch courses unto the golf world and made them available to all.
TPC is owned by Paul Schock, a scratch golfer from Sioux Falls, South Dakota, a former venture capitalist, and a member of both Sutton Bay and Sand Hills. Familiar with the region, Schock wanted to build a club that would be public and also have a membership. So anyone can drive to TPC—it's about a 2 1/2-hour drive due north from North Platte, the closest airport with commercial flights—get a room at the lodge, and challenge three good, tough courses to their heart's content.
The course likely to get the most attention is The Dunes (shown at top), designed by Tom Lehman. It's a man-sized layout that, for the time being, is walking only. And a long, hard walk it is. Conditions can become torturous when the prairie wind kicks up, which it often does, blowing across the treeless, hilly landscape. Even 100-yard-wide fairways can be too narrow, and the long grass and spiky undergrowth lining the course gobble up balls and sting ankles.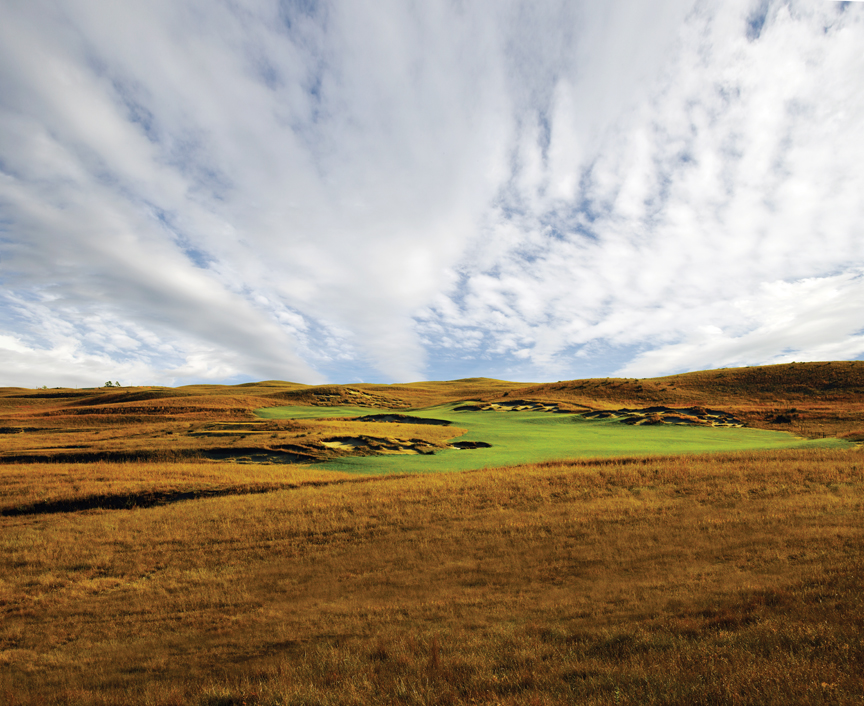 Schock brought Graham Marsh back to the area to design the second course, The Pines (above), which allows carts and isn't quite so spread out (although the two courses together cover about 1,200 of the club's 3,000 acres!). Moving from bare, rolling prairie into stands of pines that line a long, rocky canyon, The Pines is a more varied layout marked by very big, very undulating greens.
Both courses are heavy with bunkers, filled with hard-packed sand and edged with shaggy, natural growth: Those in the fairways aren't too troublesome and serve as targets for tee shots; at the greens, most bunkers sit to the sides so as to allow run-up shots. Schock believes strongly in the ground game, hitting Scottish-style punches and long putts from off the green, taking advantage of the rippling land and staying below the wind.
The third course is a 10-hole par-three called Horse (below), like the kids' basketball game, designed by architect Gil Hanse and Geoff Shackelford, a noted writer on golf architecture who collaborated with Hanse on the terrific Rustic Canyon outside Los Angeles. No hole on Horse is more than about 125 yards, but the greens are small and roller-coastery, and when the wind blows the results can be maddening. Hanse and Shackelford are collaborating on a fourth course, an 18-holer called Old School, scheduled to open in 2012 or 2013.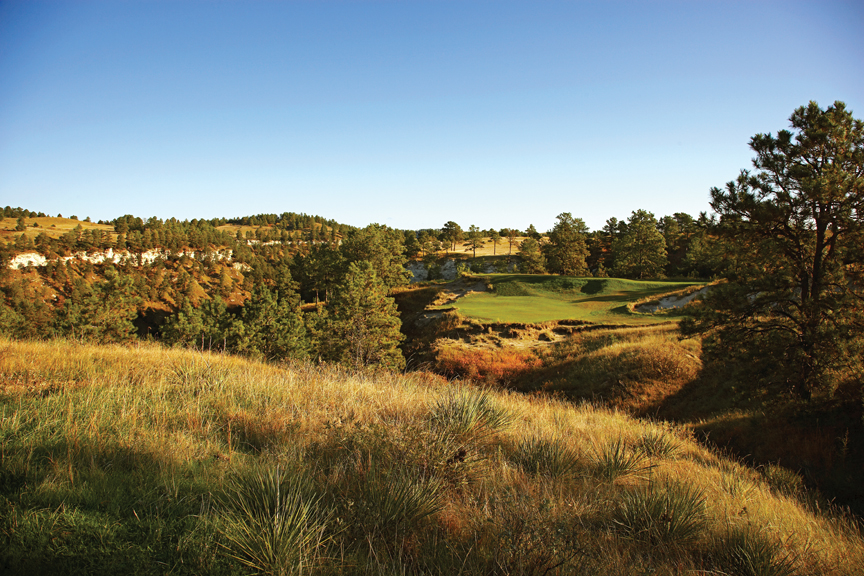 The lodge has 31 rooms and there's a four-bedroom cabin with more cabins in the works. The atmosphere is low-key, the food and drink simple and tasty, the prices manageable: rooms begin at $175 a night for non-members; green fees from $180 (plus another $50 for all-day play). Playing the Horse is free.
Every day, one of the big courses—Dunes and Pines—will be tapped for public play, the other for members. So a one-night stay can easily include three rounds or more.
During that night, sit on the big, wraparound porch miles from any city lights and be treated to a star show like you've never seen. Day or night, The Prairie Club will take your breath away.