Ho ho ho. 'Tis the season. Jingle bells, jingle bells. And all that jazz. If there's a favorite golfer in your life, some gift ideas you might consider.
Tom Watson, I presume?
Tom Watson's instructional DVD set—called "Lessons of a Lifetime"—has received nothing but rave reviews. Which is no surprise as the 61-year-old Watson, who nearly won last year's British Open at Turnberry, has always struck me as one of the brightest and most insightful golfers of our time. In this two-disc set, he recounts the golf lessons he has lived by from his earliest days, not only about the swing and other fundamentals but also strategy and smarts and extra-helpful tips on subjects such as playing in the wind (something he's oh so good at). The set is $49.95, available at select golf and sporting-good stores, or online at tomwatsondvd.com. A portion of the proceeds from all sales goes to the Bruce Edwards Foundation for ALS Research (Edwards was Watson's long-time caddie, who died of ALS in 2004).
If your golfer friend or family member can't get enough of Mr. Watson, his website is offering, for the first time, five commemorative pieces from some of his greatest triumphs, all autographed, matted, and framed. They include a limited-edition flag from the 2009 British Open, a Masters flag (he won in 1977 and '81), and photographs of his famous chip-in to win the 1982 U.S. Open at Pebble Beach–a single photo, a five-photo sequence, and a panoramic view of the chip. Prices begin at $595. Items come with a certificate of authenticity and are only available from tomwatson.com.
There's No Business Like Shoe Business
Two of the game's most exciting companies have introduced new shoe lines.
The Nike Lunar Control (available January 1) combines a traditional saddle design with innovative materials and construction technologies found in Nike's famous running shoes. The result is more comfort and stability along with light weight. Designed in collaboration with Nike Tour player Paul Casey, the Lunar Control has a waterproof leather upper and features what the company calls a Power Channel in the sole that allows more flexibility and natural motion. The shoe retails at $190 and comes in four different color combinations. You can read more about the shoe—as well as sign up for Nike emails, follow on Twitter, and more—at their website.
Callaway rolls out its 2011 footwear line, also created with the help of its Tour pros—male and female. Many of the new shoes feature a temperature regulating system to keep feet more comfortable by keeping them dryer, reducing perspiration and blisters. They also have open-cell foam insoles for better breathability, moisture control, and cushioning. There are a number of shoe styles available (that's the FT Chev Blucher, left) at a wide range of prices for men and women. They're all available online at shop.callaway.com as well as at golf stores.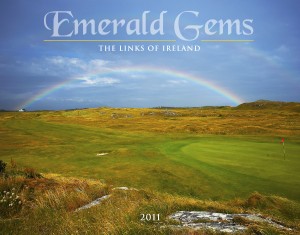 Irish Ayes
Larry Lambrecht is a master of golf-course photography, whose photographs of the world's great courses have graced magazines, books, and websites for years. Every year, Larry produces a stunning calendar of golf courses in Ireland. The 2011 Emerald Gems calendar includes photos of Ballybunion, Doonbeg, Waterville, Lahinch, Connemara, and others. Whether you've played any, all, or none of these courses, you'll want the calendar to bring you as close to them as possible without packing your clubs and hopping on a plane. The calendar is $13.95 plus shipping (which is free on orders of 10 or more), and can be ordered at golfstock.net.
Open Me First!
Even the USGA is getting into the holiday spirit, with a special offer on tickets for the 2011 U.S. Open, to be held at Congressional Country Club in Bethesda, Maryland, June 13-19. Order before January 3, 2011, and every ticket order comes with a commemorative U.S. Open hat clip/ball marker. Ground tickets start at $50 per day; Trophy Club tickets begin at $75. Also new for 2011 is the 1895 Club, an individual hospitality ticket option starting at $250. Located alongside Congressional's fifth fairway, the 1895 Club will feature an upgraded dining menu with breakfast, a buffet lunch with hot entrees, afternoon snacks, and full bar service throughout the day, all included in the ticket price. Each buyer is permitted to purchase up to four tickets for each day. All tickets include complimentary general parking and shuttle transportation to and from the championship entrance. For more information about pricing and ticket package options, and to purchase tickets online while supplies last, visit the USGA website.