The hottest product in golf right now is TaylorMade's R11 driver. How hot is it? White hot.
Besides the club's success with tour players and its adjustable weights and sole plate, some credit is due to its white crown. Making the head of a driver white isn't just exciting marketing, it offers real advantages.
TaylorMade scientists researched optics and vision and learned that the white head shows up better and brighter than dark colors against green grass, produces less glare, and looks larger than it really is. The clubface is still black, to contrast with the white top. The club is easy to align properly and leads to more confidence.
But white isn't only driver-hot, as TaylorMade putters prove. Tour players went crazy for the white Corza (the one with the hole behind the face), and it was their suggestion that the company "ghost"—make white—the wild-looking Spider.
The Ghost Spider putter recently hit golf shops everywhere and should prove another white winner because it address our most serious putting problems.
According to TaylorMade, at 12 feet 65% of golfers are not aimed at the hole. From that distance, even slight misalignment means a big miss.
The Spider offers lots of help with alignment. There are contrasting black lines in the white head. And, again, the white color jumps off the green grass, making it easy to see where the face is aimed.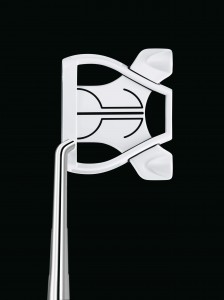 The Spider also is incredibly stable and forgiving, thanks to its high moment of inertia (that's what those wings on the back do). And a new black insert—made of Surlyn, the same stuff once used to cover two-piece balls—feels and sounds great while producing consistent impact across the face so off-center hits don't stop short.
Last but certainly not least, the insert is grooved, which gets putts started with forward spin. For that reason, the insert is called "Pure Roll."
The Ghost Spider retails for $179 in regular length (with two different hosel choices), left- or right-handed; a right-handed belly putter is $199.