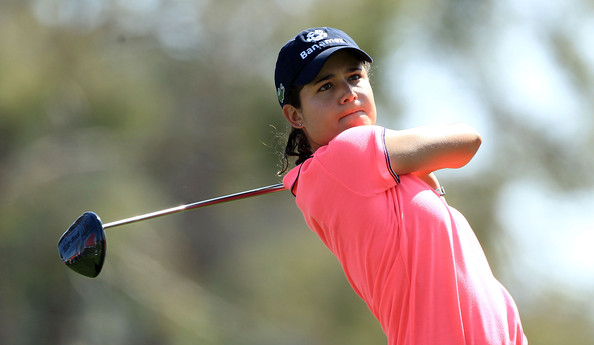 During the press conference last week announcing her retirement, LPGA star Lorena Ochoa was asked if she thought other young players would be following her lead and playing for only a few years before leaving professional golf for a more normal life. This was her response:
Yes, my advice for the young players, my advice to all of them would be make sure you finish your junior career and go to college and then become professional after that. The LPGA is going to be there forever. There is no rush.
In that case, you live your life and live a more normal, I guess, you can say, the process of learning how to play college golf. Then you get a degree and mature inside and outside the golf course, and then jump to the LPGA.
In that case, you are prepared for life, you are 22, and then you can play golf for the rest of your life for ten years or 15 years.
I guess I'm afraid when the young players are 17 and 18 and they're talking about playing professional golf. You know, maybe qualify your players so they find a balance in their life and they don't want to play too young.
So I say stay in college, go to college, stay in college. Figure out what you want to do 100%, so by the time you play three or four years you don't burn out and you can stay playing golf for longer.
There is certainly much to commend Ochoa for in her answer, notably the idea that golfers should finish college before trying out for the tour. Which is a very interesting response because Ochoa did not do that. She went to the University of Arizona for two years and then turned pro.
Is she saying her leaving the game now means she should have followed her own advice? Would she not have "burned out" if she'd gotten her degree? No one followed up on that point, so we don't know the answers. They are worth pondering.
As a result of Ochoa's statement, I took a very random, non-scientific look through the bios of a few LPGA players past and present, including some who will be vying to replace her at the top of the pack. I was curious how many of them attended, and finished, college.
Morgan Pressel never went to college, in fact she barely finished high school before petitioning her way onto the LPGA Tour. Paula Creamer didn't go to college, nor did Brittany Lincicome or Cristie Kerr.
Natalie Gulbis went to the University of Arizona for one year. Anna Nordqvist went to Arizona State for 2-1/2 years. And, of course, Michelle Wie is going to Stanford and we assume she will graduate (she has some sort of arrangement that allows her time away from school to compete professionally).
Many of the Asian players indicate they went to college, but it doesn't appear that many of them graduated. Meena Lee graduated from Yong-In University in her native Korea in 2003, which I note only because the LPGA website lists her major as "Golf."
As for those who finished college, Amanda Blumenhurst is a 2009 graduate of Duke (majoring in history). Nicole Castrale majored in social science in graduating from USC in 2001. Angela Stanford has a degree in speech communication from Texas Christian (2000).
Look back further and many LPGA stalwarts went to school and finished. Dottie Pepper, Beth Daniel, and Betsy King all graduated from Furman University. Jill McGill finished at USC, Mhairi McKay at Stanford, Tammie Green at Marshall, Laura Diaz at Wake Forest.
But Nancy Lopez didn't graduate from Tulsa, Hollis Stacy didn't finish at Rollins, Juli Inkster didn't get a diploma from San Jose State. And Annika Sorenstam stayed at Arizona for only two years.
There are likely many reasons women turn pro so early, starting with, as Ochoa has suggested, the time pressures for starting a family. Also there are both the pressures and opportunities to make money and the lack of an equivalent to the Champions Tour for women (effectively shortening a woman pro's life span and peak earning years).
Female pros also have fewer other ways to make money from golf: fewer sponsorships and corporate outings, fewer club jobs and "resident pro" gigs. A good player must strike while the iron is hot, and just as baseball and basketball phenoms often turn pro out of high school, so must golfers who feel their time frame for picking up experience and picking up big checks is limited.
I'm not passing judgment on any of these women and their choices. But it is interesting that while the examples show no correlation between success on tour and education, Lorena Ochoa seems to be saying there is a correlation between education and happiness, what she calls a "balance" in life, and maturity.
If she gets more young women, and men, to think about that as they try to mix school and athletics (or school without the athletics) her legacy will be even richer.