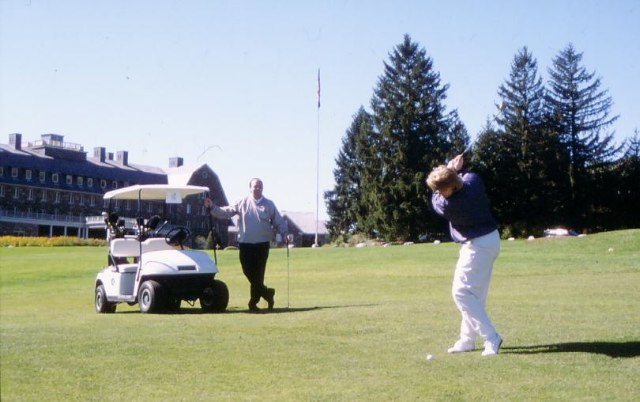 As much as I like Tiger Woods and as much as I am glad to see him back near the top of the pack and in red numbers, even I admit it's unlikely he will break out and make up the 8 stroke difference between him and the leader to win another Major in the final round of today's PGA Championship at Whistling Straits. If he did it would be truly incredible, but not the most amazing statistical feat in golf.
Until a few days ago I wood have said the most amazing statistical feat in golf was to shoot 59, something that only five men and one woman have ever done on the PGA and LPGA Tours, and something about which I have rambled about extensively given that after a decade-plus hiatus, it happened twice already this year.
But even after the duo of 59s I was not prepared for what was about to happen at a Pennsylvania golf resort called Skytop Lodge.
Skytop is an old school grand hotel, the Poconos mountains version of the Greenbrier or Homestead, with a big old fancy hotel, golf, plus assorted outdoor activities like rock climbing, kayaking, mountain biking, canoeing, tennis, fly fishing, shooting, skiing, skating, and the like. It also has a big spa and several restaurants. But the main attraction is the golf course, rated a very impressive 4 ½ stars by Golf Digest's Places to Play, and the resort is also home to the Brian Boyle School of Golf.
Which brings us back to the incredible incident that just took place – and why you might just want to start taking lessons form one Brian Boyle.
A week ago Thursday, August 5th Boyle was paired with amateur Ed Streisel in the Poconos  Pro-Am Golf Tournament at nearby Whitetail Golf Club when the team came to the ninth hole, a mid-length par-3. Streisel hit 7-iron, bang, bang, slam dunk into the hole for ace. Not to be outdone, Boyle pulled a 6-iron and landed in the cup as well.
That's right: both playing partners aced the hole for a total team score of 2 –and if they were playing against me, I guarantee you Streisel would be getting a stroke for net one.
The math wizards at Golf Digest, who may or may now t actually know anything about math, have estimated the odds of the feat at 17 million to one.
Arnold Palmer once aced the same hole twice in a four day tournament, and the late Slammer himself, Sam Snead, told me that he had aced the same par-3 at one of his home resort courses half dozen times, but I have ever, ever heard of two guys in the same group, nonetheless the same team, making aces. And I am guessing I never will again.
Kudos on your fine aim gentlemen!