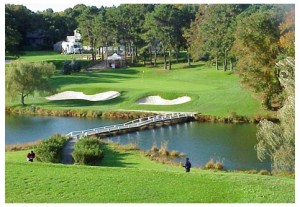 Mike Keiser, owner and visionary behind the Bandon Dunes resort in Oregon that already has three courses ranked among America's top 100, is wasting no time after the rapturous reception for its fourth course, Old Macdonald, which opened this spring.  In February, work will begin on the next project, tentatively called "The Bandon Preserve," which will be a twelve-hole par-three course.
"The Baby Boomers are getting older," Keiser said, "and the older they get, the less willing or maybe less able they are to play thirty-six holes in a day.  But with a par-3 course on the ocean as an afternoon activity or as an alternative to 18 holes – people say to me, hurry up and build it."
The golf industry is struggling, and everyone in it cites the same reasons: a round takes too long; the game is hard; maintenance budgets are through the roof; there are no places for beginners to play while they learn.   All of these problems would be lessened if more golfers turned to short courses from time to time.
For the experienced player, eighteen holes on a par-3 or "executive" course – a slightly longer version that usually includes a few par-4s of less than 300 yards – provide a great practice session under game conditions.  Improving your game around the greens is the quickest way to cut five strokes from your score; two or three hours at a short course are a better investment than time spent whaling away with your driver on the range.
For the beginner, the shorter holes mean less frustration and more success.  The golf bug only bites on the course; the reward for a good shot on the range is the chance to do it again, not a memorable par or birdie.
Yet short courses have struggled in the marketplace recently.  According to the National Golf Foundation, executive and par-3 layouts make up nine percent of the nation's courses, but accounted for twenty-two percent of course closings in 2009.
I learned the game at a nine-hole course surrounding a driving range.  I spent many hot afternoons going around and around the place, even playing through a partial solar eclipse one summer.  The course is long gone, but some of my lost fifteen-to-a-box Top-Flites are surely still there, quietly testing the half-life of Surlyn.
Such courses dotted the landscape in the 1950s and '60s, providing entry-level golf after a period when few eighteens were built because of the Depression and two wars.  Geoffrey Cornish, the ninety-five-year-old dean of American golf architects, owned a flood-lit pitch-and-putt course in Shrewsbury, Massachusetts, and laid out and built a slew of them for clients up and down the East Coast.  He also designed the par-3 course at Blue Rock Golf Resort on Cape Cod (pictured above) in 1964, a pioneering stand-alone 18-hole facility calling for tee shots ranging from 92 to 255 yards.  Nearly 700 such courses were built around the nation in the next few years, Cornish recalls, but "as the use of golf carts became universal, Par 3's lost their major appeal – shorter walking distances."
Today, short courses provide a change of pace at some of the nation's finest facilities.  Augusta National built its par-3 course in 1958; it's the favored spot for older members who no longer want to take on the big course, and has served as a testing ground for turfgrass experiments (the greens were converted from a Bermuda hybrid to bent grass in 1978, and once this proved successful the main course followed suit.)  Pine Valley added a ten-hole short course in 1992; eight of the ten holes replicate approach shots on its famous 18, providing a second round of sorts for visitors and members when tee times are at a premium.  At The Olympic Club in San Francisco, families and seniors use the par-3 Cliffs Course that lies mostly to the west of Skyline Boulevard, giving it the only holes among the club's 45 where you can hear the Pacific below.
On the Robert Trent Jones Golf Trail in Alabama, eight of the sites feature short courses at or near the regulation layouts.  Trail owner Dr. David Bronner was inspired by a visit to Pine Valley; he considers the par-3 courses "the perfect instrument to get young people to learn the game," and a fun option for a second round.
Bill Coore and Ben Crenshaw will be designing the short course at Bandon, on land near the first tee of their Bandon Trails course.  "It's in an area of beautiful dunes, and we wanted to use the property for Trails but we never could fit it in," Coore told me.  "There won't be a giant fluctuation in distances – the longest hole will be about 160 yards, maybe up to 190, and the shortest around 100 – but they go in all directions.  With the way the wind blows, that creates a lot of interest."
Coore relishes the prospect of creating another short course; he and Crenshaw have done them for Friar's Head on Long Island, Colorado Golf Club, and Austin Golf Club, Crenshaw's home club.  This will be their first for a public facility.
"With a short course, you're eliminating the longest and most unpredictable shots," said Coore.  "It frees you up creatively, and lets you put in something that might be right on the edge of unfair, something you wouldn't put into a big course like a triple green [at Austin Golf Club] or some huge undulations like the Himalayas at St. Andrews, because a big score on one hole might affect how a golfer thinks about his whole round and the course.  But most people play short courses for fun, or at match play, and that allows you to create something the golfer might never be able to experience elsewhere."
James Viras, golf operations manager at Harbor Links Golf Course in North Hempstead, N.Y., thinks he knows why his regulars flock to the regulation course without ever trying the excellent nine-hole executive course next door.  "You know golfers," he said.  "They think it will be too easy."
That may be, but usually it's not the first 300 yards of a hole that kill you.