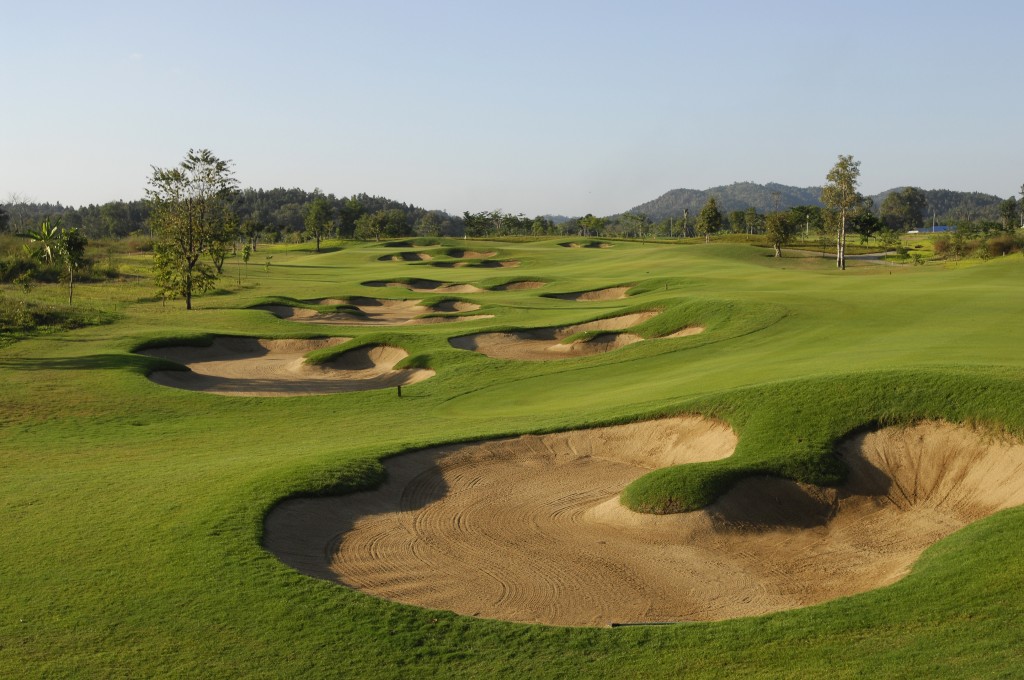 Bunkers galore frame the left side of the par-4 eighth fairway at Chiangmai Highlands
Set in the quiet foothills east of the northern Thailand city of Chiang Mai is the Chiangmai Highlands Golf and Spa Resort.  Designed by the American team of Schmidt-Curley Design, this is a terrific course that opened in December, 2005.
The design duo is active in Asia and I feel that this is among their best efforts on a spectacular property. The Schmidt-Curley style of the deep, flashed bunkering is on display here many times over.  Chiangmai Highlands' bunkering is both bold and beautiful, and quite penal if you land in one.  The course plays over gentle terrain on the outgoing nine, but plays up, down, and across more adventurous terrain coming in with many enticing photo opportunities waiting.  There is water that also comes into play and I particularly like the green complexes with both interesting surrounds and plenty of differing hole locations.  By and large, the landing areas are fairly generous, but you had better beware of the cavernous bunkers if you hope to score well.  Your work is not complete once you get on the speedy smooth putting surfaces as they are crafted with sensible undulations and many hole location options – and don't get above the hole on the wicked twelfth green!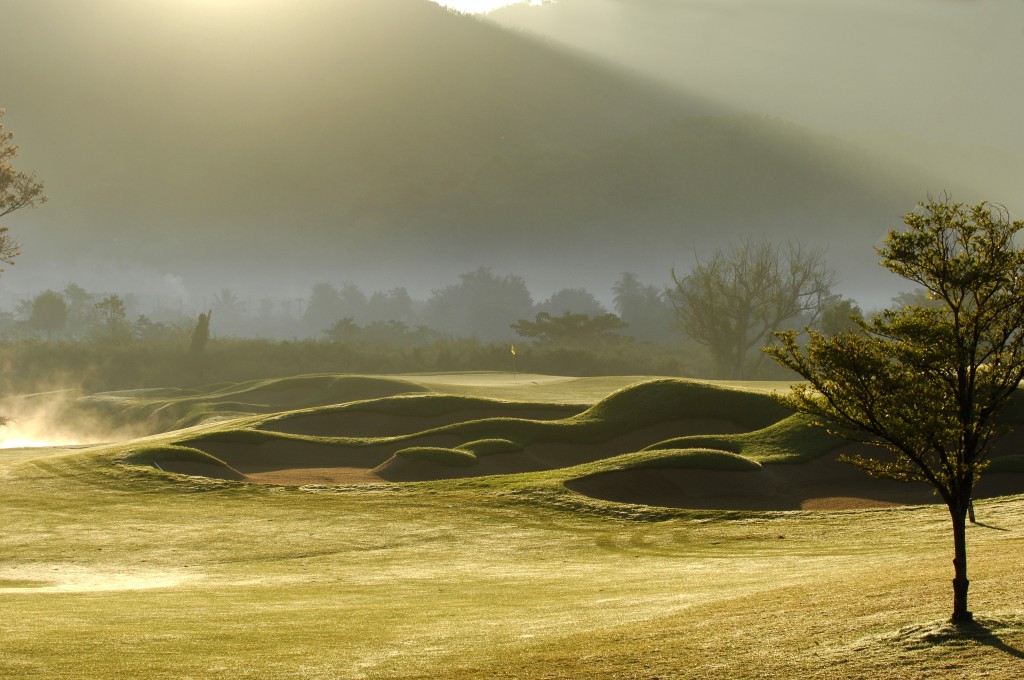 You had better avoid the bunkers if you hope to score on the par-five third at Chiangmai Highlands.
There is any number of memorable holes, but for me the minefield of bunkers to the left of the par-four eight was very impressive.   In fact, there are any many "wow!" moments as you set up on the tee boxes.  I also count the 342-yard eleventh as a truly great short hole!  You will no doubt be reaching for your camera several times during your round.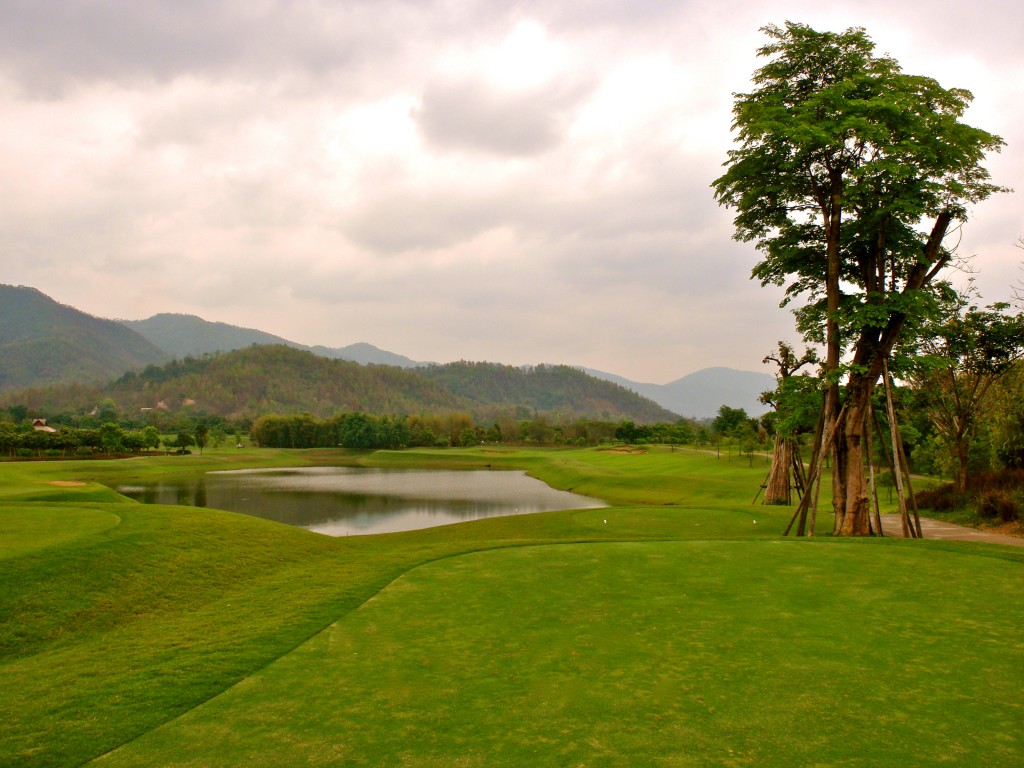 I consider the eleventh at Chiangmai Highlands as one of the World's great short par-fours.
There are ample practice facilities available and the conditioning of the layout is first-class with the fairway like carpets and the greens slick as glass.
I don't have to see all the courses in Southeast Asia for me to tell you that this has to be one of the best.
Fagan Rating:  A-. Chiangmai Highlands is a complete test of golf and so very visually interesting as it is blessed with great topography.  When you add in the bunkering, shaping, and excellent conditioning, it combines to make this one of the region's premier golf offerings and I highly recommend you play it.
Below is the view from the fairway bunker toward the 11th green.  What a fantastic spot with some really interesting hole locations!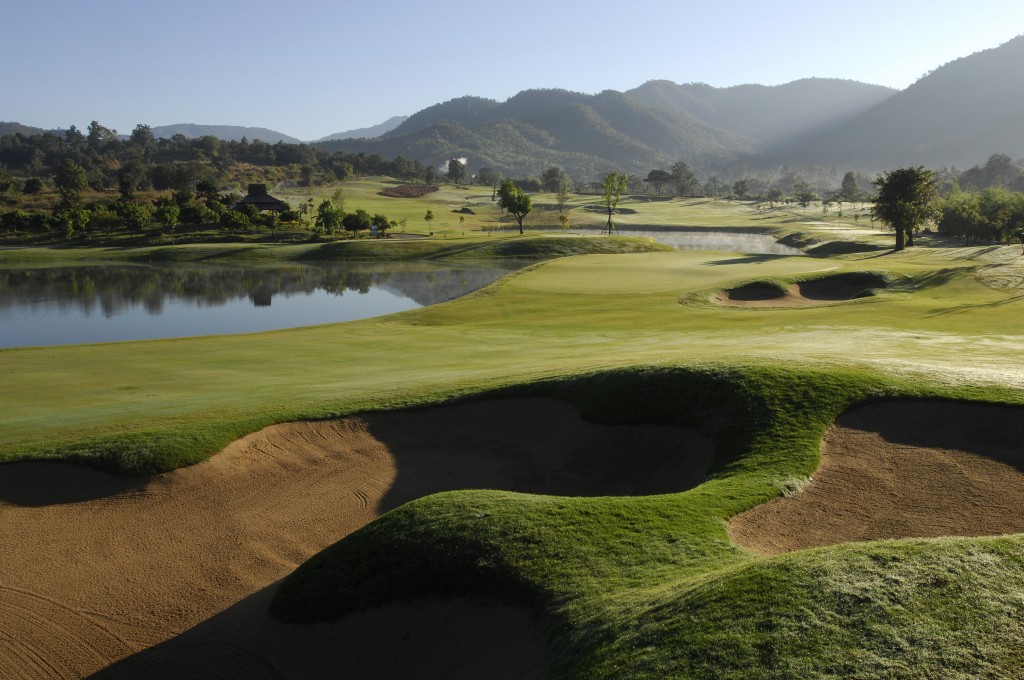 Below:  Even this gorgeous photo doesn't do the 429-yard downhill 13th justice.
Below:  The par-five sixth hole is a risk and reward hole that is reachable for long hitters.