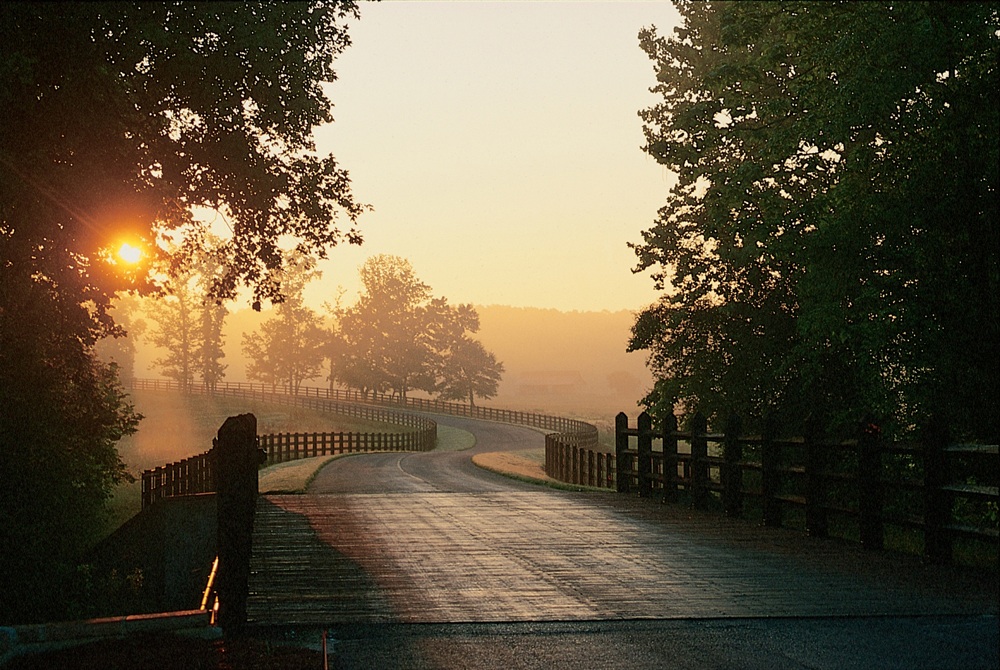 Wonderful golf and hospitality await as you enter FarmLinks.
Imagine yourself on an expansive hunting and fishing preserve and passing longhorn cattle grazing as you head to a clubhouse that is peacefully out in the middle of a God's Country.  You have just entered the private domain that is a wonderful family-owned Alabama golf course called FarmLinks at Pursell Farms.  Situated on 3,500 acres, you will experience rolling countryside once inhabited by several plantations and dotted with pine and oak forests, and adorned with native grasses.  Wildlife abounds and you might just as well consider fishing for large mouth bass or an afternoon quail or dove hunt.  There is no place quite like it in all of American golf, and places of this caliber are usually fiercely private.  Thankfully, FarmLinks is open for your play.
FarmLinks is a place that transcends time exuding antebellum charm and unusually good old Southern hospitality on one hand and modern technology as the only working golf course laboratory on the other.  It's origin and success may be even more noteworthy.  It is all owned by Pursell family a located 45 miles or about a 75-minute drive southeast of Birmingham, Alabama.  This exceptional rural course is the brainchild of David Pursell, but more about that in a moment.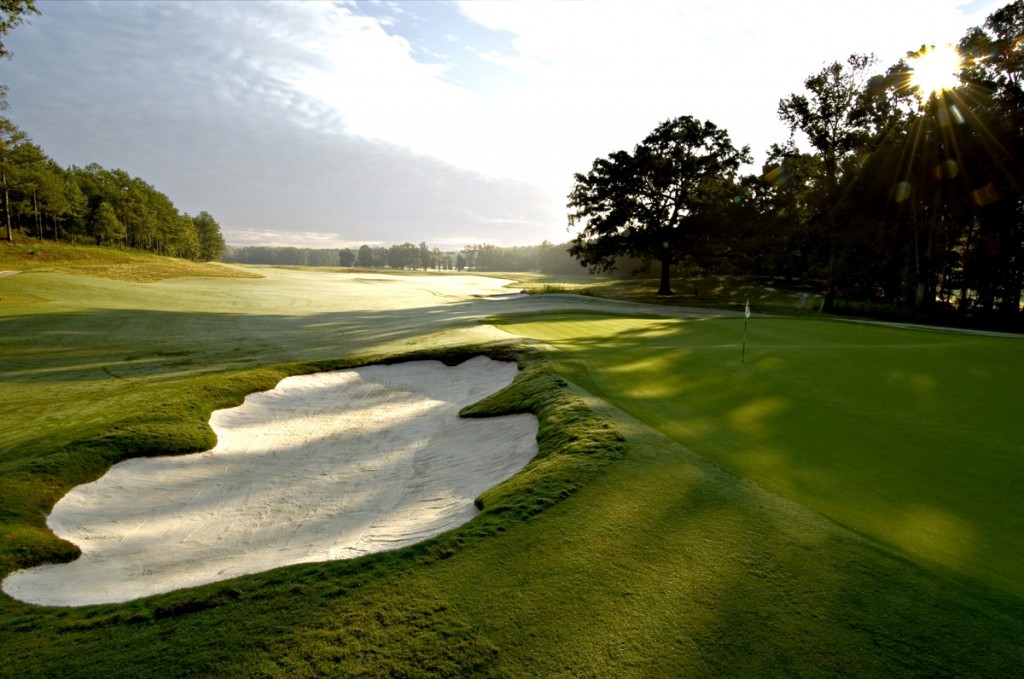 Looking back up the 7th fairway, can you envision yourself relaxing and playing here?
FarmLinks at Pursell Farms is a 2003 design by Michael Hurdzan and Dana Fry that sprawls over 600 bucolic acres far from any man-made noise or distractions.  Its pedigree has it usually annually ranked at or near the top of the best public courses in Alabama.  It is a golfing retreat that is great for a day or better yet several.  With input from owner David Pursell, himself a low-handicap golfer, FarmLinks is a very versatile and playable layout.  While it could easily be tweaked to be a full-blown championship layout, its fairways are broad to nicely match the wonderfully expansive rural vistas that abound.  The trademark bold Hurdzan-Fry bunkers are threatening, but a tad smaller and less prevalent than you might typically find on their other designs, and the greens surrounds feature broad ribbons of closely cropped grassed areas from which you can putt, chip, pitch, or flop your short shots.  Very succinctly, Pursell wants this design to cater to the average golfer.
Does that mean that FarmLinks is an easy golf course?  No, far from it.  Its putting surfaces are as speedy as any you will ever encounter and most are only moderately sloped, but have enough movement to be challenging.  Get above the hole or within the wrong section of the green, and you must have the deft touch of a surgeon to two-putt.  The nice thing is that the conditioning of the greens is so pure that the ball rolls just where you hit it.  On most every hole you can also bounce your approach shot into the green, an important feature as the greens are normally quite firm and will only hold well-struck high shots or ones into the wind.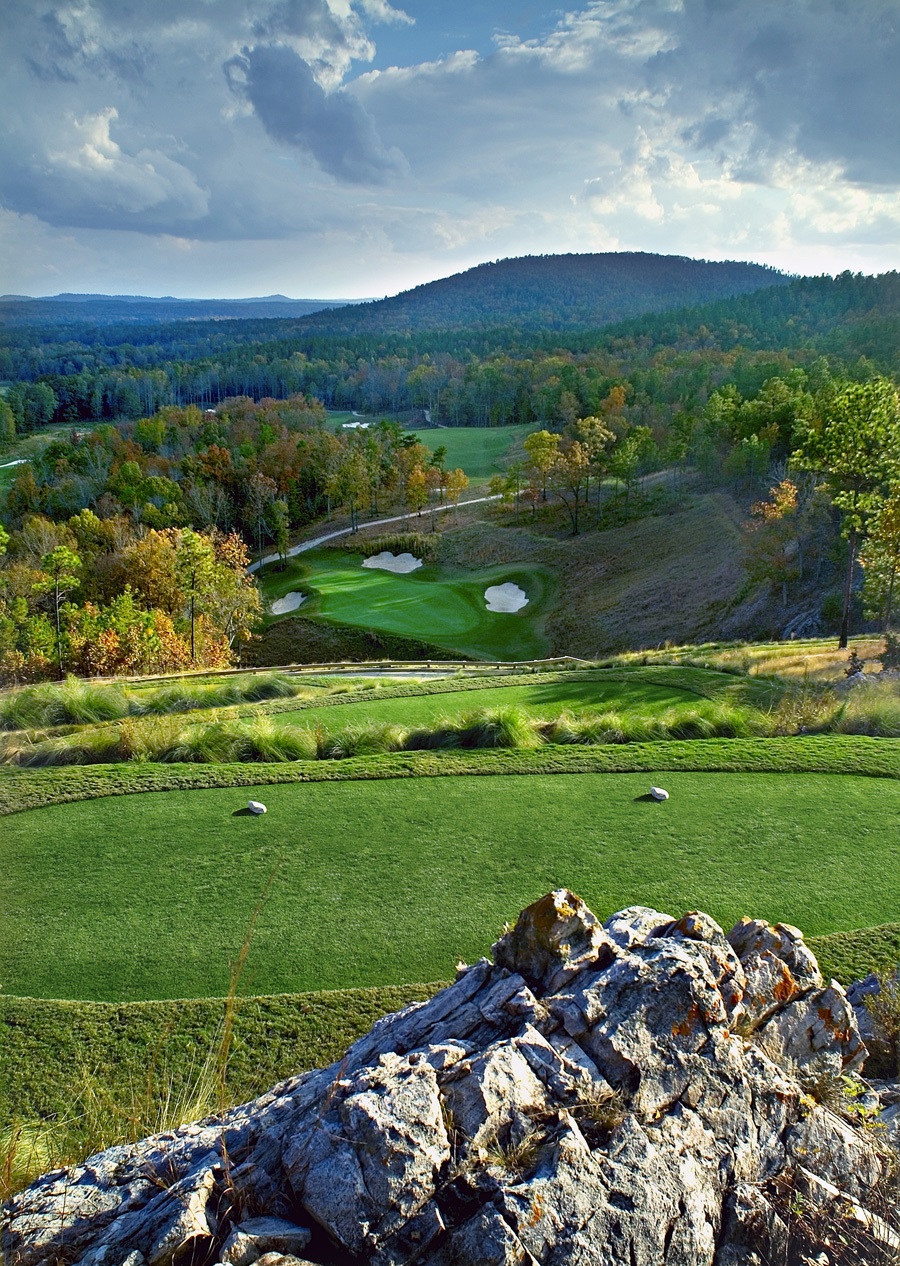 The 170-foot drop to the par-three 5th green and the view beyond is spectacular!
From tee-to-green, the wide fairways are very inviting for the driver and many will enjoy that there is seldom the urge to play safe off the tees.  While tall native grasses border the holes and create a striking visual contrast, even average players will be hard-pressed to lose a golf ball in the woods or rough on the forgivingly broad fairway corridors.  For the better player, the architects placed deep high-lipped penal fairway bunkering that will keep your mind from wandering.  Skirt the trouble and make aggressive swings at conservative targets and most golfers may score fairly well at FarmLinks.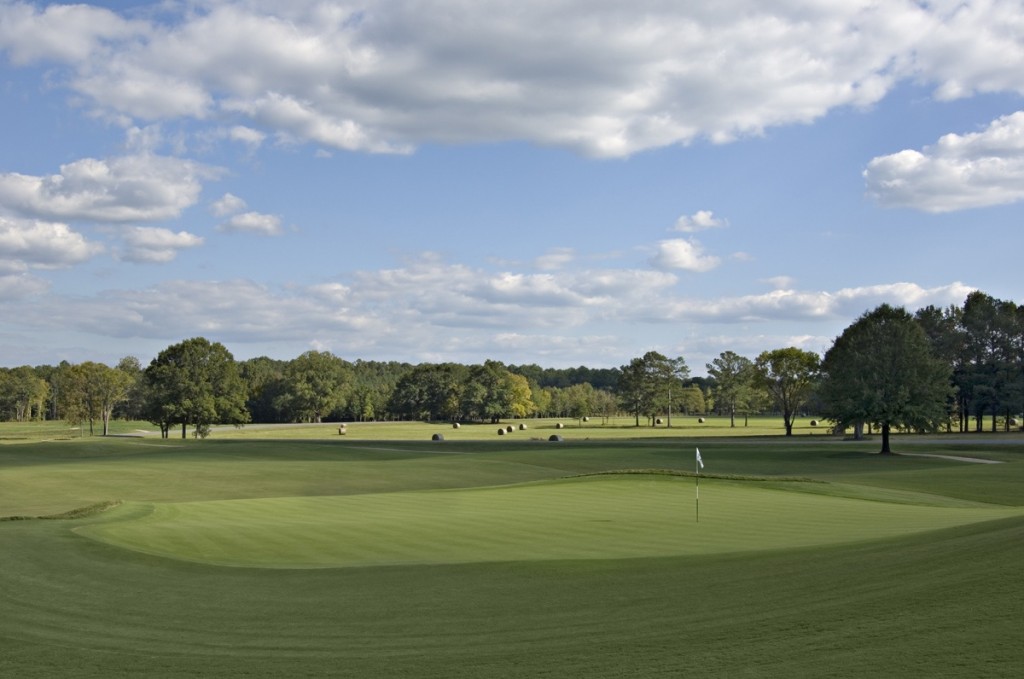 Expansive views and finely manicured green surrounds are just part of the allure of FarmLinks.  Show here is looking back on the par-four 12th green.
Speaking of spectacular golf holes, FarmLinks has more than a few.  The par-3's particularly the 5th, 8th, and 17th with their elevated tees quickly come to mind, but there are so many other wonderful holes and vistas that it is truly difficult to highlight one.  Every hole features trouble in some form for the aggressive player, but plenty of room for the more cautious one.  The biggest problems that I faced were the distraction from the head-twisting vistas of the expansive beautiful unobstructed landscapes.  How many courses have you played that spread out on 600 acres of wooded pasture?  Thankfully architects Hurdzan and Fry moved relatively little dirt so the result is that the course looks like it has long been there.
FarmLinks features one of the most unique origins in American golf annals.  David Pursell along with his father Jimmy is the fourth and third-generations respectively of the Parker-Pursell family to run the Family's fertilizer business.  Their niche was the specialty applications that included golf courses.  Very much a visionary, the younger David Pursell approached his father Jimmy about the idea of building a golf course within the 3,500-acre family parcel to be both a showcase for their Company as well as a laboratory for the golf industry.  It would include both their products and the competition's, and feature all sorts of grasses and methodology.  As they joke, the elder Pursell's response to the idea could be heard all the way to Birmingham, but the younger Pursell prevailed and the results have been no less than remarkable.  Not only did the Pursells showcase their products alongside with competitors, but they also partnered with other industry leaders to make FarmLinks a one-of-a-kind golf course – a living golf course laboratory.
FarmLinks is the world's first and only research and demonstration golf course.  FarmLinks annually hosts more than one thousand golf course superintends from around the world.  They tour the golf course and see first-hand advanced technologies, analyze the results of current turfgrass research under playing conditions, and participate in focus-groups as well as share best practices.  For instance, they observe all kind of different strains of grasses on the tees though the greens all have the same uniform grass.  As you might assume, with this kind of scrutiny and expertise, the playing conditions at FarmLinks are sublime.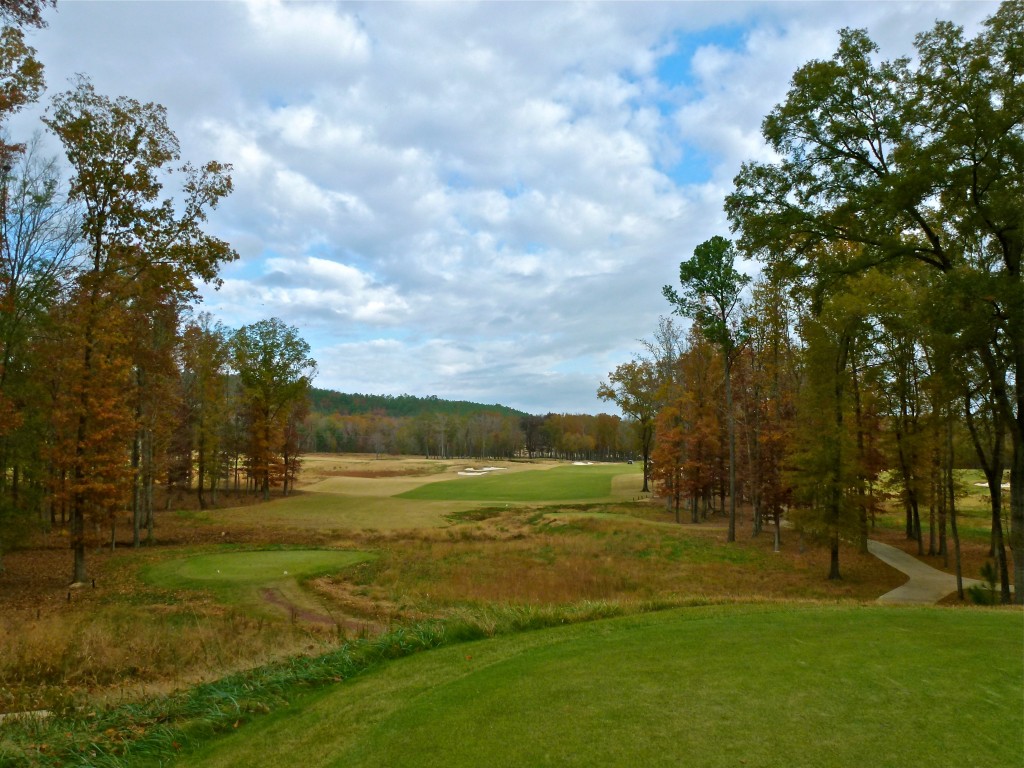 The view from the elevated par-five 1st tee.
David Pursell's vision of the FarmLinks golf course and helped the family's fertilizer brand grow and a few years ago, the family sold their business.  Rather than abandon their property and live a life of idle leisure, they have moved forward to convert this wonderful property into a more of a resort based upon their uniquely quiet and naturally pristine ambiance and warm family-oriented southern hospitality.  Pursell and his parents both still live on the property.
As I indicated, playing FarmLinks is a treat, but you really cheat yourself if you don't also stay a few evenings.  Entering the property, I felt a rejuvenation that comes with getting back to nature and pampered by the 5-star accommodations.  Presently, the facility can host 80 people with options ranging from a luxurious lodge, antebellum guesthouse, and exceedingly comfortable golf cottages and cabins.  Each guest is provided their own golf cart, and delicious home-cooked southern entrees can be arranged at your place of lodging or the small clubhouse.  As such, FarmLinks can just as well accommodate a family outing or a small corporate function, and it is a fantastic venue for a wedding.
For those whose interest might extend toward hunting or fishing, FarmLinks is just as special.  Genuine experts who have intimately known this property their entire lives are there to guide you or, if you are a novice, instruct you.  I took advantage of their 5-stand clay shooting range.  Never shooting before, they had me hitting the targets in no time, now something I am anxious to do again.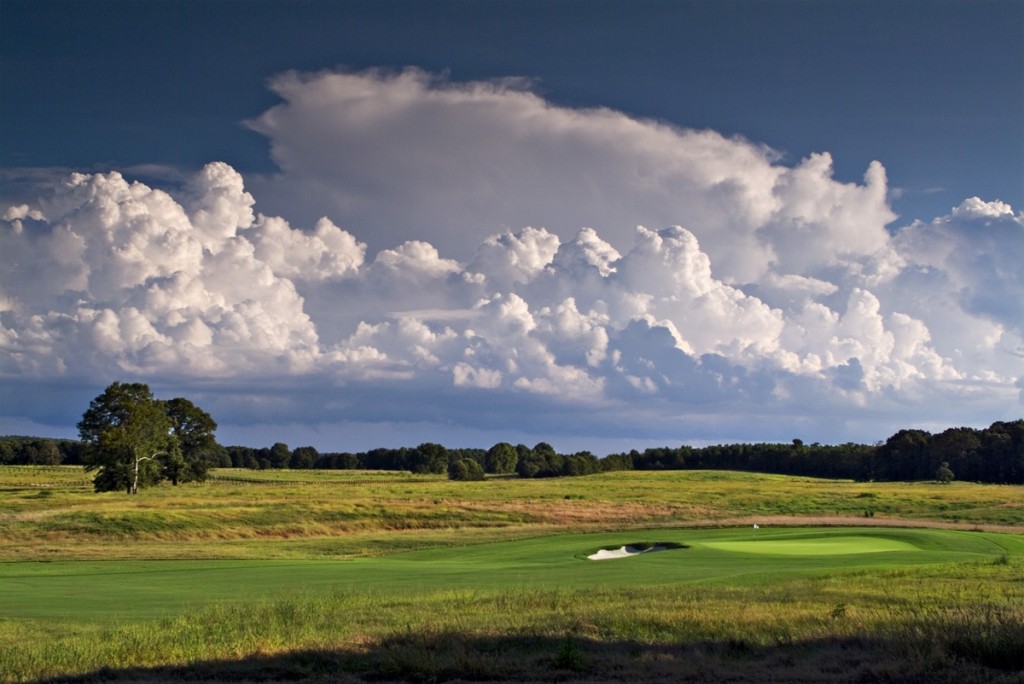 Looking out from the clubhouse across the 18th at FarmLinks.
When I mention my visit to others fortunate enough to have also visited FarmLinks, their eyes sparkle with enthusiasm. They will also often follow up with a statement to the effect that the place and the golf course experience has been one of the best of their life.  FarmLinks at Pursell Farms is truly a world-class facility that features quiet family values, great golf, and special hospitality – a perfect place to escape the hustle and bustle of everyday life and a welcome alternative to your typically busy resorts.  Why don't you join us?  You will have the time of your life at FarmLinks – a unique and special place!
Below the author Bob Fagan enjoys the spectacular par-three 17th at FarmLinks with The Parker Lodge in the background.