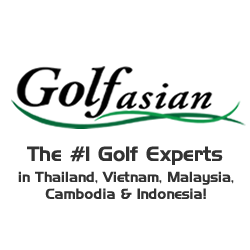 "I never lifted a finger and only made one phone call." That's what you will be saying if you plan a trip and travel to Thailand, Cambodia, Vietnam, Malaysia, or Indonesia to play golf and enjoy the culture there. If you are like me, playing the game of golf can be difficult enough, but when you travel to a foreign country and culture like those in Southeast Asia, it really helps to connect with a local golf travel professional – and better yet, an entire team! Which courses can you play, where can you get on, how do you get to them, where do you stay, and what are the other attractions worth visiting. The list of questions just grows and pretty soon you are overwhelmed. Well, let the golf travel pros at GolfAsian work for you!
Recently I had the good fortune to travel to Thailand and Vietnam to sample the golf, culture, restaurants, etc., and Bangkok-based GolfAsian made it the easiest trip you can imagine. From the moment my luggage arrived through seven golf courses in three different regions, I never had to worry about or lift my luggage. The starting times at really special golf courses were arranged as was my lodging and meals. Most importantly, I traveled in an air-conditioned coach chatting with my friends, resting, or simply enjoying the sights. Had I attempted to drive to just one of the golf courses, I would very likely have gotten lost and definitely have been frazzled by the time I teed it up.
GolfAsian was started some nine years ago by expat Mark Siegel from California. He and his extensive staff know the Thai, Vietnamese, Malaysian, Indonesian, and Cambodian golf markets like the palm of their hand. They are quick to point out that no one will make the trip to Thailand, for example, simply to play the golf courses, but they are quick to say that the entire Thai golf experience is uniquely special. They hold many tournament outings for tourists in several of the countries throughout the year as well as assist anyone from a single to a couple hundred people maximize both their time, their dollar, and realize some golfing memories that will last a lifetime.
Here are some points to keep in mind that particularly impressed me with GolfAsian. First, their service is excellent, so friendly, on time, and knowledgable. Secondly, their vans are new, luxurious, and company-owned. You travel in comfort, able to enjoy the views or friends and arrive at the golf courses ready to play. And in the case of the Bangkok courses, most are hard to find and the often overwhelming traffic can test the most patient. Add to that that they drive on the left side of the road and it is essential that you hire a trusted, experienced on-the-ground golf tour operator – and GolfAsian is the best!
Those who are a stickler for service will be quick to rave about GolfAsian and they count many repeat customers and have serviced more than 55,000 – a number that is quickly growing. During my trip, for example, a couple in our party decided that they wanted to skip a day of golf and shop instead. The GolfAsian folks quickly lined up a driver and vehicle to create a wonderful unscheduled non-golf excursion. Another person wanted to take advantage of some unusual Thai bargains. GolfAsian's lead person escorted him into town until he found just what he was looking for. No one's needs were too inconvenient to not be addressed in a friendly, can-do manner – something that I seldom experience among tour operators.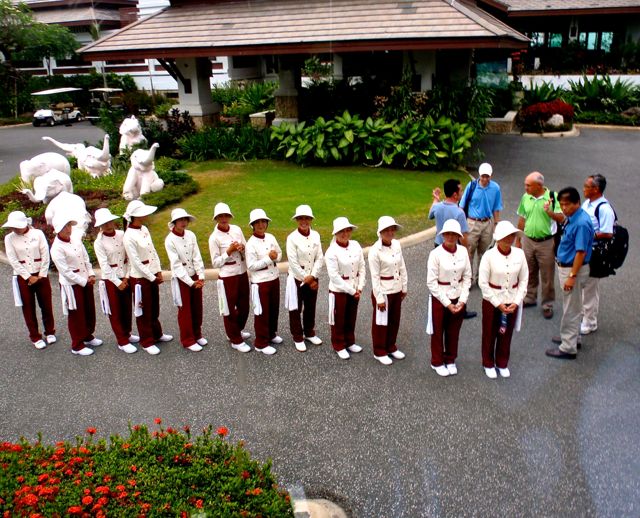 The caddies at Chiang Mai Highlands are all prepared to the 12 golfers from our GolfAsian tour. They are, as Mark Siegel says, Thai Golf Tourism's 'Secret Weapon' for each is devoted to assuring you a fun, memorable golf experience!
GolfAsian features an array of travel options that include preset tours and many weeklong golf competitions, or you can also create a personalized agenda based on your level of desired luxury and means. In both Thailand and Vietnam that I visited, you will find the folks some of the friendliest on the planet. Nothing is fake; that gorgeous smile you are greeted with is the same one they extend to one another. The second thing is that the value of the mouthwateringly delicious food and even five-star lodging is amazing. Anyway with GolfAsian, you don't have to lift a finger – literally.
Tell GolfAsian what you want to accomplish and it seamlessly happens – except as pertains to your golf ball. That's your business. Now when I revisit the area which I hope is soon, it's a slam dunk – my first call is to GolfAsian and yours should be too!
You can reach them at:  www.golfasian.com.