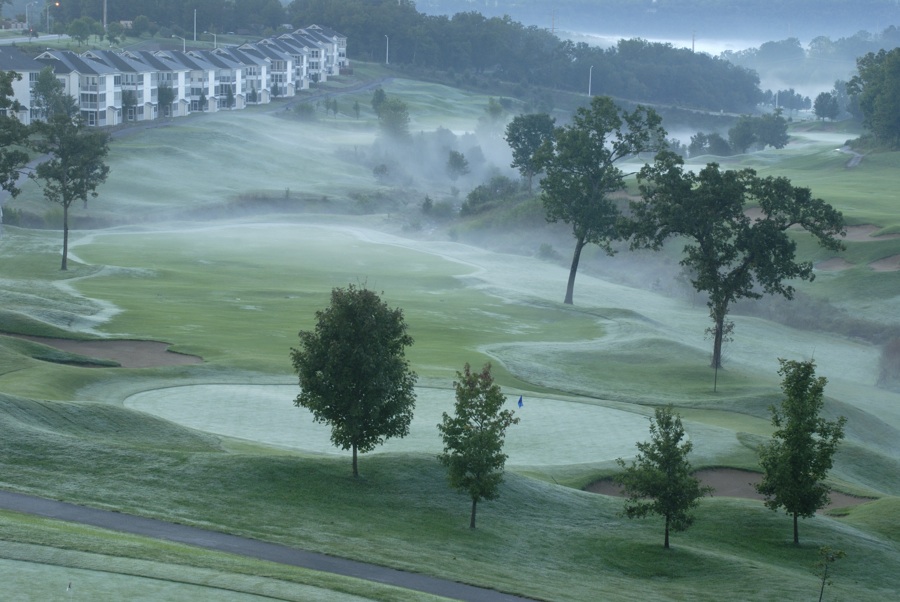 Looking down on the 386-yard 13th at Thousand Hills.
Many golfers will unfortunately not look twice at less than a par-70 layout, but if you are ever in the Branson, Missouri area and you fail to play Thousand Hills Golf & Country Club, you have certainly missed out on a very special par-63 layout.
This hilly course features all the punch, shaping, and beauty that is matched by few regulation layouts.  Bob Cupp designed Thousand Hills and it features two of the tougher par-fours in the State of Missouri, the third and sixteenth holes.  It also includes a plethora of interesting one-shotters, but it is the five-hole finish concluding with a meaty par-five that seals the deal.  To score well here you had better be a pretty decent shot-maker, and get above the hole on any of these greens and you will require the touch of a surgeon to two-putt.
Thousand Hills is very conveniently located only a par-five from "The Strip" in Branson and is well worth the stop.  It is also very popular with many of the celebrity entertainers who play in Branson so have your autograph pen and camera handy when you play here.
Fagan Rating:  B.  This high rating qualifies Thousand Hills as one of the better "short courses" anywhere, and features many interesting architectural features and challenges that many regulations courses lack.  It is so close to both the airport, the shows, and downtown that it makes for a great way to start your golf trip to the Branson area – just as I did.