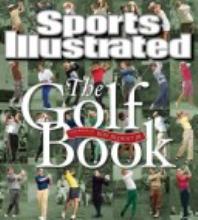 If a picture can say a thousand words as the saying goes, what does an amazing picture say?  Well, "The Golf Book" has many dozens of them.  While this is largely a pictorial presentation, when you add the collection of sharp pithy writing of many of the game's most talented writers together with a plethora of interesting information, you not only have a "home run" book, but it is also a "must have" one as well!
I regularly review a number of golf books, and it's been a long time since I have been so excited about writing such a positive review.  "The Golf Book" is like a time machine that not only transports you from Scotland in the 19th century to the Tiger Woods era of the 21st century, but the span of subjects is truly fascinating.  For instance, there is a black and white full-page picture of a stern Shinnecock Hills matron, club in hand, opposite a colorful photo of LPGA glamour girl, Paula Creamer doing a handstand by the Swilican Burn Bridge at St. Andrews with the clubhouse in the background.  This range of subjects goes far beyond the usual fare of courses and famous golfers to delve into seemingly every fabric and touch of the game.  What's more, all the photos are easily captioned so you get the full benefit message of every illustration.
I have a library of over 3,000 golf pieces accumulated over 47 years and viewed several other's private collections so just when I begin to believe that I've pretty much seen it all, I get treated to this collection.  For me, I have never previously viewed easily two thirds of the photos.  What's more, the diversity and captured expressions are priceless.  If I were to page through this book with someone who never played golf, I believe they might want to pick up the game after viewing and reading this – it's that good.  For a couple of weeks already, I find myself continuing to reach for this big, handsome coffee table-sized book – I can't put it down.
I would have easily expected to pay sixty dollars or more, and almost dropped the book when I discovered the price to be a mere $29.95.  Yes, "The Golf Book" is the many varied aspects of golf illustrated offered by Sport Illustrated – not only one of the best values, but one of the most interesting and fresh golf pictorial presentations ever.  The only folks more fortunate than to find and give this as a Holiday gift will those who receive it.