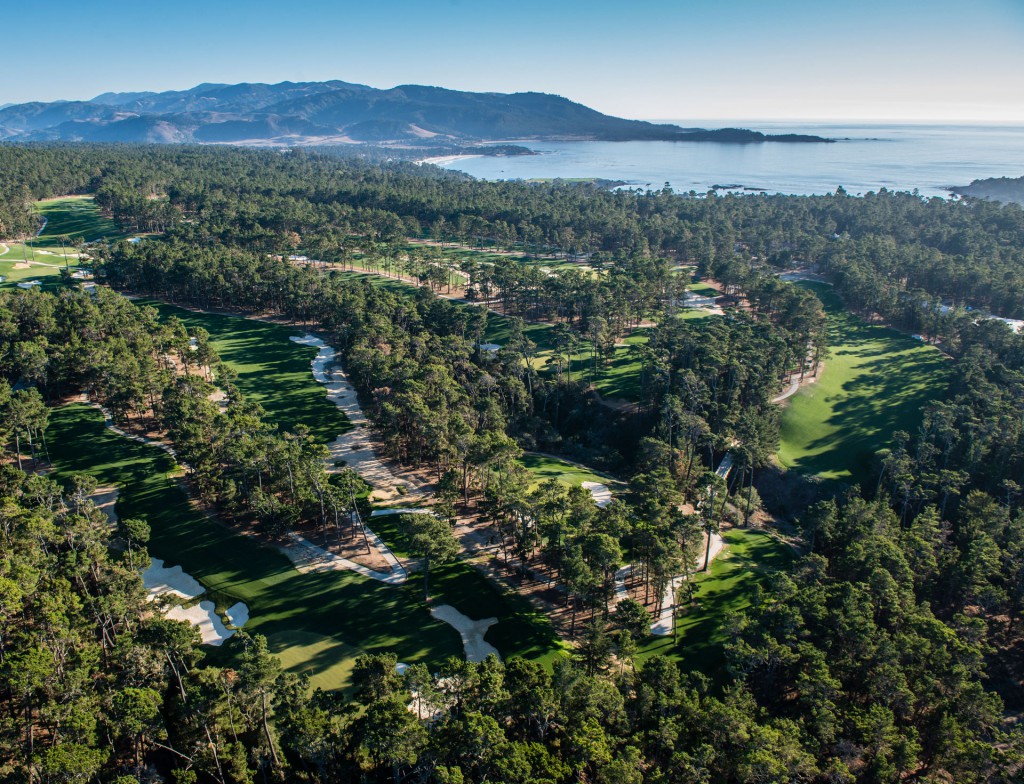 Poppy Hills re-establishes itself in the menu of outstanding Monterey area golf courses. (Photo courtesy of Poppy Hills and Joann Dost.)
Reborn, rebuilt, re-birthed, restyled, re-established, refashioned, re-engineered, or renovated? No matter what you call it, the news about Poppy Hills in Pebble Beach, CA is exciting. There's been some major surgery, more than a simple facelift done on the Northern California Golf Association's game-breaking Home Golf Course, and it's marvelous. Golfers take notice: a new gem of a golf course inhabits the Monterey Forest.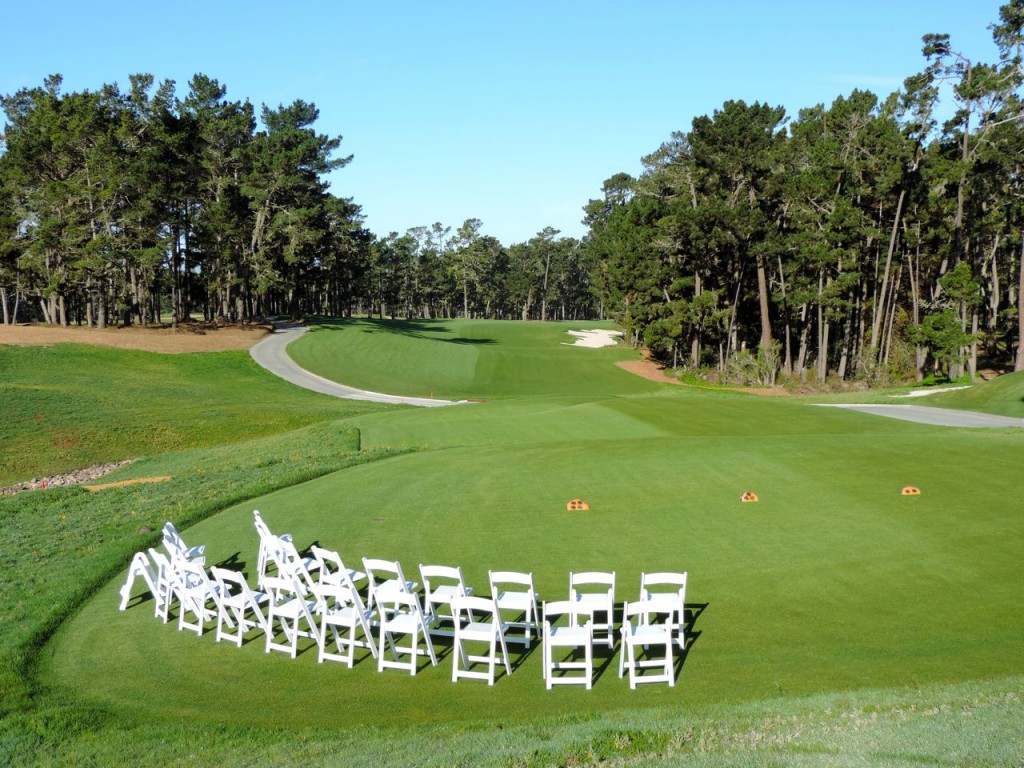 The first tee only moments before the ceremonial opening tee shots were to be struck on March 20, 2014. Note that the fairway has been dramatically widened. (Photo by Robert S. Fagan.)
When you are the first amateur golf association that builds, owns, and operates its own golf course that has hosted PGA TOUR events, you might rest on your laurels. It also takes guts to kill all the grass on one of your major sources of revenue and close it for months, but the NCGA, long considered one of the game's most progressive associations, did just that. In a zip code of famous and affluent neighbors, candidly Poppy Hills had become a "tired neighbor." Even its grateful membership called it "Sloppy Poppy" for its poor drainage. Secondly with water in the area becoming so expensive, the original irrigation systems required modernization. With its awkward routing of some sharp doglegs and busily contoured greens typical of the diabolical 80's, it was a style of bold, aerial golf that had become dated and endeared itself to few.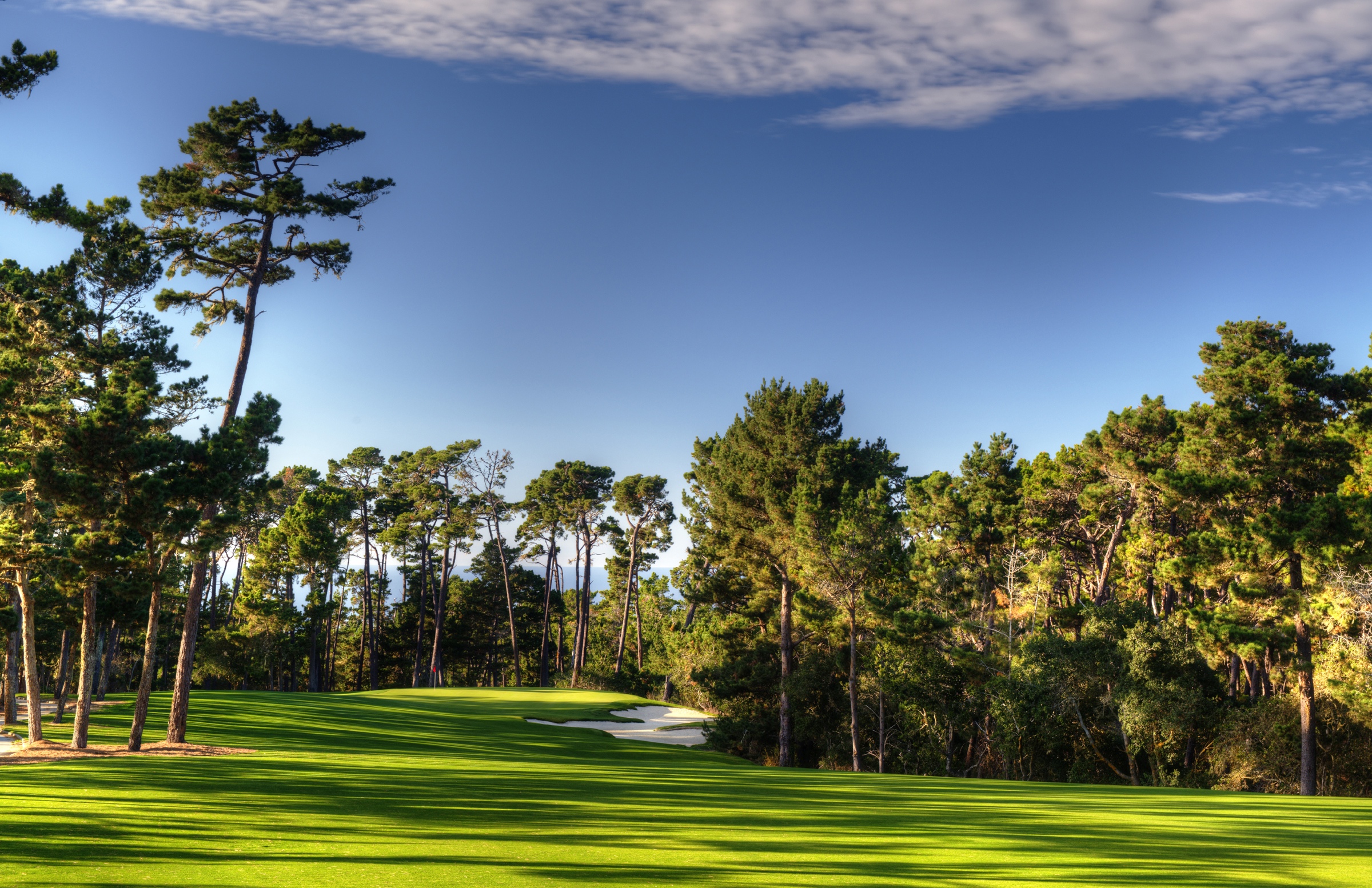 The approach shot into the first hole from a wider, flatter fairway spells a softer opening to Poppy Hills. The green has been shifted to the right and easily accepts a run-up approach, while the bunker to the right functions as much to save an errant shot from being lost in the woods. (Photo courtesy of Poppy Hills and Joann Dost.)
Actually Poppy Hills was built in 1986 on a shoestring budget with obviously more primitive technology so drainage wasn't fully addressed as it could be today. Secondly, architect Robert Trent Jones Jr. inherited a George Fazio routing made even more challenging by the forced avoidance of some rare trees. Though always very walkable, Poppy Hills did not make for the sustaining type of golf experience that would continue to showcase the Association's values. No one ever argued that Poppy Hills was not a tough, beautiful championship course, but it never rated very high on the "fun meter."
In "keeping up with the Joneses," the NCGA chose to invite back the Robert Trent Jones II team (Robert Trent Jones, Jr., Bruce Charlton, and Michael Gorman) to perform surgery – deep surgery. That in and of itself is a gutsy move and a mulligan of sorts that few golf course architects ever get to enjoy, but the Jones organization was up the challenge. Besides, Jones knew the this property and area better than any, apprenticing with his father at Spyglass Hill and building The Links at Spanish Bay nearby.
The post-surgery report is as good as anyone could have ever imagined. Poppy Hills is essentially a new golf course – fast, firm, fun, fair, forgiving, and fabulous. "Sloppy Poppy" is no more! Gone are the offensive doglegs; they've been softened. The layout was surgically taken down all the way to the skeleton and even a few bones were repositioned. Gone is the aerial golf theme and replaced with an engaging ground game. With the addition of five and one half inches of sand applied atop the largely clay base throughout, the contours of the property now encourage, no make that require a ground attack if one hopes to score well here.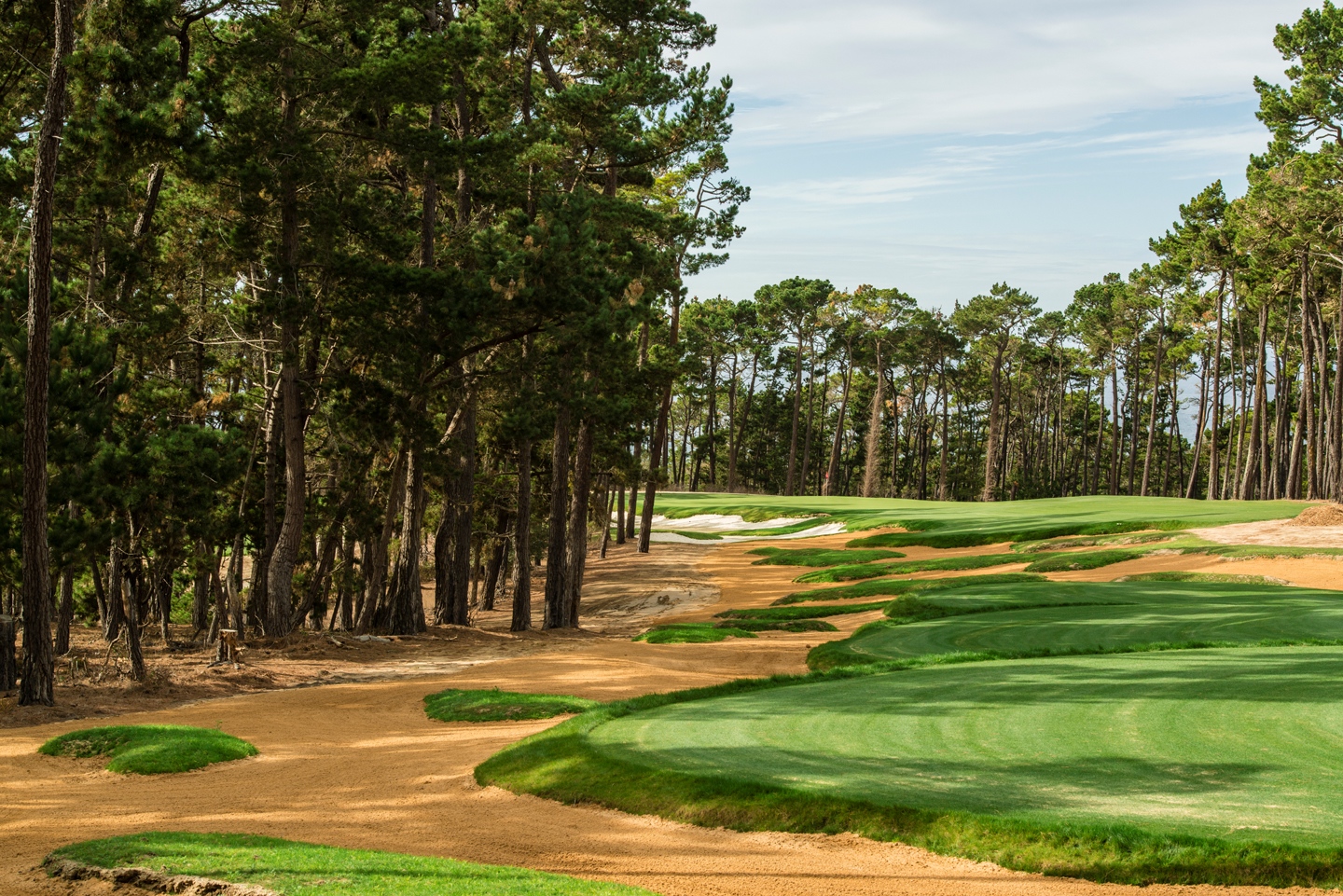 One of the more recognizable holes is the par-three 15th (141 – 223 yards) with its large putting surface. However with mounding and a refashioned bunker, it now plays more to a Redan-style as the firm turf will kick a shot to the right toward the left. Note also the use of the new large natural waste area that reduces the managed turf. (Photo courtesy of Poppy Hills and Joann Dost.)
At a time when water has become increasingly dear and expensive, twenty acres of green turf area were converted to natural waste areas. Not only does that save money, but it looks wonderfully attractive as well. With the curious exception of the par-three second green, the putting surface contours have been changed to be more gradually sweeping, rather than terraced in nature with giant swales. They have also been returned to their original elevations so that they better accept run-up approaches. Recoveries for the average golfer tend to be a bit more forgiving. In order to provide the necessary larger landing areas that fast conditions and good grass requires, many trees were removed though many saplings were correspondingly planted in less strategic areas. On a sunny day, that in and of itself is a refreshing improvement.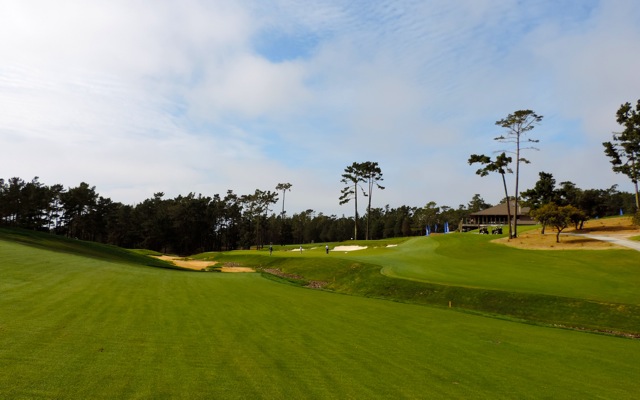 Above is the approach to the new par-five 9th. The green was previously high on the hill to the right. Below is looking back from the green taken from the first tee area. (Photos by Robert S. Fagan.)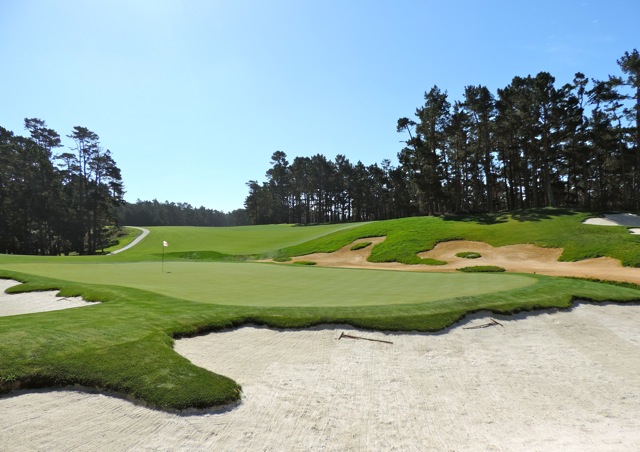 With the exception of around some bunkering, the rough has been all but eliminated with wood chips and bark substituted. Longer errant hitters will find their shots scooting out and off fairways requiring them to thoughtfully shape their shots. On the other hand, most players will no longer lose as many balls and will be able to more easily play their shots from the roughless surrounds. In essence, Jones has brought the forest more into play, but in a strategic rather than overtly penal nature.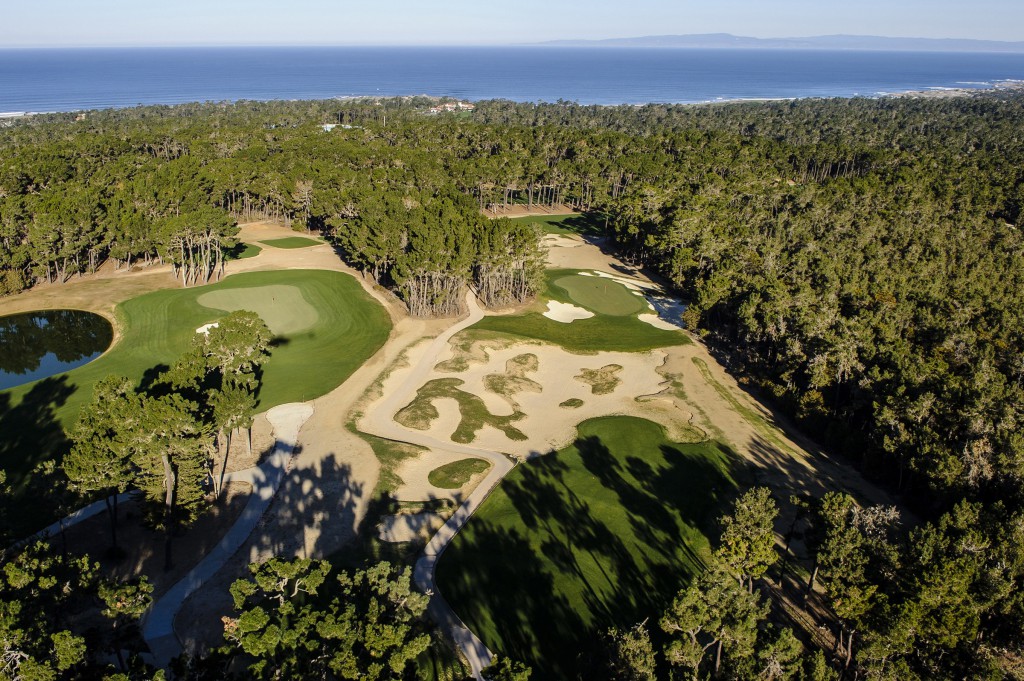 This aerial shot reveals the re-engineered pond on the par-five 10th and repositioned green (left) as well as the totally new par -three 11th that ranges from 99 to 161 yards (right), and the new tees for the 12th(top). (Photo courtesy of Poppy Hills and Joann Dost.)
With an eye toward improving the speed of play, the first and tenth holes were made a bit easier with the ryegrass/fescue landing areas substantially widened and the greens repositioned. What's more, the less than popular par-three 11th and par-five 12th holes were completely repositioned. The 11th now plays in the opposite direction as a shorter one-shotter while the 12th is an engagingly picturesque straight par-four with a view of Monterey Bay and Santa Cruz Mountains in the distance. (Par has been reduced to 71, 7,002 yards, and a fifth set of tees was added to increase playability.)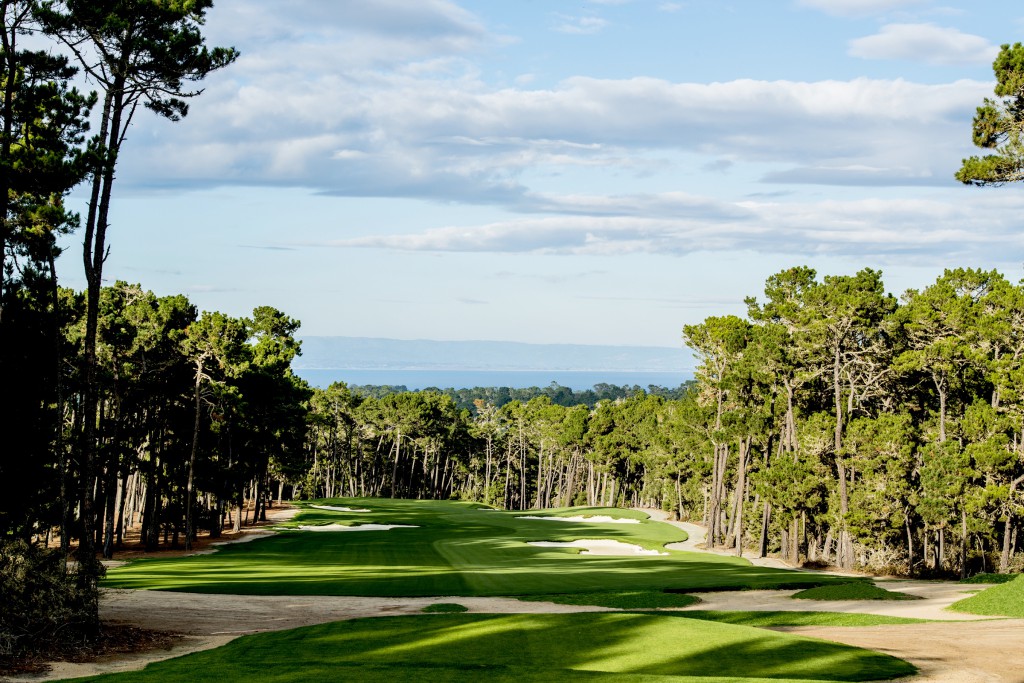 From its elevated tee, the 12th hole converts from a awkwardly weak par-five into an excitingly attractive par-four! (Photo courtesy of Poppy Hills and Joann Dost.)
There are many subtle and overtly obvious changes. Every hole features both new forward and back tees, and while there are fewer total bunkers, their increased size and appearance has definitely become more of a presence. While many fairways have been widened and green sites repositioned, the corridors are still recognizable. That said, gone is the lake between the 5th and 7th holes and replaced with a mounded natural waste bunker area. The green site on the 6th is totally unrecognizable and while you gaze out from the clubhouse or stroll to the first tee, your heartbeat will quicken as you view the repositioned par-five 9th green. Why even the clubhouse with its golf shop and Porter's Grill was gutted and totally remodeled.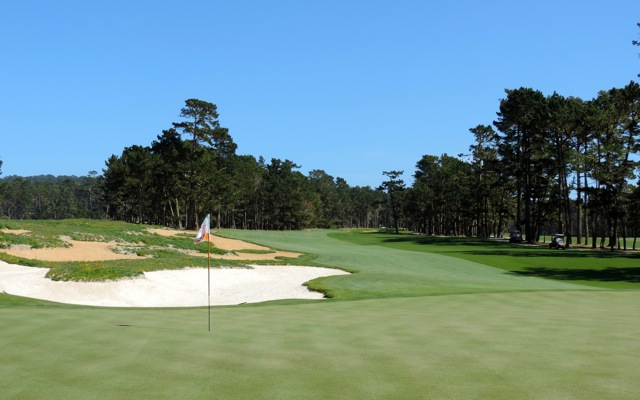 Looking back from the 5th green, the mounded area with the waste bunker to the left was previously a lake. (Photo by Robert S. Fagan.)
Strong, elite players take note. Your challenge has not been negated. 200 yards has been taking into account your added power. For the rest of us, the critical landing areas are wider, recoveries more possible, and we can enjoy a run on the ball. The putting surfaces are more reasonable. Better drainage and pacing of holes makes for a quicker round of golf and a whole bunch more fun.
What you can't see at Poppy Hills was the Robert Trent Jones II collaboration with Toro and golf course construction company Frontier Golf in producing the below-ground irrigation system. This is the first-of-its-kind and is designed to provide state-of-the-art water conservation. Like older buildings, golf courses must be attended to and this teamwork provides the infrastructure to move forward as a caring guardian of the game.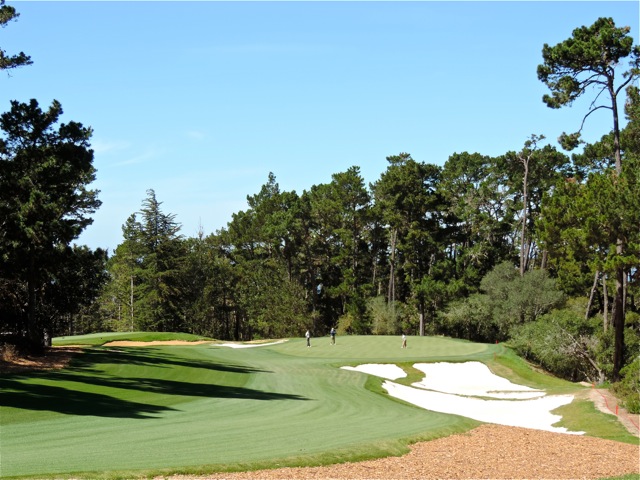 The par-three 17th (121 – 179 yards), illustrates the use of bark to minimize the irrigated areas. (Photo by Robert S. Fagan)
While some in the golf industry have become so focused with "championship golf" and the few who play it, the folks at the Northern California Golf Association have wisely realized that to be sustainable, golf must first of all be fun. Paraphrasing a Jones comment, today Poppy Hills is more apt to figuratively shake hands with the golfer rather than to shake him up.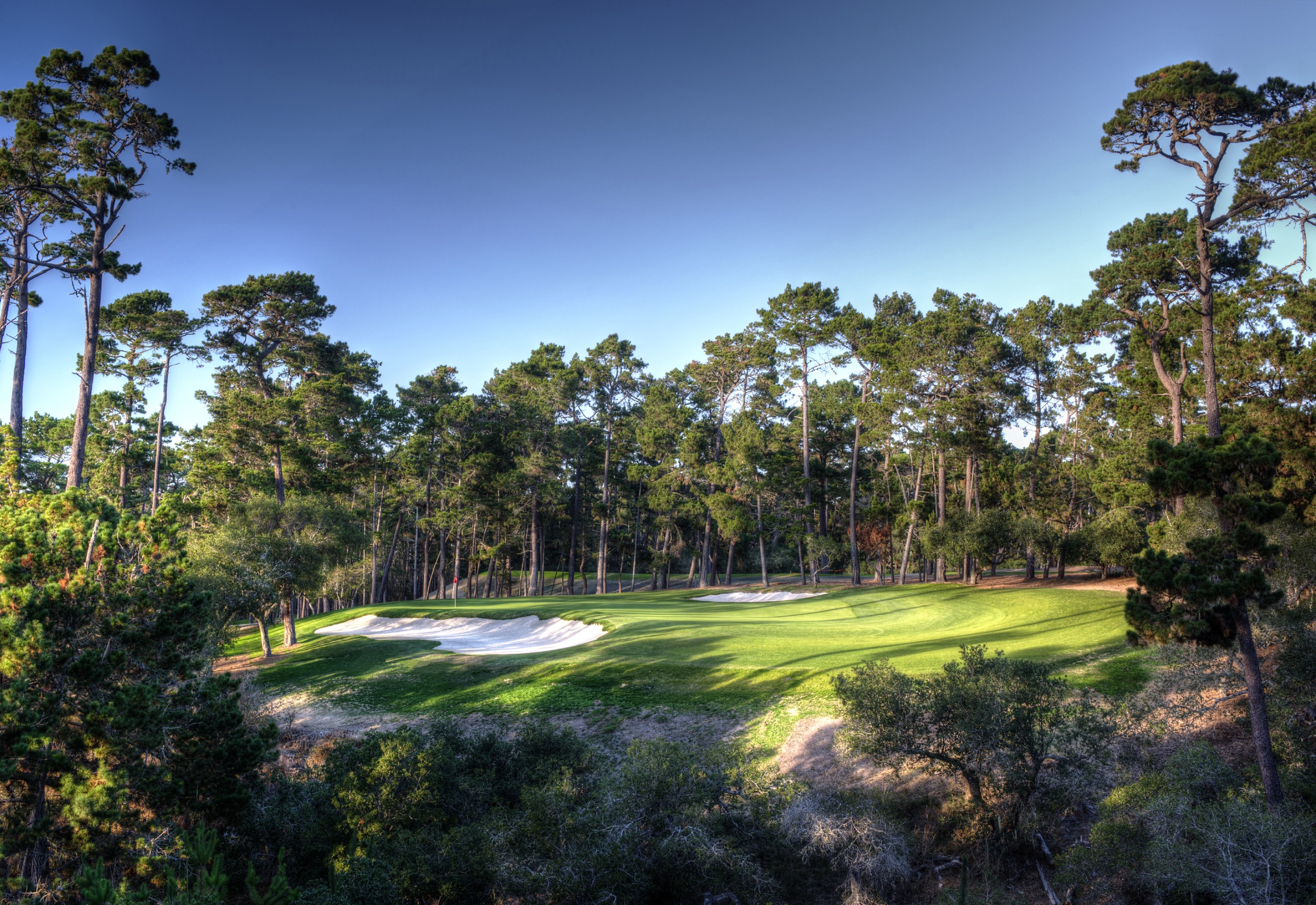 The gorgeous 2nd hole has been opened up to allow more sunlight, but this is the one putting surface that is so complex that accomplished players may 4-putt. It's a really tough hole early in the round especially from the new 202-yard tee! (Photo courtesy of Poppy Hills and Joann Dost.)
Now with RT Jones II producing Poppy Hills II, I predict this to be one of the great golf course success stories that will bear fruit for years to come. Bravo to all involved and now I can't wait to return!
P.S. For NCGA Members, Poppy Hills now has to be one of the best bargains in American golf considering the new improvements, and walking is encouraged. (Carts are not part of the green fee.) Check it out at www.ncga.org.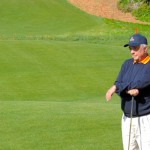 Bonus Tip for Putting Poppy Hills: Architect Robert Trent Jones, Jr. says, "Use the ravines and ocean as your guide to reading the breaks on putts, as the ball often will gather in the direction of the Pacific and prominent ravines."