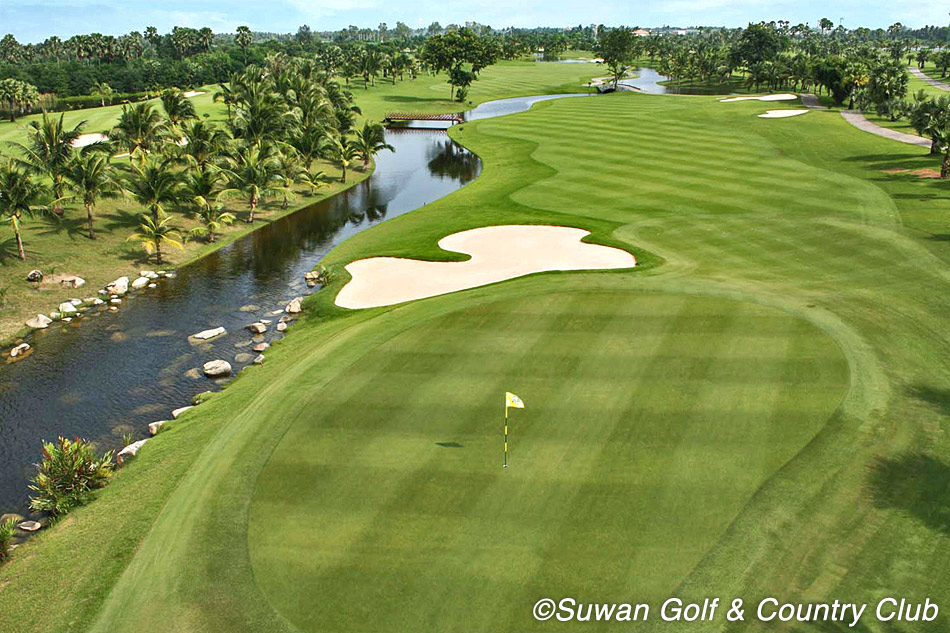 The par-five 18th parallels the par-five 11th to the left and both prominently feature water, sand, and a curvaceous putting surface. Both can be birdied or conversely double-bogied quite easily. 
"Where Pleasure Meets Challenge" so say the friendly folks at Suwan Golf & Country Club. This golf course critic has no problem with that as this is a fun, tropical layout with lots of water, sand, and big, rolling greens on its mostly flat terrain.
Everything at Suwan Golf & Country Club is big, modern, and so nicely presented. In the type of water embraced, tree and bunker lined landscape so reminiscent of South Florida, the Suwan Golf & Country Club is really a very attractive and appealing golf facility. Opened in 2005 west of Bangkok, there is much to recommend it.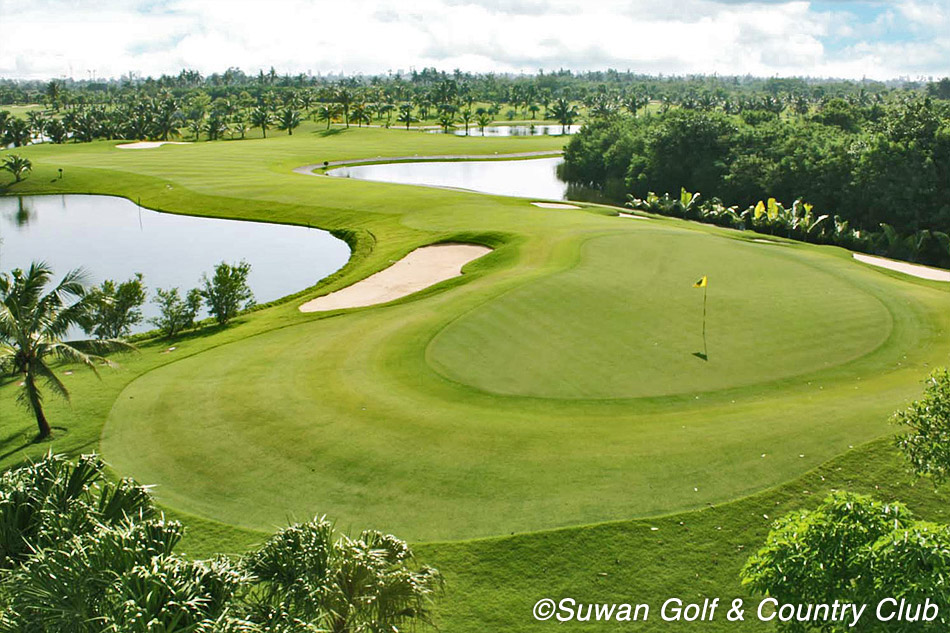 The 419-yard dogleg left features a demanding tee shot if you are going to be in position to hit your approach to the elevated green.
While the bold bunkering, some of it rather deep and imposing, sets the tone of the challenge, I found the impeccably smooth and quick putting surfaces to to have lots of character without being "over-the-top" in their contours. If you miss a putt here, it's your fault, but you have to watch the speed. These greens really run true and were re-built in 2009 using the newest strain of ultra-dwarf Bermuda Mini-Verde.
While the fairway avenues are generous enough, if you spray the ball at Suwan, you will be tallying up a rather high score. Water is present on about 15 holes and trees lines most of the holes as well. The greens are well-bunkered and make Suwan a rather visually intimidating golf course. The course stretches out to more than 7,100 yards so be wary of the tees you choose. Interestingly, the course owes its design to Major General Weerayudth Phetbuasak, still active in the Thai army, who was brought in by the management of Suwan to design the layout. Imported Paspalum grass is used in fairways that seldom offer anything but a perfect lie.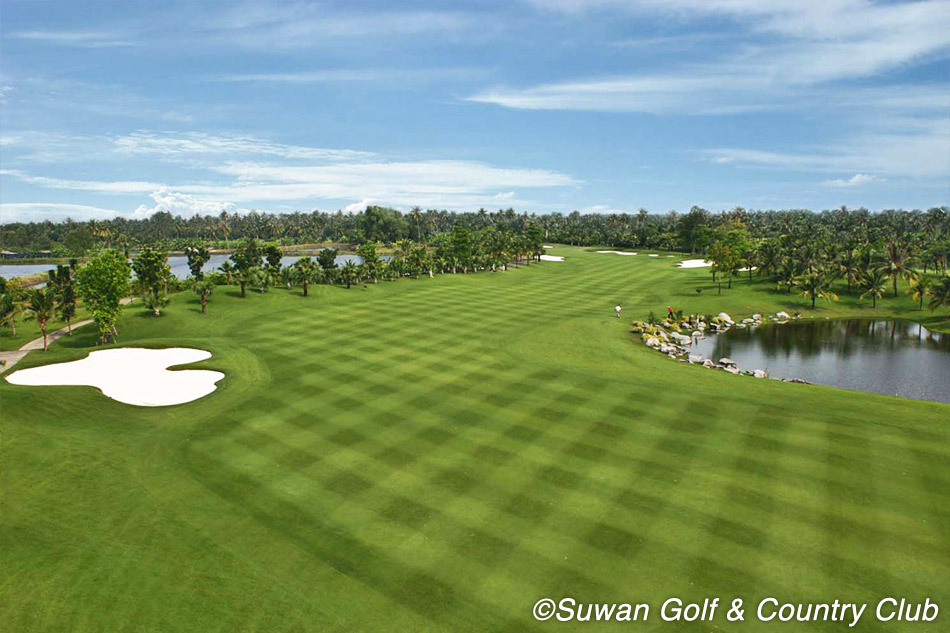 Though this picture does not illustrate it, the tee shot tempts you to cut off as much as you dare of the water hazard and then the putting surface is really protected by bunkers and features some strong undulations.
I particularly liked the excellent par-fives for their combination of trees, water, bunkering, and engaging green sites, but the dogleg left 17th hole with the water that all of a sudden shows itself after the drive gets most of the attention. They call it their "signature hole," a term that I absolutely detest, but that doesn't make it anything less than spectacular – and don't try to cut the corner left off the tee as there is water you can't see.
Suwan really makes the mark as a truly luxurious public golf course. Its spacious clubhouse affords beautiful views of the course, particularly of the 9th green and there are some 20 resort rooms to accommodate overnight guests. Suwan Golf & Country Club is one of the most engaging Bangkok golf courses; one that I would highly recommend.
Below water plays a big role in the approach to the 396-yard 4th hole at Suwan.