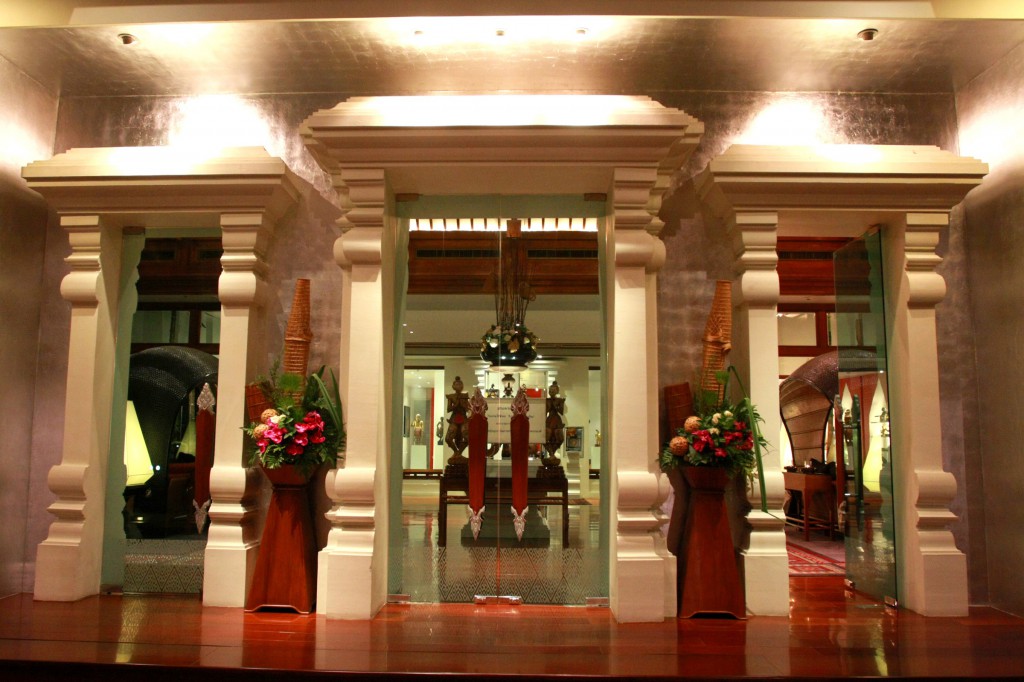 Behind these doors is an oasis of quiet, private luxury at the RatiLanna Riverside Spa Resort.
Chiang Mai in northern Thailand qualifies as one of my favorite spots in Thailand and if you're looking for quiet luxury conveniently located, the RatiLanna Riverside Spa Resort is worthy of your strong consideration. Adjacent to the Mae Ping River, this is a uniquely private oasis just steps from the hustle and bustle of Chiang Mai.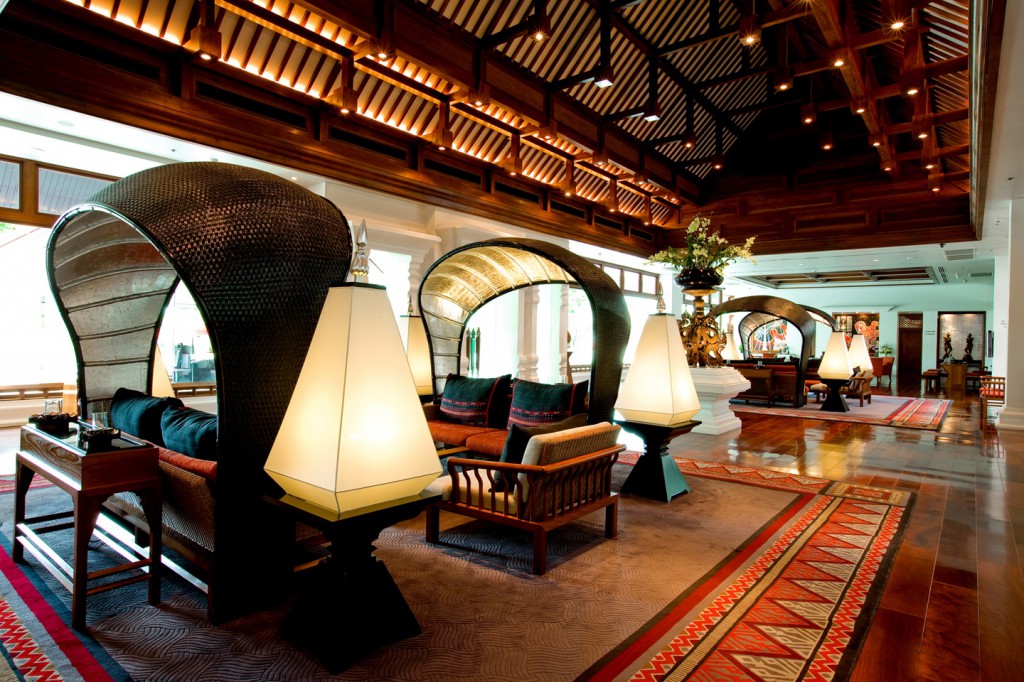 The lobby is wonderful place to meet and has an upscale gift and furniture shop adjoining.
A luxury boutique hotel of 75 rooms, the hotel despite its private setting is actually strategically situated. Its downtown location makes it wonderfully convenient, yet at only 4 km from the airport, it is just a quick easy ride away. It is also convenient to Chiang Mai's famous night bizarre and historical and cultural attractions. With all this, this Spa Resort somehow exudes a quiet, privacy that is so often missing in urban hotels – something of an urban getaway. Decorated in tradition Chiang Mai heritage architecture adorned with a variety of dark, rich woods and exotic furnishings, you are immediately placed in a relaxed state. The rooms are spacious modern, and follow the same elegant decor.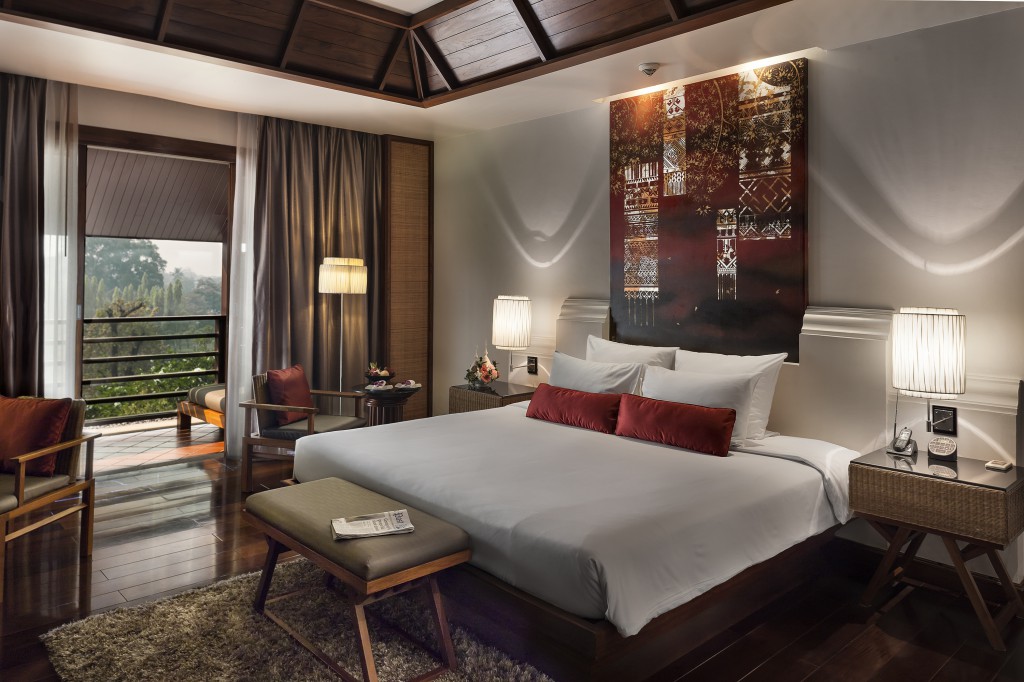 Comfortable luxury awaits in everyone of the 75 suites.
The service at RatiLanna Riverside is excellent, and the amenities include a full spa and fitness center, a modern business center, and free WiFi. A spacious riverside pool with sunbeds, a swim-up pool bar, jacuzzi, and outdoor eating pavilions under the shade of the colorful tropical foliage make it the perfect spot to rejuvenate yourself or simply make it your home base to explore all that this wonderful old region has to offer.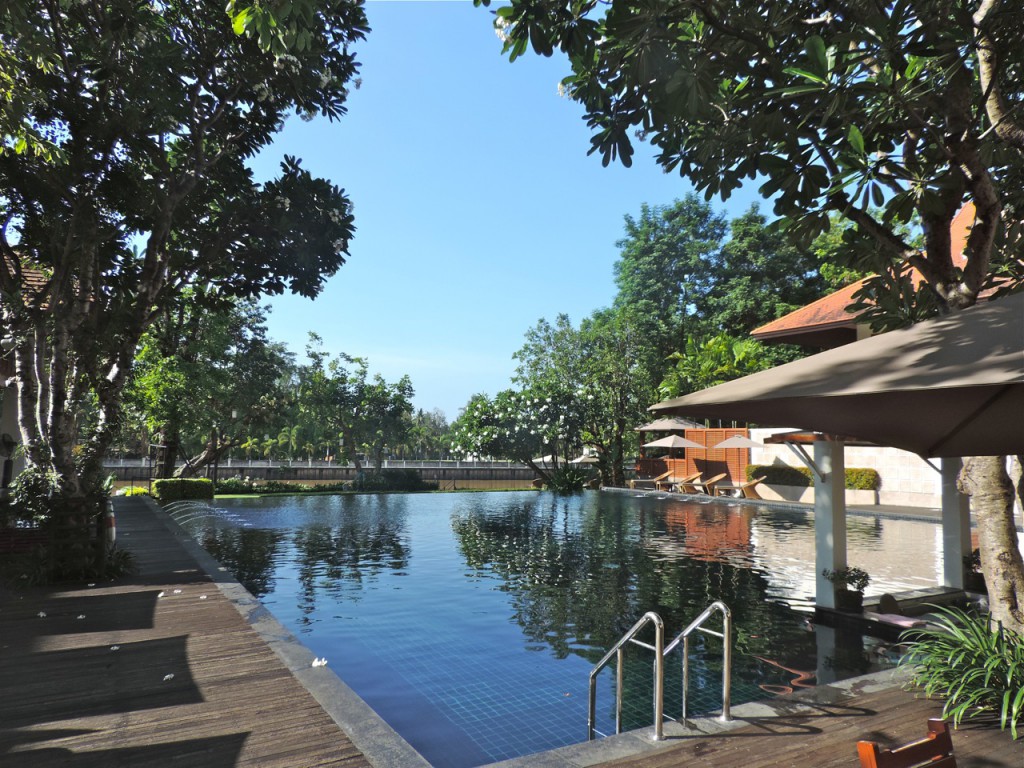 You can enjoy a massage by the pool while enjoying a peaceful view of the Mae Ping River if you like. (Photo by Robert S. Fagan)
Each of the 75 rooms features its own private balcony with views of the pool and/or river and is decorated in the Lanna ancestral theme.  No conveniences have been spared in these individually temperature controlled rooms from the large plasma TV's with home theater amenities to the televisions in the bathrooms complete with a rainfall showers.
The Hotel also offers complimentary shuttle services to the Chiang Mai Night Bizarre, Saturday and Sunday markets, and the Central Plaza Chiang Mai Airport as well as easy access to major highways. Another unique offering is a river visit right from their private dock to Wiang Kum Kam by way of the Scorpion Tailed River Cruise complete with food and drink aboard for your enjoyment. Indoor and outdoor dining onsite at three fine restaurants makes it hard to even consider leaving the premises.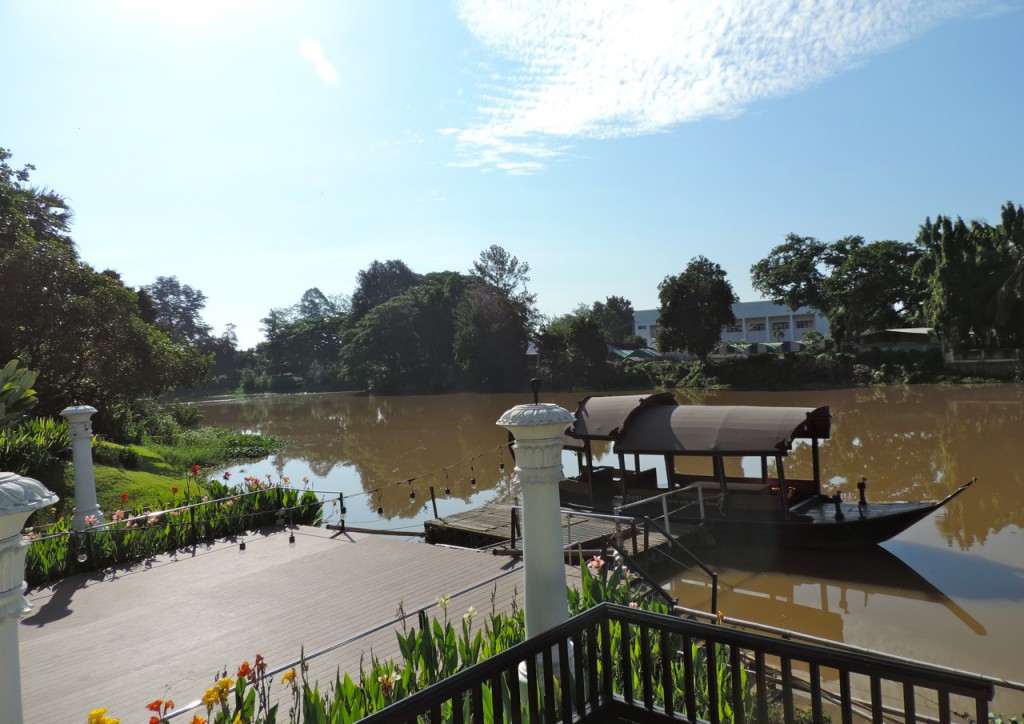 The Mae Ping River and the resort's private boat is never far away. (Photo by Robert S. Fagan)
Yes, I have just begun to scratch the surface of the many feature attractions of RatiLanna and why I enjoyed my stay there so much!
For more information, refer to:   www.http://www.ratilannachiangmai.com/.
Below is view of the rear of the Resort from across the Mae Ping River.