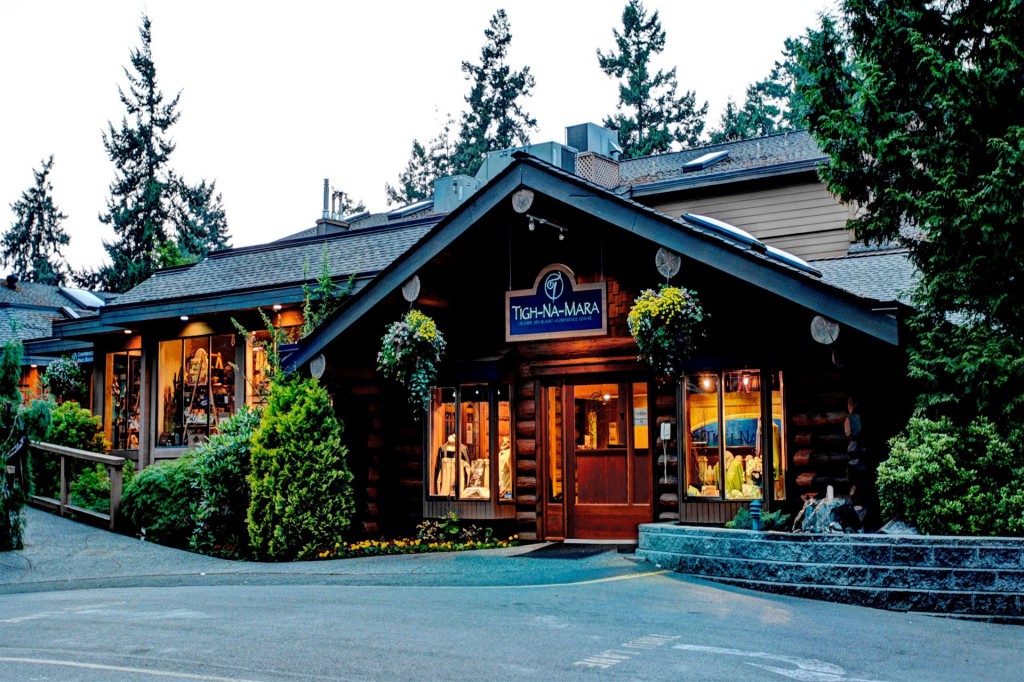 Welcome to the Tigh-Na-Mara Seaside Spa Resort and Conference Centre.
Every once in a long while I find a special spot or resort that I wish I could stay longer – much longer.
In a recent golf trek to Vancouver Island,  British Columbia, I had the good fortune to stay at the Tigh-Na-Mara Seaside Spa Resort & Conference Centre. Golf was first and foremost the focus of the trip and Vancouver Island sparkled in that respect. Typically after playing 36-holes a day for a week, I could care less and hardly notice where I would crash, but Tigh-Na-Mara grabbed my attention. This 22-acre facility amidst the Cedar, Fir, and Arbutus trees located about an hour and a half north of Victoria on the eastern shore really caught my attention – and I so want to return!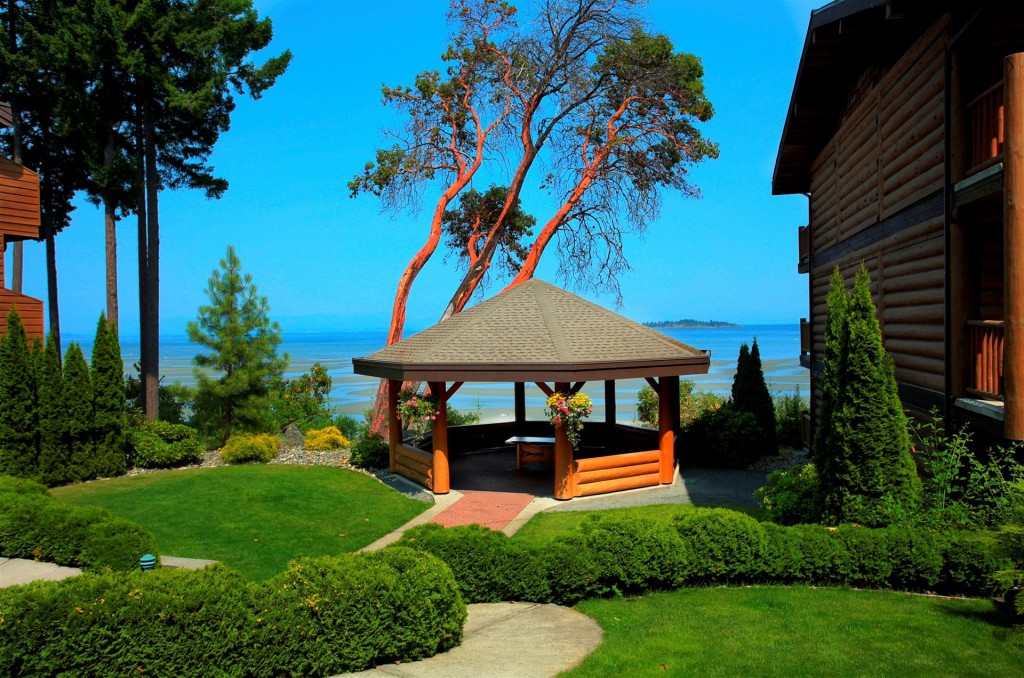 The gazebo also serves as a prime spot for weddings.
Man (or woman) does not live by golf alone, and Tigh-Na-Mara fits the bill as a perfect spot to settle down and explore one of North America's more overlooked treasure islands. Never mind that there are six attractive 18-hole courses within a few minutes of the resort, there is so much else to enjoy as well.
Tigh-Na-Mara is not only the largest and one of the oldest resorts in the area, it is likely the nicest and gains a host of repeat customers. My large log cabin suite was decorated in a simple, but very comfortable rustic style with all the modern amenities – nothing dated here. However with so much beautiful scenery and activities right on site and nearby, my inside quarters were the last place I'd want to be. There are 192 traditional log constructed units that range from one and two-bedroom spa bungalows, log cottages, and ocean view condos overlooking Georgia Strait and the Coastal Mountains. A state-of-the-art Conference Center that invites the rustic natural surrounds in offers the flexibility to accommodate anything from business meetings and conferences to theme parties and weddings.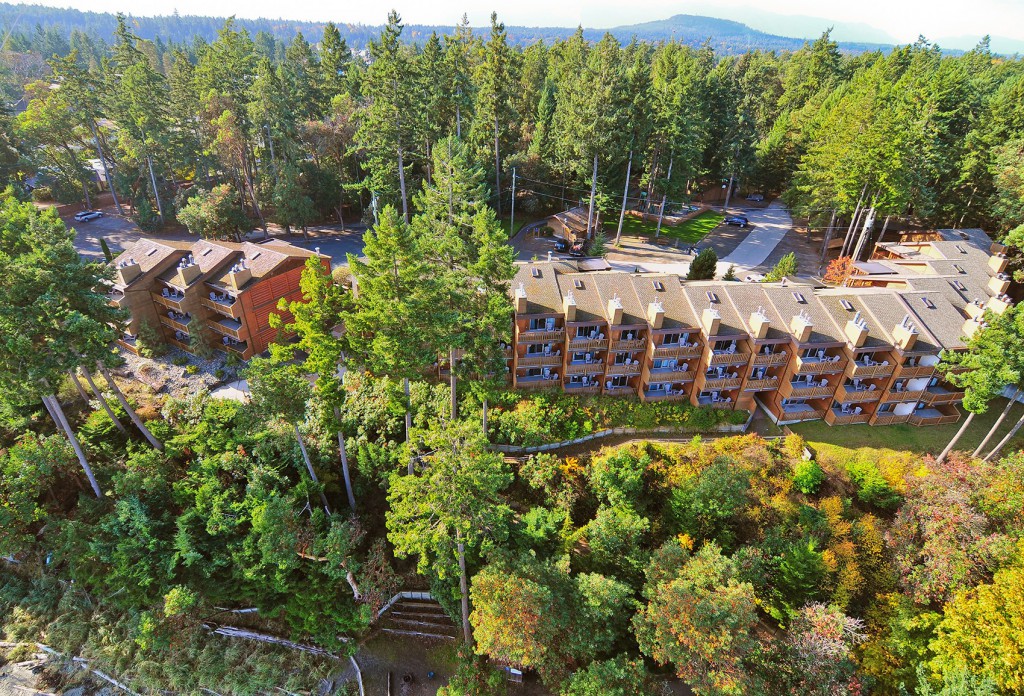 The condominium units command wonderful views of the ocean.
Typically, it is the world-class Grotto Spa that also goes a long way to differentiate this resort from any others. Only a few steps from my room, this comfortable oasis has an indoor two-story grotto with faux rock and a water fall of mineral waters that spell "B-L-I-S-S." From facials, body wraps and scrubs, massages, a hair salon, and hydrotherapy, it's expansive 20,000 square feet make it also the largest Resort Spa in British Columbia – with even an expansive wedding bridal preparation suite. Or perhaps you and that special someone might want to enjoy one their exclusive Grotto Suites for Two or the Lavender Relaxation Lounge, and finish things off at their Treetop Tapas & Grill with its health-oriented, locally grown organic menu. It's just the perfect route to rejuvenation!

Can you picture yourself relaxing in the group mineral pool of the "Grotto Room?"
You will love and marvel at vistas from Tigh-Na-Mara's ocean beach that goes for three kilometers. Along with just chilling out or swimming in Canada's warmest ocean waters, you might find yourself taking part in beachside yoga course, which is part of the largest summer recreation programs on Vancouver Island. It includes swimming lessons and miniature golf trips for children, and wine tasting for adults. In addition to the Grotto Spa, there is an indoor pool, steam room and hot tub, a tennis and basketball court, beach volleyball, and bicycles for rent.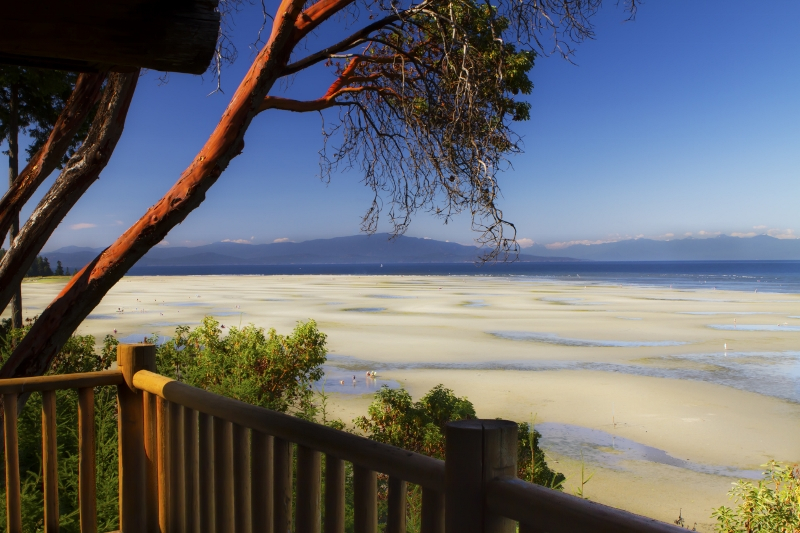 The view of the beach from Tigh-Na-Mara at low tide reveals an expansive playground of gorgeous white sand and brilliant vistas!
Vancouver Island's natural and cultural attractions also await. You might try your hand at clam digging, fresh or salt water fishing, Island winery tours, exploring Horne Lake Caves, or hiking the Little Qualicum and Englishman River Falls. And then there is golf – those six local 18-hole golf courses await!
Cedars Restaurant & Lounge features contemporary rustic cuisine and is complemented by excellent service. Recently enhanced by a $600,000 renovation, it is a place suitable for all ages. For something lighter or fireside cocktails with friends, the Cedars Lounge offers daily specials and half price applies on Tuesday and Wednesday. Stop here and you're fortified for your next day's adventure.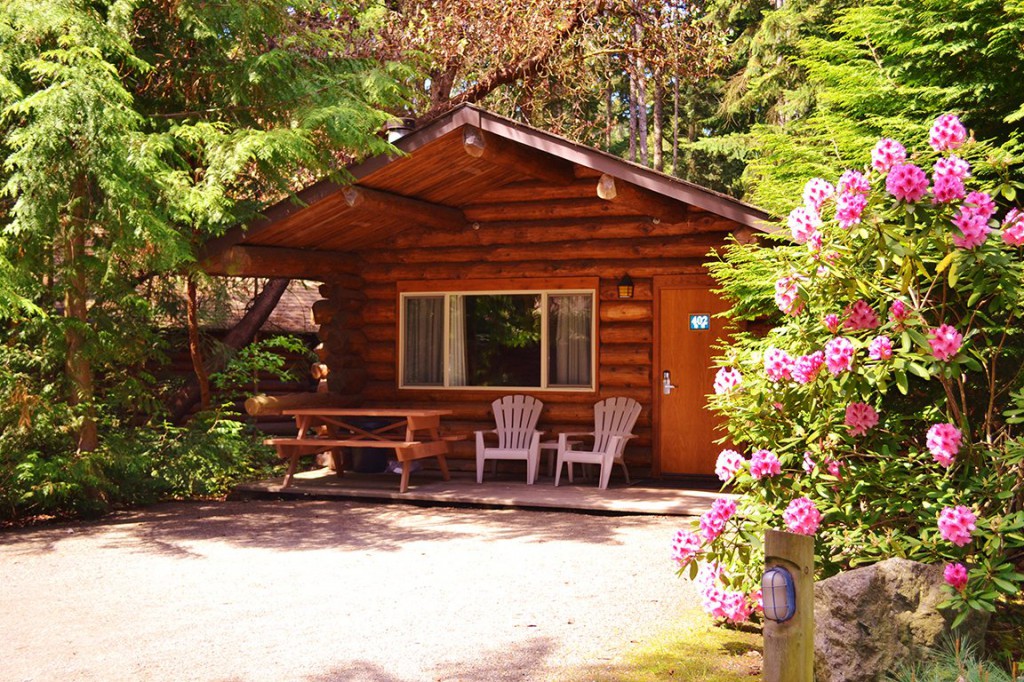 The well-appointed cottages provide a quieter, more private offering.
As you can appreciate, I certainly want to return for Tigh-Na-Mara features either the perfect stay-and-play spot or the hub from which to explore nearby sports, culture, and nature attractions. The Tigh-Na-Mara Seaside Spa Resort and Conference Centre is the "natural" place to stay!
Below is the par-five 9th hole at the Pheasant Glen Golf Club, just one of a half dozen attractive golf courses conveniently situated near Tigh-Na-Mara. (Photo by Robert S. Fagan)