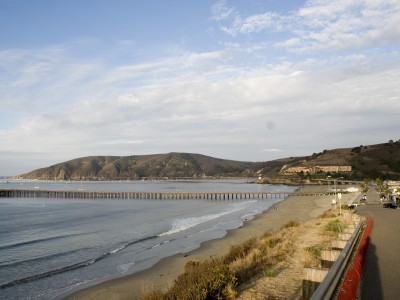 Little Avila Beach on California's Central Coast qualifies as one of my very favorite beach towns anywhere.
Choosing a favorite California beach town is like trying to pick your favorite in a beauty pageant. It's not easy, but fun and highly subjective. Anyway, I discovered this little half-mile "Banana Belt" of a beach town more than a decade ago and it qualifies as "My Favorite" on the Central Coast, if not all of California. Yes, you'd be forgiven if you were not already familiar with the little town of Avila Beach for it is home to less than 1,000 folks. Situated just fifteen minutes southwest of San Luis Obispo, there is essentially one road in and one road out, but here is why I quite like it.
The sun starts at Avila Beach for it features an incredible micro-climate. Several years ago, one of my sports writer friends had just retired to Avila Beach and he befriended a meteorologist researcher from the University of California at Santa Barbara. The professor shared with him that they had conducted a study to identify the world's best weather. Now I don't know their criteria, but little Avila Beach, CA came in the winner – best weather in the world! Suffice it to say, the weather is moderate and the sun actually happens to burn off the coastal fog long before it does for the area's other beaches, some as little as three miles away. Enjoy Avila Beach's weather!
Secondly, Avila Beach is just a spit of a town. Its primary beach actually faces south (town goes east to west) and it is only about a half mile in length. There are but a few blocks of the usual souvenir, beach, and gift shops along with several restaurants, and most all face the water. Only a few blocks of buildings cluster behind them. This is more of a village than a town and there is precious little housing immediately there, though houses dot the canyons and hillsides further back from the ocean. This not Santa Cruz or even nearby Pismo Beach, but rather an informal, tiny enclave that most of the rest of the world hasn't yet noticed.
As small as Avila Beach is, you will not have a host of shopping opportunities, and only a few restaurants, and while you may find parking a challenge on summer weekends, you won't find all that many people. Rather the area is quiet and more peaceful that most other California beach communities. What is here is comfortably informal, interesting, and enjoyable. Yes, this is definitely a mellow spot sheltered by Point San Luis to the west and Fossil Point to the east. The main beach is split by the 1,685 Avila Beach Pier built in 1908 and makes for an enjoyable stroll or recreational fishing. Here this family beach is clean, safe, and usually has some enjoyable surf great for body boarding. Your gentle stroll might also include a wine-tasting, day of fishing, or enjoying the beach and surf. And just a few minutes inland, this is quite the place to savor the cabs, syrahs, zins, or pinots as the San Luis Obispo/Central Coast region has established itself for its wineries. Alternatively, if you just want to stay in Avila Beach, try out Peloton Cellars. It was created by four friends and marries their love of wine and cycling. Their "Good ride. Good wine. Good times!" mantra sums up the approachability of both the tasting room and the wines. You can find their tasting room in the new landing building in downtown Avila Beach. As for hiking or biking, Avila Beach is a perfect spot to begin from and they will be happy to point you in the right directions. In fact, Avila Beach is a good place to begin to explore California's Central Coast, but retire to at night.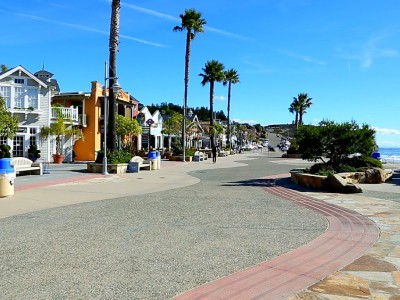 Speaking of the beach, there are two more piers west of "downtown." The first is the California Polytechnic State University Pier and was donated by Unocal in 2001. This pier has become an educational/marine research facility and part of the University's marine research program, and unfortunately is not open to the public. The third is the Harford Pier that was developed in 1873 by John Harford for shipping into San Luis Obispo before the train came. It was also used by smugglers at nighttime for illegal movement of liquor. Now, you can legally enjoy both liquor and food on the Harford Pier is used for commercial fishing, and includes space for parking.
There are several comfortably attractive places to stay right in Avila Beach or a couple miles removed back in the quaint Avila Valley, and the Avila Beach Golf Resort is a sporty 6.500-yard layout that you will spot to the right as you enter town. It's a rustically scenic layout that plays back into the canyons and makes for an enjoyable test for anyone. And there are usually some other fun activities in Avila Beach. From April though September, there is the weekly Friday night Farmer's Market and "Art on the Beach" takes place between June and October, while May is typically the time for the Annual Avila Beach Blues Festival.
Avila Beach is just that magical meeting of land and sea with a fantastic micro-climate, not overly commercialized or populated with an unpretentious, friendly vibe and just the right mix of energy and activities that definitely qualifies it as a "Hidden Gem." Visit Avila Beach and see for yourself.