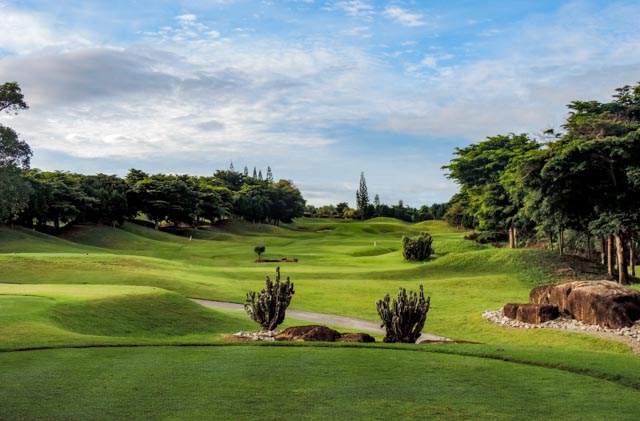 St. Andrews 2000 features a nice variety of short and long holes with lots of interesting terrain. Above is the short par-four 2nd hole measuring only 326 yards, but you had better hit the fairway if you hope to reach the elevated putting surface. (Photo by Robert S. Fagan
The late Desmond Muirhead designed some unusual, if not controversial golf courses. He enjoyed "pushing the envelope," and did so at St. Andrews 2000 with not only one, but two par-six's. One of those holes can play to 910 yards and, due to its terrain, may actually be a par-7! Well, that is part of the St. Andrews 2000 golf course in Rayong outside Pattaya, Thailand.
Opening in 2000, the marketing piece for St. Andrews 2000 describes the layout as having "a sweeping Scottish look." Nothing could be further from the truth as Old Tom Morris would roll over in his grave to read that after playing this course. It's landscaped more like a hilly Japanese garden with brown spots and a few weeds, and rock outcroppings. Is this a bad course? Well, some of my golf industry friends would disagree with me, but I rather enjoyed it.
Above is a view of the iconic 1st and 18th holes on The Old Course at St. Andrews in Scotland compared with the very attractive 1st hole at St. Andrews 2000 in Thailand. It's pretty obvious that contrary to the name and marketing, the two have nothing in common other than they are both golf courses. (Below picture by Robert S. Fagan)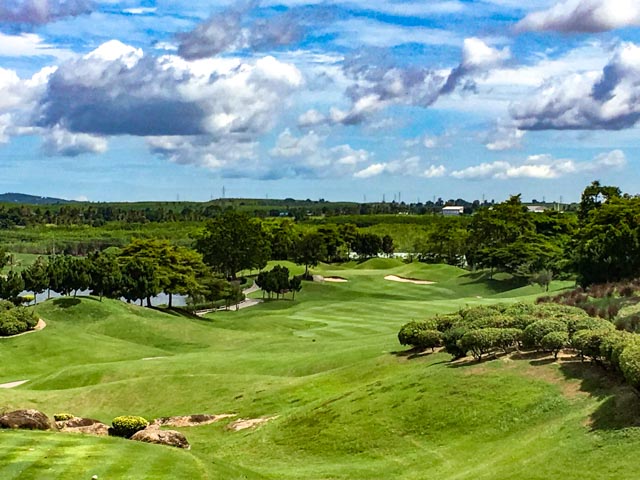 There is obviously a disconnect between traditional golfing knowledge and those who developed and maintain St. Andrews 2000 as this facility is about the furtherest thing from anything whatsoever in that Scottish town. It's "Golf Marketing Mumbo Jumbo" at its very worst (or best)! Whoever wrote or was responsible for that knows little about golf and nothing about St. Andrews. However, if you understand that, and bring your sense of golfing adventure as well as a sense of humor, you may actually enjoy the layout. (I hate to say the name, St. Andrews, when referring to this property.)
Much of St. Andrews 2000 is routed over hilly, interesting terrain that affords some fun interesting holes and looks. The property is squeezed into relatively narrow corridors of trees guarded at times by water and penal bunkering, and featuring several plateaued fairways and sometimes hilly terrain akin to New England. This severe terrain features some dramatically visual ups and downs, along with some really elevated greens making for a traumatizing offering to the novice golfer.
Looking back on the divided plateaued fairway on the 602-yard, par-five 7th evokes design comparisons to the Dye Family as opposed to St. Andrews, but it is a fun hole nonetheless. (Photo by Robert S. Fagan)
Though several of the holes are relatively short, there's nothing anemic about the 910-yard 13th, especially considering that neither the terrain nor altitude help you in distance. Better play the front tee at 710 yards if you want to finish it, let alone par the bugger.
Too often the caddies automatically handed us drivers only to have us hit accurately through fairways into trouble. Secondly, the course conditioning was suspect, especially compared to what I've come accustomed to in Thailand. There were bad bare spots on the putting surfaces, and the tee and fairway turf was not as trim and weedless as most of the Thai courses I've played. That said, the shaping and the challenges along with the Muirhead design really spoke to me… very enjoyable with lots of character and not unlike a vintage American parkland course. I would rate the aesthetics as "Good."
My verdict however might be a bit on the favorable side for nearly everyone else from our two golf industry foursomes did not like St. Andrews 2000. The service here was friendly, but the facilities have become worn if not outright seedy, and in need of improvement. The showers were dirty and also in need of repair as were the carts and buildings, cart paths and alike. Unfortunately, I have to disagree with the Course's website verbiage that this is "a high end club." Maybe it was or will be, but not now.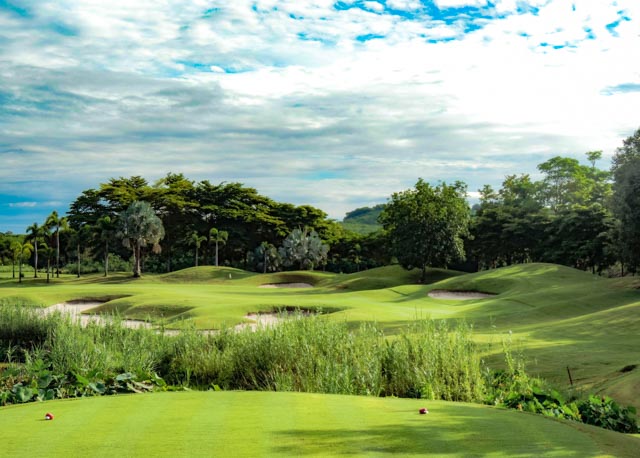 The 5th hole is a very attractive par-3 more reminiscent of the tropics than Scotland. (Photo by Robert S. Fagan)
If you enjoy playing something different as I do, and that's pretty, there's a good deal to recommend St. Andrews 2000. Just don't expect anything Scottish, remotely akin to St. Andrews or high end. Otherwise, take a pass.
Criticism aside, the below picture of the par-five 18th green illustrates the beauty of St. Andrews 2000 and why the Course appealed to me. (Photo by Robert S. Fagan)