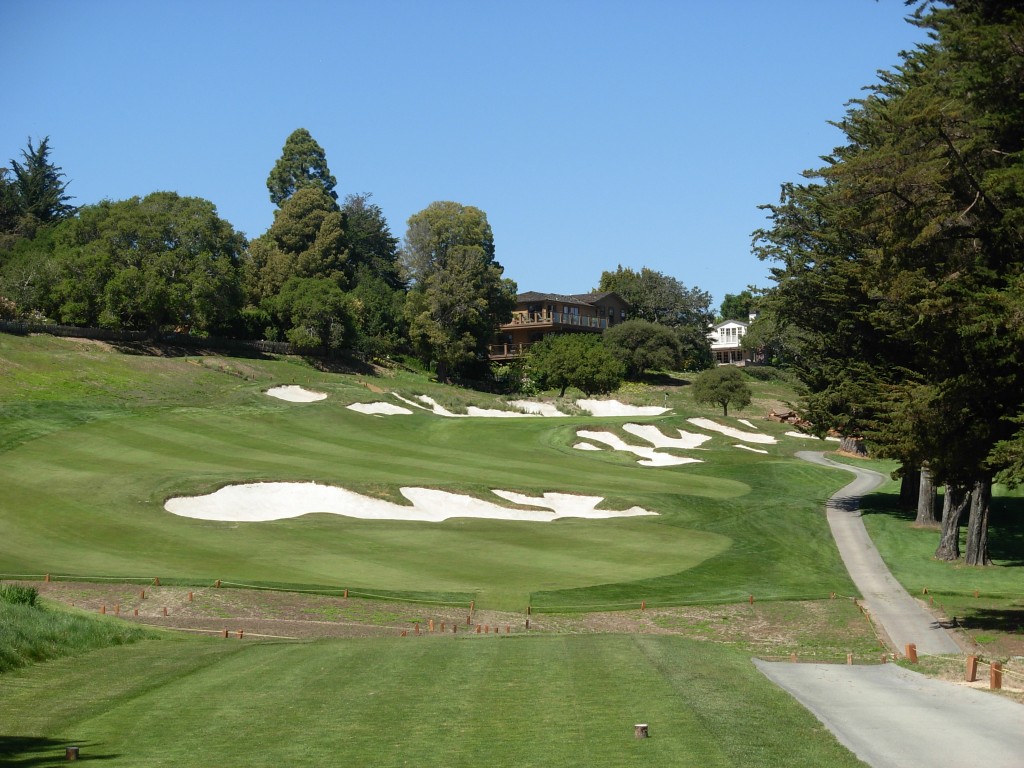 The sublime uphill par-3 third hole at Pasatiempo.  It is a difficult hole from any tee.  (Courtesy of Rob Babcock/Pasatiempo Golf Club)

Pasatiempo Golf Club in the mighty redwoods and canyons overlooking the beach town of Santa Cruz and Monterey Bay remains the best example of the genius of architect Alister MacKenzie that is open to the public today.  The dream of Marion Hollins, a leading woman amateur player of her day, who was born into wealth and whose personal fortune was made in the oil business, Pasatiempo (Spanish for passing of time) was officially opened in 1929 with an exhibition round featuring her friend Bobby Jones, Glenna Collett Vare, the best American woman amateur of the day, Cyril Tolley, the great British amateur, and Miss Hollins. Not only is the golf course superb, but the history behind it is ever so fascinating as well!
Pasatiempo is located between San Francisco to the north and Monterey to the south just a couple of miles inland from Santa Cruz and the Pacific.  It is a club that has a prestigious and expensive private membership, but is also open to public play – a model we are certain to see more of in the coming days.  Whether for charm, challenge, history, beauty, or whatever, it usually ranks high among the favorites of any visitor who is fortunate enough to play there.
Pasatiempo's beginnings all revolve around Ms. Hollins who was quite a person of note. Hollins grew up a tomboy with four brothers on her family's 600-acre estate. Her father was Harry B. Hollins, one time partner of J. P. Morgan. Her first love was horses but she soon found a talent for golf.  A large woman with a deep, throaty voice, she was the 1921 US Women's Amateur Champion and later America's first Curtis Cup Captain in 1932.  She was an exceptional athlete that many speculated to be the best all-around woman athlete of the 1920s. Hollins was an expert rider, owning her own string of polo ponies and steeplechase horses. She built her own polo field and steeplechase course at Pasatiempo and it was said, Marion Hollins was to polo what Babe Ruth was to baseball.  She was also a pioneer in women's tennis and even had clay imported from England and France for her courts.  A feminist, she also formed she formed the Women's National Golf Club on Long Island, New York, which was run entirely by women.  Marion Hollins competed easily with males not only in golf, but also in business where Samuel F. B. Morse hired her as Athletic Director to help him develop Pebble Beach and where she met Alister Mackenzie while the two were developing the Cypress Point Club.
In fact, in helping to develop Cypress Point, it was Hollins who gets credit for the world-famous sixteenth hole.  According to Grantland Rice and other historians, she worked hand in hand with Dr. MacKenzie at Cypress Point and he gave her full credit for the design of the world-famous 16th hole.  MacKenzie thought the hole was too long and the men wouldn't go for the green.  He was intent on building a short par-four, but Hollins disagreed.  "Nonsense" she said, "If a girl goes for it, the guys will go for it.  Then in the dirt according to MacKenzie, "she teed up a ball, drove it 219 yards across the roaring ocean, and said put the green there."  That green has stood where her ball landed and even today, the hole is one of the most daunting tee shots in all the world of par-threes.
When Bobby Jones was at Pebble Beach for the 1929 US Amateur, he had the opportunity to play the MacKenzie revisions to the 13th and 15th holes at Pebble Beach as well as play Cypress Point both before and after the tournament.  Though Jones had met and talked with MacKenzie previously in St. Andrews, the timing with Jones's first round loss in the Amateur to Johnny Goodman provided him with another opportunity to talk with MacKenzie and this is where many historians suggest they had their first in-depth discussions about architecture.  The more they talked, the more impressed Jones became with Dr. MacKenzie's theories and thus their relationship began that would later culminate in the Augusta National Golf Club.
A relatively small fortuitous investment in the San Joaquin oil fields soon yielded her $2.5 million and she then struck out to develop Pasatiempo about a 45-minute drive north.  She took the MacKenzie's with her introducing them to an array of wealthy influential people.  Thus Pasatiempo was brought to life in 1929.  Despite the depression she moved on undaunted, spending enormous amounts of money to give the best of everything for Pasatiempo.  The facility, that used to be more of an ultra-plush country club with tennis and polo, was a magnet for the rich and famous of the day.  Hollins was said to be its omnipresent monarch, "a dervish spinning from polo field to fairway to homesites to clubhouse to tennis courts."  By 1938 Hollins had spent her millions keeping the estate in lavish style and it went up for sale.
Samuel F.B. Morse hired her once more and she moved back across the bay.  Unfortunately life did not unfold as one might expect for Marion Hollins.  The once rich and famous Hollins died in 1942 at the age of 52 of cancer, alone and destitute in a Pacific Grove, California nursing home.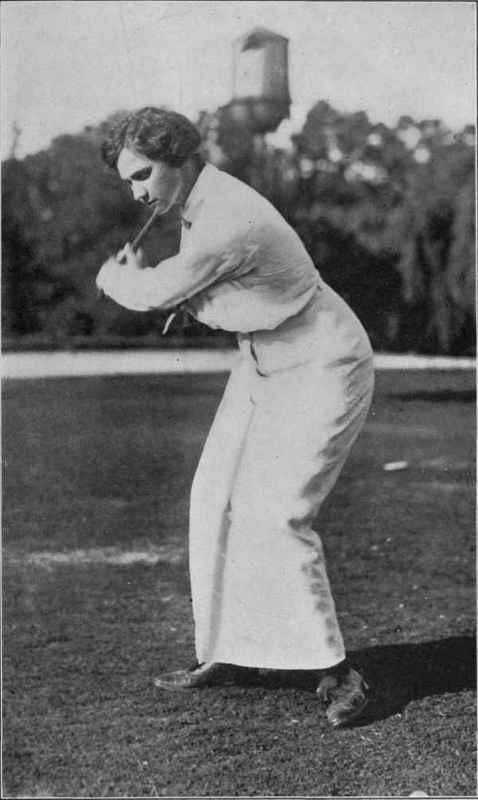 Marion Hollins was not only a powerful golfer, she was one of the most accomplished athletes of her time!
When Augusta National could not pay Dr. MacKenzie the majority of his agreed upon fee because of their financial troubles, Hollins made the cross-country trip on behalf of her friend to try to get the money from Clifford Roberts.  Though she failed and Augusta National never paid Mackenzie his full fee, MacKenzie was very indebted to her for making such an immense effort.
Pasatiempo was a special place for Dr. MacKenzie too as he chose to pass his last years with his second wife in an elegant though fairly modest residence he built for himself alongside the sixth fairway.  He loved the place and also enjoyed playing the course.  One of MacKenzie's assistants at Pasatiempo, John Fleming, in his own right a fine architect with many courses to his credit in Northern California, noted that Mackenzie spent more time personally working on Pasatiempo than on any other course he built.  It may be no surprise then that several MacKenzie historians claim there is more "MacKenzie" at Pasatiempo than anywhere else.
Adding to Pasatiempo's illustrative history, again on the women's side, is that the course was also the home of LPGA Hall of Famer Juli Inkster who grew up in her parent's home alongside the 14th fairway.  Juli started working at Pasatiempo Golf Club before taking up the game of golf.  She worked in the cart barn, picked up the driving range and worked at Hattie's Snack Shack at the 10th tee.  As she was turning 15, Juli took up golf with a real passion.  In 1978, she was voted as Pasatiempo's "Most Improved Golfer" as her scores were fast approaching the seventies on a consistent basis.  In her senior year Juli received a golf scholarship to San Jose State University, won three consecutive USGA Women's Amateurs, and the rest is history and she still represents the Club as their "Touring Professional."
From the tips, the present day layout is one of the most demanding 6,500 yard par-70 examinations you will ever encounter.  Pasatiempo's greens are wicked in their contours and many of the fairways slope to forbidding barrancas.  They are generously defended by an array of ragged edged white bunkers.  If you played Pasatiempo before the Tom Doak restoration that was lovingly completed in the fall of 2007, you may not recognize some of the landscape.  Much of the nearly claustrophobic nature created by the growth of the trees has been opened up by the removal of hundreds of trees – in keeping with the strategic concept of play that MacKenzie had
intended.  (The trees were not a factor in the original design and were added years later by an unknowing superintendent or greens committee.)  Much of the MacKenzie bunkering was also restored and several greens expanded to their original dimensions.
The front nine opens with a majestic view of the Pacific Ocean only a couple of miles distance, provided the day is clear.  This hole that begins from an elevated tee was formerly a short 457-yard par-five, but has been converted into a very stout two-shotter for those par-conscious individuals.  Otherwise, the nine is comprised of three par-threes, four par-fours, and two par-fives.  One of these threes, the third, is one of the most difficult par threes in golf in which water does not come into play, climbing 214 yards uphill to a fiendish two-tiered putting surface.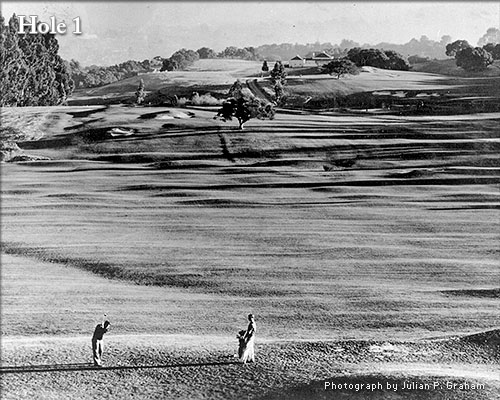 How Pasatiempo has changed.  It had very few trees as witnessed by the first hole as compared to it today as shown below.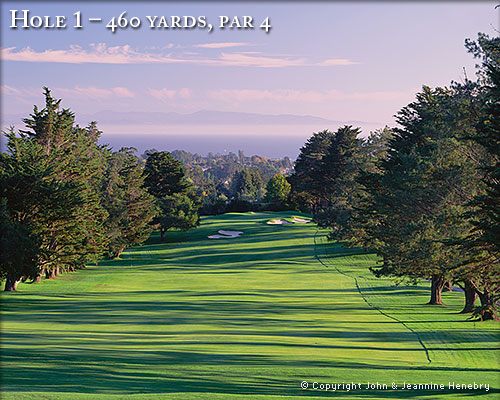 The back nine, which MacKenzie in his recently published "lost" manuscript The Spirit of St. Andrews called "the best I have ever built or seen," crosses a series of barrancas and contains many fascinating holes.  MacKenzie considered the 16th to be his "favorite hole in all of golf" – it is a 387-yard jewel requiring a blind fairway wood or driving iron tee shot to a hogback fairway lined by a barranca on the left and out of bounds on the right.  Both the tee shot and approach must carry this barranca to a crowned fairway that aid the shorter player with a bit more roll, but challenges the stronger one to play perilously close to the trouble on the left side so as to not through the fairway.  The approach is over a ravine to a three-tiered green that is one of the most severely MacKenzie greens still existence though it beautifully embraces in what MacKenzie called a "garden spot."   Ben Hogan said it all when he called the hole "a truly great par-four."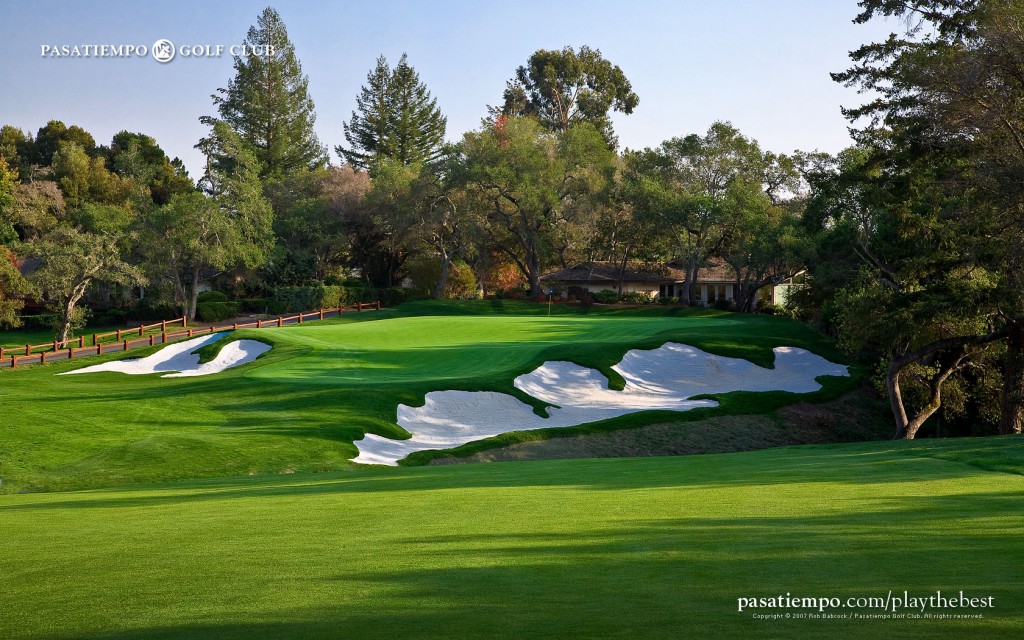 Above is the 16th after the Doak renovation and below is a picture of the hole the year before.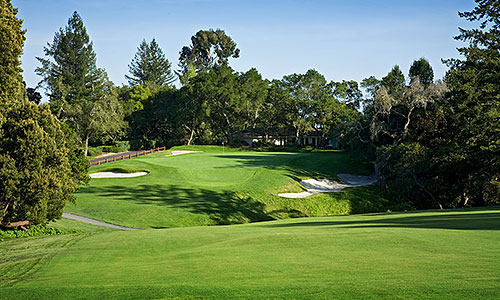 Many locals, however, consider the par-four tenth and eleventh holes even better.   Ten is a demanding 440-yarder requiring a drive of 200 yards to carry a gaping canyon and a long, slightly downhill approach to a small green framed on the right by a large eucalyptus tree. Eleven, though shorter than the tenth by more than forty yards, is even more severe.  A slight dogleg left that plays entirely uphill, the landing area is protected on the left by the ever-present barranca and the second shot requires a full carry over the barranca which menacingly crosses to the right of the most severe green on the course, sloping sharply from back to front.  Because this barranca cuts across the fairway, it limits the maximum tee shot distance and forces a longer approach shot for all players.  When the poa annua greens are cut to tournament play speed, a putt from above the hole on 11 will most likely not stay on the putting surface.
Below is the eleventh hole – one of America's best uphill two-shotters!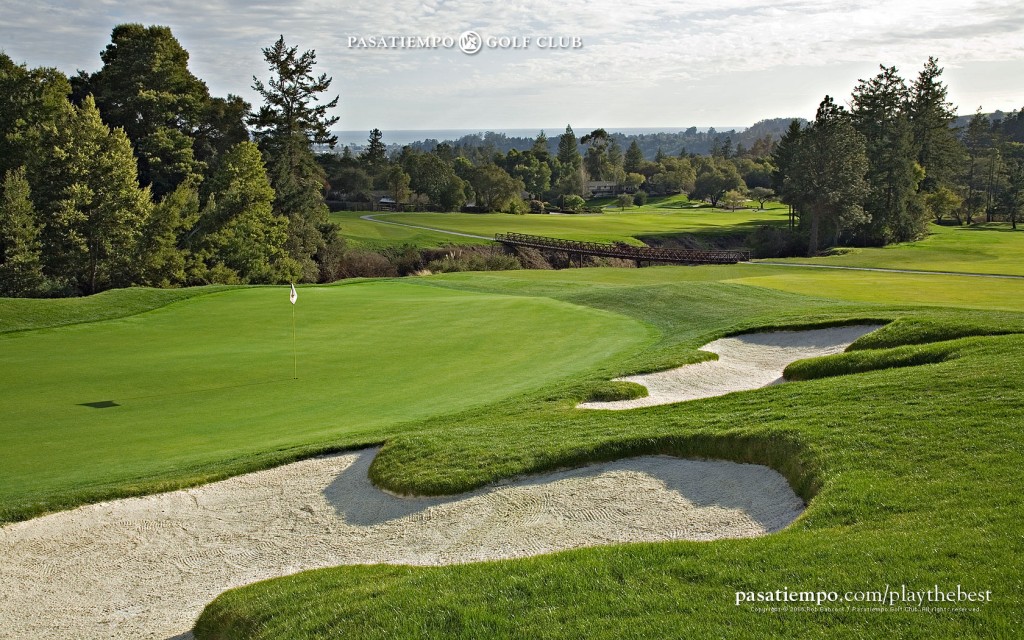 Interestingly, Pasatiempo closes with a 169-yard par-three over a barranca, which like a handful of other splendid golf courses suggests that greatness can be unique and not always follow the rules.  Otherwise, it is the other courses that might follow Pasatiempo.  While the green contours were never intended to putt at the quick speeds they do today, it is the greens and their surrounds that continue to defend par from today's power hitters.  For the remainder of us, the course is rolling, but not too hilly and defines an engaging "walk in the par."  In order to score well here, you need not be long, but you had better be accurate so as to set up your approaches below the holes.  In all, Pasatiempo is an eminently playable, but testing layout, and exquisitely bunkered too!
Finally of note is that Superintendent Paul Chojnacky is doing a remarkable job.  He has restored the out-of-play areas to include 30 acres of native California grasses to once again dominate the landscape.  This change will restore the look and feel of the old MacKenzie design and add a dynamic contrast of lush green playable areas against the golden brown naturalized areas.  He has also used goats to accomplish the expensive and somewhat dangerous task of cleaning out the barranca areas of overgrowth.  Both measures have ingeniously also saved the course hundreds of thousands of dollars in water and labor costs while elevating the facility conditions to the pinnacle of what classic golf is all about.
Below you can witness and appreciate the more rustic and natural feel (as opposed to the wall-to-wall green one) that has been adopted since many of the pictures in this article were taken.  This is taken from behind the second tee.  I believe that Dr. MacKenzie would be proud of the "New Pasatiempo!"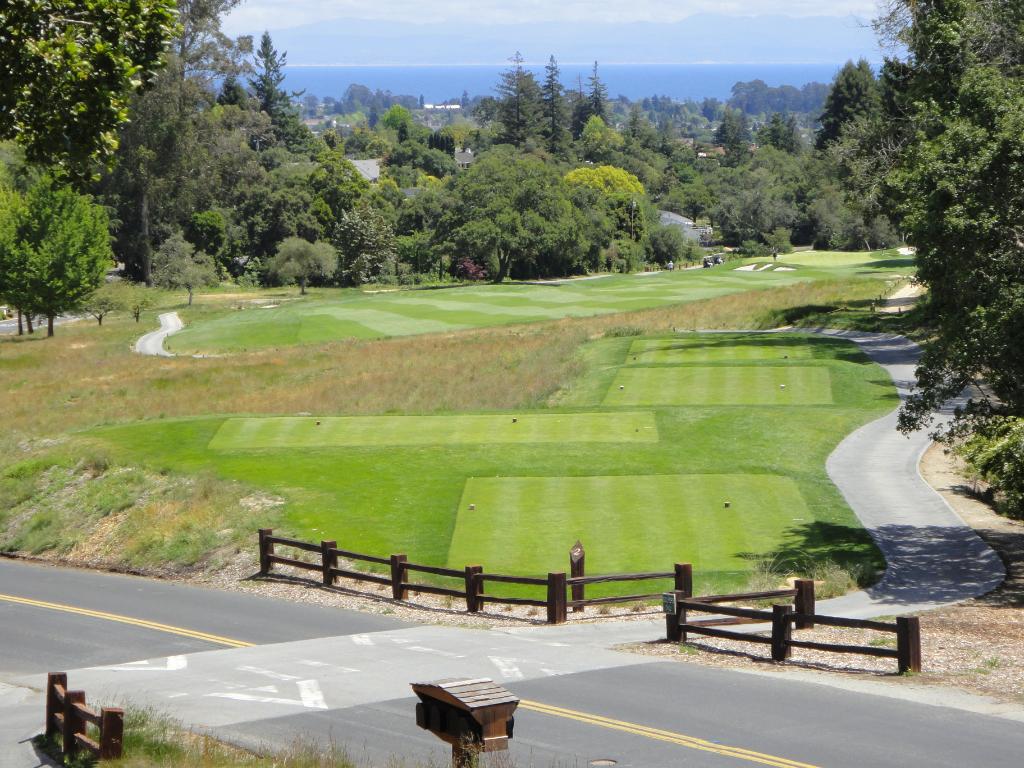 Championship golf continues to be held here with the USGA Women's and Senior Women's championships being held here in 1986 and 2004 respectively.  And it hosts along with San Jose State University the Western Intercollegiate, a Division One men's competition.  Begun in 1947 and played in April, its list of individual champions includes a host of PGA TOUR winners such as Ken Venturi, Johnny Miller, Mark O'Meara, Peter Jacobsen, Jay Don Blake, Mark Lye, Howard Twitty, Bobby Clampett, and Aaron Oberholser among others.
If there is a criticism of Pasatiempo, it is a lame one and the same that can now be leveled at most of America's great classic golf courses – it is a bit too short for today's power hitters.  Witnessing the collegiate men often hit all the par-fives in two shot with mid-irons or less, perhaps they don't hit the same approaches that were originally intended, but the speedy treacherous putting surfaces do manage to keep the scoring from getting out of hand.  For the 99.8 percent of golfers that this doesn't apply to, Pasatiempo remains exceedingly relevant and challenging – and the collegiate contestants do seem to relish their annual trip here.
Below, the par-3 eighteenth was a most dramatic finish (circa 1930).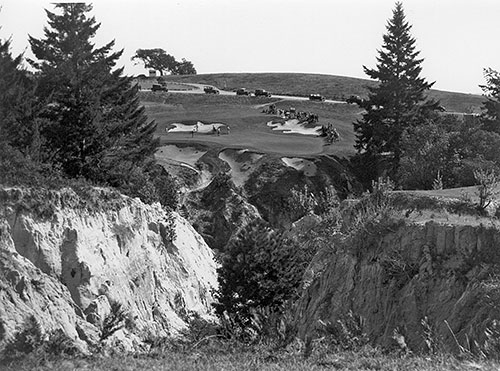 Below is the 18th in 2005.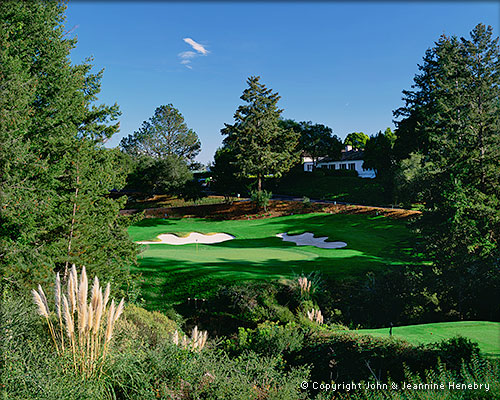 Below is the restored 18th today. (Courtesy of Rob Babcock/Pastiempo Golf Club)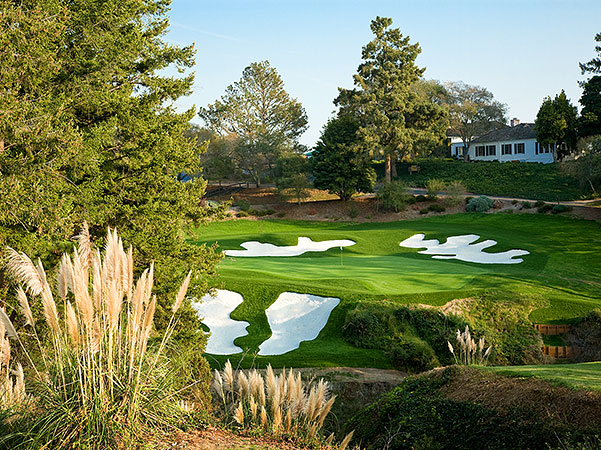 There was a time not so long ago that Pasatiempo was virtually unknown outside of California.  Fortunately, it is finally getting the recognition it so richly deserves as one of the finest courses on the west coast and beyond.  This fine old course truly stands as a tribute to the vision of a lady and one of the greatest golf course architects of all time.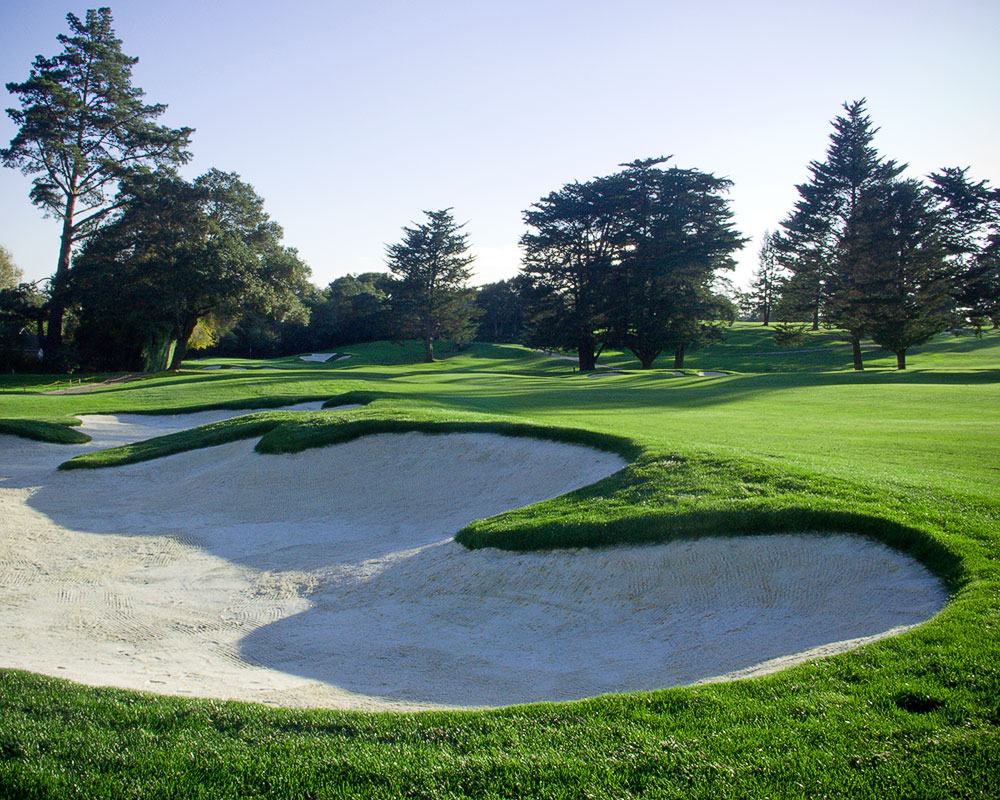 The par-four second hole is the midst of a demanding start at Pasatiempo!
Fagan Rating – A. Pasatiempo receives the exceedingly rare "A."  Possessing some of the most wonderful green sites in American golf, the course reveals a history, beauty, architecture, and challenge that are seldom matched, simply among the best classic courses in golf.  It features a particularly exquisite tandem of one and two-shot holes, and the variety of looks and shots are both memorable and exacting.  Miss a putting surface at Pasatiempo and you need to be masterful and/or lucky to recover in two shots.  Though the layout is mildly hilly with interesting elevation changes, it is easily walked.  The restoration work completed by Tom Doak as well as the cleaning out of the barrancas, and excellent course maintenance take the layout right to the top echelon of the American game – from a very good course back to an outstanding one.
Pasatiempo has a timeless ebb and flow that reflects a master architect at work.  Were a serious golf connoisseur to visit California and not play Pasatiempo, his or her playing collection would be sadly and woefully incomplete.  This course is a "must-play" for any serious student of golf course architecture.  As for me, I can't wait for my opportunity to someday again play there!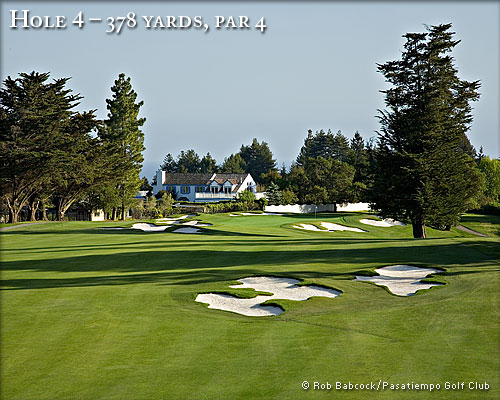 See also my October 2010 article on Pasatiempo: http://theaposition.com/robertfagan/golf/golf/courses-and-travel/1317/pasatiempo-goes-to-the-goats.
And to learn more about Pasatiempo's Maintenance Program, check out the excellent pro-active communicating that Pasatiempo Golf Course Superintendent Paul Chojnacky is doing at www.pasatiempogolfclubmaintenance.blogspot.com.  It's great stuff and very educational!