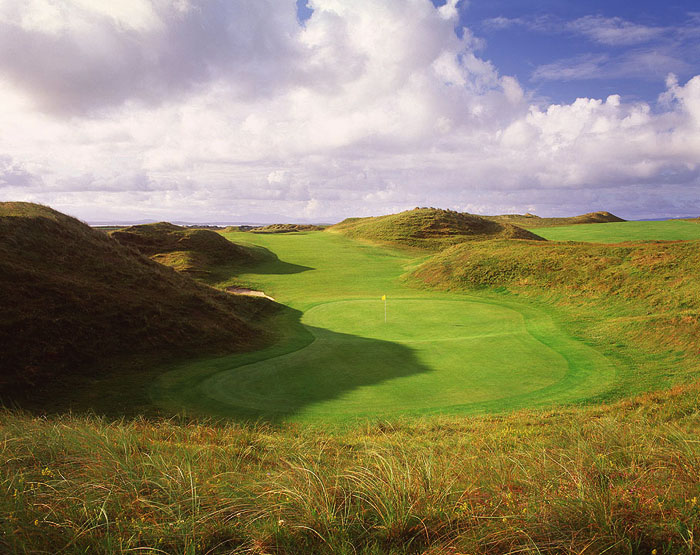 Looking back down the eight hole at the fantastic Carne Golf Links – in my opinion it's the "World's Best Unknown Golf Course."
Recently I was asked by one of my compatriots on The A Position to submit my favorite golf course in the British Isles for our monthly A-List.  It didn't take me long to pick one, and write and submit my favorite in just a couple of hours.  I was tardy.  Seems one of my other fellow writers had already beat me – we had both submitted the Carne Golf Links.  I have played fifty Irish courses including the consensus the "Forty Best," but it was Carne that immediately came to mind.
Yes, Royal Dornoch, The Old Course, Royal County Down, Lahinch, Tralee, Enniscrone, Sunningdale Old, and Ballybunion Old are all great, but my heart yearns to return to the rustic Carne Golf Links of Belmullet, Ireland, perhaps the least known and played of the great courses.  Interestingly it is also one of the youngest.  Anyway one publication had it ranked the 7th best in the British Isles and another 28th in the World so it does have some impressive credentials in addition to my approval.  Finished in 1993 by designer Eddie Hackett, Carne is located in the remote northwest corner of Ireland.
Looking back on the par-three 16th hole. The tee is atop the dune.
Did I say "remote?"  Go any further west and you'll be in Plymouth Rock, Massachusetts.  Carne is set on a peninsula practically surrounded by the Atlantic Ocean.  The spectacular views of Blacksod Bay and the Atlantic islands of Innis are breathtaking and the proper location for a course that rivals or may even surpass the likes of Ballybunion, Royal County Down, and Portrush.
The interesting thing is that when I mention Carne to most other well-traveled golfers, I get a blank 300-yard stare in return, or maybe an occasionally faint recognition that they heard something about this great remote links.  And once in awhile, I will meet someone like fellow golf scribe, John Garrity.  When I mentioned this "hidden gem" he lit up.  Garrity wrote the book "Ancestral Links" about discovering his ancestors in the tiny Bellmullet village and how Carne influenced his life.  Our conversation turned into an hour exchange of superlatives and great stories we tossed at one another.  Why we might even be related!  And Carne was our shared delight – one of the best experiences of our lives inside or out of golf.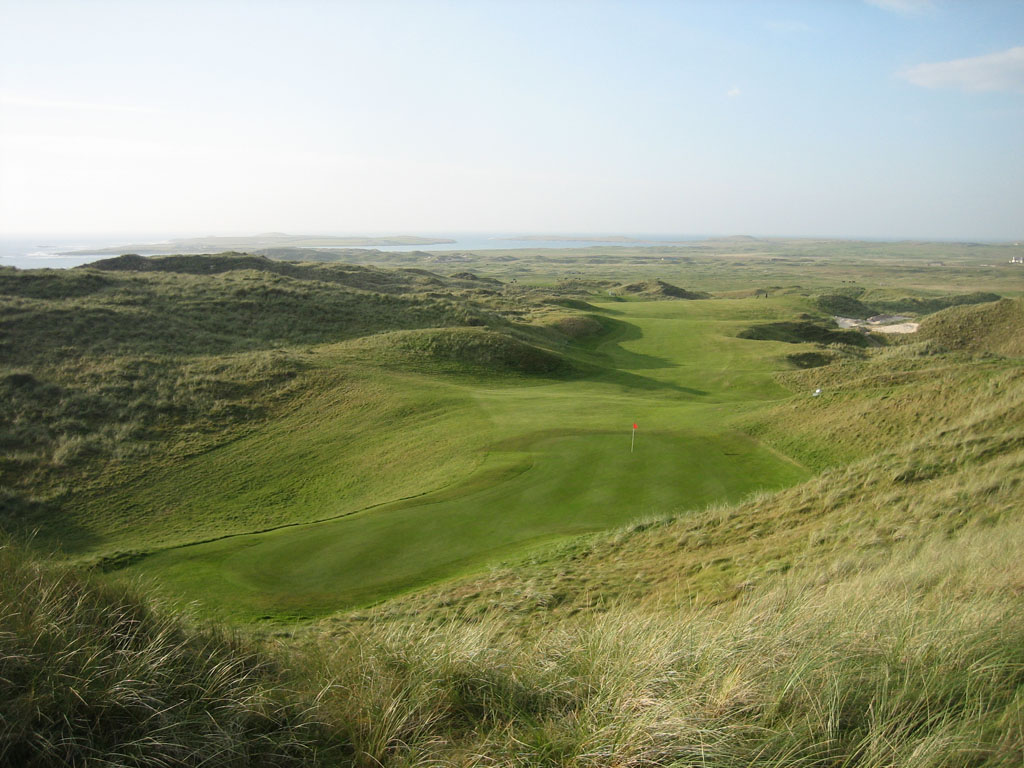 Looking back on the demanding par-four 17th hole.
Carne was the last links course to be designed by the late Eddie Hackett.   Hackett only lived three years beyond the course's opening, but there is every reason to believe that he considered Carne perhaps his best creation.  This is an amazing property that the architect scarcely disturbed while formulating a routing that has a fun ebb and flow, and is indeed memorable.  A quick glance at the scorecard's 6,700 yards will scarcely prepare you for what waits.  Yard-for-yard Carne may be the most awe-inspiring fun golf course on Earth.
Carne is a simple, almost rumpled layout that features massive dunes (up to 150' high), ocean views, and an unforced, quirky, but stout test of golf, along with friendly unpretentious folks.  Where I might usually extoll the virtues of special holes, Carne has eighteen of them.  All of them are memorable and some of them qualify as quirky.  Like so many links, its challenge can be immense when the ocean breezes pick up and then play like a lamb on a quietly peaceful day.  Either way, the pacing, the views, the shot values, and one "Oh Wow" encounter after another greet you hole after hole.
Astonishing, natural, staggering, inspiring, and just plain fun only begin to describe Carne. It's not crowded or expensive, but one of the best walks and plays you could ever imagine.  If I was destined to play just one golf course for the remainder of my days, book my reservations to remote Belmullet, Ireland for I want to tee it up at Carne.  And please don't tell anyone about my secret – the Carne Golf Links.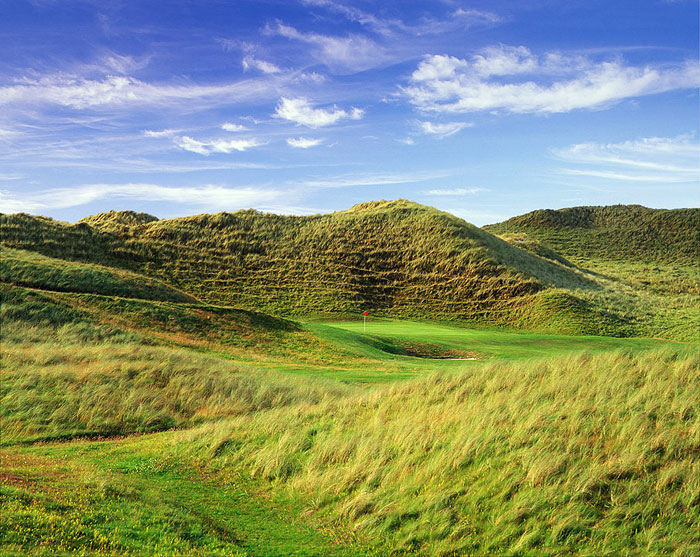 A view of the tenth green and the immense dunes that unfold on the back nine.
Fagan Grade:  A. Carne is one of those rare modern links courses that appears that it has been there for centuries just waiting for golfers to challenge its grounds.  It works for me from every angle to capture the rare "A."  Carne is the epitome of fun with character disguising its many puzzles, a place that I could spend a lifetime of golfing days uncovering its charming mysteries.  Carne may be one of Ireland's most remote golf courses, but it is well worth the effort to play there – one of the thrills of my golfing lifetime that I was fortunate to play there.  You should be so fortunate too!
The par-four 9th returns to the clubhouse and sets you up for a spectacular back nine.