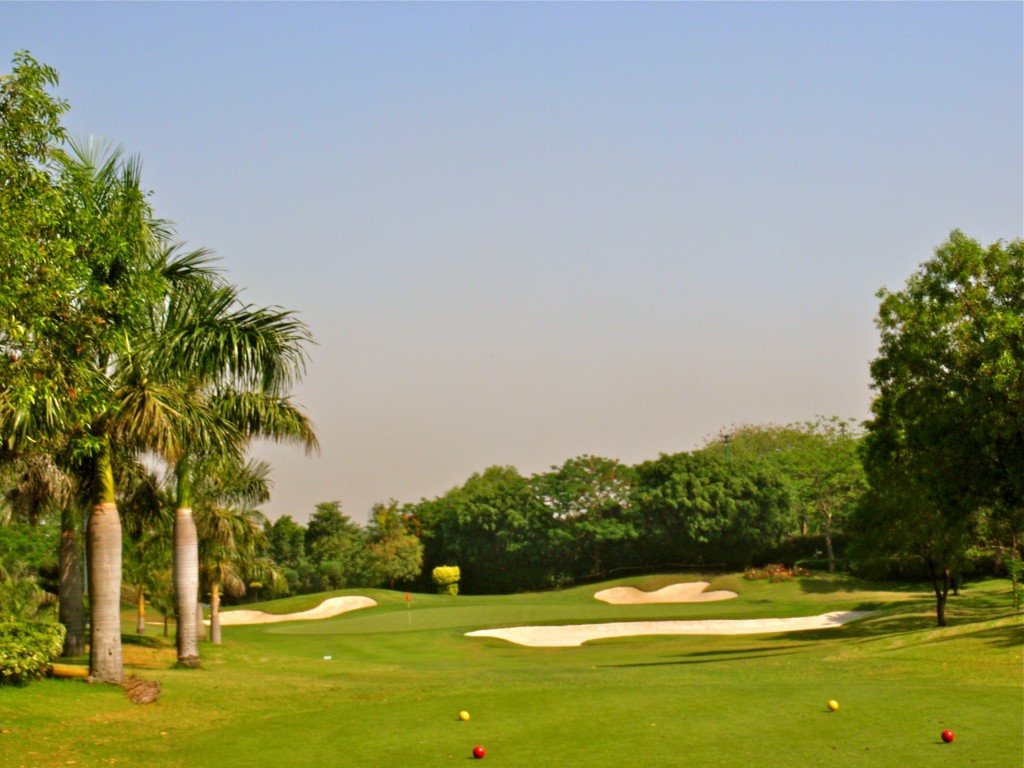 Great golf courses like the DFL Golf Resort near Delhi awaits you in India.  (Photo by Robert S. Fagan)
Is there golf in India?  You bet!
I visited India and found outstanding golf courses.  Thanks to the preoccupation of the British, golf was introduced long ago.  In fact, India was the first country outside of the British Isles to take up the game of golf.  The Royal Calcutta Golf Club, established in 1829, is the oldest golf club in India, and the first outside Great Britain. Golf had already been played in India for 59 years before the first major course was opened in the USA and Europe in 1888.  By the end of the 19th century, India already had a dozen golf clubs.
In India you can play golf almost anywhere, though except for the Delhi area, you won't typically find many courses in any one particular area.  While golf has been a sport primarily for the economic elite of India, that may be changing as more golf courses are built as the game expands worldwide.
What makes golfing in India exciting is the diversity of its courses. The game is played in the hills and high Himalayan fastness, in metropolitan cities and in small towns, by lakes and forests, or surrounded by tea estates, out in the desert and in old British cantonments.  Not only does it have the oldest golf club in the world outside Great Britain, but also the highest, at Gulmarg (altitude 2,700 metres) in Kashmir. There are golf courses in the mountains, plains, and deserts and at beach resorts. The environment of each course is unique in its culture and history, highlighting all that makes India a diverse destination.
Golfing in India has come a long way, and a large number of Indian players now compete on the international circuit. Golf enthusiasts continue to grow in numbers, and new courses are added almost every year.
In fact, it would not be wrong to say that one of the best ways to experience India is through its golf courses, something that I hope to do by again soon returning to India.
If you are interested in exploring Indian golf, PASH INDIA is your best call.  They are a large full-service golf and travel specialist covering complete travel resources in India, Bhutan, and Sri Lanka.  They can book your golf, accommodations, flights/transfers, and even dinner reservations along with a host of interesting other activities, and importantly at the best rates.  Refer to www.pashindia.com.
PASH INDIA also hosts many International competitions that include the SAARC (South Asian Association for Regional Cooperation) Golf Championship each November.  5-member (3 men and 2 women) amateur teams from seven countries and recognized by all the official SAARC golf associations. Players from India, Bhutan, Pakistan, Nepal, Sri Lanka, Bangladesh, and Maldives compete in this event conceived to promote harmony and cooperation through sports.
So if you ever wonder about golf in India, you will know its fun, interesting, alive and growing!
Below:  PASH INDIA executives Chitaranjan Bakhshi and Randhir Brar are being interviewed by the French Golf Channel personality Yves Carra.  (Photo by Robert S. Fagan)