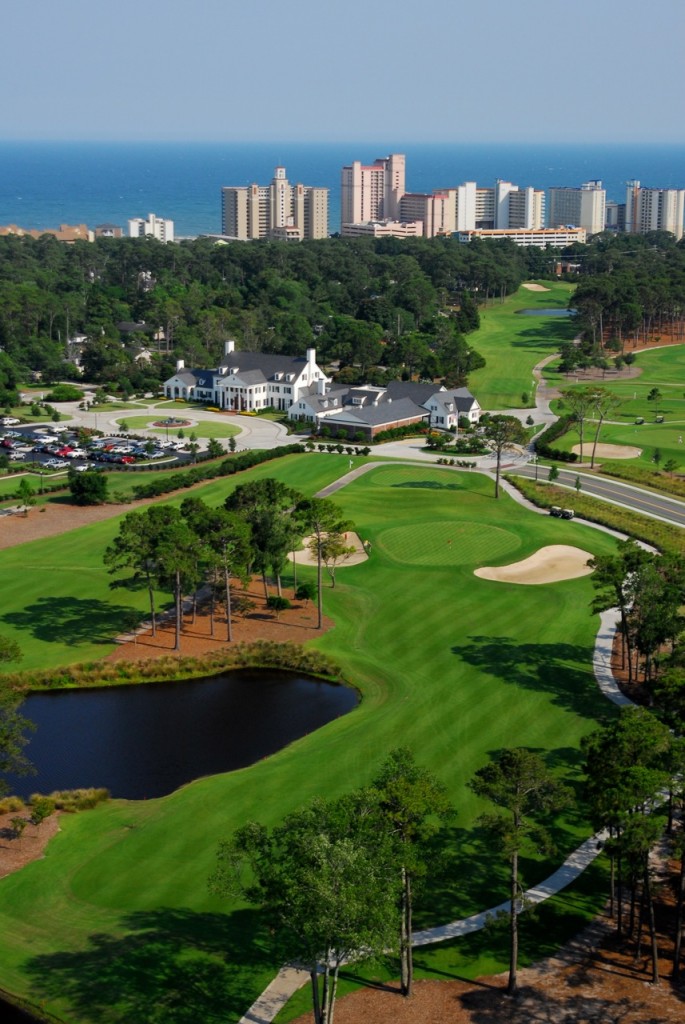 The venerable old Ocean Forest Country Club (now Pine Lakes) started it all back in 1927 and now sits in the heart of North Myrtle Beach. Highlighted below is the par-four 9th hole.
I've enjoyed several trips to the Greater Myrtle Beach area also known as The Grand Strand. Here are a dozen reasons why you might want to follow me there.
Lots of Great Golf – There are about one hundred reasons (or courses) to fill your golfing appetite and more importantly the overall quality of golf courses are very good. And did you know that more than 40 golf courses allow kids to play for free during the summer months?
Variety of Great Golf – With so many outstanding golf course architects represented, you are going to find many interesting routings and shapings to create differing golf experiences so you will never become bored.
Convenient Golf Locations – While the Grand Strand runs some 60 miles or so, the roads are easy to find and navigate roads with the golf courses usually located within easy access of them.
Golf Courses are easy to find. There are many free maps with the golf courses highlighted and directions provided, and the golf courses are well-marked.
Good service. With so many courses competing for your business and so much experience servicing golfers, the golf operators in Myrtle Beach typically do an excellent job of moving people around and providing a quality golf experience.
Golf can be played year round. While there are some cool and hot seasons, golf can generally be played all year long.
Myrtle Beach is easily accessible to most of the Eastern US population by car or plane.
Golf is affordable. From green fees to golf supplies, there are so many options that the providers have to keep sharp and give you value for your golfing dollar.
There is a wide range of affordable lodging. From upscale hotels and condominiums to modest national chains and local hotels, there are options for most every taste and budget.
There are many food options. While it seems like every fast food or national food chain in represented in the greater Myrtle Beach area, there are also some very interesting quality ethnic and upscale options as well with local fresh seafood at the top of the list. And yes, there are even many more food options than there are golf courses!
There are many fun things for the non-golfers to do. They range from shopping and shows to one of the largest arrays of amusement theme parks anywhere together with other sports like fishing and boating. There is even the Myrtle Beach Pelicans, a farm team for the Atlanta Braves. The Shows include Blues, Country & Western, and local southern fares.
Finally, there is the "beach" part of Myrtle Beach. Miles of wonderful clean, safe, sandy beaches with warm water invite everyone to enjoy the Atlantic.
With all of this, you may decide that you will want to stay in Myrtle Beach. Many before you have done just that as housing is very affordable, especially for being so close to the coast!
Did you know that the idea for "Sports Illustrated" was spawned right in the grillroom of Pine Lakes Country Club and that this club was frequented by many celebrities?