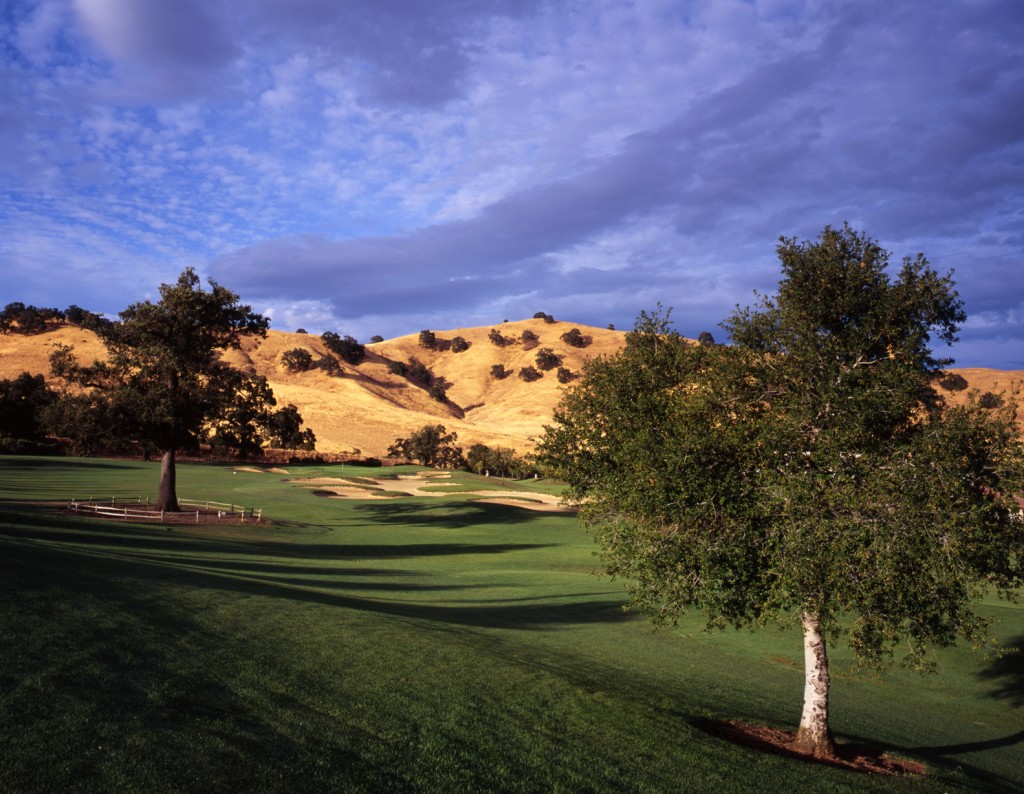 Paradise Valley is one of two excellent and well-run City of Fairfield, California golf courses.  Shown here is the marvelous short, drivable par-four 14th, the shortest on the course.
Running a municipal golf operation is increasingly challenging these days.  As play is declining most everywhere, costs are cut, and offerings suffer.  Many municipalities are suffering operating losses.  That said, I have observed over the past decade that the City of Fairfield, California seems to have captured the right mix of facilities, management, and strategy to weather the challenges.  Golf is fun in Fairfield, California; and the City is blessed.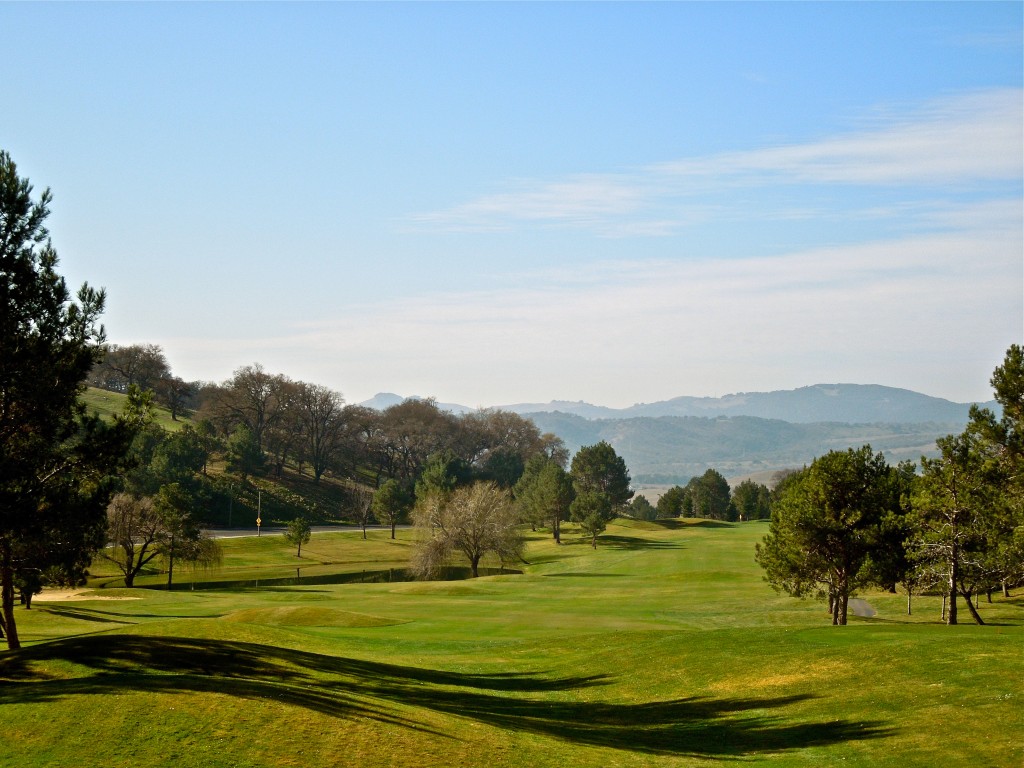 Like it's newer sister course, Rancho Solano offers many wonderful views as shown from behind the par-five opening hole. (Photo by Robert S. Fagan)
I recently enjoyed the nice opportunity to revisit and play the two Fairfield golf courses, Paradise Valley Golf Course and Rancho Solano Golf Club.   They have both nicely matured over the years and the conditioning is on a par with many proud private facilities.  In fact, the Superintendent at Rancho Solano, Lalo Pacheco, received professional accolades for providing the "Best Conditioned Public Course" in Northern California.  And for a one-two punch, readers of "The Daily Republic" voted Paradise Valley the "Best Golf Course in Solano County for 2011!"  Located conveniently close to Interstate 80 only a few miles apart, these are two engaging golf courses in attractive surrounds.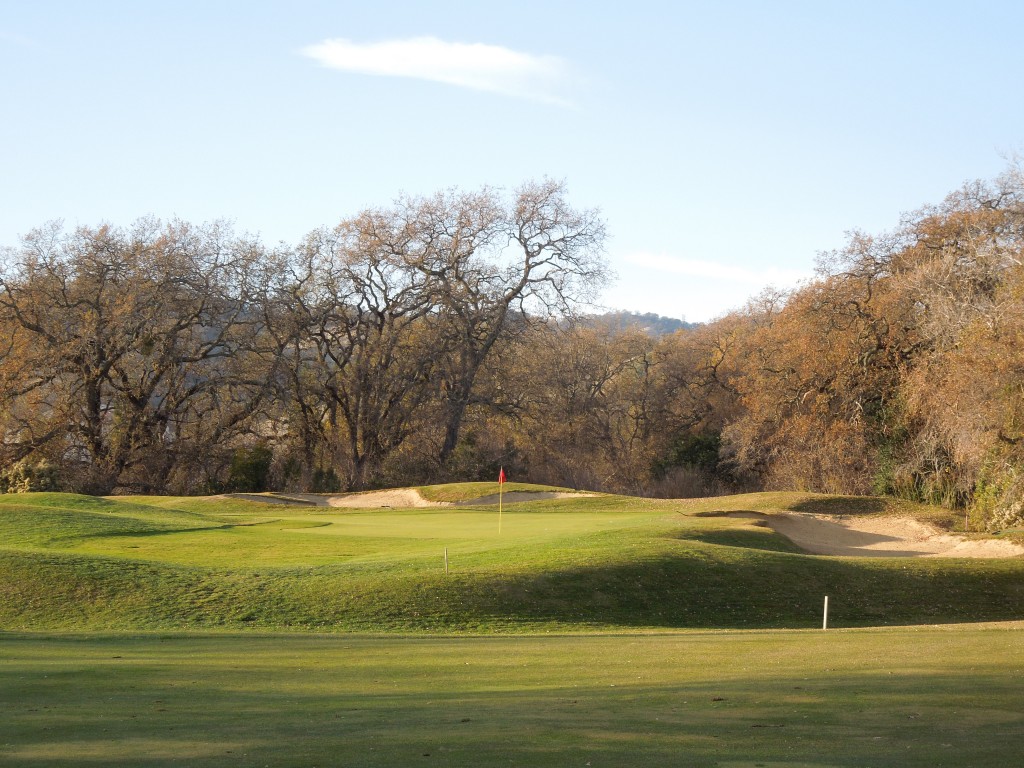 The approach to Paradise Valley's par-four 2nd green. (Photo by Robert S. Fagan)
Rancho Solano is the older of the two layouts built in 1990 by Gary Roger Baird and was originally intended as a private club course though it opened as and has remained public.  The routing traverses relatively hilly terrain and meanders in the hills through a real estate development with mostly generous setbacks, and the countryside ambiance and views are very enticing.  Anyone who has enjoyed Rancho Solano will remark about the big, fast greens with few flat putts, and the large scale of the course's features.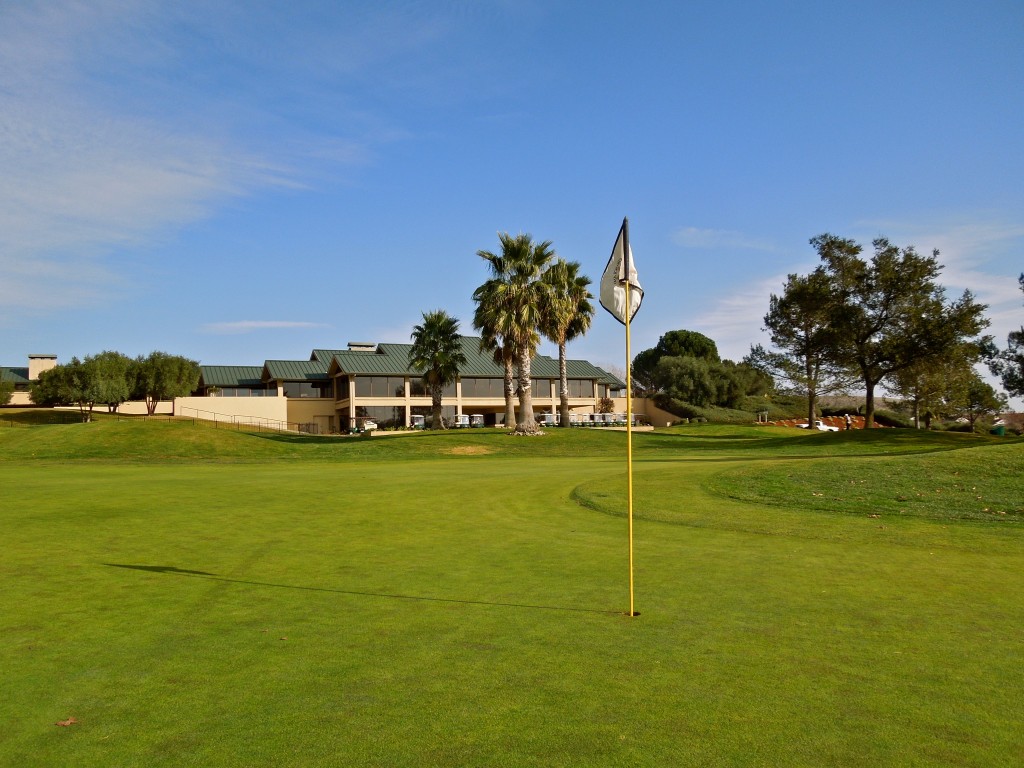 The nicely appointed Rancho Solano clubhouse is the backdrop for the 9th green, just one of many large and challenging putting surfaces there. (Photo by Robert S. Fagan)
In contrast, Paradise Valley opened a few years later in 1993 and was designed by Robert Muir Graves and Damian Pascuzzo.  It sits in a flat valley site surrounded by hills directly adjacent to Interstate 80.  Though also squarely situated in a residential area, housing really never makes much of a visual impact or intrusion into the Paradise Valley golf experience as it borders only a few holes.  Trees, bunkering, and water all affect the challenge, but the track is very playable with the layout extending nearly a hefty 7,100 yards from the tips.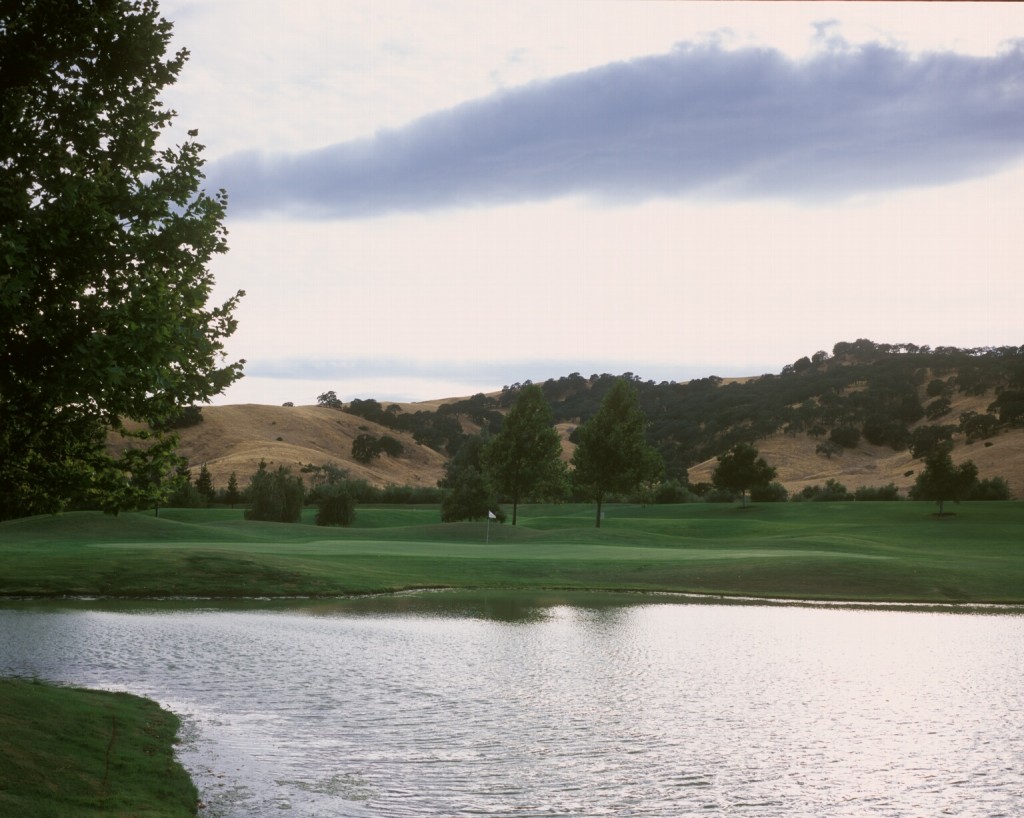 Water guards the par-three 15th at Paradise Valley. (Photo by Robert S. Fagan)
From a golf course perspective, both Rancho Solano and Paradise Valley feature a modern, attractive upscale golf experience that on one hand is attractive and in good condition while also being playable and versatile in its challenge.  Each has a distinctly different look and feel to them that features nice variety – or a change of scenery to be precise.  Trying to pick one over the other is like debating which is better, vanilla or chocolate.  In rating courses, these two rate out the same, and squarely above most municipal offerings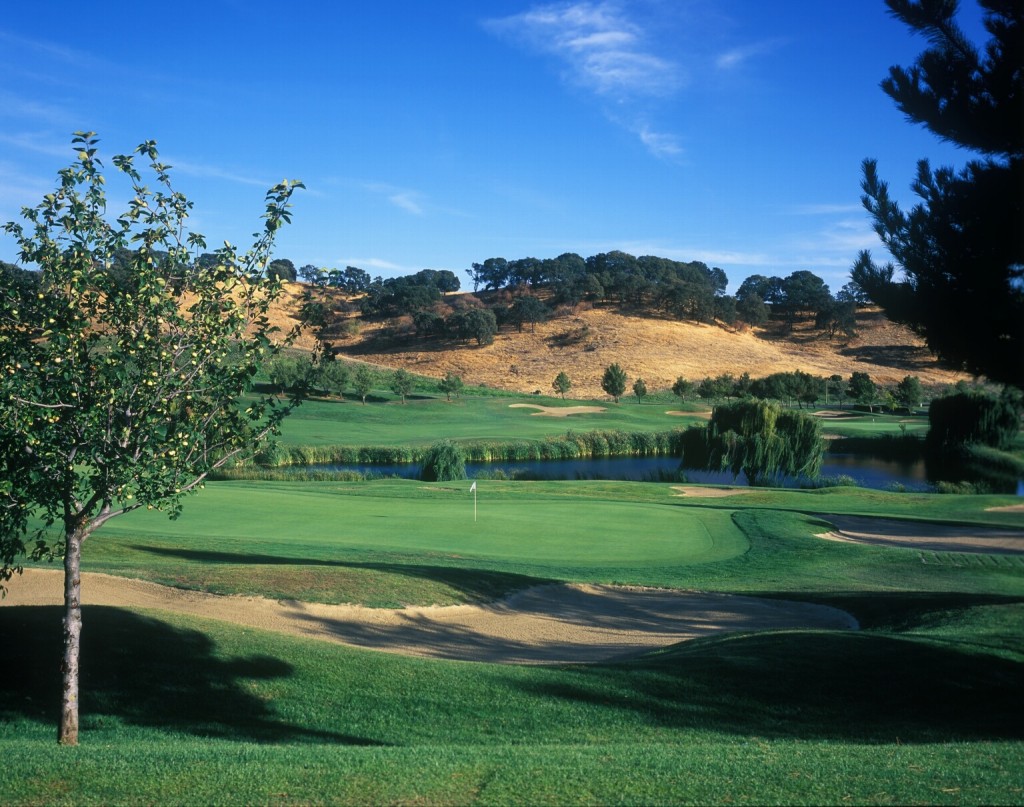 Oak-studded hillsides and attractive natural water hazards are a recurring theme at Rancho Solano.  (Photo by Robert S. Fagan)
Picking favorite holes, at Paradise Valley the wooded par-four second, the short heavily bunkered par-four fourteenth, or the beastly dogleg right finishing hole with its ponds to the right at 467 yards from the tips get my votes.  At Rancho Solano, there are an abundance of beautiful vistas and the par-four 11th and par-three 12th with water fronting the greens makes them the most challenging at probably either course.  Otherwise, Rancho Solano is slightly shorter, but tighter at 6,688 yards.  Yes, the huge putting surfaces at Rancho Solano effectively putt much smaller.  Get above the hole or on the wrong sector of the greens and you must summon exceptional skills to two-putt.  Do expect to leave a few putts out there your first trip or two around Rancho Solano.  Otherwise, the par-fives provide your best opportunities for birdies at Rancho Solano.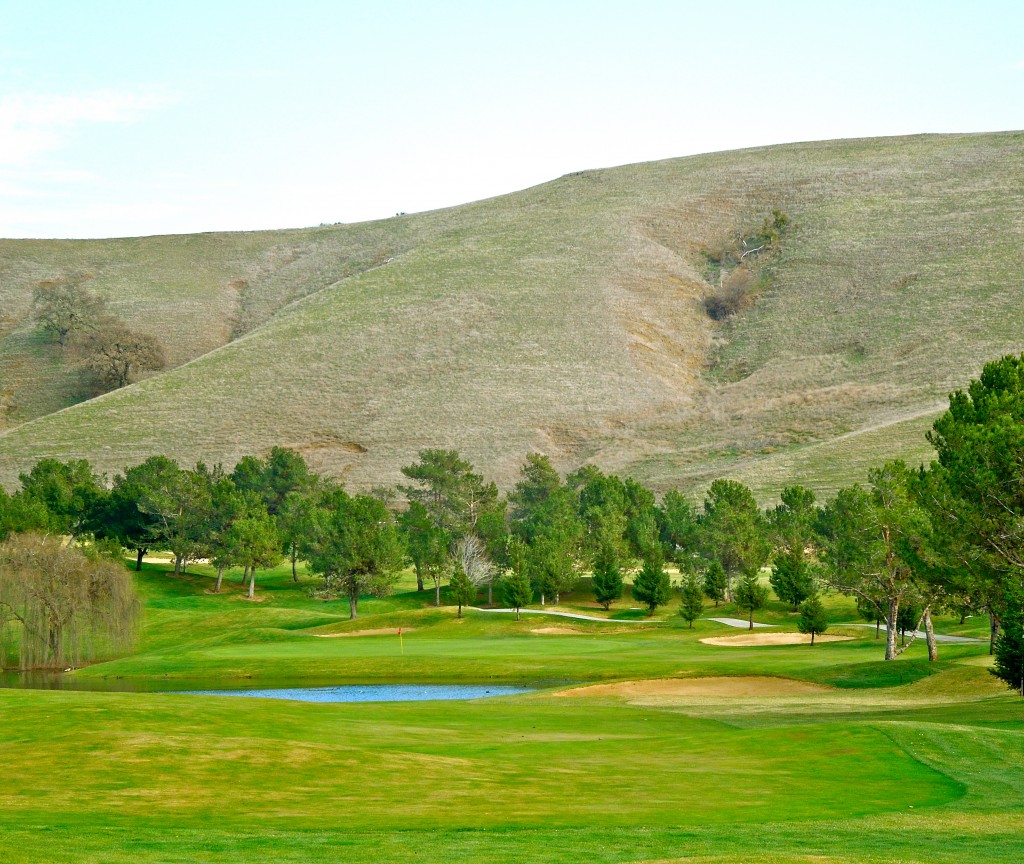 The approach over the water to the 429-yard par-four 11th at Rancho Solano is the toughest of either course in my opinion. (Photo by Robert S. Fagan)
In any successful golf operation, people ultimately make the difference.  Both Fairfield golf courses are thoughtfully managed by Kemper Sports.  Jim Wagner is the Head Golf Professional at Rancho Solano while Daryl Parenteau is his counter-part at Paradise Valley and the service is friendly and attentive throughout.  Rancho Solano features a full clubhouse with room for weddings and such, while the smaller Paradise Valley facility features a larger pro shop and a bigger sports bar.  Both popular eateries appear to do a nice non-golf walk-in business.  While both courses feature practice ranges, the one at Paradise Valley is lighted making for longer availability.  The best part for the City of Fairfield is that both operations are operating at a positive cash flow and provide income to the city – something unfortunately not many can claim.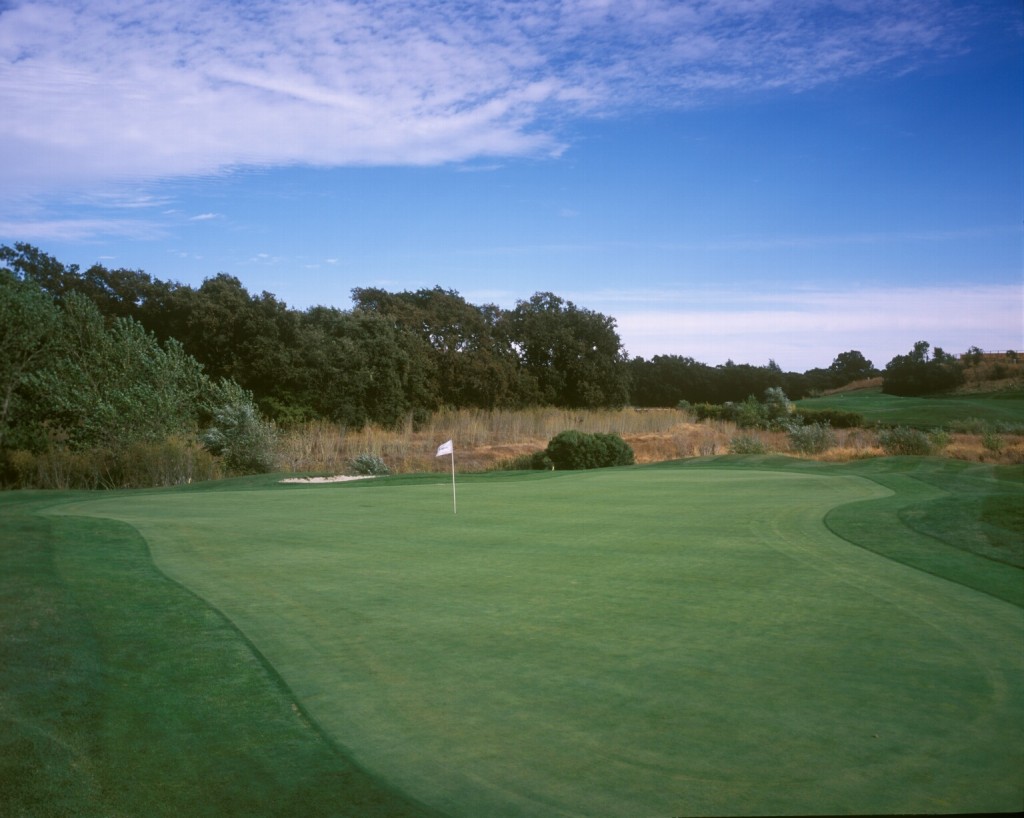 Attractive native areas are abundant at Paradise Valley as illustrated by the par-three 3rd hole. (Photo by Robert S. Fagan)
When all is said and done, golf is all about the quality of the course and the service.  The city of Fairfield, California is blessed with two healthy operations and very enjoyable golf course experiences.  They are most attractive assets to the locals who can partake in topflight golf without venturing away.  And if you are like me traveling between San Francisco to Sacramento, both Paradise Valley and Rancho Solano make for a delightful stop-off or destination.  I give a "big two thumbs up" to Fairfield, California for they are doing things right!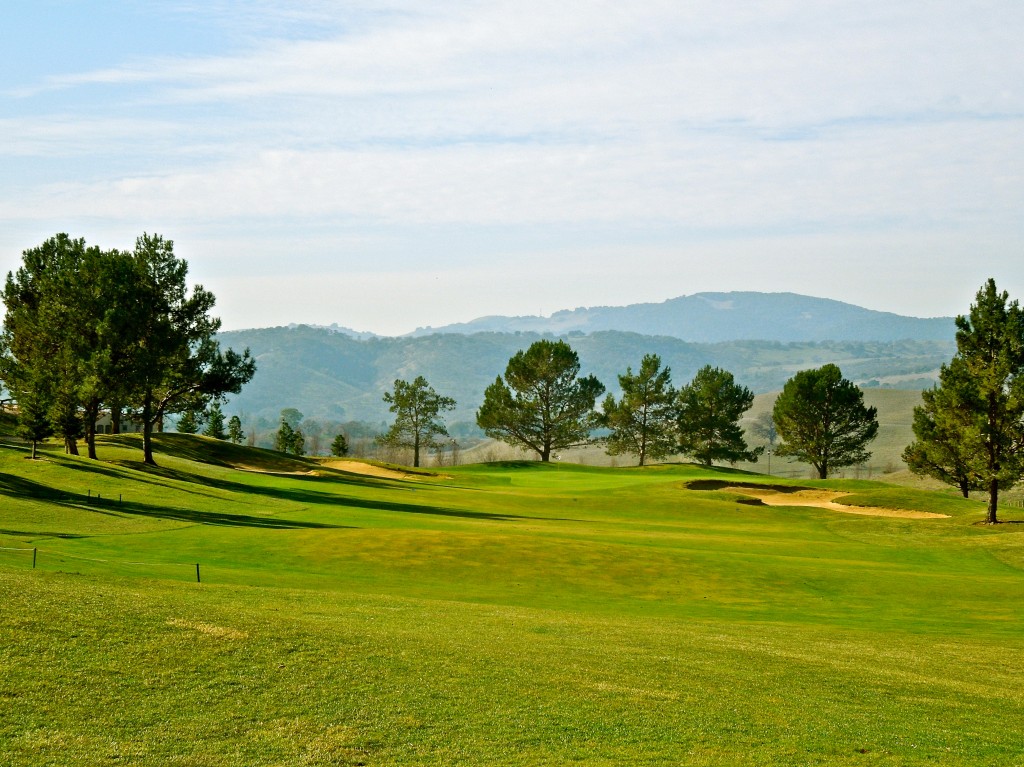 This picture of the approach to the par-four 3rd at Rancho Solano demonstrates one of at least 36 reasons why the City of Fairfield, California has two real golfing jewels. (Photo by Robert S. Fagan)