Picture a green golf oasis with bold white bunkering and a backdrop of the Caribbean with salt air breezes lightly blowing and distant mountains beyond.  Add in charmingly friendly folks, and you will discover as I have – the tiny island nation of Anguilla in the British Virgin Islands.  The Greg Norman-designed Temenos Golf Course forms the golfing attraction of what is even a bigger attraction, Anguilla.  If you are yearning for peaceful solitude for either romance or quiet relaxation, this island is a real find!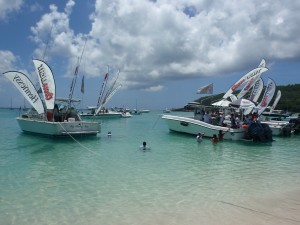 Anguilla at only sixteen miles long and barely three miles at its widest point, and with less than 12,000 inhabitants and only one golf course, hardly qualifies as a golfing destination.  That said, here is a place all us golfers will want to play.  It is always a delight to find a genuinely good golf course in an unlikely place, and the Temenos Golf Course fits that description.
The Anguilla landscape is basically flat and since the rainfall is low, vegetation is mainly small trees and brush.  Yes, water, wind, and sand forms the challenge here at Temenos that ranks with the best golf courses in the Caribbean.  As you stand on the first tee box and gaze down the ample fairway that gently descends forty feet on this 390-yard opener with the mountains of nearby St. Maarten in the distance across the expanse of the blue Caribbean, you know you should relax and enjoy this special experience.
Designer Greg Norman who feels that this is one of his better designs has fashioned a layout that is very playable.  The novice has very few forced carries while the more advanced player playing from the tips at over 7,000 yards will find that, apart from the par-fives, birdies can be a challenge.  While Norman has offered wide expansive fairways and open avenues into the green sites, there is penal bunkering and some tricky green sites to defend par.
Temenos is designed to be played in the wind with wide fairways.  That said, Norman has many false fronts and greens that spill off into collection areas so scoring is more challenging that would appear at first glance.  Miss your shots to the wrong side or be wild off the tee and you invite a bad score.  Water is featured on 13 holes and stretching to more than 7,000 yards, most players would be advised to play a shorter tee.
There are a number of memorable holes and the first is a great way to start your round.  Dropping down toward the green, it is the epitome of a great starting hole, visually engaging, but not too tough.  The game is on at the 190-yard second as you hit right toward the ocean just beyond the green.  This hole incidentally shares a double-green with the par-five tenth, another of the more memorable holes.  If I had to pick a favorite, there are several that would come to mind.  The course finishes with a crescendo with water coming into play on the last three, but it was the little, drivable 327-yard 7th that really attracted my attention.  There are some huge bunkers that produce a "Wow!" factor as you stand on the tee box, but it is particularly the deep cavernous one fronting the middle of the shallow plateau putting surface that got my attention.  Playing downwind, it is exquisitely tantalizing, but even a par is no guarantee here.  Reportedly former President Bill Clinton drove the green on a recent visit and then sunk his putt for an eagle-two!
While the golf course closed temporarily, it has reopened under the loving care of Superintendent Erin Stevens, who has studied and worked with some of the top maintenance experts in America.  He has brought that expertise to return the golf course to the good conditions that any American golf would delight in playing.  When you add the friendly expertise of Director of Golf Paul Veneziano, the facility has a winning combination.  A modern clubhouse, spacious practice range with a short-game facility, modern golf carts and rental clubs combined with friendly service all assure you'll enjoy your round.  Golf and other fees are rather expensive in Anguilla as a round will cost $230 before 2 p.m. and $130 afterward.
I will look forward to one day returning to Anguilla because golf is far from the only attraction.  The flavor of the island is genuinely a West Indies culture.  Sailing, fishing, snorkeling, good food and drink, friendly folks, and several of the world's best beaches adorn the island's coastline.  Anguilla is a place where American celebrities routinely come and seamlessly fit into the carefree life.  You might find yourself dancing next to Britney Spears at The Pump House, or see famous athletes or celebrities at Smokey's or Elvis.'
There is a plethora of lodging opportunities.  For ambiance, I enjoyed Cap Juluca with its fantastic crescent-shaped beach but a few steps from my room, and the food and spa at CuisinArt really impressed me.  If you like Beverly Hills-like opulence, the Viceroy may attract you though it lacks much association with its Island culture.  There is any number of other more affordable lodging alternatives.  While the larger hotels do offer onsite eateries, the best ones are typically scattered off site throughout the island, which is known for many tasty albeit expensive meals among its roughly 85 offerings (due to the cost of importing food).  No matter where you stay, eat, or what you do, Anguilla does cater to the more affluent traveler.
Once on Anguilla, the living is slow and easy.  English is the mother tongue and the US dollar is accepted throughout.  About the only adjustment is driving on the left side of the road of the sixty miles of roads.  The 30 m.p.h. speed limit suggests the laid back slow environment that you will find; you are on "island time."  All in all, Anguilla is both as romantic and restorative a tropical place as you will find, and like its wonderful golf course, Temenos, is an island of tranquility wrapped in blue!