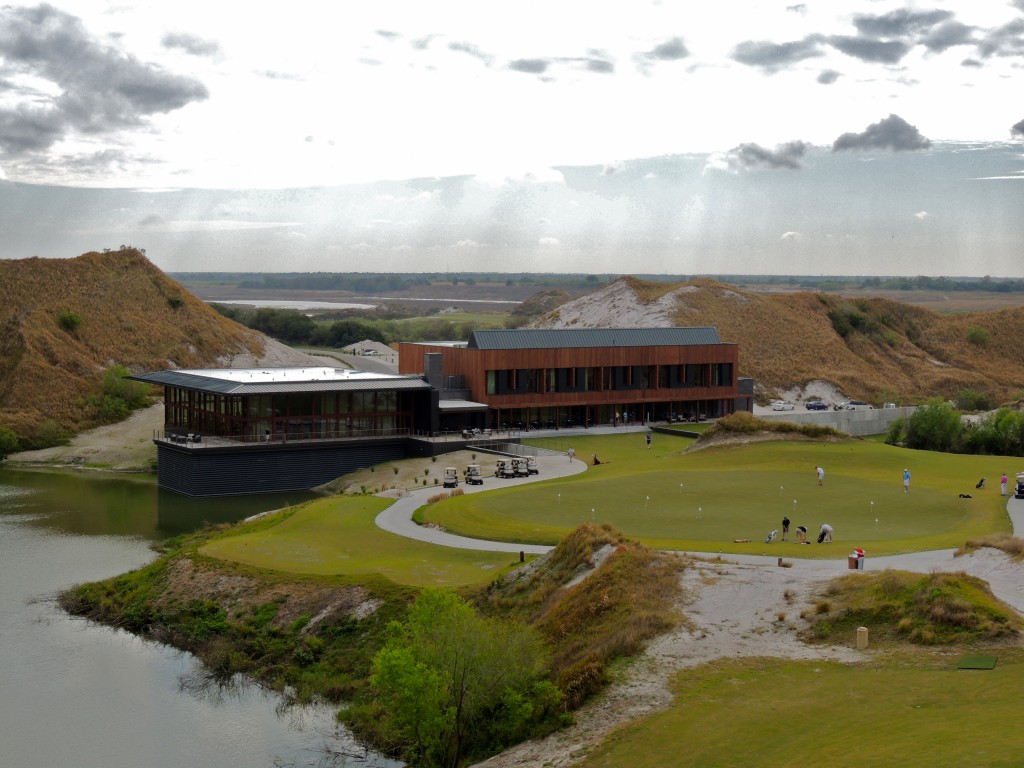 The Streamsong Golf Clubhouse is nestled in the dunes that came from the now water-filled pits that once contained phosphate. 
As a golfing prospector I've traveled near and far in search of golfing gold. Perhaps you do have too. Finding exciting new golf courses nowadays is become more difficult as new golf course building in America has almost ground to a stop. Just when you assume that the last great new courses have already been built, Florida's Streamsong Resort arrives – unlike anything you will experience in the entire State – or the Southeastern U.S. for that matter.
Traveling the flat country roads in Central Florida between Orlando and Tampa not far from the Interstate-4 corridor in Polk County, I was nearly certain that I was lost. The flat listless landscape dotted by pine revealed nary a hint of a golf course let alone two world-class ones. It had been more than a dozen miles since I passed my last gasoline service station and there were scarcely a home or a trailer to be seen. Consulting my directions, I cautiously ventured on. Finally I spotted a modestly small, understated sign "Streamsong." I breathed a sign of relief as my starting time was approaching.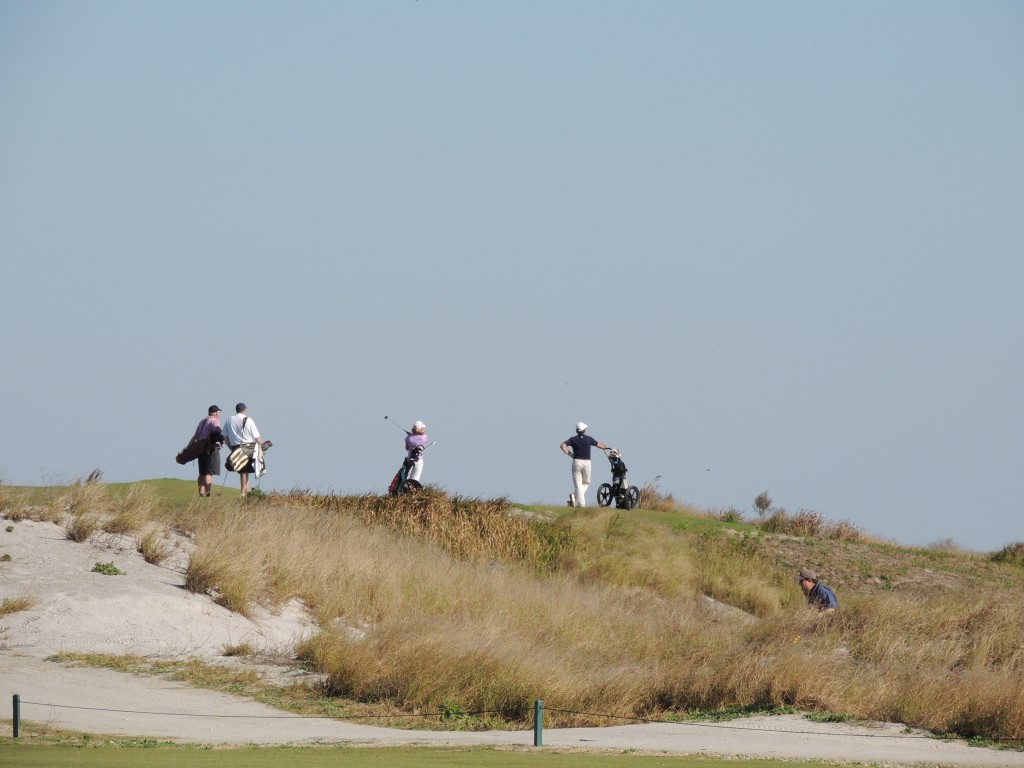 Golfers typically don't anticipate the rustic rough landscape that greets them at Streamsong.
Four twisting miles later, the modern clubhouse thankfully came into view like a long awaited oasis. Nestled amongst rugged dunes that erupt like small mountains, the sight or 5h3 sand-capped mounds reminded me of those lunar-looking Irish ones. Arriving at the clubhouse, I was greeted by an army of caddies that took my clubs safely to the course and parked my automobile. Then the moment I entered the spotless modern clubhouse it became evident that while the golf would be rustic, the service,  food, and accommodations would be luxurious.
Where Created from the phosphate mines long operated by the Mosaic Company on the site, these dunes in large part transform this property into a special destination unlike anything else you will encounter in Florida. When you add the golf course design teams of Bill Coore and Ben Crenshaw together with Tom Doak and his Renaissance Golf team to concurrently build two separate 18-hole side-by-side golf courses, Streamsong becomes akin to the modern day Super Bowl of golf course architects squaring off.
Tom Doak and Bill Coore cut their architectural teeth under the legendary Pete Dye and have a healthy friendship and respect for one another. Both are at the top of their profession and lead today's minimalist school of golf course design – meaning that they move as little dirt as possible and typically only move much in order to make a hole playable.  Doak's Pacific Dunes, Ballyneal, Old Macdonald, Cape Kidnappers, Stonewall, and Barnbougle Dunes together with Coore and Crenshaw's Sand Hills, Friar's Head, Bandon Trails, Old Farm, and Kapalua Plantation only begin to introduce one to their collective artistry.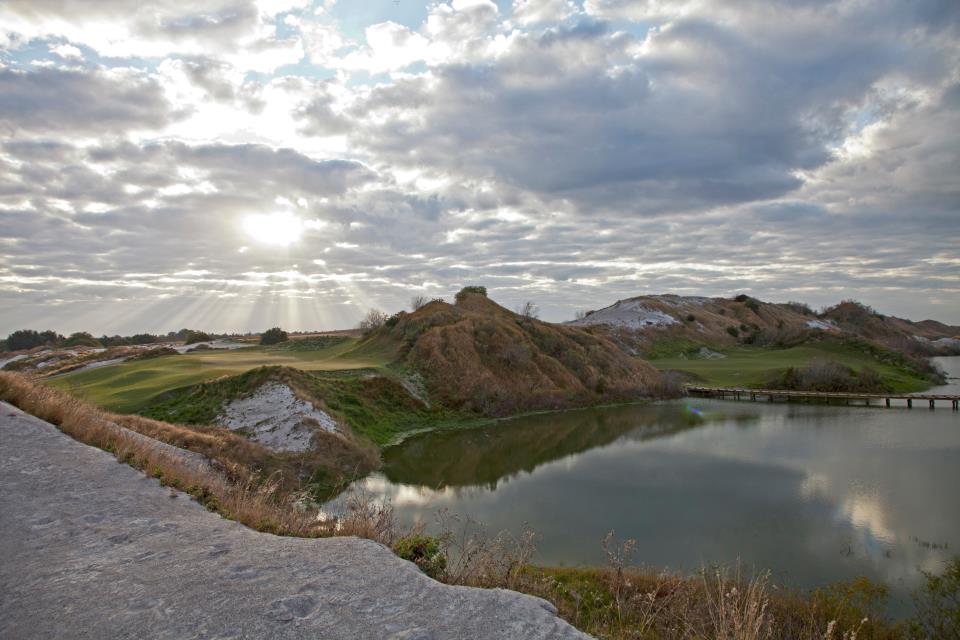 Early morning casts its shadows on two of golf's newest best par-threes designed by Coore/Crenshaw and Tom Doak – the 16th (left) on the Red Course and the 7th (right) on the Blue Course at Streamsong. 
Golf course architect Bill Coore was first brought in by the Mosaic Company and routed an initial 18 holes. When he learned that Tom Doak would also join the project, Bill graciously gave up some of his routing to accommodate Tom's space on the property. (Tom Doak told me that had it been another architect, Bill Coore shared with him that he would have kept his initial routing intact.) Interestingly, Streamsong was the third project that includes both a Doak and Coore/Crenshaw course (Bandon and Barnbougle Dunes being the others), but the others had Doak build his first followed by Coore/Crenshaw doing theirs later – neither was done simultaneously. Suffice it to say, both routings work seamlessly and Streamsong is a magnificent 36-hole golf retreat.
Many have already and will continue to say that Streamsong is to Florida what Bandon Dunes is to Oregon. Indeed that was my first impression too. The rustic natural minimalist nature of the courses forms the primary comparison, but also the feeling that this is a pure golf experience where walking, fast ground conditions, and the simple pleasures of the game will impress every fortunate visitor.
Golfers don't expect the sharply undulating terrain or the challenging recovery shots they will typically encounter just a few paces off of the 4th green on the Blue Course or elsewhere at Streamsong.
I envision Streamsong becoming the Mecca for golfing purists. Yes, Streamsong is isolated on the Mosaic property so a side trip to the greater Tampa or Orlando attraction is more than an hour away, but many exciting on-site amenities are coming.
Late in 2013 a luxurious 216-room four-floor lakefront resort hotel covering four floors will open 1.5 miles from the clubhouse, as well as casual and fine dining restaurants, multiple bars, a full-service spa, fitness center and outdoor lakeside pool, a quiet loft/lounge area, and even retail stores and outfitters. Stunningly situated with lakes on its sunrise and sunset sides to take full advantage of its unique setting, Streamsong will have scenic observation areas without city lights to hinder the starlight views, especially from the rooftop lounge. Streams and lakes that offer unparalleled Florida bass fishing with guides available and there will be trails for hiking and bird watching along with a sporting clay shooting range. Like Bandon Dunes, Streamsong is a getaway, but unlike Bandon Dunes, it will have more than golf and is set to service meetings and bigger groups as well.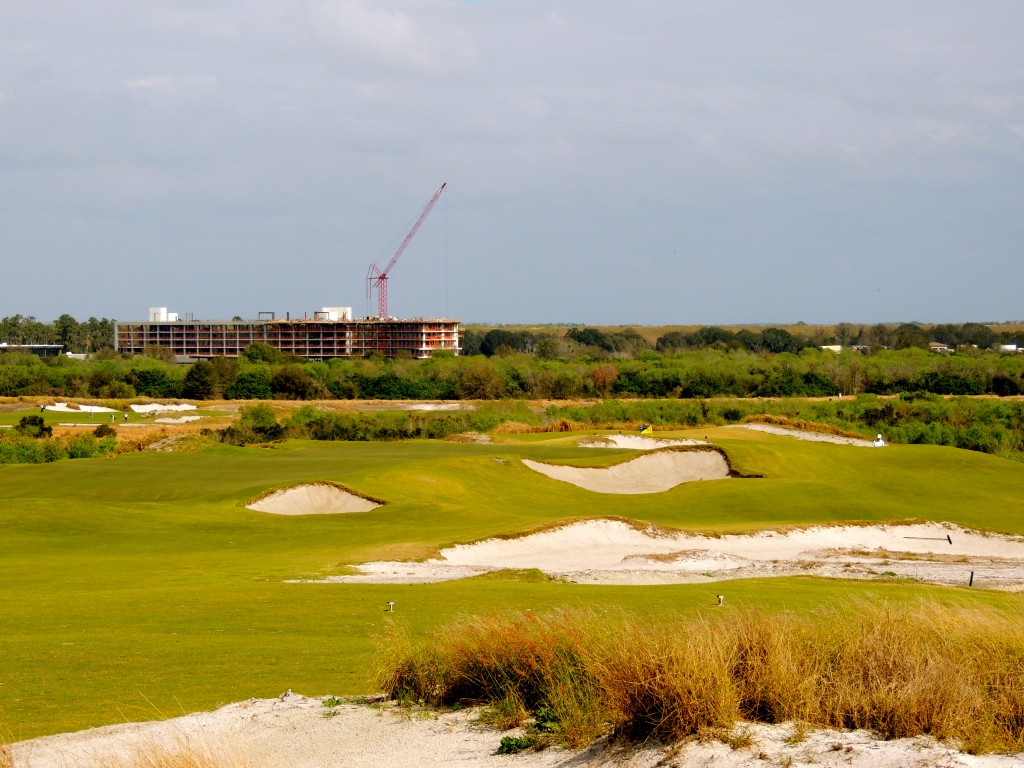 The Streamsong Resort & Spa lodge is seen in the background of the par-three 5th on the Blue Course. Note that the hole is tucked way to the right side of this green that has as many waves as an angry ocean.
As you climb to the first tee on the Blue Course or saunter over to the opening hole of the Red Course just a few steps off the practice putting green, you would be forgiven for mistakenly feeling as if you in the British Isles. Though Tom Doak explained that working side-by-side revealed the two design teams differences, to the casual golfer the two layouts appear designed by the same architect. Both layouts are designed for the ground game with firm, fast conditions. A shot to the fairway may roll sideways into a treacherous bunker or an approach to the wrong section of a putting surface may roll twenty-five yard off down a fairway or worse, into a hazard. Both layouts have large fast, firm putting surfaces that require vast imagination and skill to putt. In fact, during the time I played there, I would rank the Streamsong greens as the fastest ones of any public-access course anywhere! There are no "automatic" shots; there are subtle differences between the two layouts.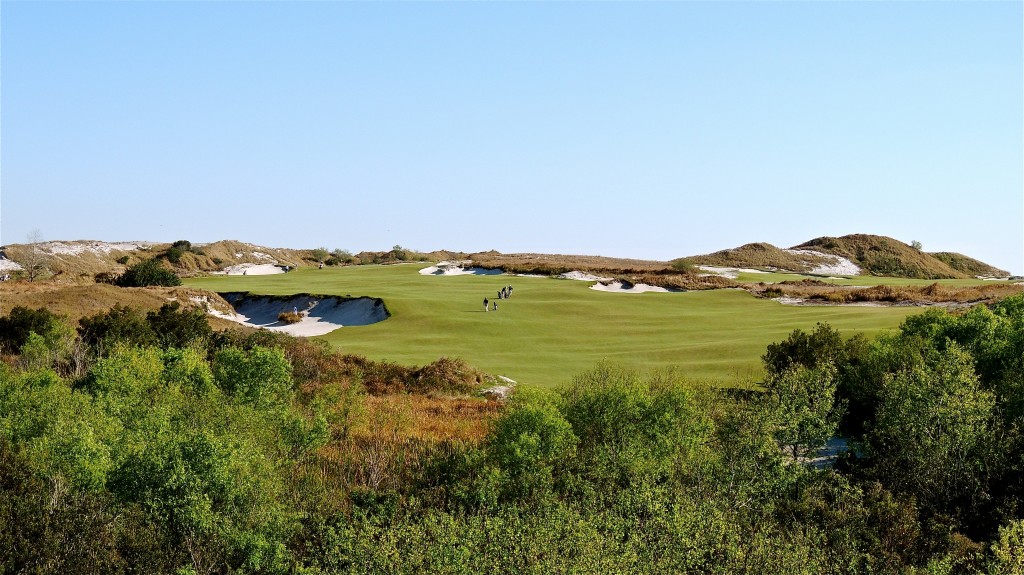 The 474-yard uphill 15th on the Red Course is one of the toughest at Streamsong. When played into the wind, it requires to might hits to be putting for a birdie and by all means avoid that deep cavernous fairway bunker to the left!
Bill Coore and Ben Crenshaw designed the Red Course. Beyond it featuring more water in play, the Red Course features many little mounds capped with sand – almost like chocolate drops topped with vanilla. There is nothing vanilla about either layout's personality. Given the firm, fast conditions, its full length of 7,148 yards will not likely be the main challenge as will the fact that flying the ball to your target will mean little, particularly if the wind picks up.
The challenging first hole on the Red Course will surely be sufficient to get your heart pumping a little stronger. For many, it plays more like a short par-five with its elevated putting surface that as shown below is anything but routine to putt.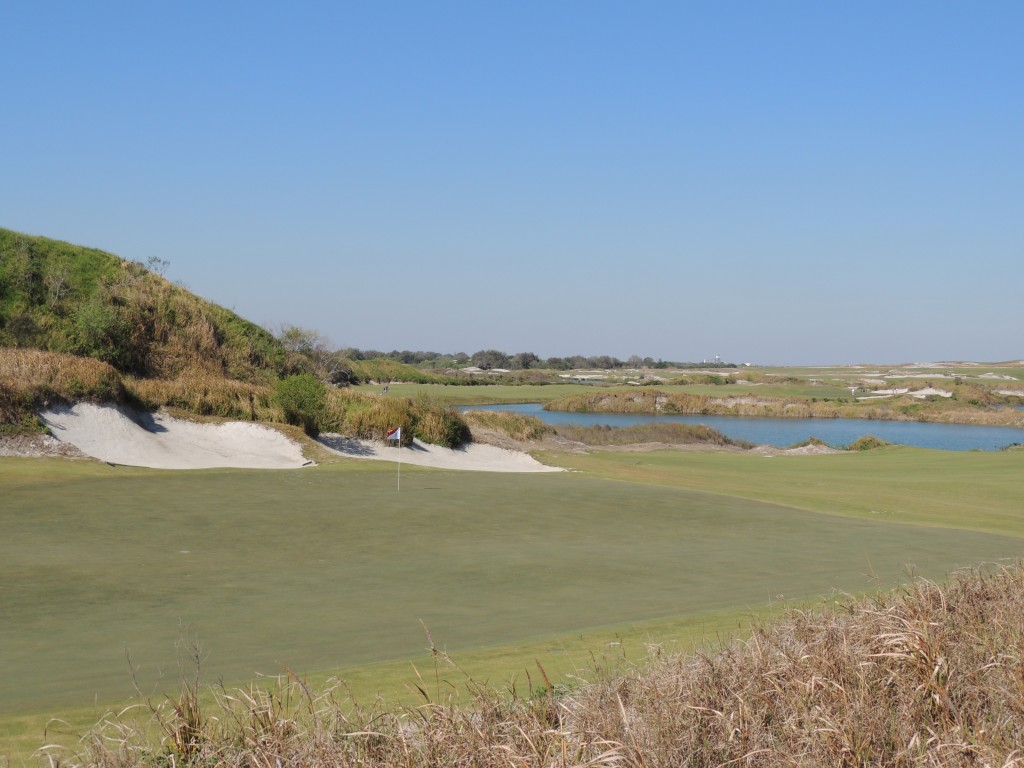 The Red Course begins its challenge right out of the box. If you can earn a par on the first hole, you are either lucky or good as this 474-yard par-four with its elevated putting surface can often play as a three-shotter. The next hole begins a series of holes that feature lateral water hazards and slight angles to test your skills and judgment. These swampy ponds were actually once the phosphate mining pits. While most of the tee-shot landing areas are actually very generous, you may be tempted to play close to the water to shorten the holes, but hole after hole you had better employ a "fairway first" strategy. The Red Course with its more plentiful water hazards and fairway bunkers demands a bit more in-your-face strategy beginning right at the tee and is a bit more penal off the tee that its sister Blue Course. As such, some describe it as more of the shot-maker's test and I would definitely recommend utilizing a more forward tee.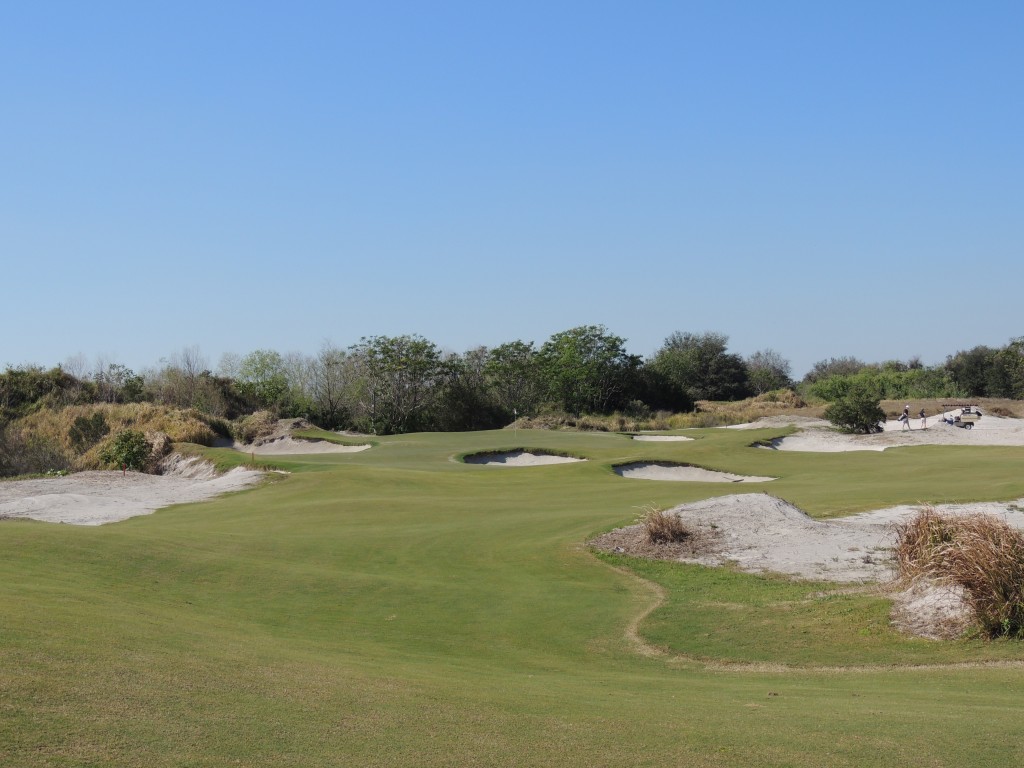 The shortest hole on the Red Course may be one of the most challenging. This is the view from about 115 yards, but there is an entirely different approach from the right that extends to 147 yards and a completely different angle. The putting surface is rock hard and is multi-leveled making both recoveries and putting quite the challenge. Below is viewed from just right of the green.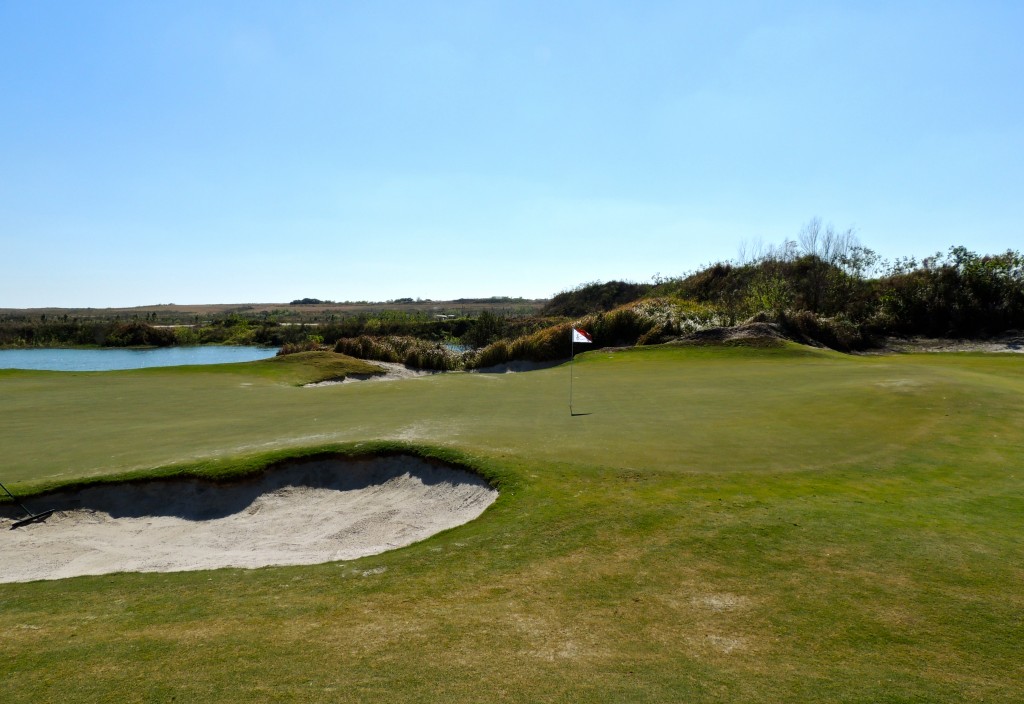 While the Red Course has some interesting very short and very long two-shotters, it was the quartet of par-threes that most captivated me. Ranging from 147 to 208 yards, each is artistically situated in very varying looks. As typified by the shortest one, the 8th,  par is a coveted score because each has a putting surface that plays far smaller.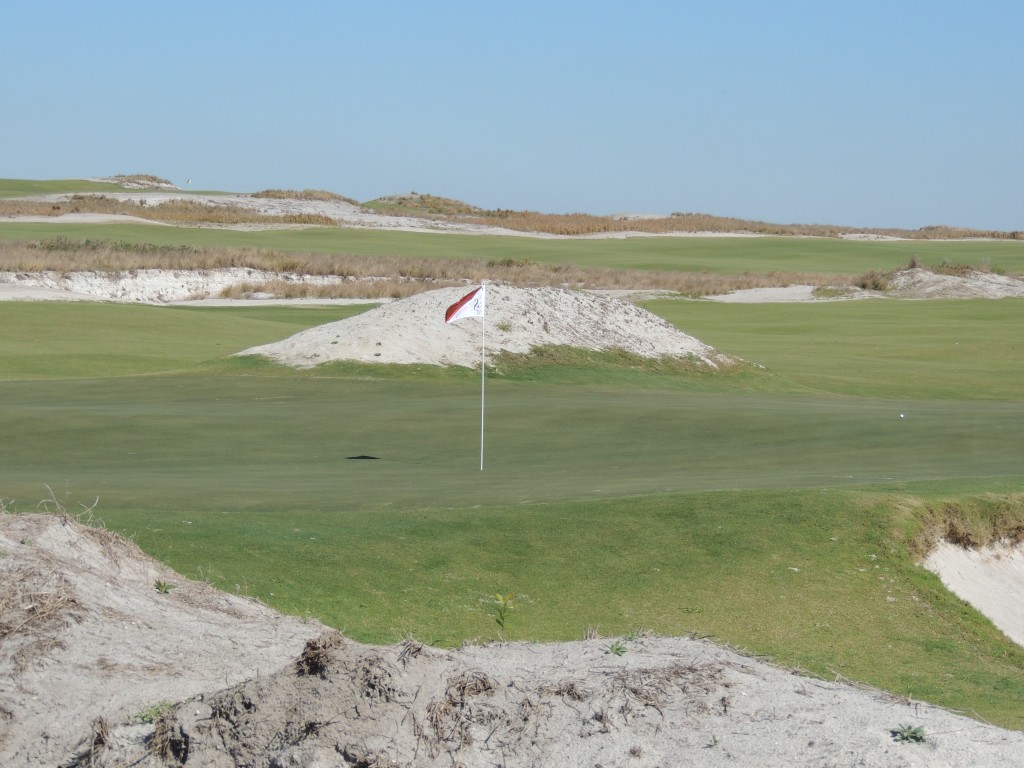 The sand-topped cone-shaped mounding on the Coore-Crenshaw Red Course is one of its uniquely different features and make for a nasty hazard should your shot land in one of them!
Tom Doak's Blue Course features typically wider fairway landing areas, but some of the property's deepest nastiest bunkers and confounding putting surfaces. In contrast, the Blue Course begins from one of the highest points on the property with a simple 338-yard drive-and-a-pitch opener. With the expansive par-five second, there is nothing yet to suggest that this is not the easier of the two layouts and that you can continue hitting your driver. That it may be, but as you proceed through the routing, Doak thrills you with deception bunkers, false fronts, and cunning angles.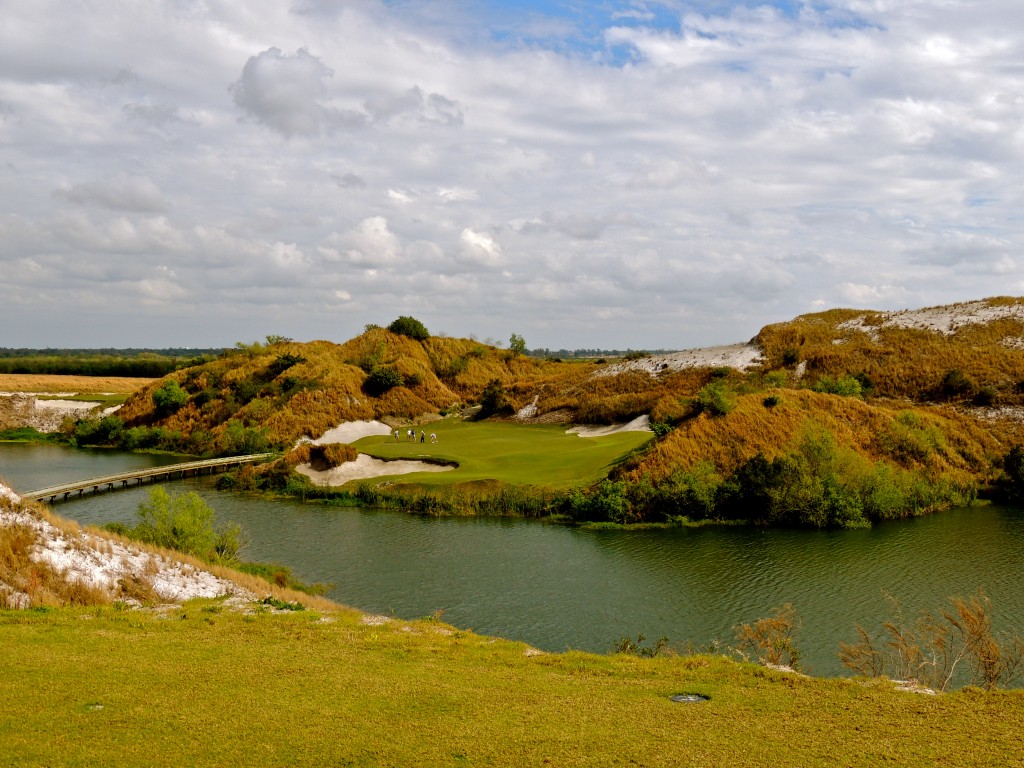 Many count the par-three 7th hole on the Blue Course as the Resort's most photogenic. Below is the view from of the clubhouse from the 7th tee.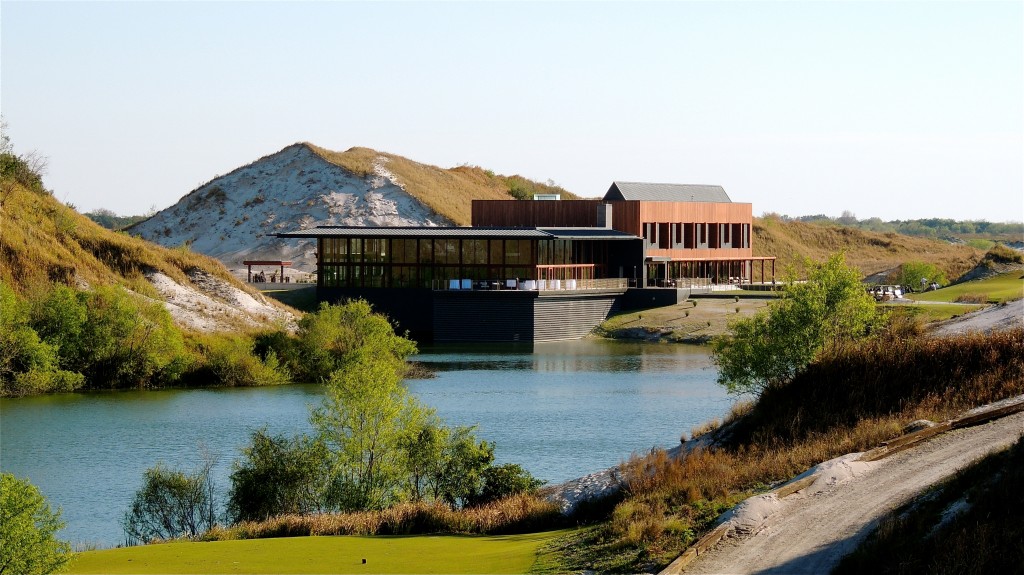 Everyone delights in learning which holes are really special, but a case can be made that Streamsong has 36 of them. Undoubtedly the side-by-side par-threes of the Blue 7th and the Red 16th are the most memorable. Separated by a giant sand dune, define both spectacular play and beauty. Tom Doak doesn't particularly like water holes, but he has to admit that the 203-yard 7th on the Blue Course is a truly special effort with its entire greensite seamlessly ensconced in its natural bowl-like setting. Speaking of greensites, just to the left to it is the Coore/Crenshaw 208-yard 16th with its Biarritz-inspired putting surface. It is as thrilling a hole as it is difficult.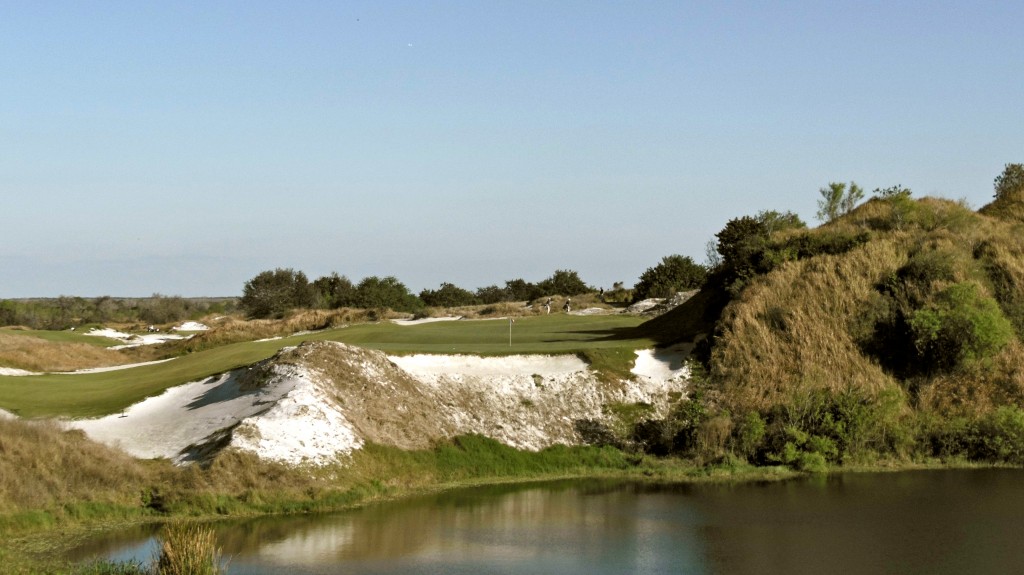 Above and below are views of the Red Course's par-three 16th from the tee and from the green looking back toward the tee. It is a daunting challenge from either perspective – and a splendid Biarritz take-off with its deep swale bisecting the giant putting surface!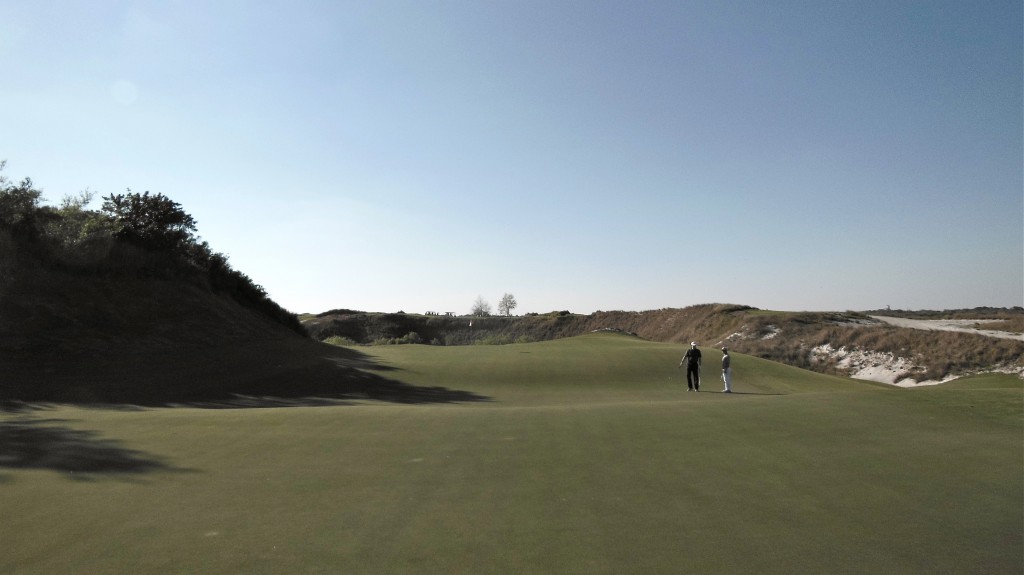 Replaying my rounds on both courses, I am really taxed as to how I'd write my recommendation. The Red Course may be rated a tad higher as more demanding driving course and slightly more glamourous par-threes, but the Blue Course just might be my favorite by a ultra slim margin with its many shot-making options and a pacing I preferred. Take your pick – both are anything but routine, and become more like puzzles – similar to the great links of the British Isles.  The firm turf and ground conditions allow both architects to create a variety of even more golfer-decisions and options than you might normally encounter in their other American designs (the firm conditions of Ballyneal excepted).  One good golfer I played with hit his putter to approach the greens from as far as 105 yards! Anyway, I can almost guarantee you that it will take you several rounds before you begin to unlock the intricacies of either layout.
The 478-yard finishing hole on the Blue Course is a fun, but testing completion to your round. The rippling fairway provides few level lies from which to approach the relatively open green that likewise mimics the same busy undulations – another example of the Tom Doak's detailed eye for artful shaping.
Thankfully both courses are designed to be walked. Trained caddies are available and those taking carts must be accompanied with a forecaddy. And as you encounter the courses' intricacies, you will welcome and appreciate that requirement. And guess what, there is a 37th 120-yard par-three over the water to begin or end your round. It's a great place to settle any bets!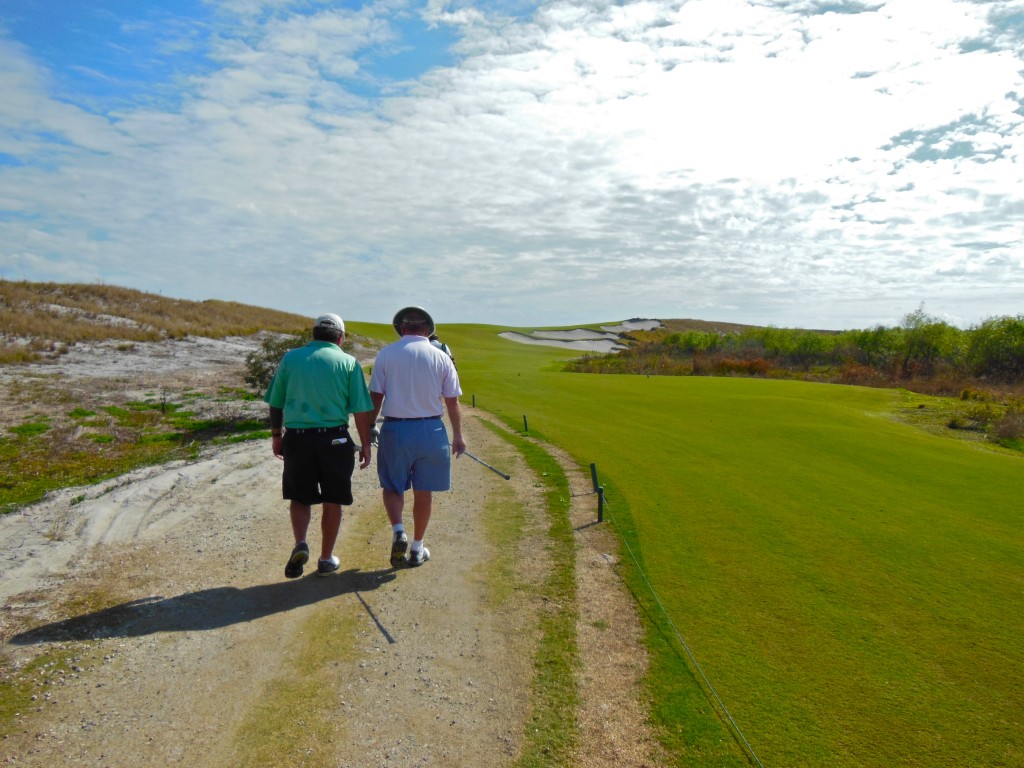 Though there are some interesting elevation changes, both courses at Streamsong are easy to walk. Shown above is the walk toward the 9th fairway on the Blue Course. 
 The very first hole you encounter at Streamsong is actually not part of either course, but rather is the "Bye Hole," a practice hole measuring up to 125 yards intended to get you into the flow of your round or the perfect place to settle any bets.
As much fun as the golf courses at Streamsong are, the service and facilities are every bit as good. This is resort golf at its very best and becomes even more special when you realize that this was "lost mining land" that has been lovingly repositioned as a lovely natural habitat for wildlife and a positive force for human ecology.
When American golfers are told that they don't need more golf courses, Streamsong rocks that trend for it is a most needed special new offering. Look across the property, you will no doubt appreciate that the two elite design teams surpassed themselves in delivering in a way that will draw golfers like me from around the world. More importantly, they will want to return. And as the exciting amenities arrive, Streamsong will become a world-class destination resort. Yes, while the Mosaic Company long mined for phosphate here, we golfers have discovered golfing gold and the vein will hopefully last for many years!
Streamsong is another wonderful example of golf simultaneously restoring the natural habitat for wildlife and providing a wonderful playground thanks to the Mosaic Company. Who would have envisioned dunes like those behind me in Polk County, Florida?
MORE PICTURES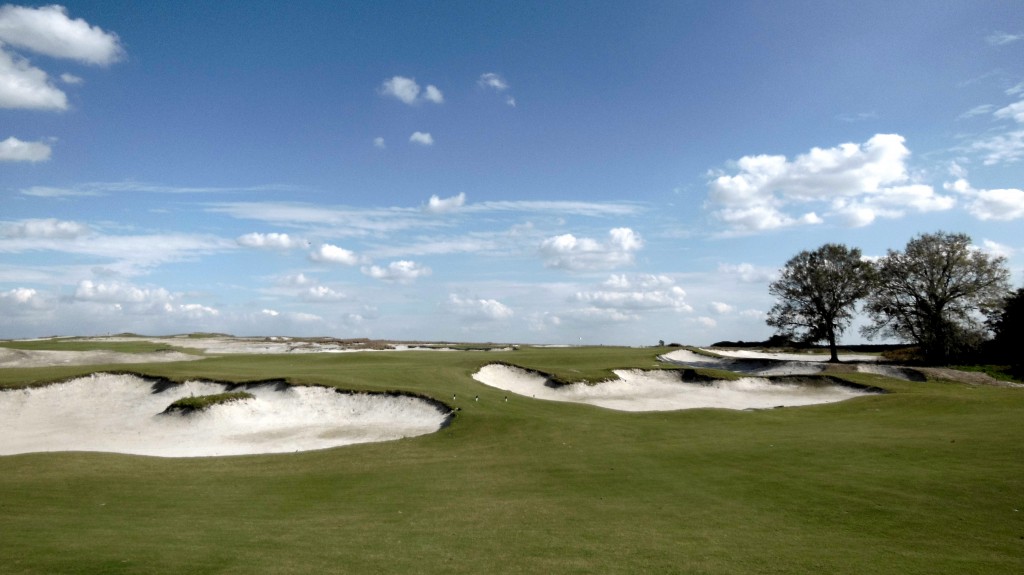 Cross-bunkers make for a formidable carry hazard for the typical second shot on the par-five 17th hole on the Blue Course.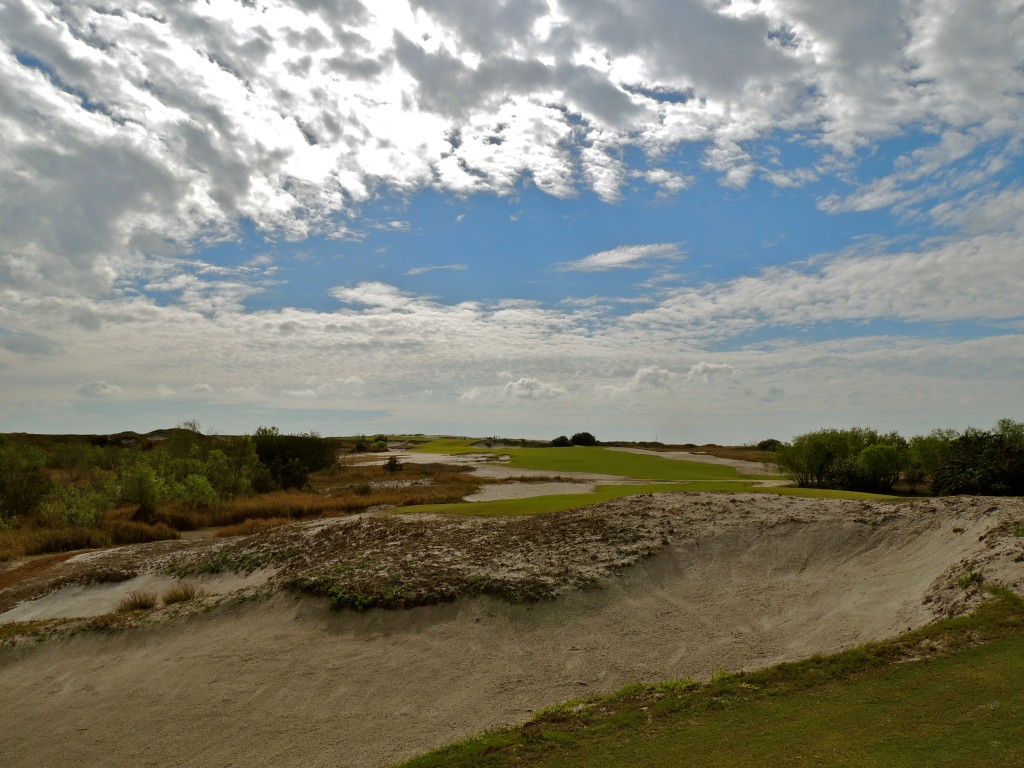 The 442-yard 4th hole on the Blue Course plays longer than its distance.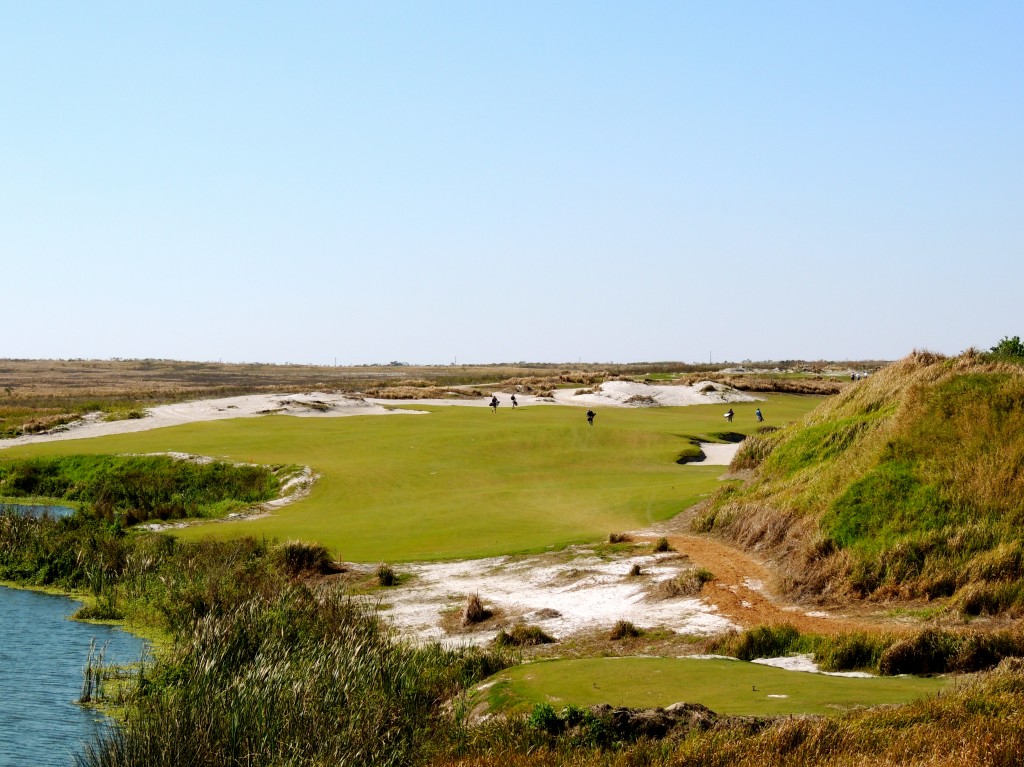 The first order of business on the Red Course's third tee is to get the ball into play. The dogleg right measures 404 yards from the tips.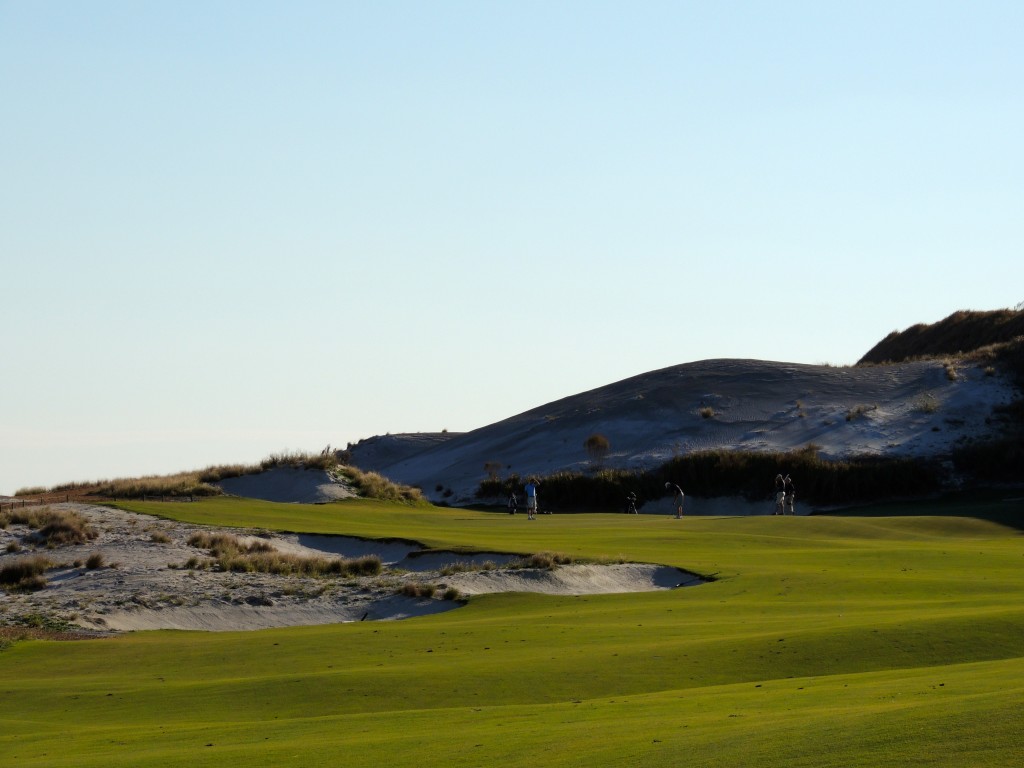 A sloping green and surrounds make the South Course's 18th hole much more challenging than might first appear.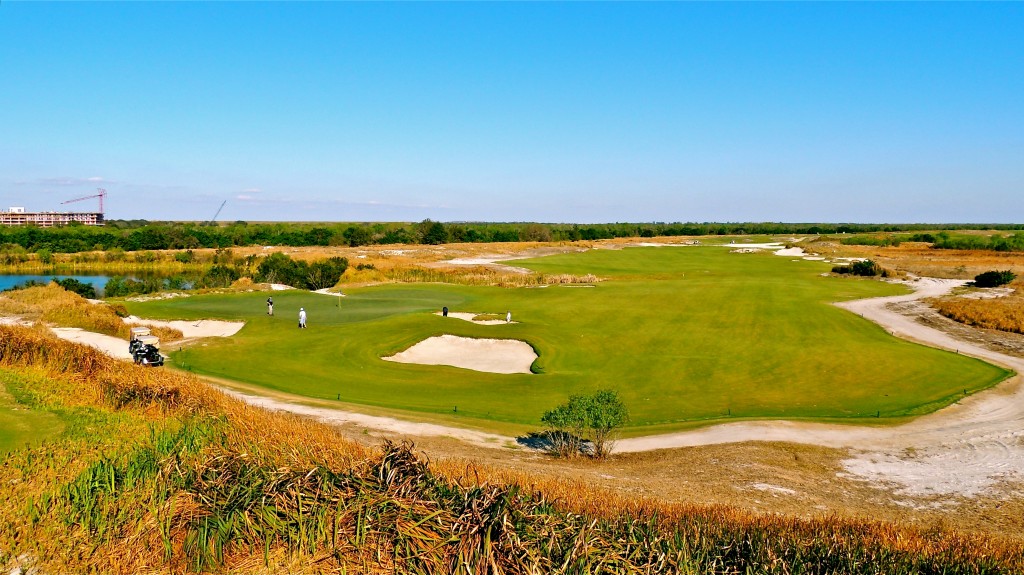 Looking back down on the 12th green complex on the Blue Course, you realize that the back nine there seamlessly follows the subtle landscape. Note the new resort lodging being built in the left background.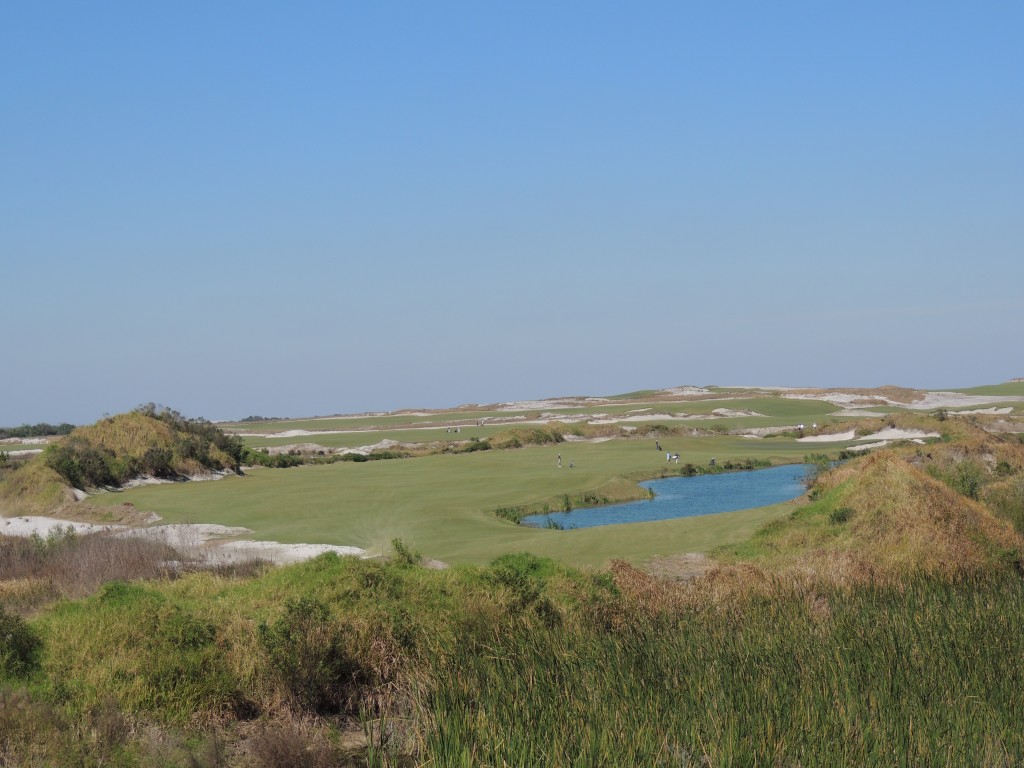 Architects Coore and Crenshaw moved very little dirt on the Red Course except for this 453-yard 5th hole. The entire fairway and mound area was originally a pit and had to be filled in to make this very strong hole playable.
The greensite for the 185-yard 6th on the Red Course is naturally nestled amongst the dunes.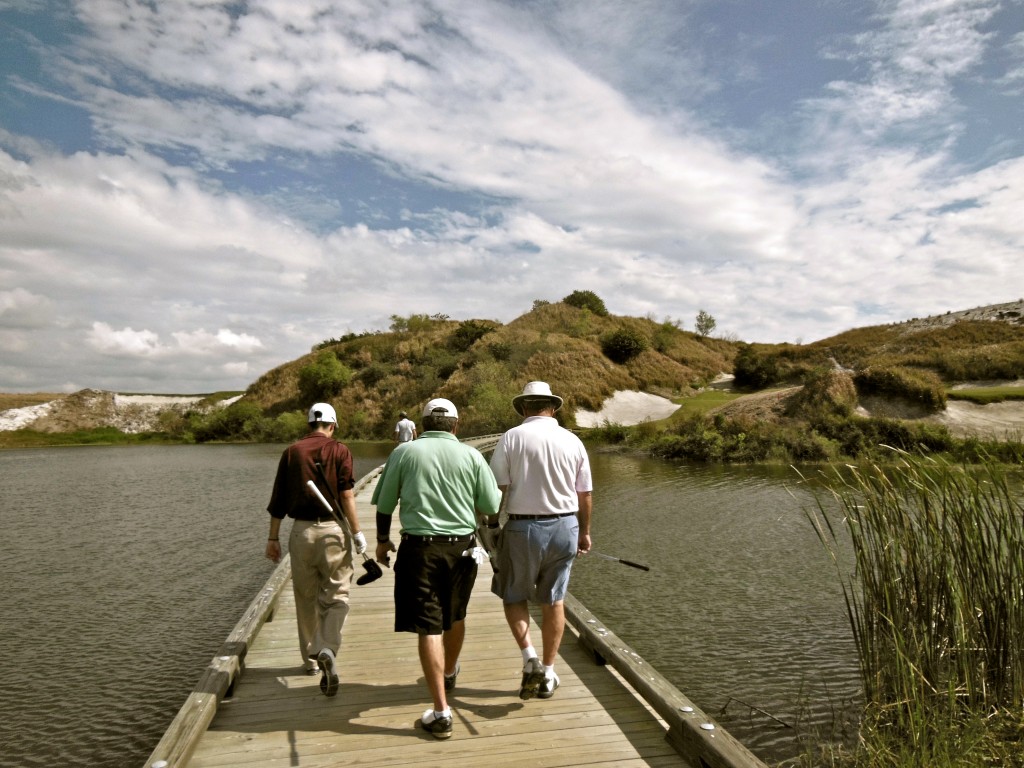 Tom Doak has shared that he doesn't much like water holes, but as these golfers will agree, the 7th on the Blue Course is as good and spectacular as you will find – especially in Florida!
The view from the elevated first tee on the Blue Course is quite the sight!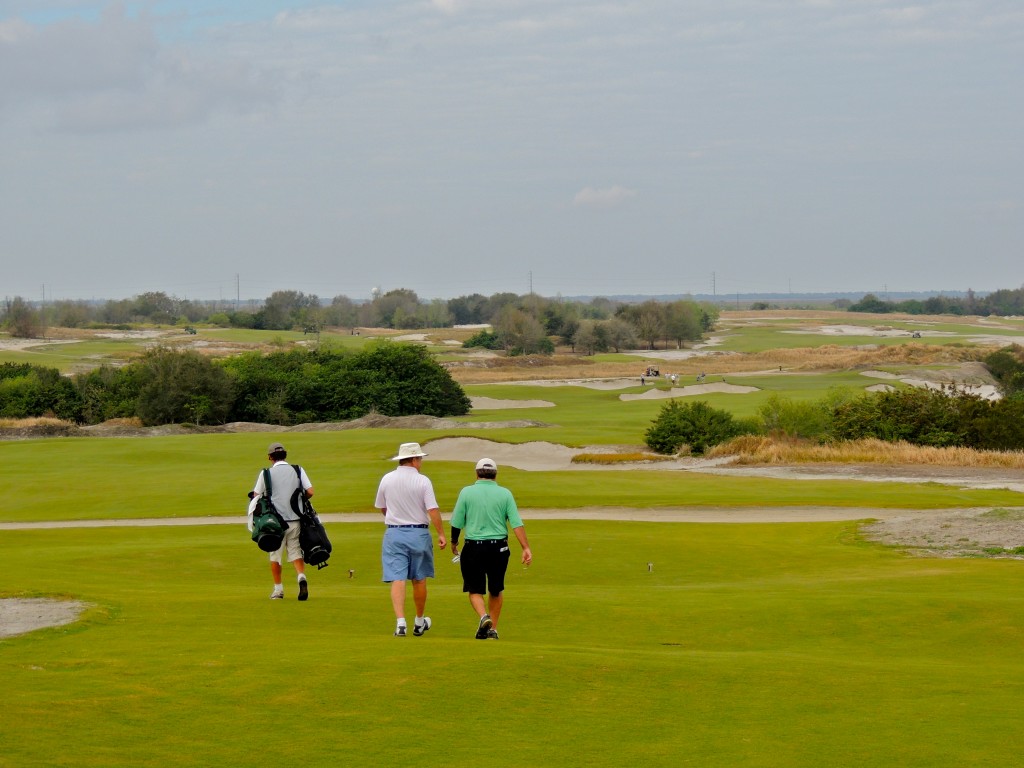 These two golfers are heading down the expansive 2nd fairway on the Blue Course and will most likely agree that there are few public-access golf courses in America that approach the 'pure golf' attraction of Streamsong.