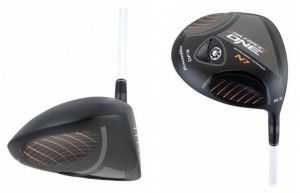 Get ready for some explosive distance at a great price – PowerBilt Air Force One DFX!            (Photo courtesy of PowerBilt.)
When I was a kid, the PowerBilt brand owned the persimmon wood market. The Company also produced the Louisville Slugger baseball bat, and for several decades it was also synonymous with the best wooden clubs. Indeed, PowerBilts were the woods all the good players wanted in their bag; it always gave you that something extra. Moving ahead, today's PowerBilt Air Force One DFX  is not your Grandfather's driver, but PowerBilt and the super-cool nitrogen-filled power weapon is still providing that something extra. It's practically guaranteed to add some punching power to your driving game.
I just had the good fortune to test several of the big-name highly touted drivers that pay heavy premiums to have the pros play them (you know who), as well as the PowerBilt Air Force One DFX and it beat them all! I've never thought of hitting a golf ball with a club injected with some exotic gas, but this one's explosive. Its compact classic stealth-like black matte lines are enough to satisfy the classic types while exuding "cool," and the fit-looking instrument definitely emits an explosive pop when applied to the strike.
So just what makes the Air Force One DFX so revolutionary? It's a newly patented process called Nitrogen Charging that is used to reinforce the face of the club without adding any weight. It adds the thinnest face and the largest sweet spot among drivers. Compressed nitrogen provides tremendous support to the club face so every golfer can benefit from maximum C.O.R., maximum C.T., maximum Trampoline Effect, and Maximum Smash Factor for incredible distance. Now that's maximum to the hilt!
It's deep face, aerodynamic design also gives me a nice, tight shot dispersion that we all know is just as important as those dozen extra new yards I've just acquired. I also like the feel and sound associated with my newfound distance.
Now for some other good news, the PowerBilt Air Force One DFX retails for just under $250 or about $150 less than many of those other "big name" drivers – what a deal! For more information, refer to:  http://store.powerbilt.com/ProductDetails.asp?ProductCode=AFO-DFX-BLACK-DRIVER.
For best results, mix the PowerBilt Air Force One DFX with a proper club-fitting and get ready for some explosive new distance!