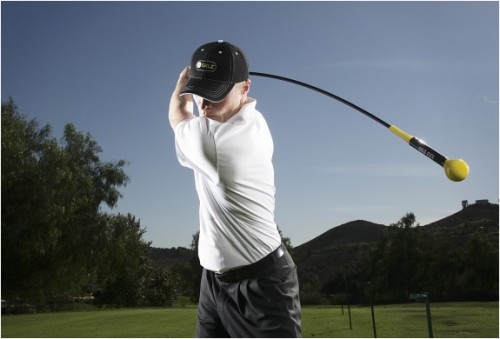 I'm going to cut to the chase with this product review.  You have to hurry out and get yourself a Gold Flex by SKLZ!
Heaven forbid you don't have time to warm up hitting balls, the Gold Flex is the next best thing.  And for exercising your necessary golf muscles and building proper flex, tempo, and powerful timing into your swing, Gold Flex hits the buttons.  This tool is as applicable for a senior and woman as it is for a power player and just as helpful for a pro as it is for a beginner.
The SKLZ Gold Flex is part warm-up club and part a workout training device that keys in on the transition from the top of the swing accelerating through the ball and onto a powerful follow-through.  This is accomplished through the 48" whippy shaft and weighted ball at the end.   When you reach the top of your backswing, this training aid keeps going which prevents your arms and upper body from beginning the downswing too early, thus encouraging your hips to begin the forward swing while promoting your wrists to remain in a lagged position or delayed release – the secret of effortless distance.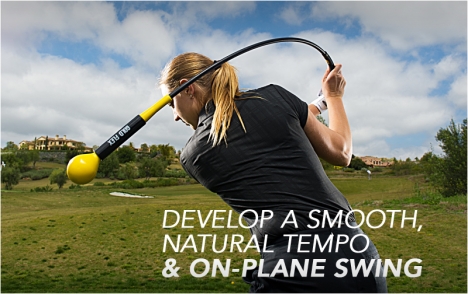 What really impressed me about the Gold Flex was the violent whip or acceleration through the ball to a nice full finish that it had.  As I continued swinging the Gold Flex, I realized that, as good a ball striker as I thought I was, I had gotten lazy and actually begun hitting at the ball as opposed to through it.  The Gold Flex "coached me" back into a full throttle acceleration through the hitting area while stretching and building my core muscles.  I actually began to tire after about thirty or so full back-to-back swing signaling that I needed to work on this more – rebuilding my hand and core muscles.
So out to the course (the Gold Flex is legal to keep in your bag, but not legal to use once you begin your round), my muscles were warmed up much sooner and the memory of that sweet acceleration stayed with me after just one session thus enabling me to hit the ball crisper and further with seemingly no more effort.  Suffice it to say that the Gold Flex has not left my bag since.
There is another popular product, the Orange Whip, that is similar in concept to the Gold Flex, but when I discovered that the Golf Flex was $40 less expensive at $69.99, the choice between which product to recommend became easy.  The Golf Flex comes with a supple rubber grip and a durable weighted ball in the clubhead area, which should stand up to many years of practice and warm-up.
Go to www.sklz.com to enjoy the videos, find out more, and order yours.  I am so glad I did!