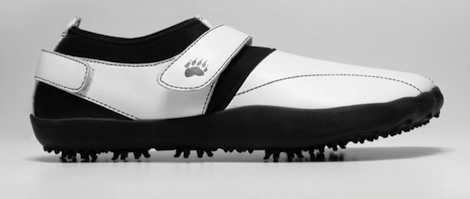 I have finally felt what it is really like to play golf barefoot without the worry of hurting your feet on pickers and the like.  And of course, playing in bare feet is frowned upon in most circles.  Playing in these ultra-light golf shoes is the closest thing I've ever experienced to "barefootin it."  And with the soft spikes, wide toe area, and ultralight weight, you will be forgiven if you forget you have your shoes on.  Whether wearing the black or the two models of black/white saddle shoes, these shoes will also have you styling.
Spotting these shoes and trying them on at the 2012 PGA Merchandise Show, I immediately knew that I wanted a pair, but what about the stability and traction?  Would these comfortable ones meet the golf challenge?  My answer is a resounding "Yes!"
The self-described "minimalist style" is waterproof and features a unique five-spike design with additional treads.  First, I felt that their spikes were oriented toward the outside of each foot thus promoting a balanced, centered stance.  Next, I discovered the design to easily grip sharp slopes while the wide toe area allowed my toes to comfortably spread thus naturally increasing my balance and promoting good footwork. This design is based on medical science studies that have concluded that barefoot running and athletics produces the best and healthiest results.  Based upon my own experience, my feet and I will happily agree.  Candidly, I felt that I was easily traversing the golf course in nothing more than a pair of heavy socks.
Another feature that I liked is that like is that these shoes have two velcro straps that secure your foot for easy on and off, and a good custom fit, and no need for shoelaces.  Barefoot B.E.R.B.S. retail for a suggested $139. Check them out at www.barefootberbs.com.
By the way, b.e.r.b.s. stands for better energy recovery balance stability and these golf shoes do.  Try these light as a feather shoes; you won't want to take them off!