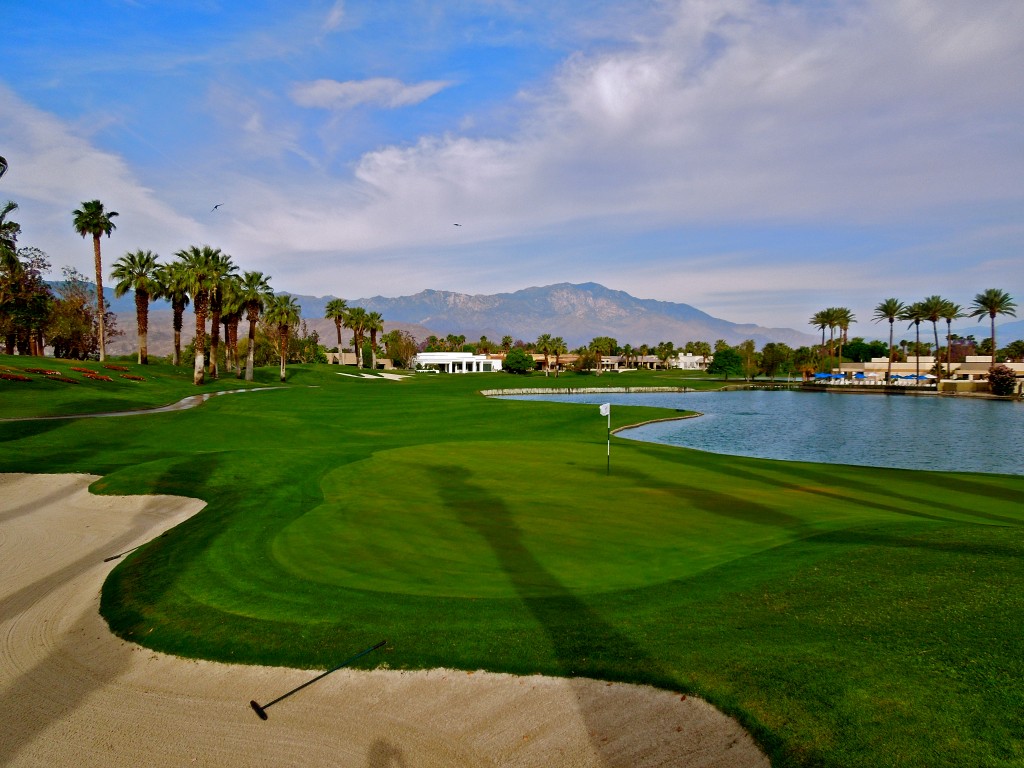 Looking back on the par-four 18th at the Palm Course at Marriott Desert Springs.
Call me a curmudgeon, but after playing more than fifty years of golf and nearly 2,600 different golf courses, I've pretty much seen it all – and I don't appreciate ambivalent let alone bad service. Late this spring, I encountered not one, but two instances of unusually outstanding customer service well above and beyond the call of duty. It was totally unexpected and this old buzzard was flat out floored!
The place was the JW Marriott Desert Springs Resort in Indian Wells, California. I was out by myself literally just before the crack of dawn to play the two very entertaining layouts there. Anyone who knows me realizes that I make the most of my time. In four hours, I can play two 18-hole courses, hunt for balls, take photos, and hit practice shots.
The sun was just peeking over the mountains and the lighting was revealing the Palm Course making for some nice photo opportunities. I had just salvaged eight balls from a pond on the par-four 6th hole and was 2-under par to boot. I was snapping away with my camera and having a wonderful old time. Jumping into my cart, I coasted across the main entrance to the timeshare units and took a few pictures of the waterfall there with the mountains in the background. I then hopped up into a flowerbed and standing there, snapped a couple of self-portraits (yes, I'm vain) to prove I was there.
All of a sudden, a cart with two crisply uniformed maintenance personnel drove up. Had they seen me intruding into the flowers? Oops!
The man driving jumped out and approached me. Had I really done anything wrong? Had he witnessed me fishing for balls or hitting a few extra shots? Did he think me careless standing in the flowers. With no one around, I figured it wouldn't matter. Nothing was wrong – far from it. With a big smile, a heavy Mexican accent, and a polite demeanor the man simply asked if he could take my picture. My, how nice!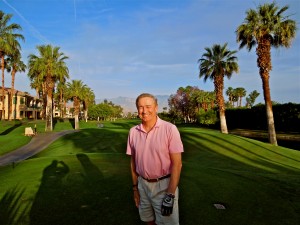 This is one of the photos the kind Desert Springs maintenance man volunteered to take of me.
This man took two pictures of me with the signature backdrop. No maintenance personnel had ever volunteered such to me, but it is what he said next that really floored me. "Sir, thank you so very much for visiting us at Desert Springs. It is only because of you and your business that my friend here and I are employed. We really appreciate your business and hope you enjoy your round. Thank you for coming!"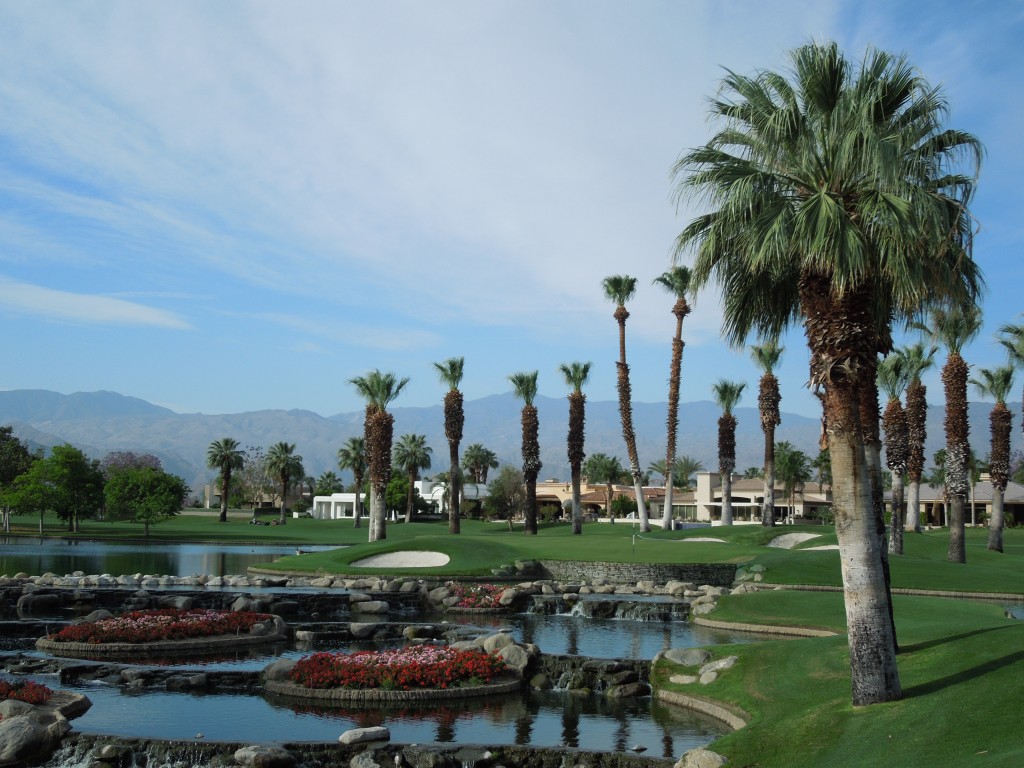 The par-three 17th on the Palm Course begs you to photograph it.
I finished my round and proceeded to the Valley Course. I was informed by the Starter that no one was out there and I should be able to make good time. Well, this man obviously didn't appreciate how quickly Bob Fagan can play because by the end of the third hole, I had caught up to play and the next four holes all appeared to be filled with golfers. Oh well, it was a nice round while it lasted.
I played the par-four 4th hole, stiffed my approach shot to within gimmee range, and got to the next tee before three of the four players had teed off. They didn't flinch. They totally ignored me and weren't going to let me through. No problem, they were probably waiting as well and I decided to go back to the previous green and practice a few putts as there was no one behind me.
All of a sudden a golf course ranger, marshal, player assistant (or whatever you call them) rode up in a cart. I've encountered a million of them and usually experience a few pleasantries, but seldom anything of substance. No problem. This man was different. First, he offered me a fresh banana – and at no charge for it. How nice!
The par-three 8th green on the Palm Course.
After the "Hi, how are you," I causally mentioned to him that it looked like play would be slow, but that it was a gorgeous day. He then went above and beyond and asked me if I would prefer to skip a few holes and get around the congestion whereupon I could come back later to finish the holes. A sweeter proposition was never encountered. I had not displayed any impatience or displeasure with having to wait, but this player assistant was probing my experience and providing possibilities to improve it.
I was so "over the moon" as he escorted me to the par-three 8th hole whereupon he told me that I was also welcome to hit extra shots if I wanted. Was this American golf course service or had I overslept and was still dreaming?
I coasted around the golf course and finished a really fun 36-holes before 10 a.m. which is hardly the point. I couldn't wait to share with the personnel in the golf shop the two encounters. Each was so very, very rare. It was even more impressive that they happened on each of their courses in the space of less than four hours.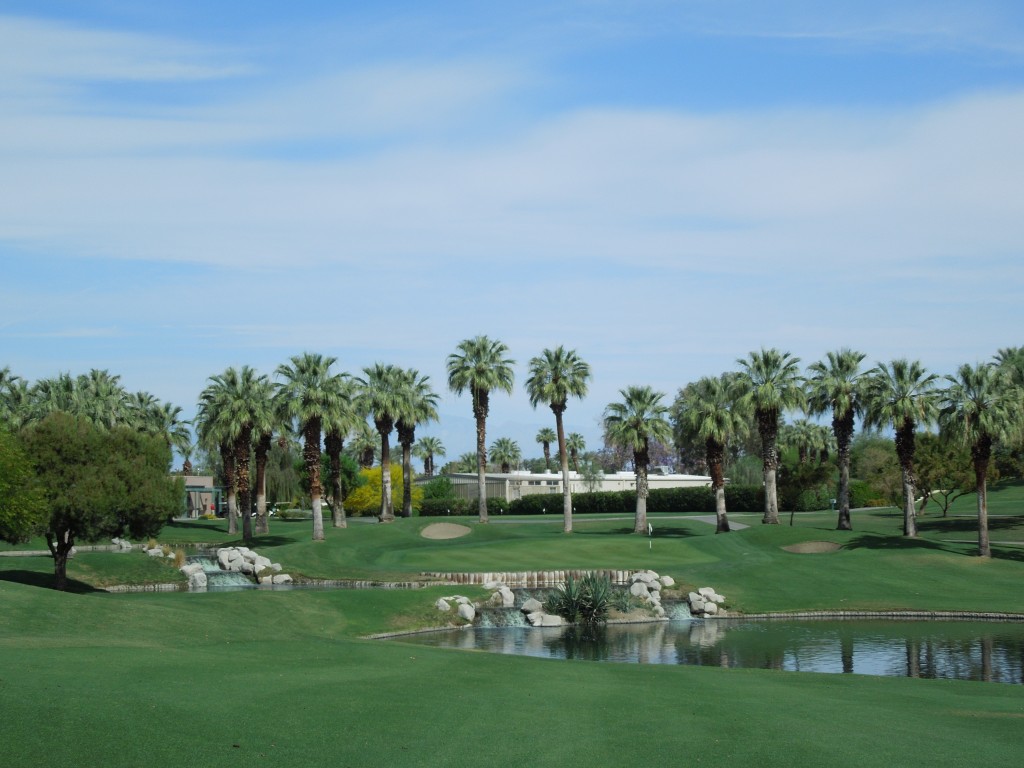 The finishing par-four on the Valley Course features plenty of greenside water.
And let me tell you, the two JW Marriott Desert Springs golf courses are wonderful, nicely landscaped and manicured, and challenging enough to be both interesting and playable. Architect Ted Robinson obviously moved much dirt to create some nice movement with the terrain. In an area where the golf courses begin to look like one another, these were surprisingly good!
And yes, these were not the only two positive staff encounters I experienced as everyone was very friendly and hospitable, but these were two of the best, most unexpected ones in more than fifty years of chasing that little white ball around. The best feature, however, is that quality service is alive and well at the JW Marriott Desert Springs Resort, though you might have to look long and hard to find it elsewhere.
P.S. My only regret is that I didn't snap a picture of these two men for they are indeed the heroes of this story. Congratulations to the JW Marriott Desert Springs golf management too!
Below:  looking back from the par-five 10th at the Palm Course reveals that the terrain at Desert Springs is anything but flat!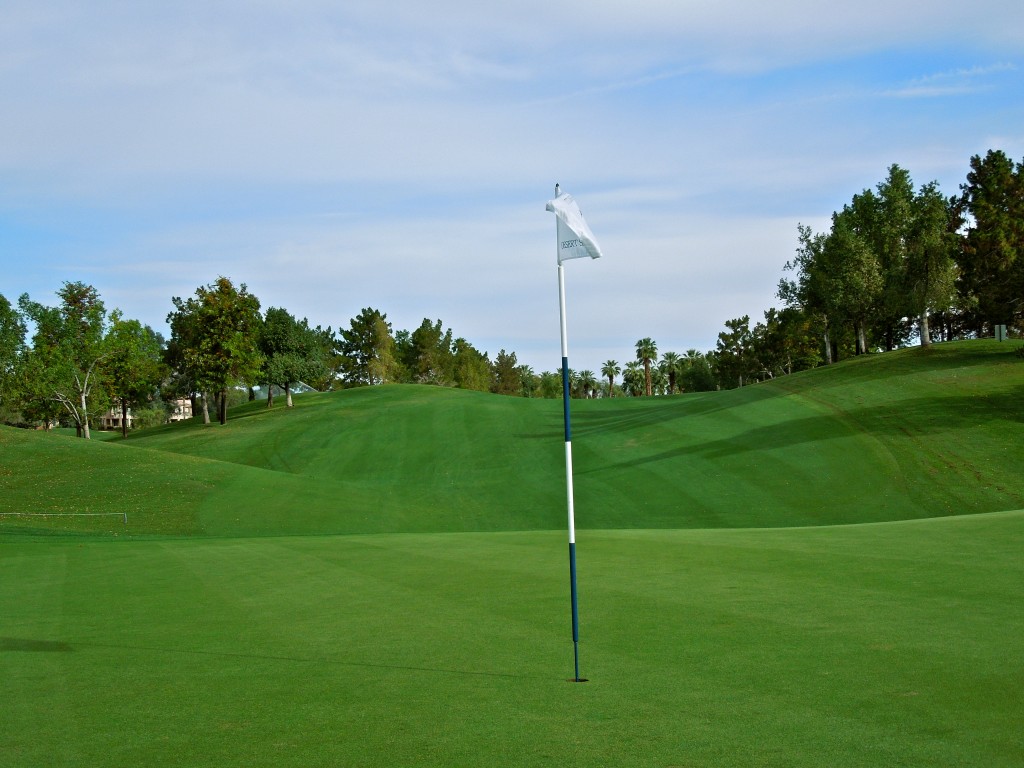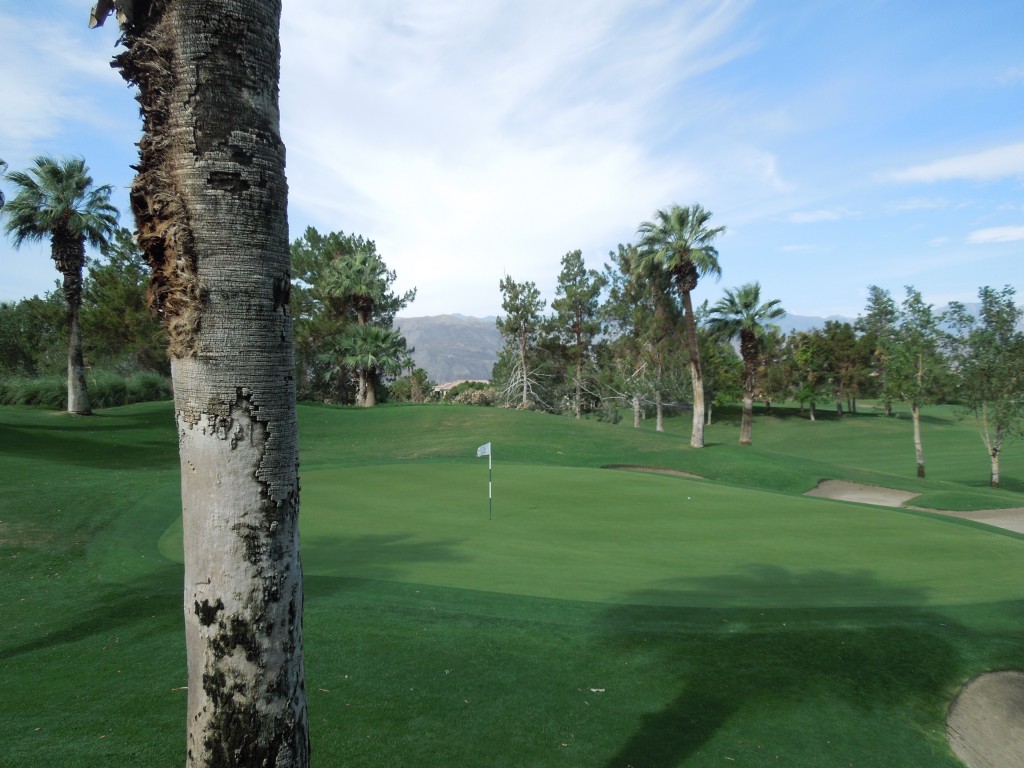 The par-three 12th on the Valley Course.
The JW Marriott Resort provides guests wonderful views of the Palm Course.