The Miura PP-9003 irons looked so good I didn't even realize that they were the "game improvement" model!
Those in the know quietly whisper that there are a mere handful of club manufacturers in the world that are a cut above the rest. Call it craftsmanship, quality control, or whatever; Katsuhiro Miura has been crafting some of the best-forged blades for nearly fifty years. As the chief designer and patriarch of Miura Giken Co. Ltd, he is still active and has passed this tradition to his two sons as well as several dozen other skilled craftsman that make one of the finest families of irons in the world.
It is literally a secret, but the Miura Company currently manufactures forged heads on an OEM basis for many of the world's major equipment companies. The secret is that they are bound by confidentiality agreements not to disclose whom. Mr. Miura comes from a family of Samurai sword makers and is himself a certified Samurai sword maker. And because they don't pay professionals to play their clubs, you won't find Miura touted on the "billboards" of any pro's golf bags. It is no secret that K.J. Choi plays Miura even though he is not paid to do so.
The former practicing attorney turned golf equipment and business reporter for The Golf Channel, Adam Barr, is another interesting story. He first met the Miura family when on assignment to cover them in 2003. He was instantly so very impressed with not only the equipment, but also the Miura family that he developed a dear friendship. Barr was so impressed with the quality and potential for Miura in North America that when the situation was right, he joined them as the President of Miura in 2011. In fact, the Vancouver-based company was named 2011's Canadian Golf Company of the Year" by "Score Golf Magazine." (Their production and design is based in Japan.)
So where does this unique quality come from? First, Miura utilizes a proprietary 14-step process to forge its irons as the Miura line also takes great care to meld the size, weight, balance, bounce, center of gravity, and "sweet spot" into a most attractive tool. Then there is a second part to the equation; there must be a smooth transition from one iron to the next. These are components that insiders admire about Mr. Miura and his crafted products. Not only does each iron look like a piece of art, they play like ones too, seamlessly as you progress through the set. Thirdly, the clubs are formed in a unique two-piece spin forging process where the grooves are pressed and not struck. This manufacturing process enables the metal particles to bond more securely as opposed to other's (picture a bowl of marbles versus a bowl of sand; there is less space between the particles of sand <Miura> than there is between the marbles <other's>).
Hearing so much positive feedback from my friends, I became interested. The initial choice of which Miura irons was easy. What surprised me was that I changed my mind on which model to play. Let me explain.
I was initially attracted to the CB-501. It is a forgiving "player's club" with perimeter weighting and a muscle back weight directly behind the ball. Having been a decent ball-striker in the past, I like to work the ball from side to side, and I could never really get past the awkward (for me) look of the modern game improvement clubs.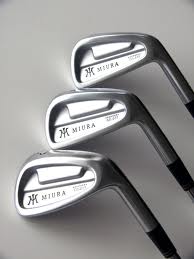 The CB-501 Model is another fantastic iron and the one I initially wanted, but I succumbed to improving my faltering game with a playable "game improvement" club. No, make that a "game enhancement" club.
I paid a visit to Terry Kim, owner of Golf Tech in Sunnyvale, California and a certified Miura club-fitter. I told Terry that I wanted to be fit for the CB-501, which is a gorgeous blade if there ever was one. He asked me if I had ever considered the new game-improvement Passing Point 9003 irons. Well, my strength and coordination is slipping and perhaps I ought to consider something to assist me, but as I was about to inform him that I didn't need or like the game improvement irons, he said, "Feel these."
Whew, what a surprise! First I learned that these very game-improvement clubs were Terry's own clubs – and he is a PGA member. If they were good enough for him, they should be good enough for me, right? Second, I marveled at how much these looked like "player's clubs" as I gazed down at the blades. They possess a nice thin top line and the look of the offset is artfully blended to not appear as such. Next I hit them. They have a bit stronger loft so I expected a slightly lower ball flight, but boy did they jump off the clubface yet with a soft buttery feel and penetrating ball flight. I was sold and ordered my first-ever set of "game-improvement" irons.
Adam Barr explained to me that the PP-9003s rather than being called  "game-improvement" clubs would be more aptly termed "game-enhancement" ones. It's a bit like comparing the purr of a powerful Ferrari to the pinging of assembly-built economy car. These clubs are not only made for hitting, but those who truly relish the joy of doing so.
Now the next part of the process is just as important as the Miura clubs themselves and is part and parcel of why Miura succeeds so well – that the clubs are properly fit for you. The best clubs that are ill-fit mean absolutely nothing. (The only way you can purchase new Miura golf clubs is through a certified dealer/clubfitter.) As a senior golfer albeit still with pretty good clubhead speed, I have been beginning to feel that I need something a little lighter and just a hair softer in the shaft. Terry and I took turns experimenting with different Miura clubs in conjunction with my present set. If I were to get a stock Dynamic Golf True Temper shaft, it would weight around 130 grams. I picked a NipponNS Pro hybrid graphite-steel combination shaft that weighs only 75 grams. Terry also suggested a way of producing a tad more flexible shaft than the standard stiff without resorting to a "Regular Shaft." Those factors had me hitting it like a knife through butter. I was hooked.
I chose a bright orange NO1 rubber grip that plays exceptionally tacky and my order was placed.
Quickly the clubs arrived. No, I did not pick them up and rush to the practice tee or course to hit them. Rather Terry placed tape on the bottoms of each of them to verify that the lie angles were all correct and appropriate to me. Each was right on target. I ordered a 56-degree 1957 Miura Model sand wedge to complement the set. That was the only club Terry made an ever so slight lie adjustment to,  and I was ready. The point is that it is always important for the seller to check that the instructions to the manufacturer are ahhered to and more importantly actually do work as planned for the buyer. And as any reputable club-fitter, Terry Kim invites all his customers to return to see him once they begin playing with them if they have any problems or dissatisfaction.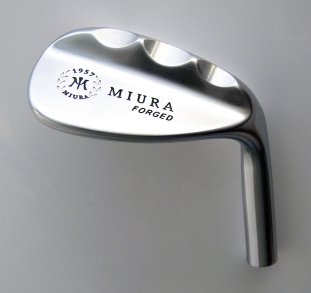 This "1957 Model" sand wedge is worth a review of its own. With 56 degrees of loft and 12 degrees of bounce, it is ideal for use out of the sand. The soft forged steel provides exceptional feedback and control from rough and fairway alike, as well.
As you can see in the photo to the left, the most striking feature of this sand wedge is the "fluted" bounce. Three slightly narrower than finger-width indentations adorn the back of the ridge providing the bounce angle. Between the indentations are bumps that look a bit like knuckles, which maintain the bounce angle.
According to the Miura Golf description, the motivation for this unique design is to allow the clubhead to travel through sand or rough with less resistance. In some sense, the design concept is related to the "rake iron" of a century ago, the entire clubhead of which was slotted to allow sand to slide through, but still make contact with the ball. At address, the K Grind feels a bit heavier than most sand wedges, but it swings incredibly easily, and most importantly moves effortlessly through sand or rough. By the way, 1957 is the year that Mr. Miura started his golf equipment company.
The verdict for my new Miura irons was a "pass with flying colors" – a big "two thumbs up!" By moving to shorter, lighter clubs, I was able to control them a bit easier more readily transferring my weight toward the target rather than hanging back. My ball trajectory now holds its line and never balloons while my dispersion pattern tightened. Pleasantly I have recovered a good portion of the distance loss that everyone was telling me was due to my age!
If an old dog can learn new tricks, at least with regard to the Miura irons, we should all resist the myth that a forged blade is only for better players – it is not. As I grasped the PP-9003s that I ended up deciding upon, I also discovered that "useful can also be beautiful," because these PP-9003s are, and I sensed the feedback in my hands that a better ball-striker appreciates getting from forged irons. We might agree that beauty is not everything if it is not accompanied by performance. Miura clubs are truly a functional work of art – where Mr. Miura and his sons (who design and hand build every set) really distinguish themselves. When I finally took them out to play, the transition from club to club was seamless in trajectory, feel, and again, dispersion.
Are Miura clubs expensive? Yes, quite frankly they are on the higher end, but as President Adam Barr states, "Any objection to price evaporates once someone hits them." If you enjoy the sensation of a well-struck shot, any of the Miura models will more than delight you. I predict you will be hooked on them!
Now I am not going to tell you that you need to copy my investment in the game-enhancement PP-9003 irons for Miura also features several other outstanding models – those same ones that every else is so enthusiastic about. What I am recommending is that you give Miura a very careful look – you just might not need to check anyone else.
In Japan, Mr. Miura is referred to having "the hands of God." Intimately involved with over ten series of golf clubs, it is no wonder why golfers so admire his irons. Now that I know the background and I have hit these remarkable clubs, it is no mystery to me why Miura irons are so coveted among those in the know. As Adam Barr has said, "Miura has forged a more enjoyable game for you!"
I recommend you check out www.miuragolf.com for further information. For an informative video on the Miura forging process, check out:  http://www.youtube.com/watch?v=Kdconj9Y_1Q&feature=related.